Sport
FIM Awards: the best world motorcyclists in the spotlight of Sporting Monte-Carlo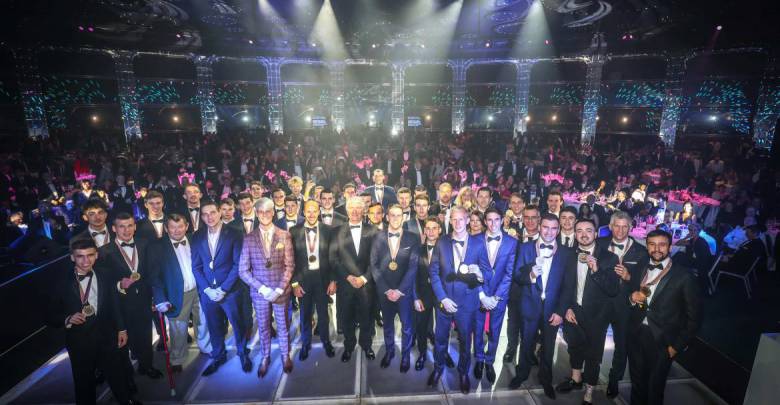 Sport has always been held in high regard in the Principality with the blessing of the Princely Family particularly committed to promote the most important sporting values in every activity. Motorsports, in particular, was celebrated in grand style at the 2019 FIM Awards ceremony, held on the 1st December 2019 at the fancy Sporting Monte-Carlo "Salle des Étoiles". Not by chance, it gathered the most renowned actors of Motorcycle showbiz within the Fédération Internationale de Motocyclisme – FIM (International Federation of Motorcycling).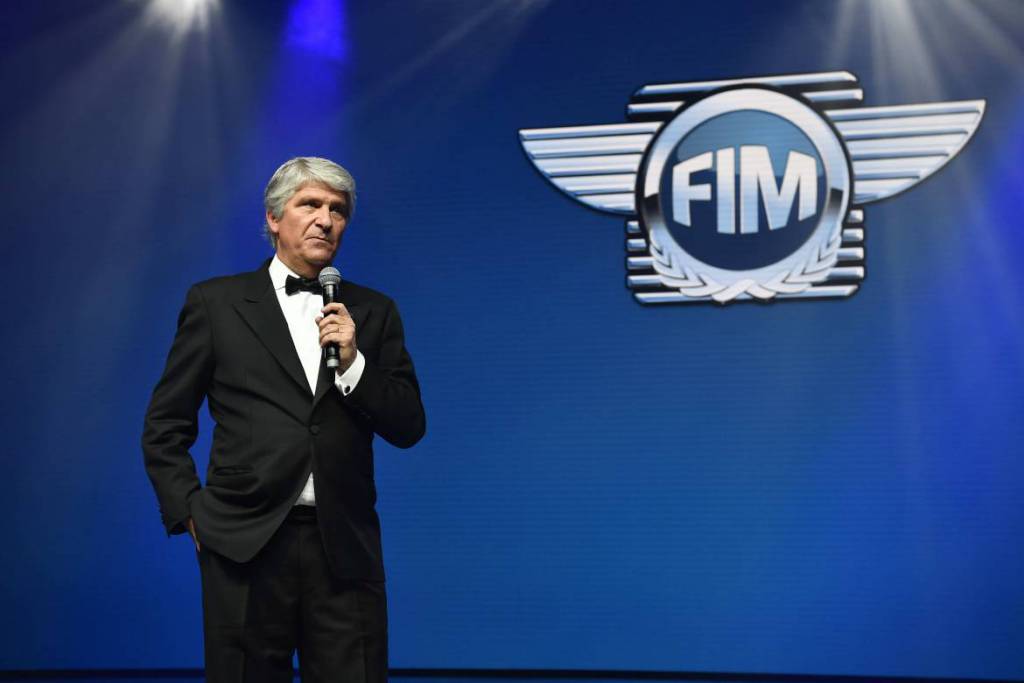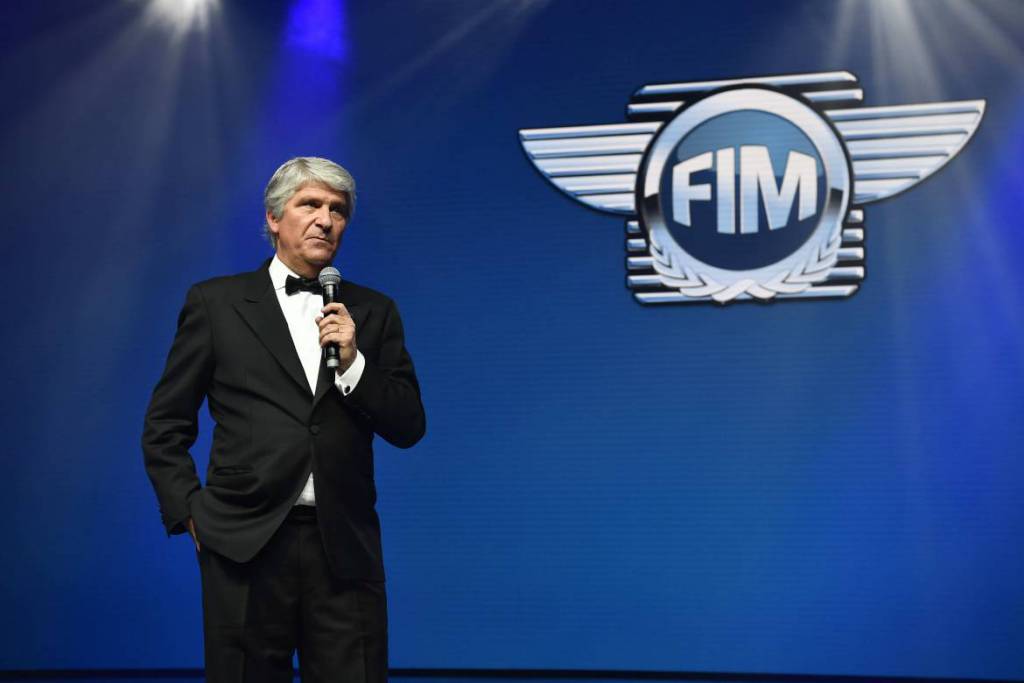 Major FIM members welcomed around six hundred distinguished guests including more than a hundred national federation representatives, true sport legends and other partners. The best 2019 global performers have been awarded in an atmosphere of pure magic by true motorsport icons such as: Max Biaggi – FIM Circuit Racing Legend, Joël Robert – FIM Motocross Legend; Juha Salminen – FIM Enduro Legend, and Carmelo Ezpeleta – FIM Promoter Legend.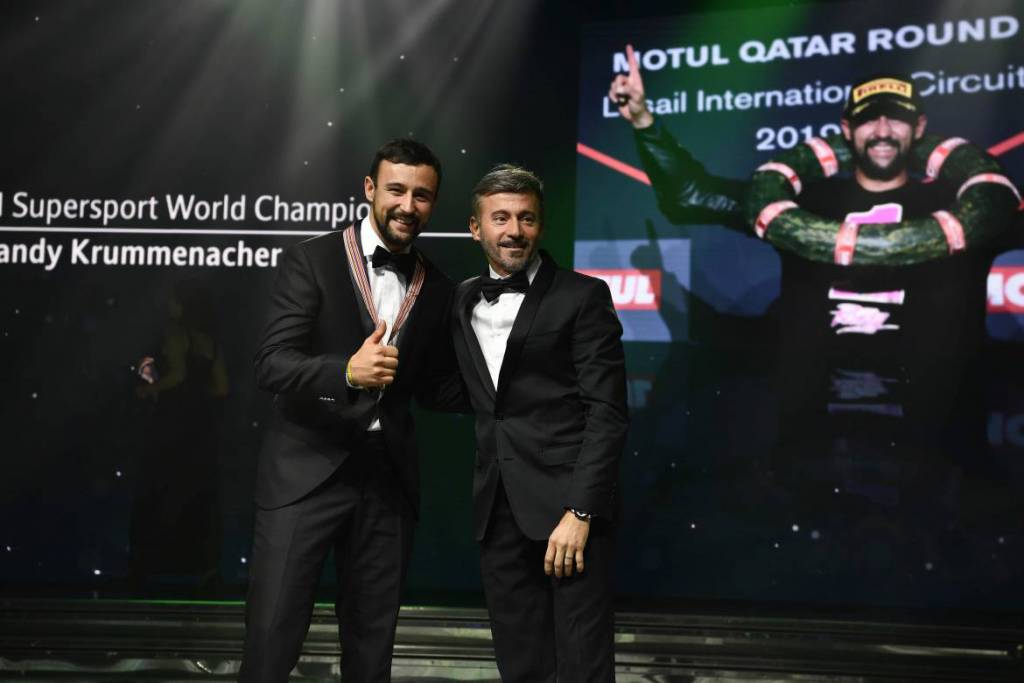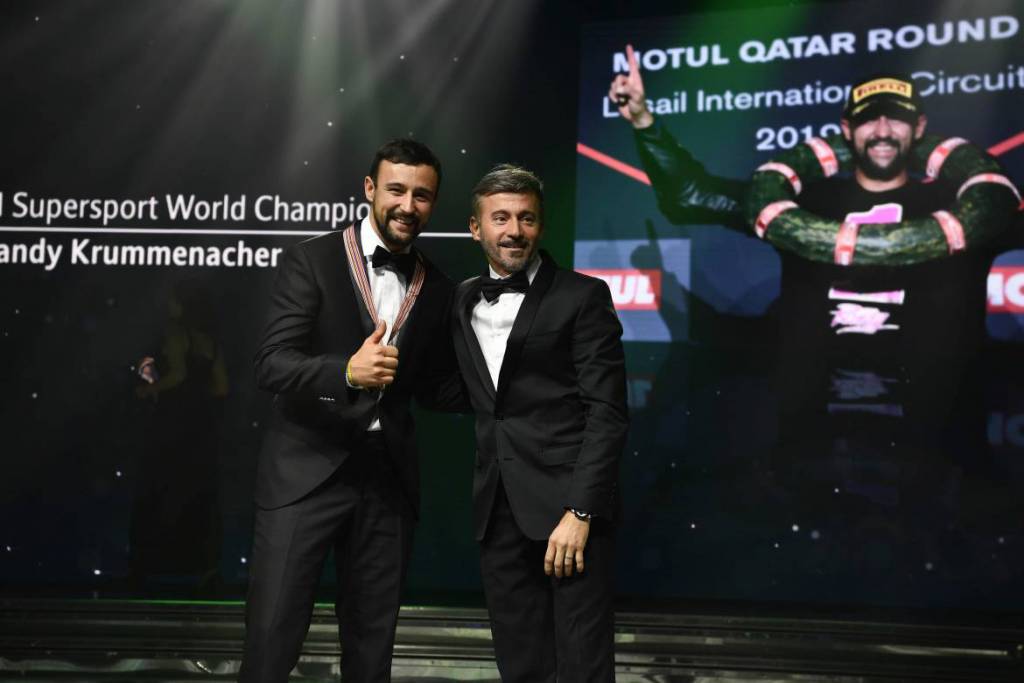 «It has been a wonderful night, having the chance to have all the World Champions together with Promoters and the FIM Family», pointed out Jorge Viegas, President of FIM – «the riders made huge efforts during the whole season, so they are here tonight and we are very happy», he added.
All kind of motorcycling disciplines were prized with FIM gold medals. From SuperEnduro to Ice Speedway, from 125cc Motocross to Superbike, from Moto2 to Women's Trial, all categories celebrated their heroes to the delight of all supporters that could follow them, also through Social Media. The most popular motorcycle Grand Prix racer, Álex Márquez, was appointed as FIM Moto2 Grand Prix prize. «Despite not being with you for a recent surgery, I am proud to receive such a recognition at the end of an amazing season looking forward to attending the Gala next year in Monaco», highlighted the Spanish champion, through a video-message. A great treat after a year of win-win training as for Jonathan Rea, 2019 British FIM Superbike leading man.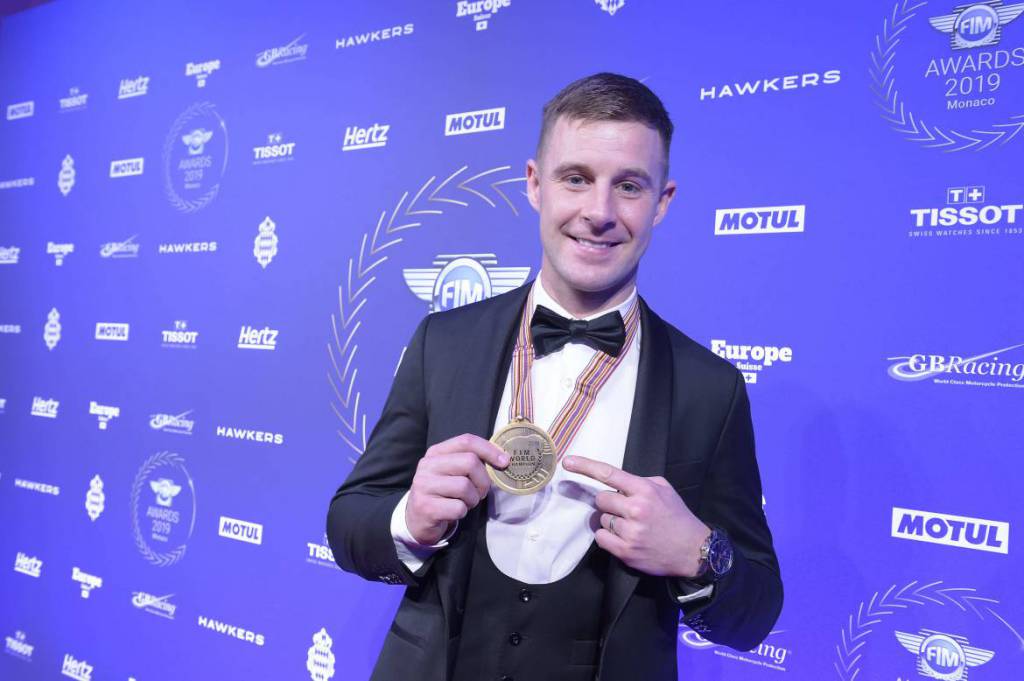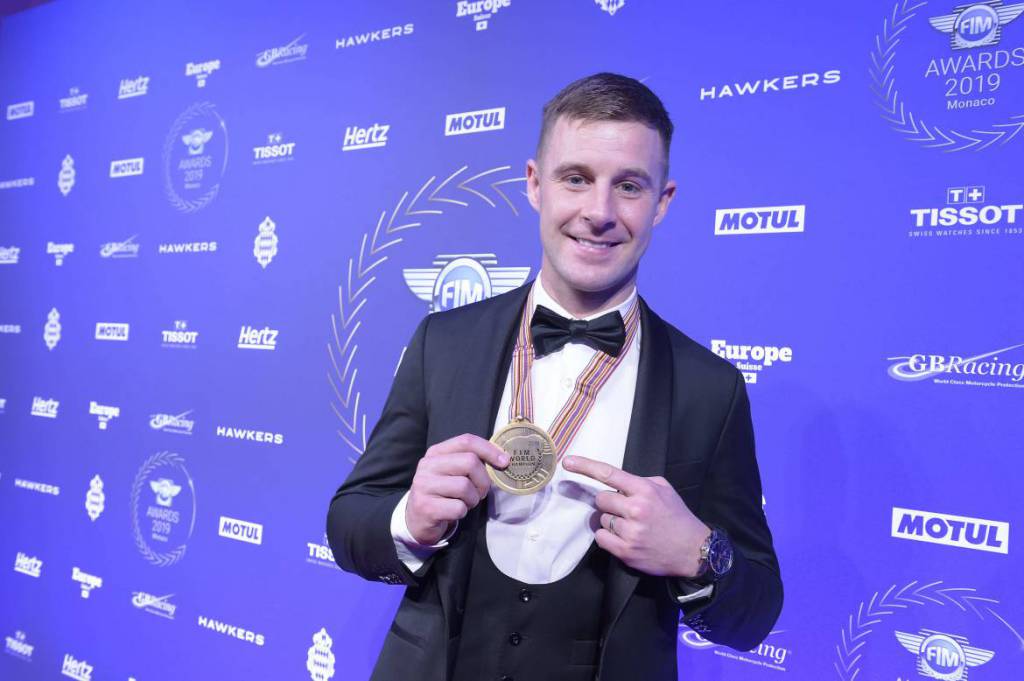 Courtney Duncan from New Zealand was proud to be named new heroine as FIM Women's Motocross Champion. The fourteen-year-old Valerio Lata from Italy achieved the FIM 85cc Junior Motocross World Championship, in spite of his youth. Bradley Freeman and Toni Bou were awarded respectively as FIM EnduroGP & E1 World Champion and FIM TrialGP & FIM X-Trial World Champion. Besides that, extra awards were given among them the FIM Environmental Award went to Circuit de Barcelona-Catalunya for its eco-engagement while Hobby Sport – Primi Passi FMI – Italy was acknowledged FIM Award for the Future for innovation.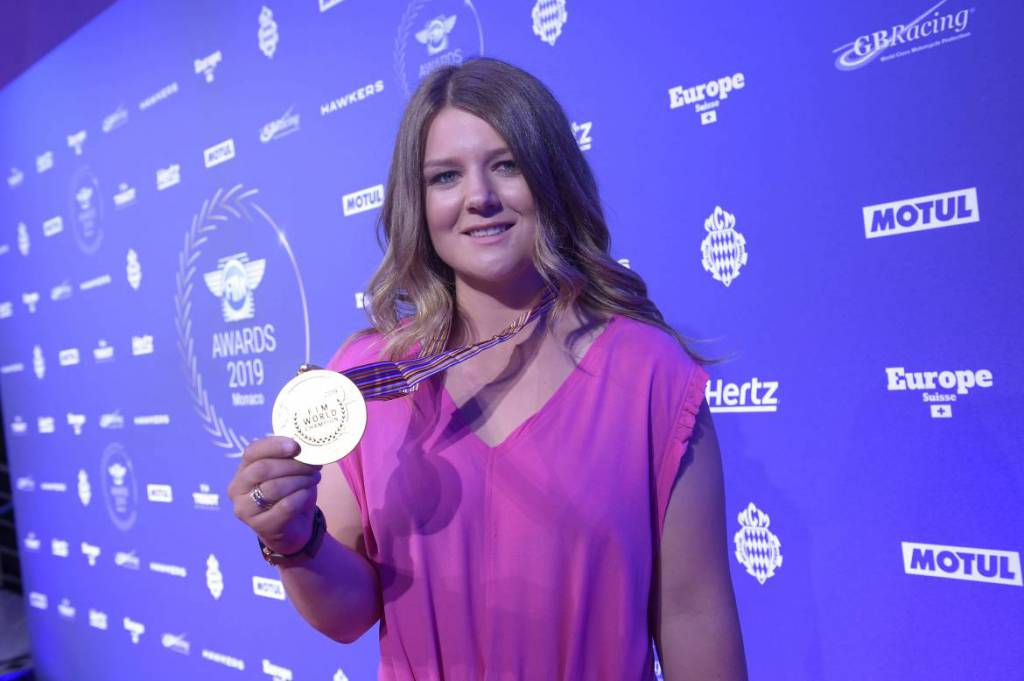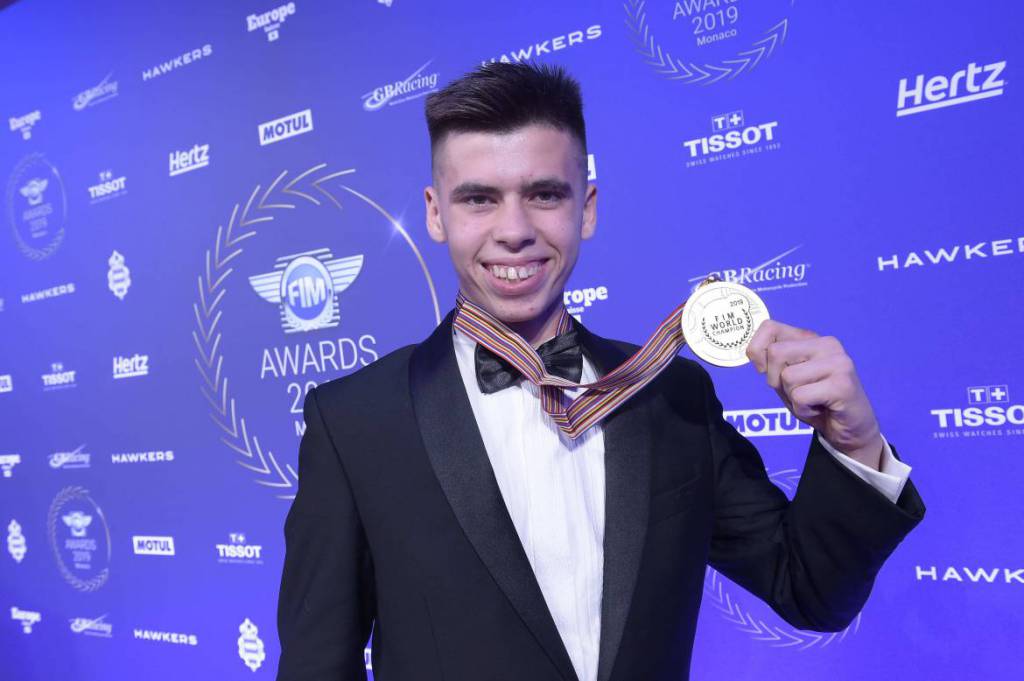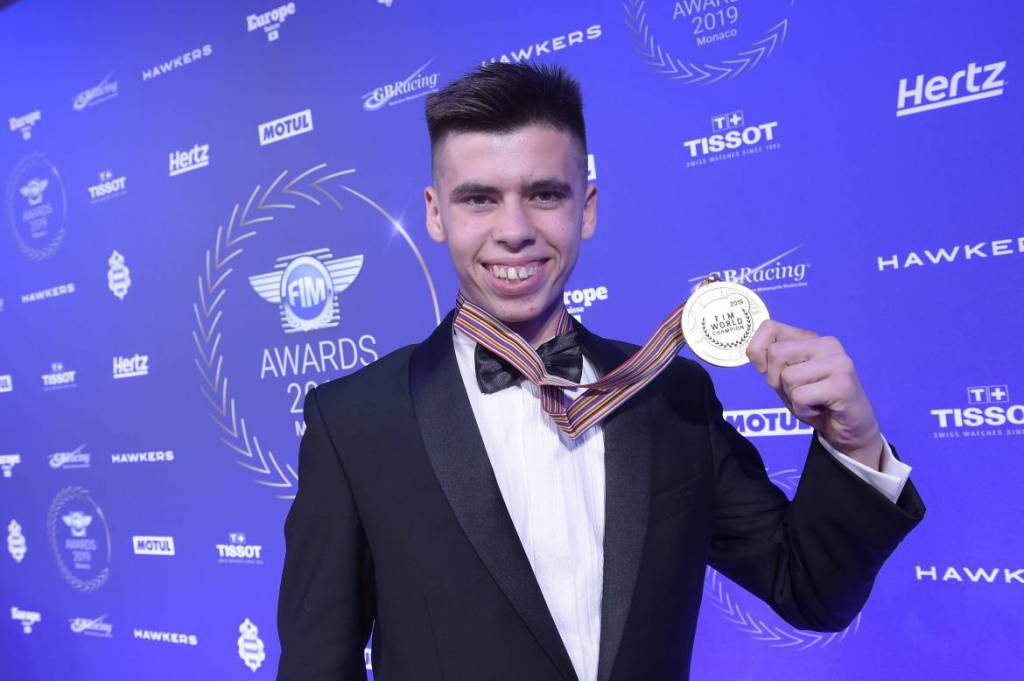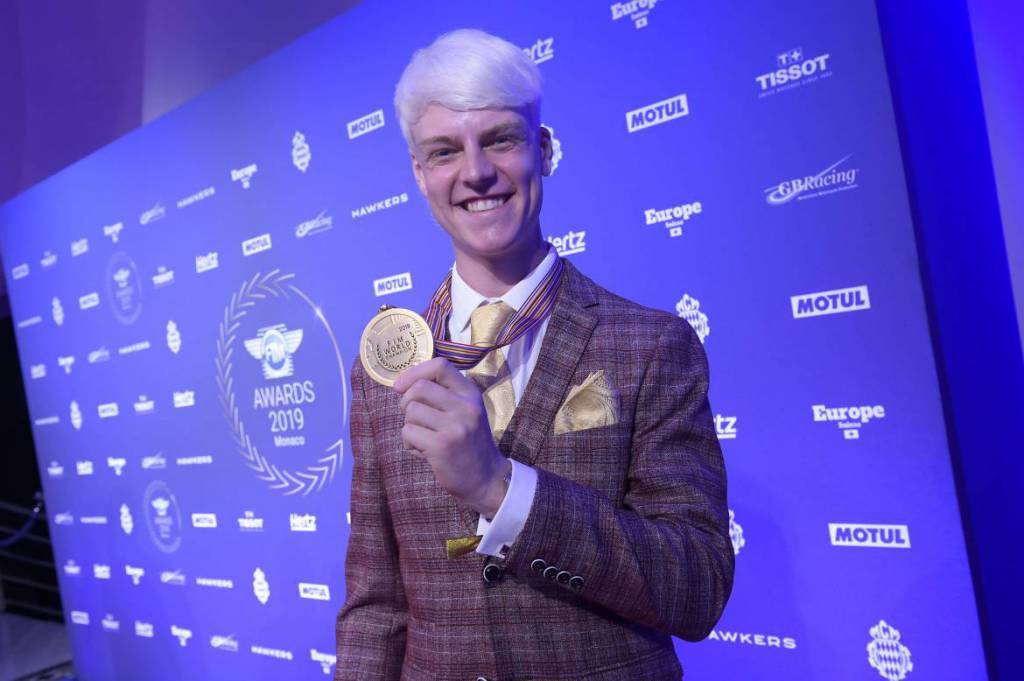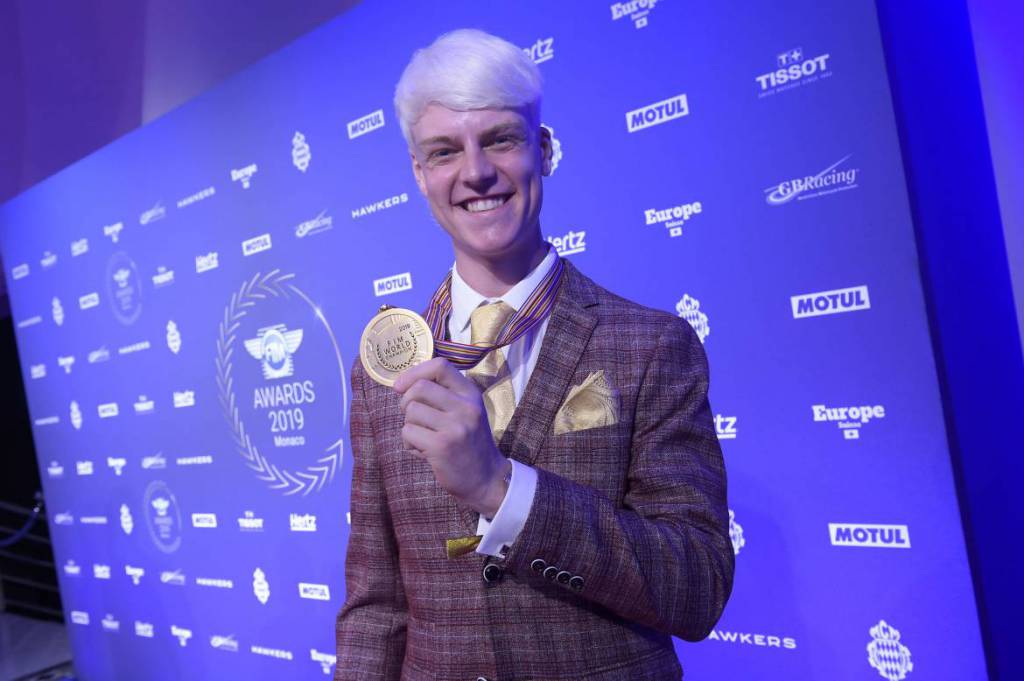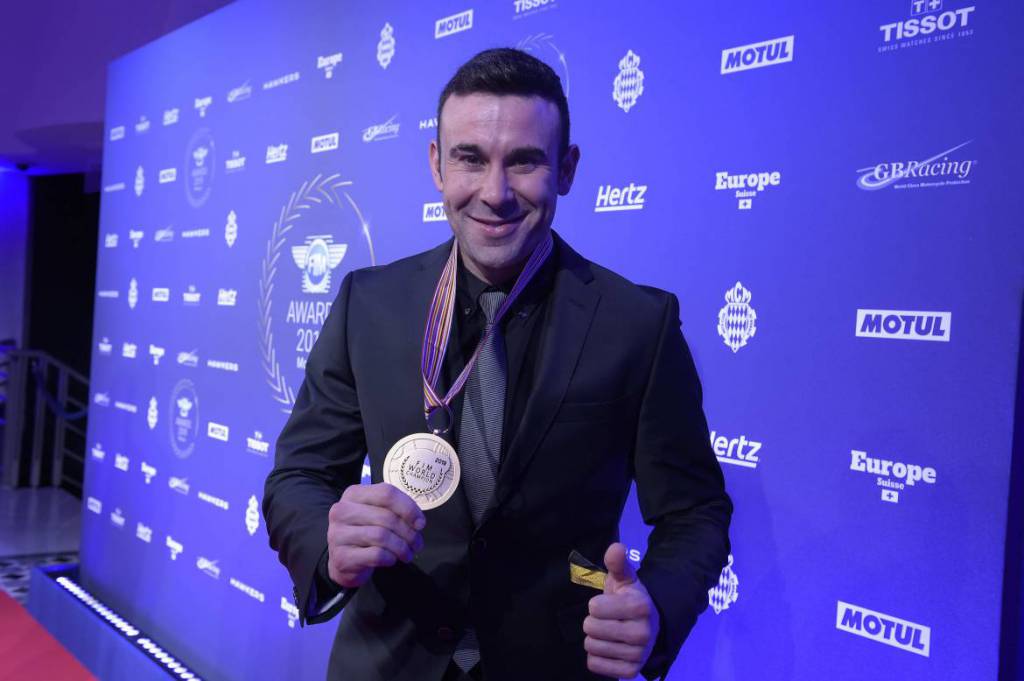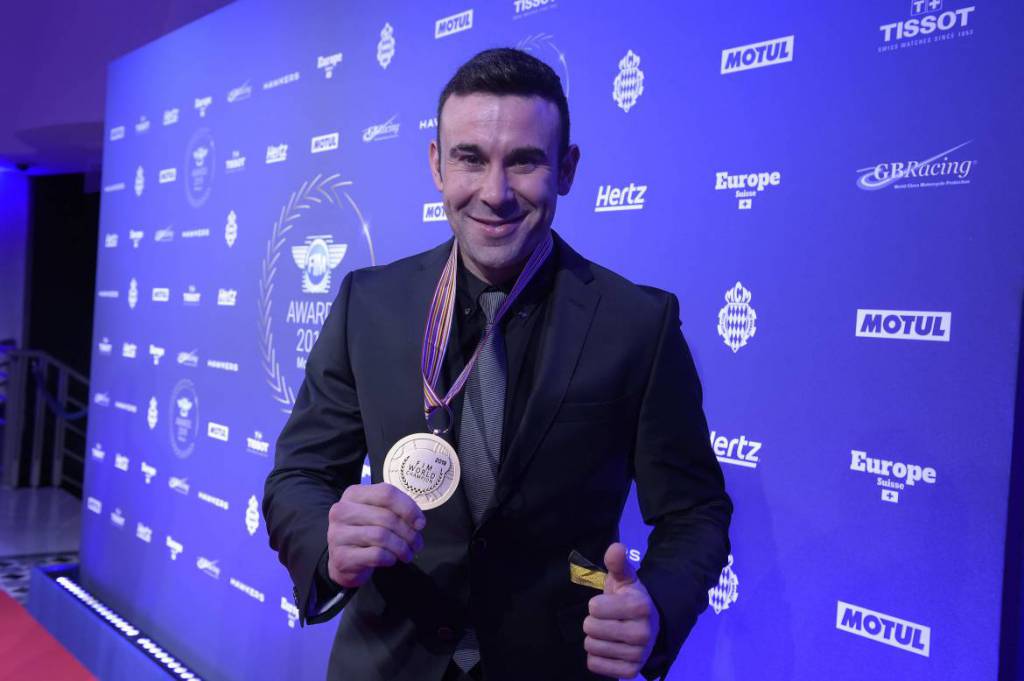 Would you like to step into a motorcycle champion shoes? HelloMonaco asked some multi-awarding sportspeople to speak their minds within the FIM Awarding Ceremony.
Randy Krummenacher (R.K.) is a skilled Swiss motorcycle racer, competing both in 125cc World Championship and in Supersport & Superbike World Championship (aboard Yamaha YZF-R6). He was awarded as 2019 FIM Supersport World Champion.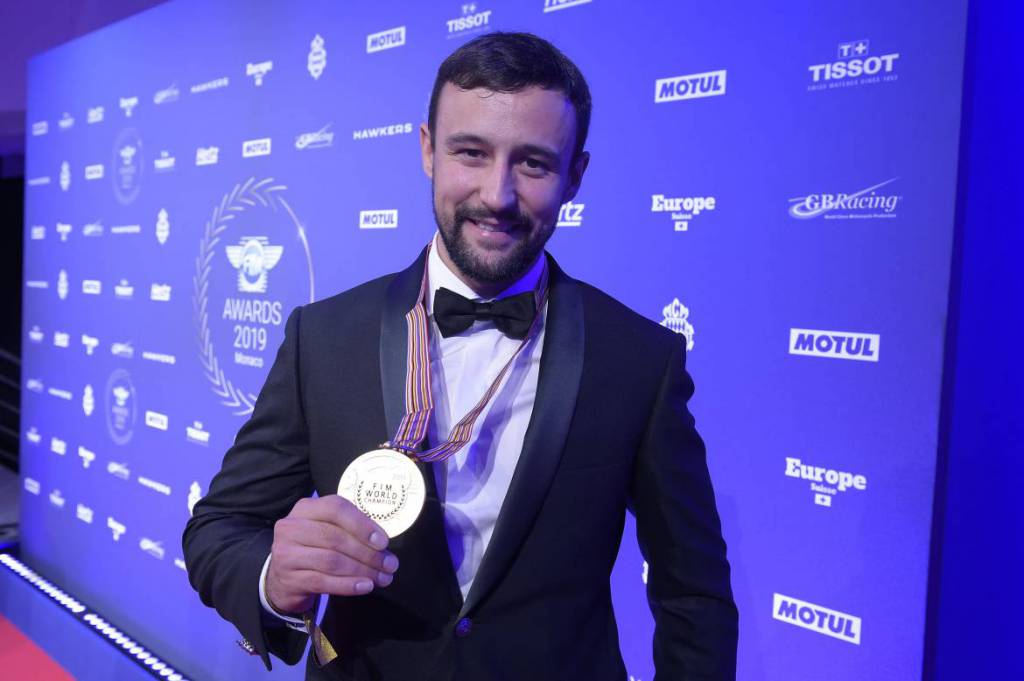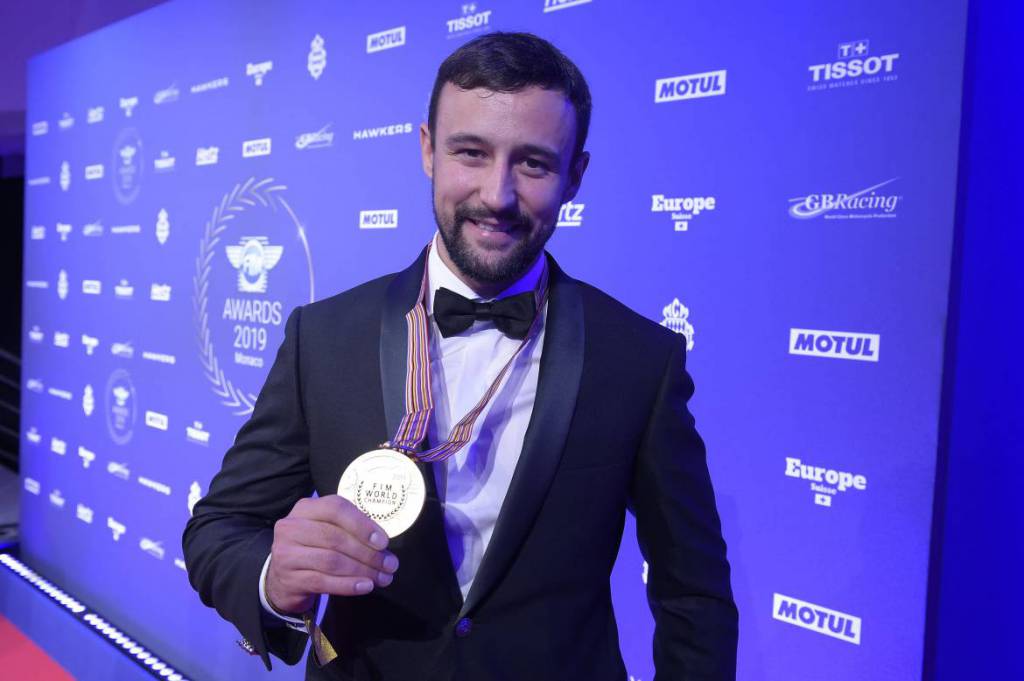 HelloMonaco: What does FIM Award represent for you?
R.K.: That means a lot to me and I do believe I will never forget this experience. I am really happy to be here to celebrate all victories of the year. When I was invited to come I accepted without any hesitation.
HelloMonaco: You have experienced many types of motorcycling as professional sport rider, what made you successful?
R.K.: It took me a long time to achieve sport titles. In fact, I have been training since I was 5 years old, playing Motocross, and I have always had a goal in life: to become a world champion. So, I had to overcome many difficulties and I wasn't always lucky. But I got it, finally. After racing for twenty-four years, this acknowledgment is truly welcomed. At this moment of my career, I gained a lot of experience testing various bike models different from each other. Plus, I learned how to better manage every risk, counting both on a mind and body training to provide a high-quality performance, as safe as possible in every condition. In the end, they all gave me a common feeling: to be really fast, taking your power to a limit where you feel comfortable.
Emma Bristow (E.B.) is a talented British rider, known as the Queen of Trial for attaining unbeaten honours in this non-speed discipline that tests competitors' abilities to overcome obstacles. She was awarded as 2019 FIM Women's Trial World Champion.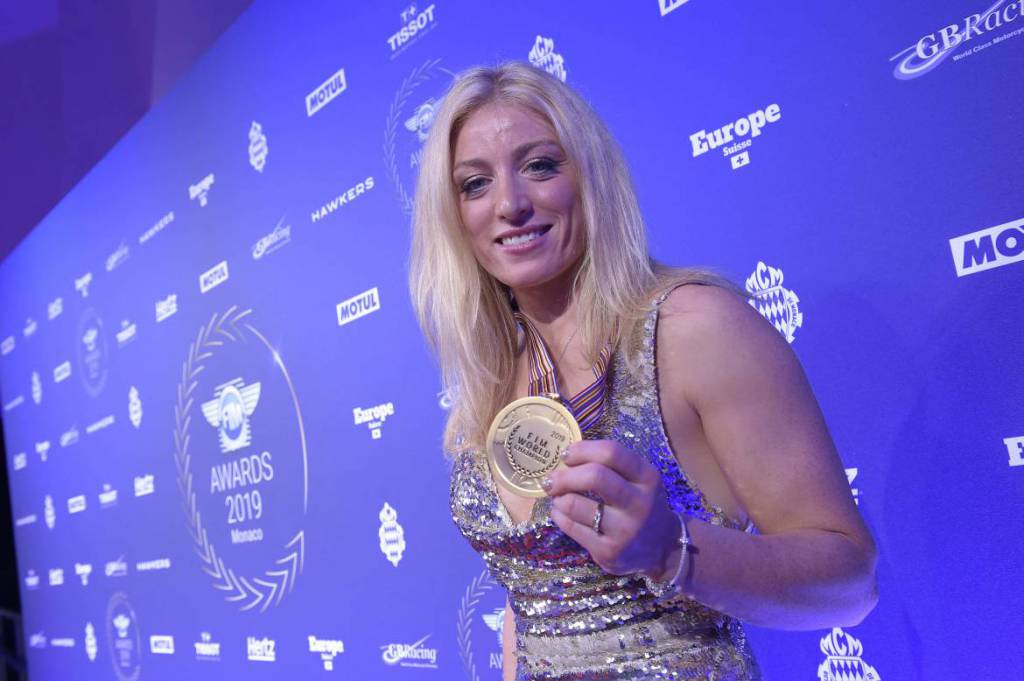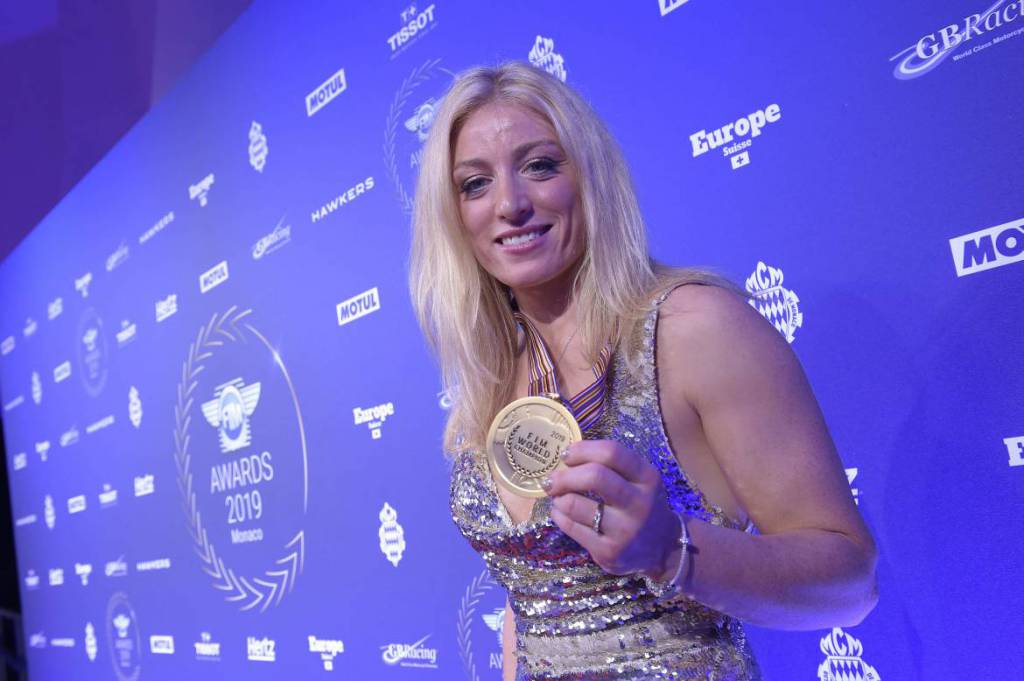 HelloMonaco: How do you feel being a woman's champion in a sport discipline originally for men?  
E.B.: I grew up with motorbikes when I was very little playing with my father and other boys. So, for me gender wasn't an issue since I have always been treated the same. Soon after, I found bikes events for women and I got very good results pushing me to improve a lot in training. I became then part of that sport community and it is really a nice feeling.
HelloMonaco: Self-control and accuracy in any detail are key elements in motorcycling, do you agree with this?
E.B.: Definitely. Being self-conscious is particularly important. You usually have everyone watching at you during all sections. So, you have really to forget any matter and control your nerves. I am used to doing it and I just love my sport. Obviously, my family loves to see my successful results and they are travelling the world to support me. It is quite unique and I feel lucky having friends almost everywhere I go.
HelloMonaco: What is your target in the near future?
E.B.: To win the World Champion again would be fantastic! I have won six times in a row and hopefully I will win four more times… but it is not easy. I am training hard to achieve it and I would be delighted to be here next year, too.
Daniil Ivanov (D.I.) is a three-time World Champion from Russia prone to challenging performances even on frozen surfaces. He was awarded as 2019 FIM Ice Speedway World Champion after a memorable season.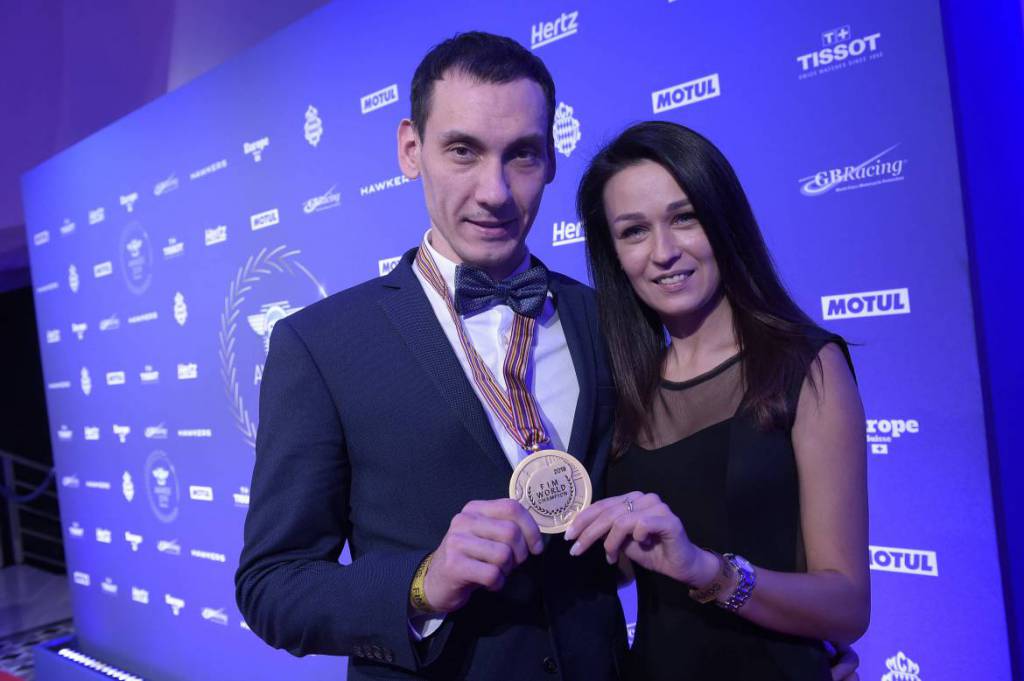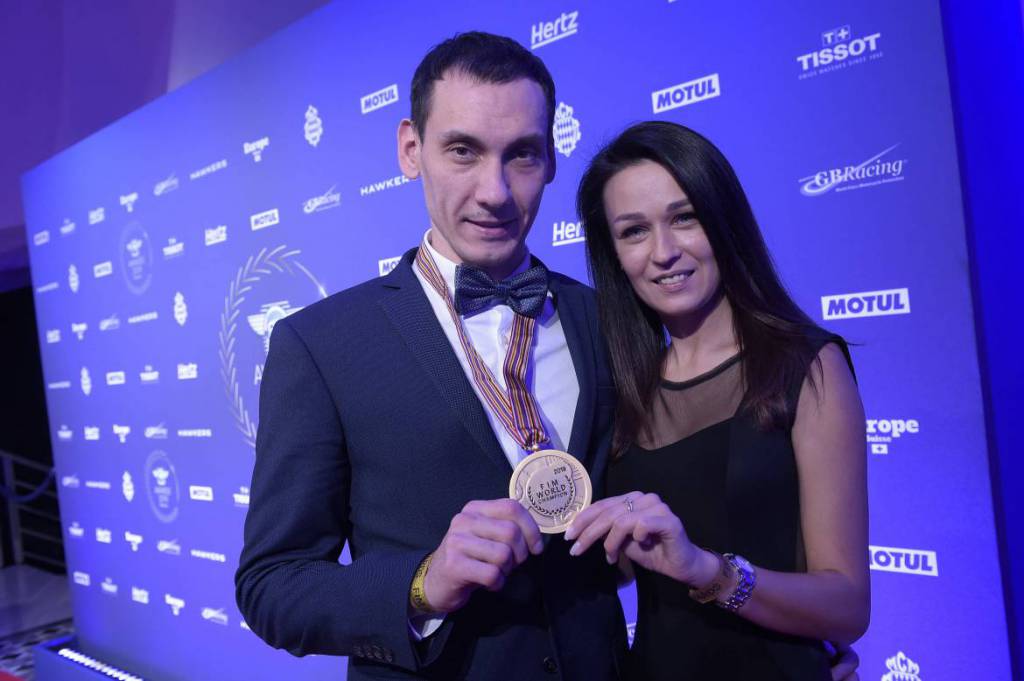 HelloMonaco: What do you feel about your successful outcome?
D.I.:  I feel proud to attend this event that gathers in Monaco so many high-ranked bikers from all over the world. A great opportunity also for the Principality.
HelloMonaco: How important is motorcycling for you?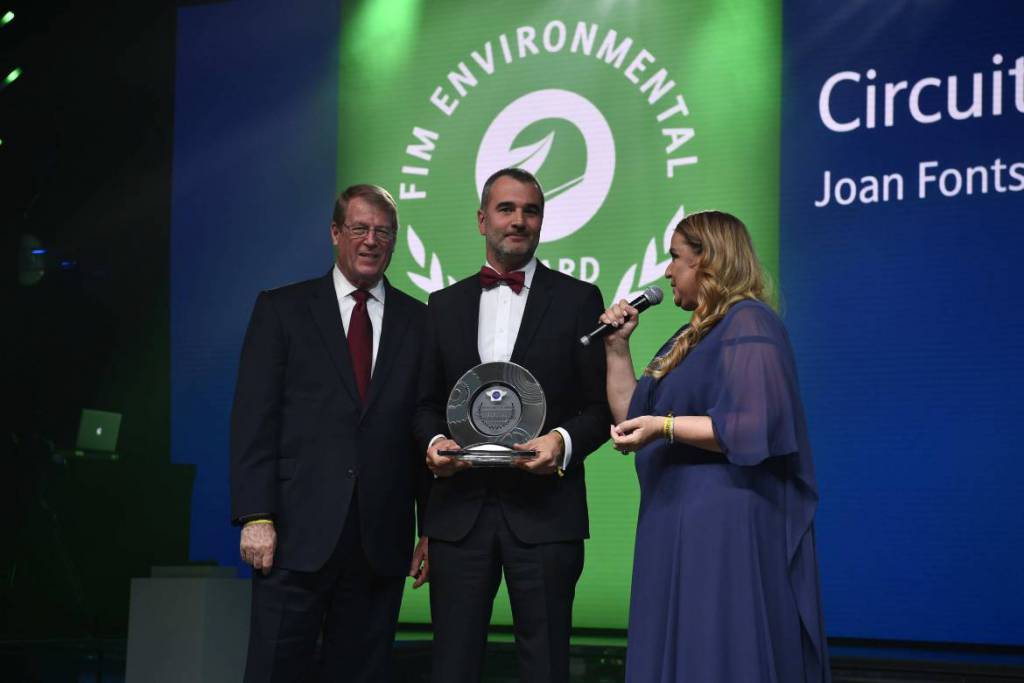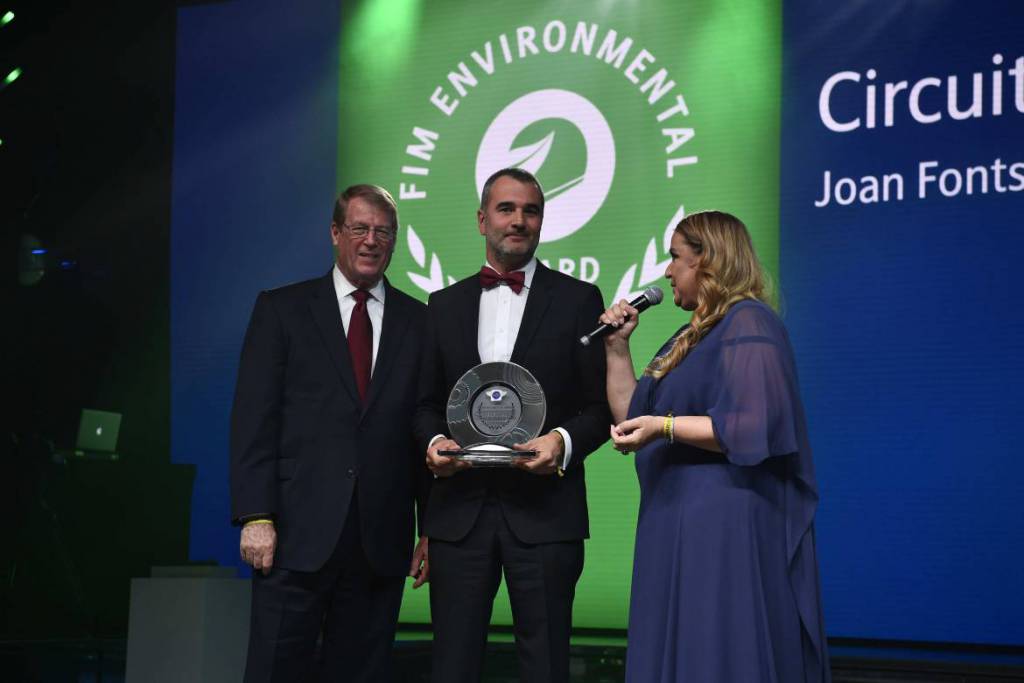 D.I.: It has been all my life since I was a child and, being well trained, I feel at ease when performing. People usually consider my discipline very risky since we don't use breaks but for me it is part of the game. Anyway, any sport has its dangers.
Jesper Knudsen (J.K.) is a fifteen-year-old Danish Speedway glory who has just won the gold medal in European 250cc Youth Speedway Cup. He was awarded as FIM Speedway Youth World Champion.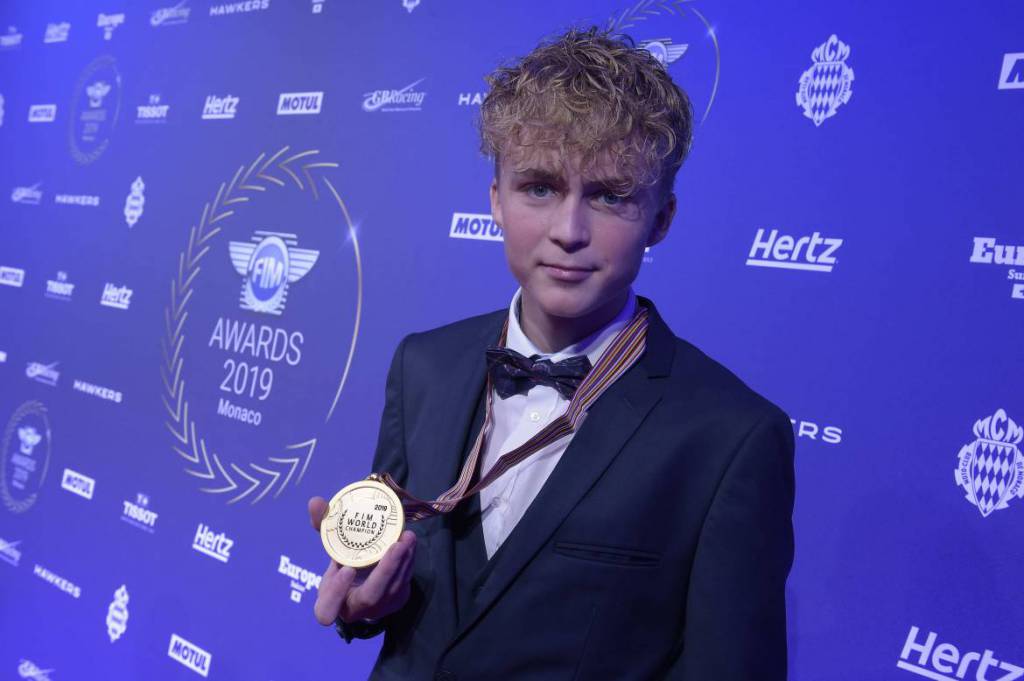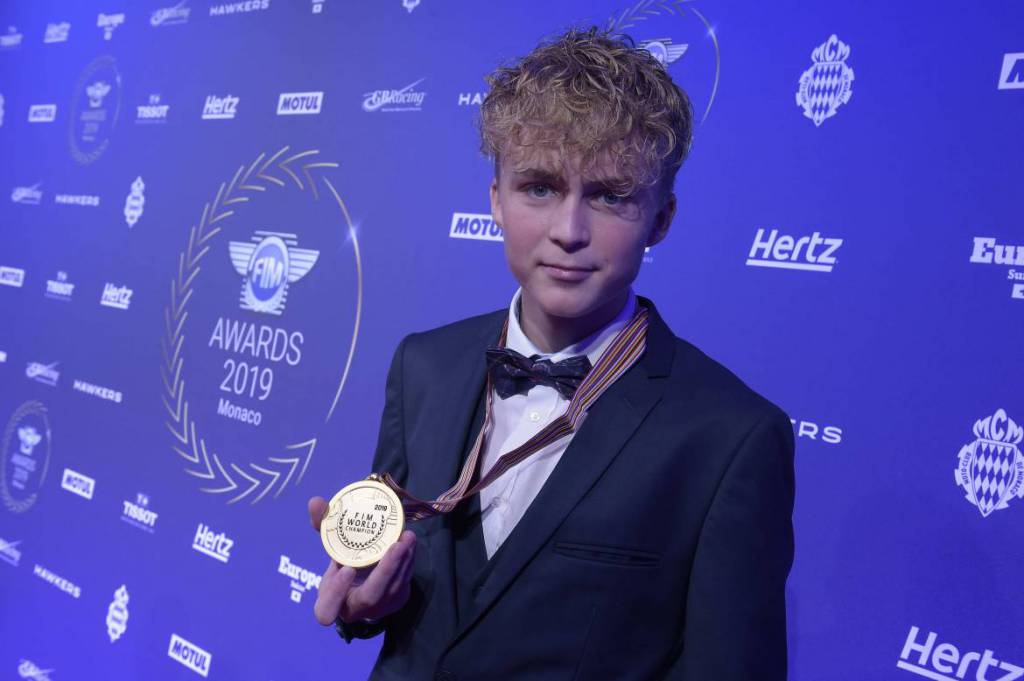 HelloMonaco: Being successful in motorcycling depends also on feeling comfortable on your bike, what do you say?
J.K.: Absolutely. It is always important to have a special feeling with your bike and so I have done, so far.
HelloMonaco: What are your projects for the future?
J.K.: I am looking for racing in 500cc Grand Prix to challenge myself a little bit more.  Last year, I rode 85cc and this year I drive a 250cc, so I do hope to accomplish my goal next year.