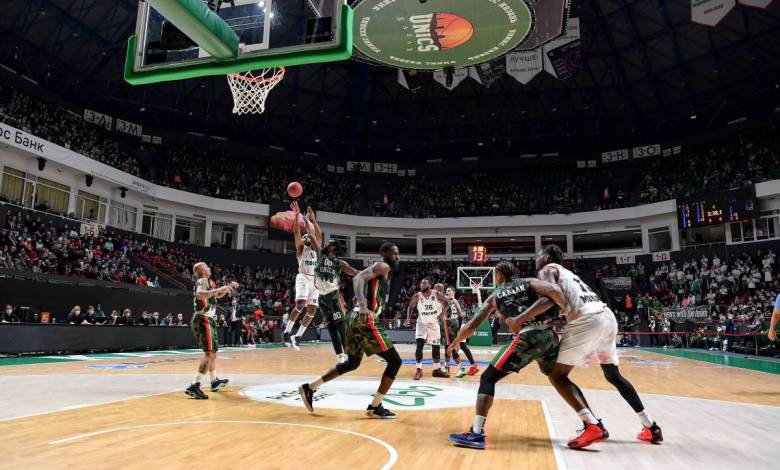 Roca Team is unstoppable, securing their seventh consecutive victory in the Betclic Elite with a resounding win against JL Bourg, with a final score of 78-67. 
Following a tough loss in the Euroleague against Virtus Bologna, the Roca Team wasted no time and faced JL Bourg, their closest competitor in the Betclic Elite. The players were not just seeking a win; they aimed to put on a show. Despite a swollen eye, Donatas Motiejunas started the game in top form. The starting lineup also featured Mike James and Matthew Strazel in the backcourt, along with Terry Tarpey and John Brown III.
From the very beginning, the Roca Team showed determination. Even though JL Bourg's Isaiah Mike hit a three-pointer to open the scoring, John Brown and Mike James responded promptly (4-3). In a fashion befitting an MVP , Mike James sank another three-point shot and expertly maneuvered around his defender for a mid-range basket, showcasing his skills. Number 55 led the charge, and his teammates matched his energy. However, JL Bourg remained competitive (10-7).
Matthew Strazel, playing as the point guard, added pace to the Roca Team's offense, making it easier for them to score near the hoop. Just before the end of the first quarter, Yakuba Ouattara nailed a three-pointer, but JL Bourg initiated a run to narrow the gap (18-16).
Both teams displayed relentless defense but struggled somewhat offensively. Elie Okobo ignited Monaco's scoring with a fast-break basket. JL Bourg's tough defense made it challenging for the Roca Team. A fierce battle unfolded in both paint areas, and JL Bourg managed to take the lead thanks to a basket from Salash, prompting a timeout from Sasa Obradovic (21-22).
Donta Hall once again exhibited incredible energy. He was omnipresent in grabbing rebounds and assisted Elie Okobo. To close the quarter, Mike James sealed the lead as the first half ended (31-29).
Second Half High-Intensity Battle 
The second half got off to a strong start for both teams. Donatas Motiejunas found his way to the basket, and Alpha Diallo nailed a three-pointer. Alpha Diallo led the charge, throwing down an authoritative dunk and smooth finish, orchestrated by D-Mo (40-37). The Roca Team regained their shooting accuracy and cohesion, epitomized by a prolific Elie Okobo.
Petr Cornelie found his range from behind the three-point line. Gradually, the Roca Team gained momentum, but JL Bourg remained competitive, thanks to their sharp three-point shooting (52-48).
Monaco's shooters responded immediately at the start of the fourth quarter. Yakuba Ouattara, Petr Cornelie, and Elie Okobo scored consecutive long-range baskets, significantly extending Monaco's lead. The Gaston-Médecin arena erupted in cheers for their beloved team (63-50).
The physical battle continued, and JL Bourg once again closed the gap with precise long-range shooting, courtesy of Courby and Brown (65-59). The Mike James show wasn't over. The US point guard was the only one who saw Jaron Blossomgame's perfect cut, delivering an incredible blind pass that confounded the defenders and pierced through JL Bourg's defense (69-59). To finish, John Brown and Matthew Strazel added a few more mid-range shots, and Yakuba Ouattara contributed to the game's statistics, sealing another triumphant victory for the Roca Team 78-67. 
Monaco's basketball fans have much to celebrate as their team solidifies its position at the top of the championship.