Grimaldi Family
Grimaldi Family Queen Victoria and Prince Albert Family Tree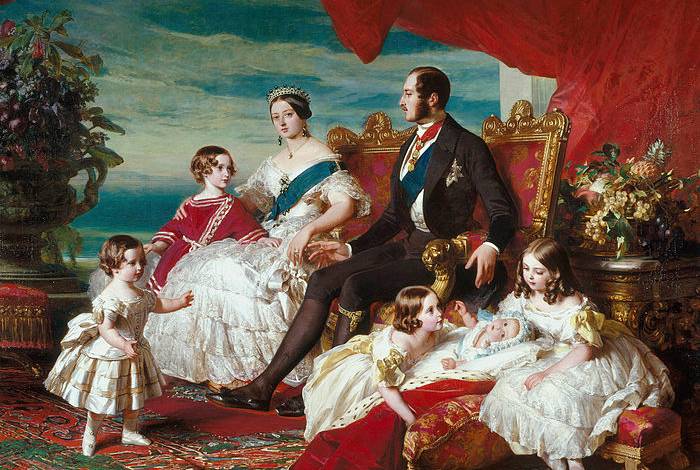 Queen Victoria served as monarch of Great Britain and Ireland from 1837 until her death in 1901. She became Empress of India in 1877. After Queen Elizabeth II, Victoria is the second-longest reigning British monarch – Victoria's reign saw great cultural expansion; advances in industry, science and communications; and the building of railways and the London Underground.

During Victoria's reign, Britain expanded its imperial reach, doubling in size and encompassing Canada, Australia, India and various possessions in Africa and the South Pacific. The Queen was emblematic of the time: an enthusiastic supporter of the British Empire, which stretched across the globe and earned the adage: "The sun never sets on the British Empire."

One of the major factors that helped Britain from avoiding European entanglements was the marriage of Victoria's children: either directly or by marriage, she was related to the royal houses of nearly every major European power.

The Victorian Era: life in Britain during the 19th century was known as Victorian England because of Victoria's long reign and the charismatic imprint that she left in her kingdom and outside the country.

In 1840, Victoria married her cousin, Prince Albert of Saxe-Coburg and Gotha, the son of her mother's brother. The couple met when Victoria was just 16; their uncle Leopold suggested they marry – Since Victoria was queen, Albert couldn't propose to her. So, she proposed to him on October 15, 1839. Victoria and Albert had nine children together.

The couple was intensely devoted to each other. Prince Albert became Victoria's strongest ally, helping her navigate difficult political waters.

Victoria's beloved Albert died of typhoid fever in 1861 at the age of 42. Victoria was devastated, sleeping with a plaster cast of his hand by her side, and went into a 25-year seclusion. For the rest of her reign, she wore black.

Meaningful friendly relationships were those with John Brown (Victoria's Scottish servant and closest friend) and Abdul Karim (Victoria's servant from India and closest friend).

Victoria died after a lengthy period of poor health on January 22

nd

, 1901, at the age of 81. Her son, the future King Edward VII, and her eldest grandson, Emperor Wilhelm II of Germany, were both at her bedside.

Prince Albert Edward Wettin, Victoria's eldest son, succeeded her to the British throne as King Edward VII upon her death in 1901 – after his death in 1910, his son George V succeeded until his death in 1936. After him, his son Edward VIII got to the throne and he then abdicated (1936) in favour of his brother who became George VI, married with Elisabeth Bowes-Lyon, and they had two daughters, Margaret Rose and Elisabeth who has become Elisabeth II in 1952.

Descendants from Queen Victoria: 1. Queen Elizabeth is Victoria's great-great granddaughter; 2. Princess Alice married into German nobility, her husband Louis IV, Grand Duke of Hesse; 3. Harald V of Norway is also a great-great-grandchild of Queen Victoria; 4. King Felipe VI of Spain His paternal grandfather, Infante Juan, Count of Barcelona was the son of Princess Victoria Eugenie, herself the daughter of Queen Victoria's youngest child, Princess Beatrice; 5. King Carl XVI Gustaf of Sweden Gustaf claims a connection to Victoria's seventh child, Prince Arthur; 6. Queen Margrethe II of Denmark First cousin to King Carl XVI Gustaf of Sweden, Margarethe traces her family line back to Queen Victoria via Victoria's son Prince Arthur by way of his daughter, Princess Margaret; 7. King Phillippe of Belgium in fact, the current king of Belgium has genetic ties to both Victoria and her husband, Prince Albert, as he is the direct descendant of their mutual uncle, King Leopold I of Belgium.

Germany, Russia, Romania, Yugoslavia and Greece are Countries governed by monarchies presided over by Victoria's family.

The connection between the House of Windsor and the House of Grimaldi begins in the 19th century when Albert I, Prince of Monaco, married a British aristocrat called Lady Mary Victoria Hamilton – Her father was the 11th Duke of Hamilton and her mother was a German princess, Marie of Baden.

Lady Mary Victoria's father, William, was an important Scottish peer, and descended from Mary, eldest daughter of James II of Scotland (1437 – 1460). James II's son, James III, was the direct ancestor of all later Scottish monarchs including Mary, Queen of Scots whose son, James VI, in 1603 united his country's crown with that of England where he was known as James I. His direct descendant is Elizabeth II.

Lady Mary Victoria, actually spent very little time in Monaco. Her marriage to Albert I was an arranged one and the couple met for the first time around a month before their wedding, which took place at the fabulously romantic Chateau de Marchais in France. Their only child, Louis, was born a year later, but Mary Victoria began to dislike her life in Monaco, and she eventually left her husband. Their marriage was annulled in 1880, nine years before Albert I became Monaco's Sovereign Prince.