History pages
Jean-Michel Folon whose flying men make our spirits fly too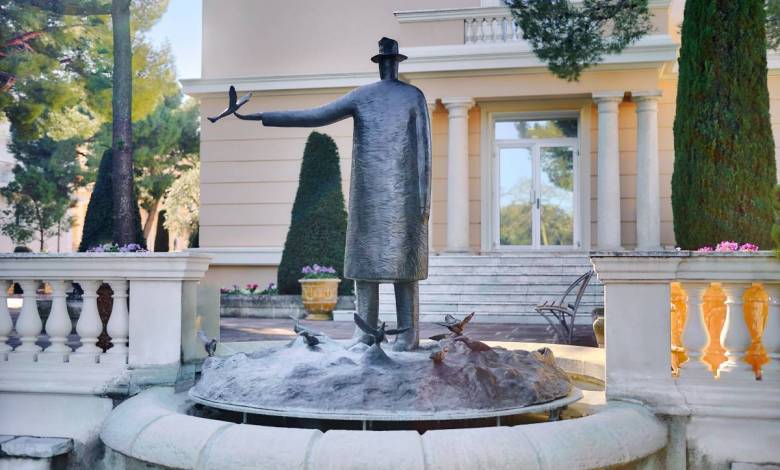 It was March, 1, 1934 and an extraordinary individual was born in Brussels. He would grow up to study architecture at the Institut Saint-Luc in Belgium but at the age of 21 he left for Paris and devoted himself to the real passion that burned within him — art and particularly watercolours. It was not in Europe but in the United States that the great initial spark took place where he created a dreamlike universe of watercolours which awakened and challenged our imaginations.  
We are talking about Jean-Michel Folon whose most famous emblem is the «bird-man» and, of course, the fedora, his iconic hat. In the middle 1980s he settled in Monaco where he died in October, 2005 and was buried in the local cemetery. Nowadays, 15 years after Folon's death, we still admire his wonderful «La Fontaine Aux Oiseaux» (Bird Fountain) in Monaco-Ville, one of the most touching sculptures in the Principality — a man kindly palm-feeding pigeons becoming himself a part of Nature…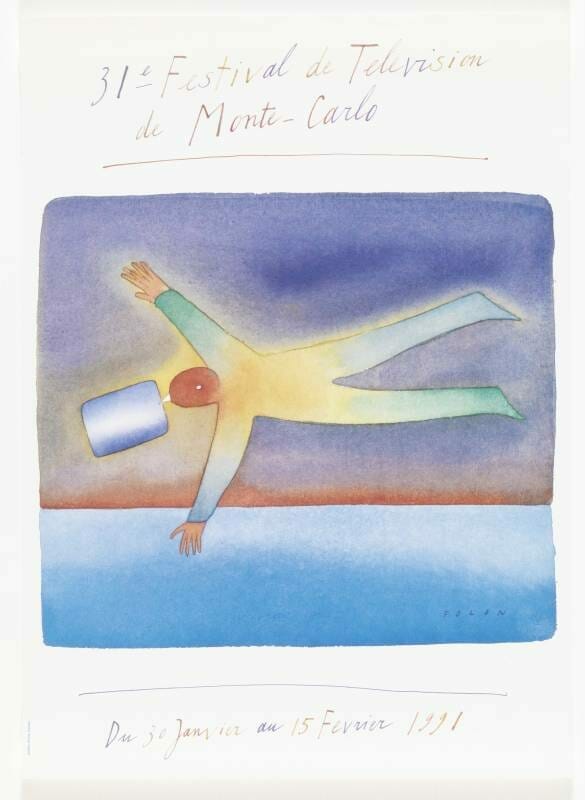 From the United States back to Europe 
The first exhibition of Folon's watercolours was in New York in 1969 in the Lefebre Gallery. And in the same year we see his work titled «Man by the calm sea at night» already appearing on the cover of The New Yorker magazine. Folon also illustrated great books, for example, by Franz Kafka, Boris Vian, Ray Bradbury, Guy de Maupassant, Albert Camus and H. G. Wells, among others. One year later he exhibited in Tokyo and soon galleries in his native Europe, in Milan and Venice, clamoured to give limelight to one of their own — the II Milione gallery in Milan and the XXVth Venice Biennale, for example. And in 1973 his native Belgium also embraced him by including him among the Belgian artists participating in the XIIth São Paulo Biennale, where he was granted the Grand Prize in Painting.
Over the years his work concentrated on different techniques not just watercolour — including etching, silkscreen, illustrations, mosaics, and stained glass, which showed the diversity of his art. That initial spark in the US which ignited recognition was just the start of an artistic journey that would see him living in Paris and whose final destination would be Monaco in 1983 — where he would stay and work for close on twenty years.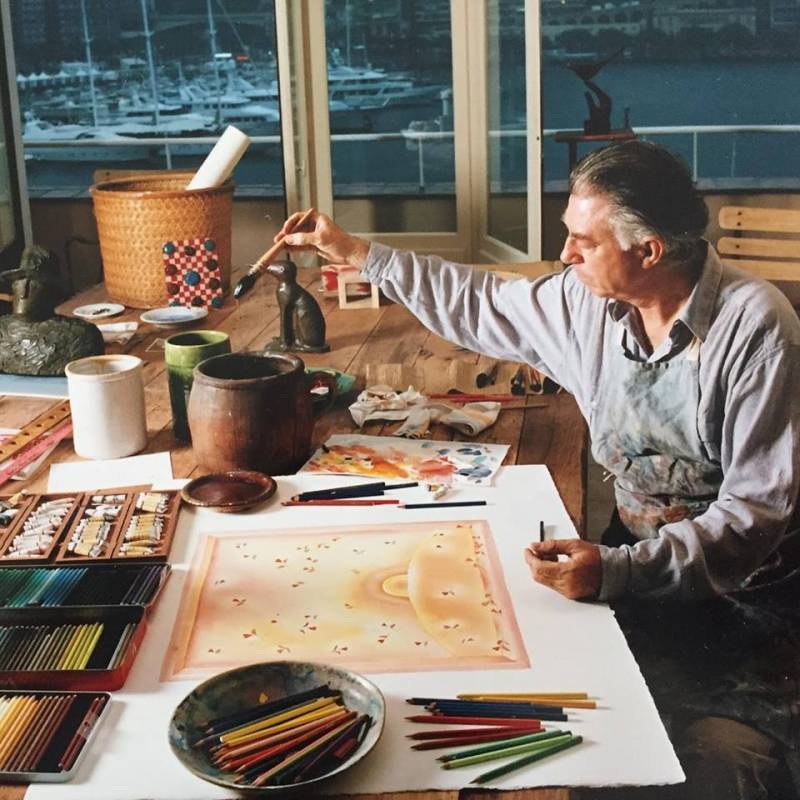 Paradise in Monaco 
Many great artists had been attracted by the light of the Riviera and it was in Monaco where the multi-talented Folon found a home and a shared pulse. The Principality was an oasis for someone as eclectic and international as Jean-Michel who took a clear and poetic look at humanity and left a universe of work focused on the fundamental values of man and his place in the environment.
A humanist and a UNICEF ambassador, he also put his artistic talent to work creating posters in the service of great causes which are dear to Monaco including numerous poster campaigns for UNICEF, Greenpeace and Amnesty International. 
While continuing his paintings, the Principality also stimulated the sculptor in him. Around 1988, on the advice of César, Folon created his first sculptures made out of wood. He then moved on to creating sculptures in clay, plaster, bronze and marble.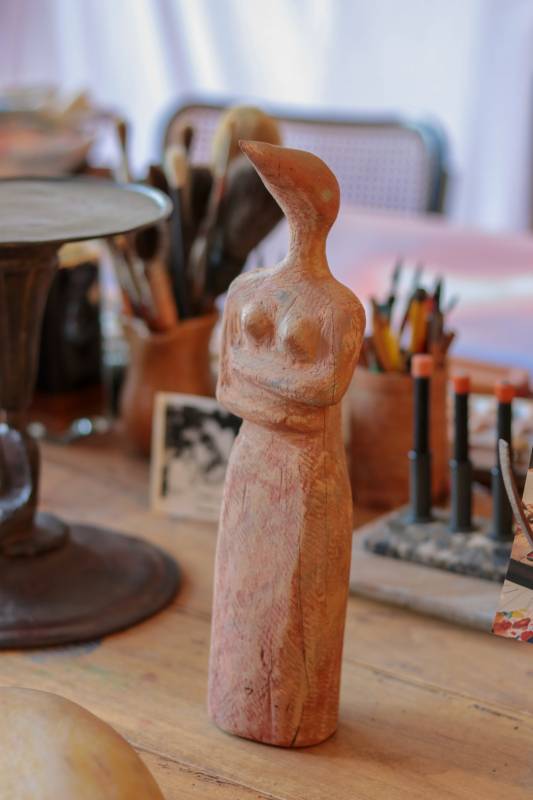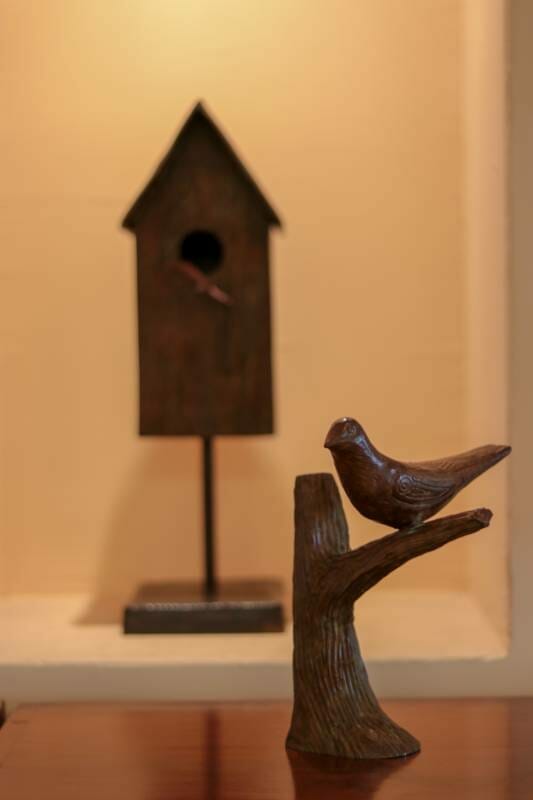 He forged numerous bonds of friendship in the Principality thanks to which one can discover today his works all over the Principality: the stained glass windows of the Monte-Carlo Bay, the mosaics of the Chapel of the Carmelite Fathers, «La Fontaine Aux Oiseaux» in the gardens of the Ministry of State and others.
Jean-Michel Folon respected craftsmen and indeed was one himself. One of the last major projects of his life was the careful restoration of an old wooden yacht, which he named «Over the Rainbow» as he used to draw a rainbow very often too.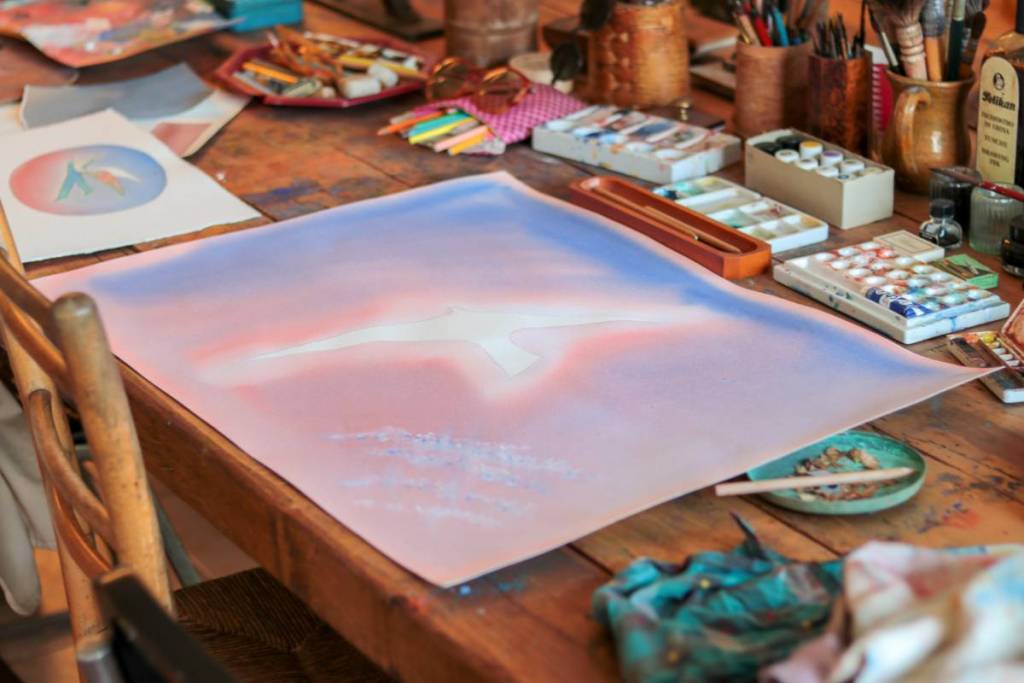 Flourishing in Diversity
Jean-Michel Folon has left an extraordinary eclectic legacy in the history of art. Though his artistic style always maintained the core discipline he created, that same style found expression in many media. Folon the artist, inquisitive, is simultaneously painter, engraver, sculptor and illustrator of great literary works. His art is plentiful in its diversity: he captures light, a "light smuggler" in the craft of stained glass, created theatre sets and animated films including the credits for the several famous cult series of the French «Antenne 2» TV channel.
Folon made murals including Magic City for the Brussels subway and in Waterloo Station for the London tube, posters for theatre, festivals, opera and cinema («The Purple Rose of Cairo», by Woody Allen, 1985; «The Stalker», by Andrey Tarkovsky, 1979), theatre and opera scenery, short films for TV, tapestries (Congress Hall of Monaco, 1989), ships and interestingly in 1999 a flag for the traditional Palio horse race in Siena, Italy. When Steve Jobs had an idea to put inside Apple computers a funny little man who appears, waves at users and quickly disappears, it was Folon who drew Mr. Macintosh (in fedora hat and macintosh raincoat) for Apple in 1983.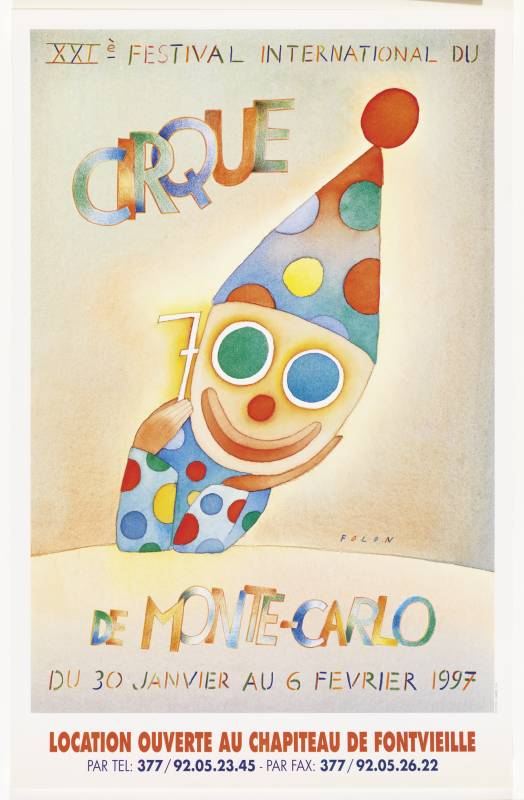 Jean-Michel was also an actor whose filmography includes several movies. In 1981 he played the main male role in the psychological drama «The Naked Love» by Yannick Bellon.
Folon's artistic talent was recognized by several exhibitions organized in the most famous galleries and museums in the world. Everyone wanted to display his work. Just as an example: 
• Musée des Arts Décoratifs, Paris, 1971;  
• Arts Club of Chicago, 1972;
• Musée Picasso, Antibes, 1984; 
• Metropolitan Museum of Art, New York, 1990; 
• La Pedrera, Barcelona, 1993; 
• Bunkamura Museum, Tokyo, 1995; 
• Olympic Museum, Lausanne, 1996. 
He also created a famous piece of television that was screened in France for almost 30 years. In 2003, the President of the French Republic, Jacques Chirac, awarded Folon the Legion of Honour in the Palais d'Elysée.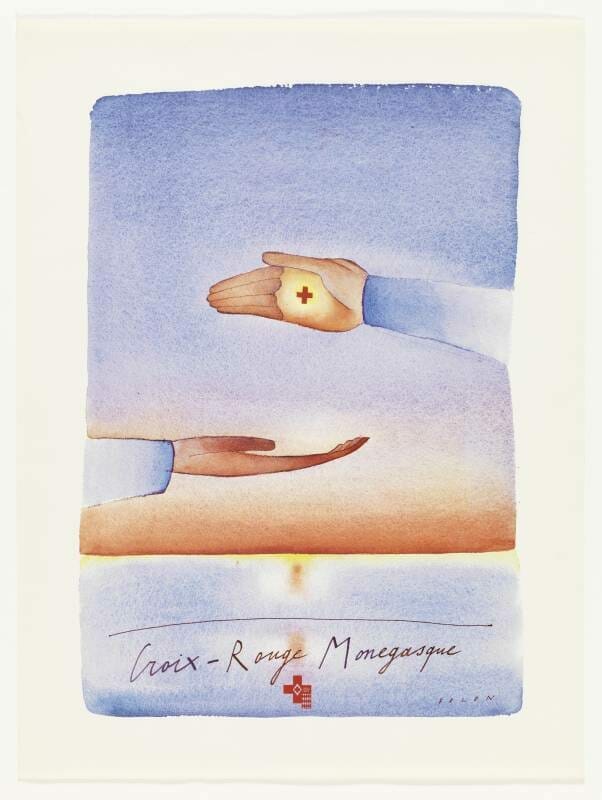 The Monaco Legacy 
The legacy of Jean-Michel Folon is luckily available for all to see in Monaco. His work-place is intact. Just as he had left it or almost. Jean-Michel Folon left our world on an autumn evening in 2005 but his life is still there in his studio on Quai Antoine Ier — the one which Prince Rainier III proposed to him and which he had occupied for so many years — and where he drew on his large work table fronting on the azure Mediterranean.  
The workshop today lives on as a space to be visited, according to the wishes of the Folon Foundation (Belgium) with the support of the Principality. In November 2015, for the 10th anniversary of the artist's death, the Folon Foundation created a Monaco association specially in order to keep the atmosphere and share the energy it contains.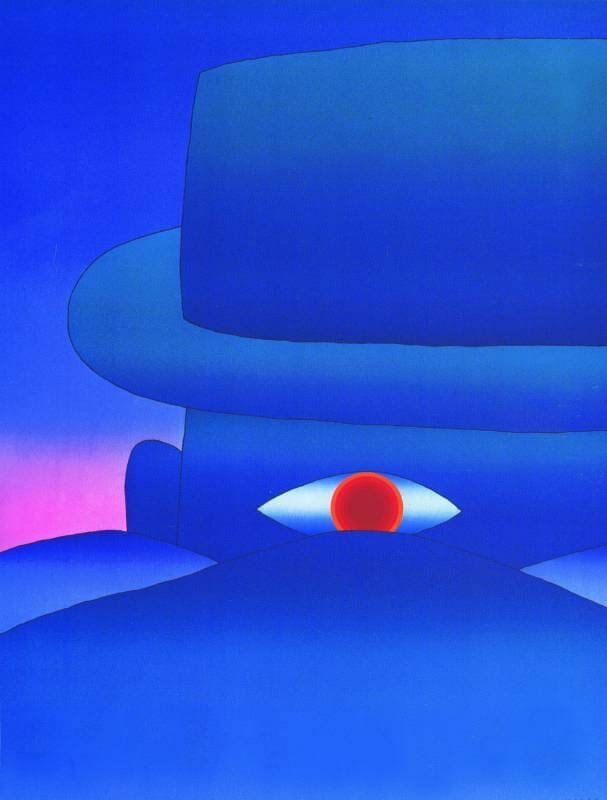 Feel the presence of the genius in his workshop, the unique artist who could make memorable art from an old hat; yes, just a hat. He would add two airholes and a clip resembling a face — adding a slosh of paint as only a genius knows how to enhance the effect. Even his drawings can appear deceptively simple at first glance, but when you look more closely you realise how clever they are.
Visit and get a bird's eye private view of the artist's cozy intimate world. You will see his brushes and even other everyday objects, including his widow's apron hanging on a chair. It is brimming to overflowing with the artist's works. Sculptures, watercolours and memorabilia including a letter from Woody Allen with whom he had collaborated on a project.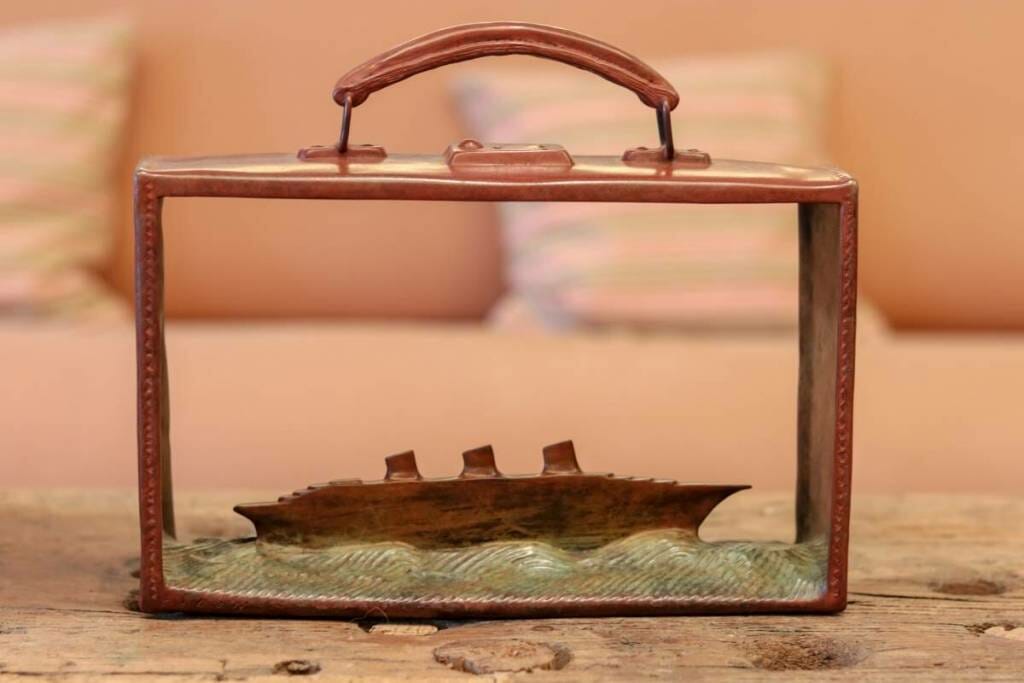 There are Guides trained to introduce the workshop to visitors in several languages. The Monegasque workshop managed by the Folon Foundation complements the Belgian museum that the artist imagined during his lifetime. Music and films enhance the visit.
Art workshops are led by Patrick Jacqmot, architect and friend of the artist where you can explore the technique of watercolour but also gouache, pastel, and collages. For dates and hours of classes please check the Atelier official website.
MONACO L'ATELIER FOLON
Sandra Vial
atelierfolon@monaco.mc
+377 9350 0610
8, Quai Antoine I, Monaco
FOLON FOUNDATION
https://fondationfolon.be/
HelloMonaco magazine thanks the Folon Foundation for the illustrations.