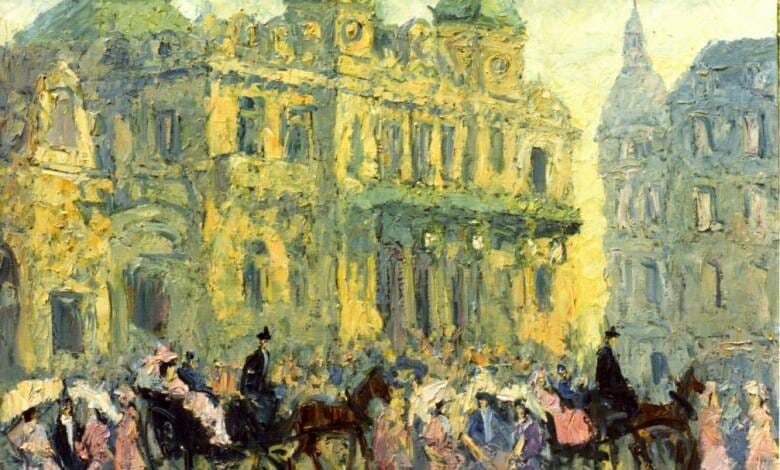 Emmanuel Bellini was born in 1904 in Monaco 20 years before the birth of Prince Rainier. Bellini grew up following the height of the Belle Époque and his childhood was one surrounded by these images — horse-drawn carriages and joyful scenes of aristocrats and gentlefolk enjoying the Casino and the Opera of Monte-Carlo (Salle Garnier) in all its splendour. 
Emmanuel Bellini took his childhood images of Monaco with him and in his professional life as an architect helped transform the Côte d'Azur around Monaco and Cannes. But in his heart he yearned to paint those joyful scenes from his childhood memory — those aristocratic horse-drawn carriages and the Casino and Opera of Monte-Carlo. He got to do so and caught the eye of Prince Rainier in the process — the bright joyful scenes especially. 
But even more so he and Prince Rainier bonded over a joint passion for the circus — a theme that Bellini was to intensely focus on in his paintings. And so as Prince Rainier was bringing his full enthusiasm to bear to bring the first great International Circus to Monaco, just two years before, in 1972, the Prince organized an Expo of Bellini's paintings in Sporting d'Hiver.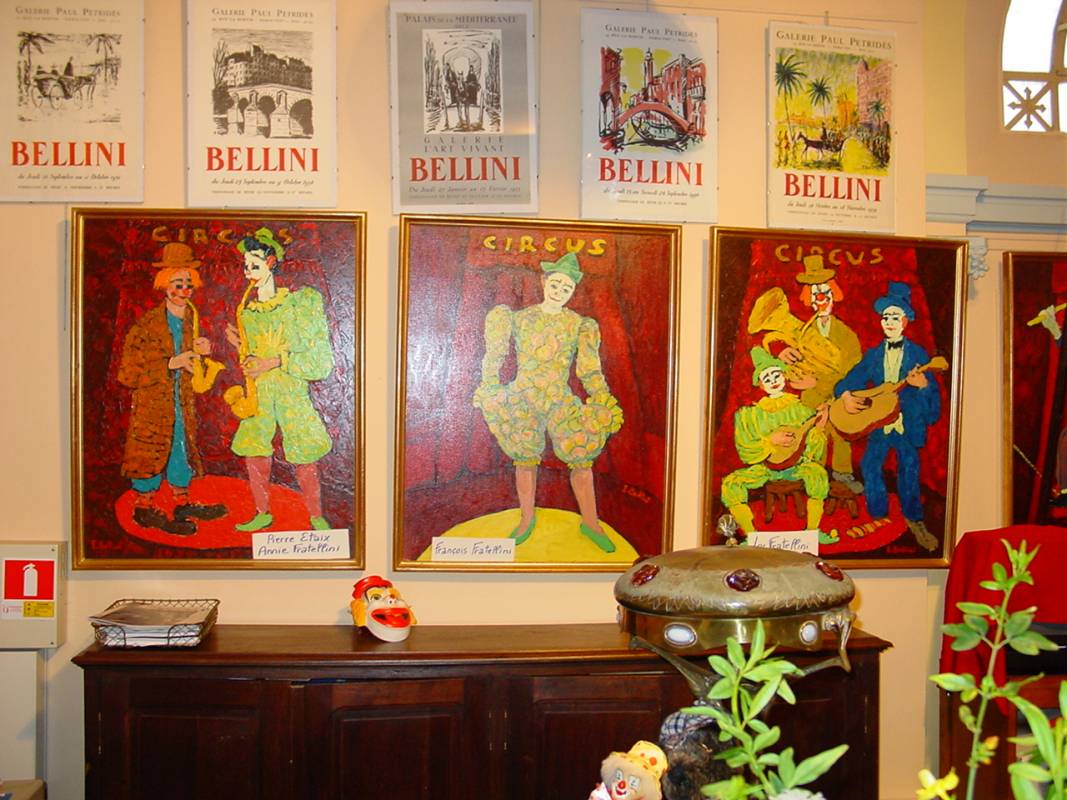 Then in 1974 Prince Rainier opened his International Circus — and those scenes of clowns and merriment are very much captured in Bellini's prolific art. 
Prince Rainier never ceased to celebrate their joint passion so when Bellini was in his 80's the Prince again created an Expo of his work, this time entirely focusing on the circus themes in Bellini's paintings. 
Bellini's legacy shines every year now, whenever the prizes are awarded at the International Circus of Monaco with the granting of the Emmanuel Bellini Prize. The passion of Prince Rainier shared by Emmanuel and reflected in his prize lives on. 
Bellini's Daughter Lucette
Lucette Bellini had a rare and wonderful childhood brought up in a dreamlike Belle Époque ambiance at the coat-tails of one of Monaco's extraordinarily talented artists. Emmanuel Bellini, her father, was both an architect and a painter whose drawings and paintings influenced and shaped the Côte d'Azur. First and foremost an architect, Emmanuel Bellini even built the first subdivision of the Var (Village of San Pëire sur Mer) as far back as 1928.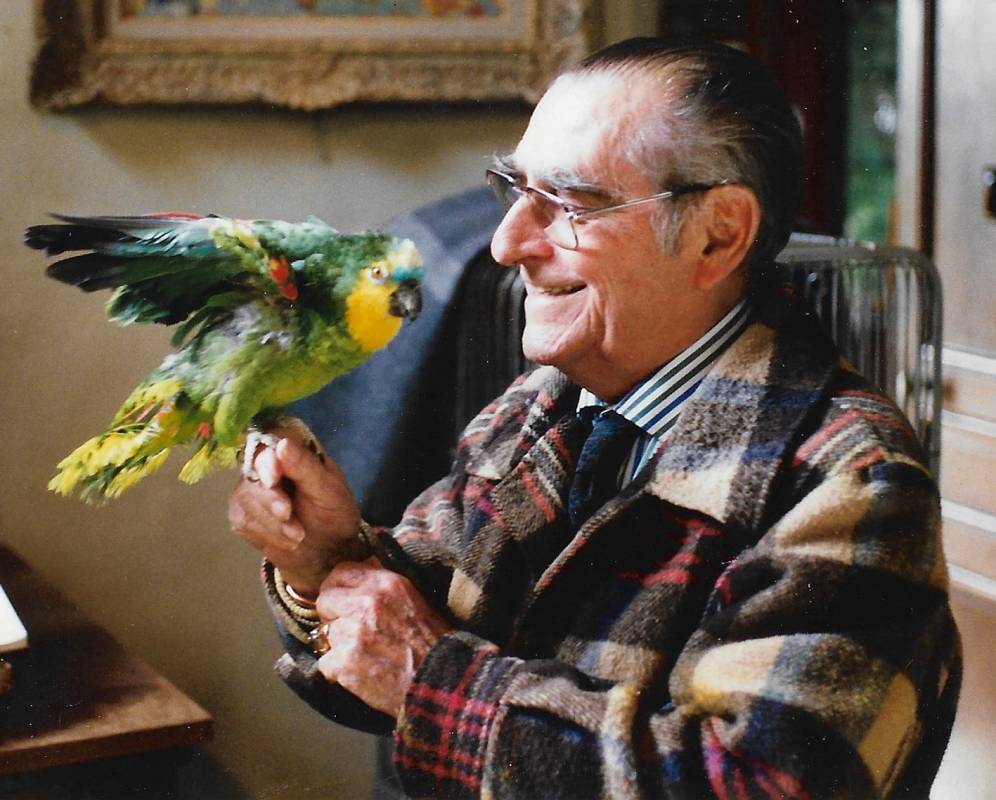 His daughter Lucette, now in her eighties, has made a record of her warm family memories the calm and joy reflected in warm interiors, family gatherings in Monaco, horse-drawn carriages, weddings, holiday celebrations, musical concerts at Salle Garnier in Monte-Carlo, dance halls and garden parties. Rich memories too of her geographical environment, horses returning in the evening after their day's work, particularly scenic landscapes of the lavender harvest, or the snowscapes of the winter festive season. 
There exists a photo of her from the 1930s when she was 2 years old … on a construction site! Emmanuel Bellini took his only daughter to many of his sites as he was imagining and designing the construction of numerous villas on the Côte d'Azur around Monaco and Cannes, from Marseille to Menton.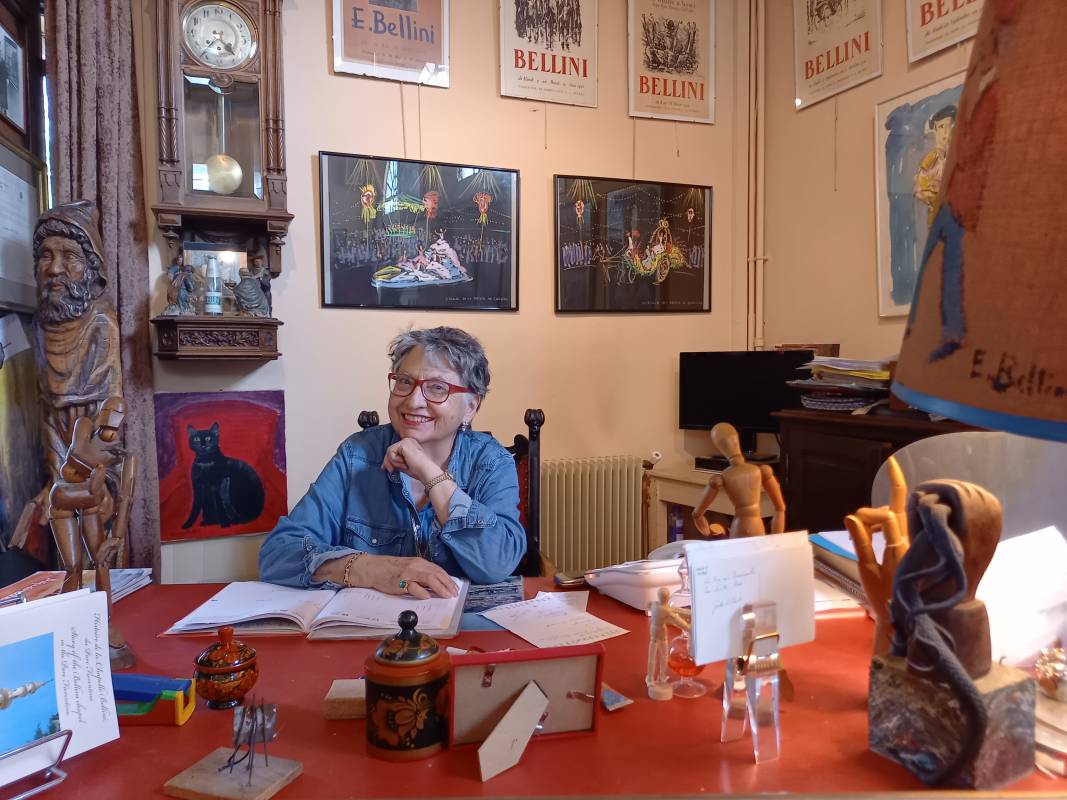 Lucette thus had a unique childhood; she was immersed in architecture from birth. Apparently the very first words she spoke were not mom or dad as you would expect but "pencil and paper," as she followed Dad the architect around. 
Later her father was a prolific painter for 40 years, reflecting his Monaco, Belle Époque childhood.
Born Monegasque into that magnificent Belle Époque age
Emmanuel Bellini was born at the turn of the 19th century, 1904 to be exact, at No. 8 rue Plati in Monaco. His father, Antoine had been a Monaco international gymnastics champion but made his living as a fitter mechanic at the local electrical factory. His mother, Louise, was an embroiderer. A member of Herculis and Etoile gyms, Emmanuel's father led the athletes of Monaco in international matches.
After studying at the school of the Brothers, in 1919 he enrolled at the School of Drawing of the Rock (since renamed the Higher School of Plastic Arts of the city of Monaco) where his master, Professor Colombo, during his evening classes, taught him to express himself in charcoal. Also, recognizing his exceptional talent, the Professor gave him special permission to work in watercolour. 
Later Emmanuel would become a founding member of the Association of Alumni from this Monaco School of Drawing.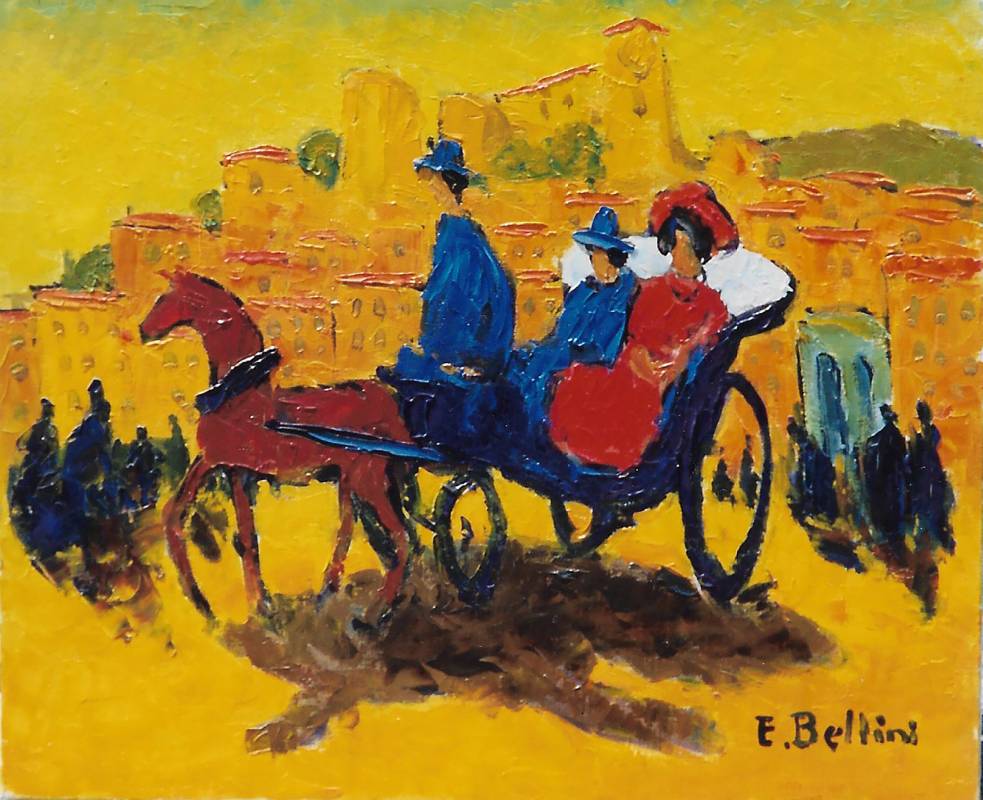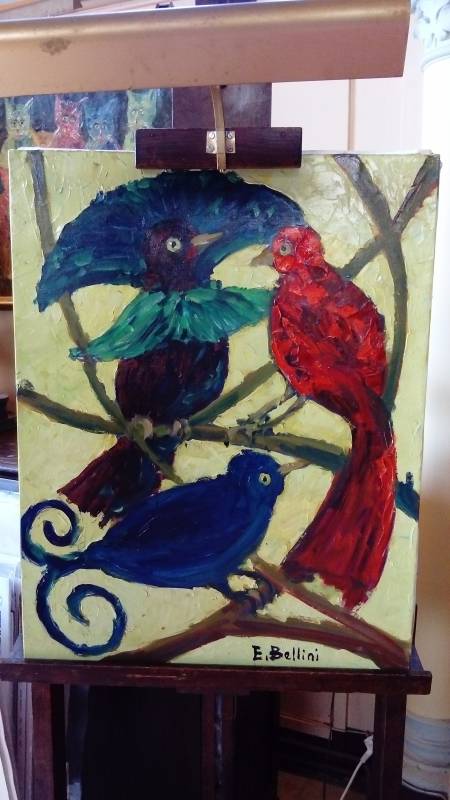 Monegasque through and through 
Emmanuel Bellini's talent spoke for itself so his teacher presented him after graduation to the Casino de Monte-Carlo to design the sets there. A little young for the task, destiny would strike to broaden his experience beyond Monaco, next having him move to Paris to study at the Beaux Arts. 
As his father could not support him financially, he then found an apprenticeship as an architect in Nice, with Charles Dalmas, the famous architect of the Belle Epoque. He spent six or seven years under Dalmas and is recorded leaving with a certificate from there. He did try to find work in Monaco early on — as a designer for one or two architects — but there was not enough work at that time to make a good living.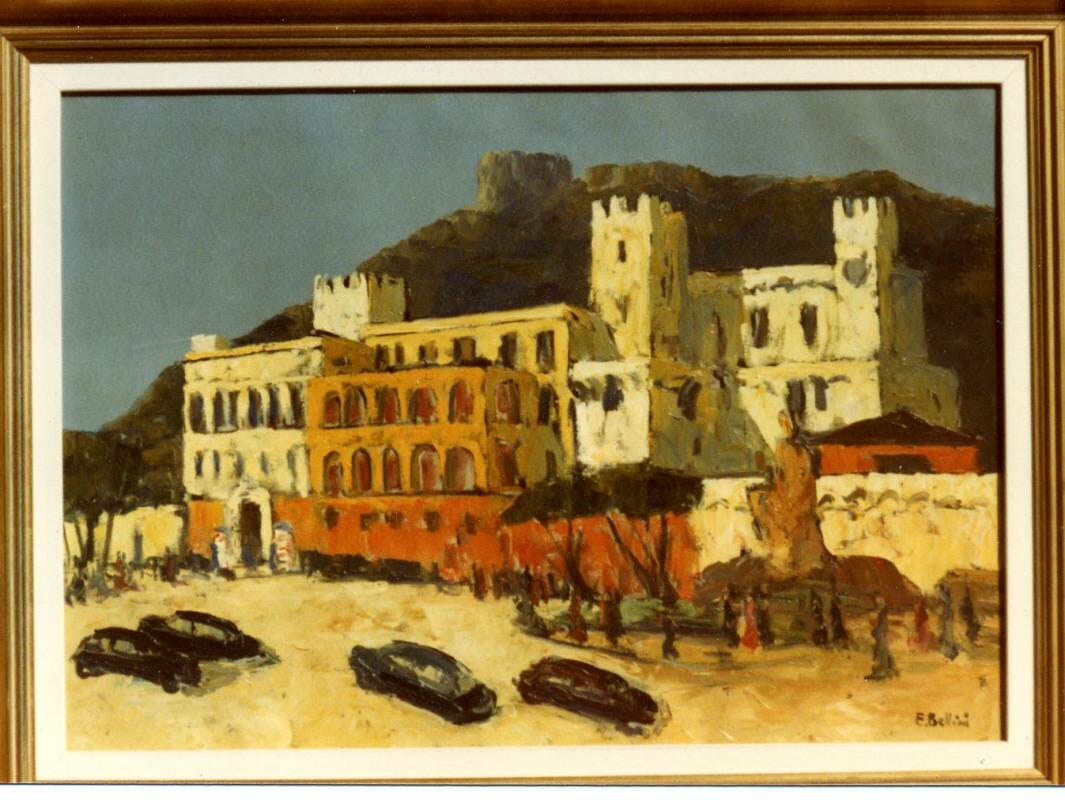 He had met a young girl, Marie-Thérèse Gallo, from La Condamine (her father being a trader in the market) and wanted to marry her which he did at the Saint-Devote Church in the Principality in 1928 and left Monaco virtually immediately. He took a job as a designer in Sainte Maxime, in the Var. Then shortly after in 1929, he settled permanently in Cannes in his own architectural firm, which he did not leave until 1977. He lived in Cannes, but his heart and his family remained in Monaco. He spent time there every Sunday, at family parties, and in holidays in the family cabin at La Turbie.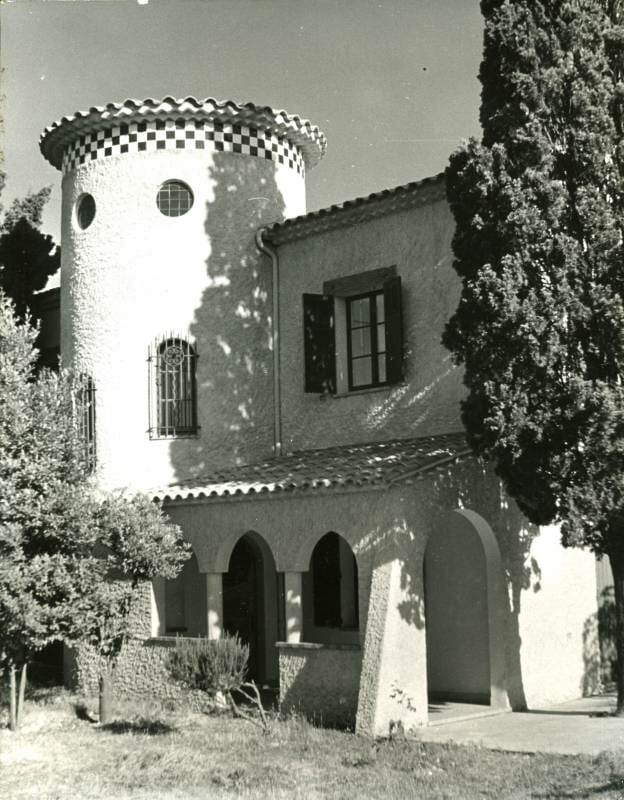 Prolific and Eclectic 
In his career, which was extraordinarily busy, Emmanuel Bellini tackled and mastered more than forty different themes: memorable are his joint passion with Prince Rainier of the Circus and the Clowns, the Landscapes, the Fields of flowers, the bouquets of glittering colours.
Sleighs and scenes from Monte-Carlo of horse-drawn carriages were favourites, his emblems so as to speak , a hark-back to his childhood when he cared for the horses in the evening after their day's chores.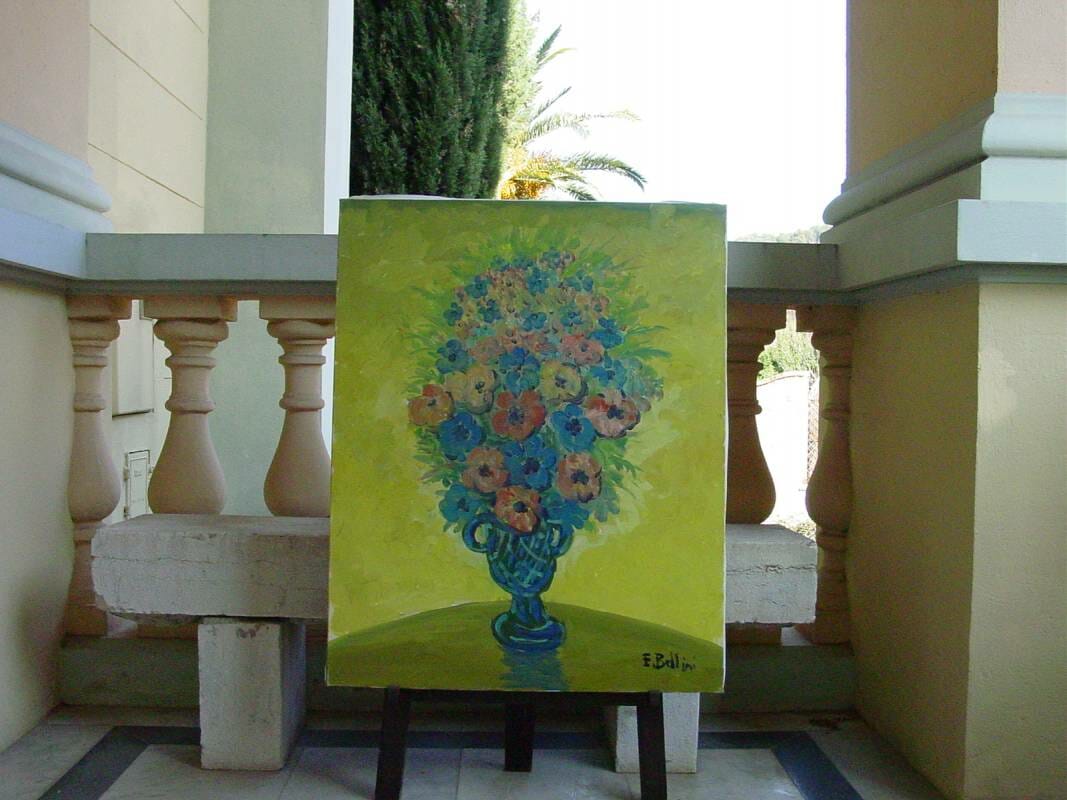 There are traces of architecture in Bellini's art — the domes, Cathedrals including the Casino de Monte-Carlo, that of Notre Dame, the Nice pier, the Casino de Cannes, Venice, Paris, Nantes, scenes of Monaco. Themes cover the Circus, Eugenio Lucas Velázquez, and, most definitely Belle Époque with his Carriages and figures in 1900 costumes — art which will eventually tour the world.
The desire to paint continued to throb within him and, self-taught, in 1948, his first seed bloomed on canvas.
He became an artist acclaimed by his peers and noticed by Prince Rainier and associated with the Fauvist movement led by André Derain and Henri Matisse and one detects even impressionist tones in his works.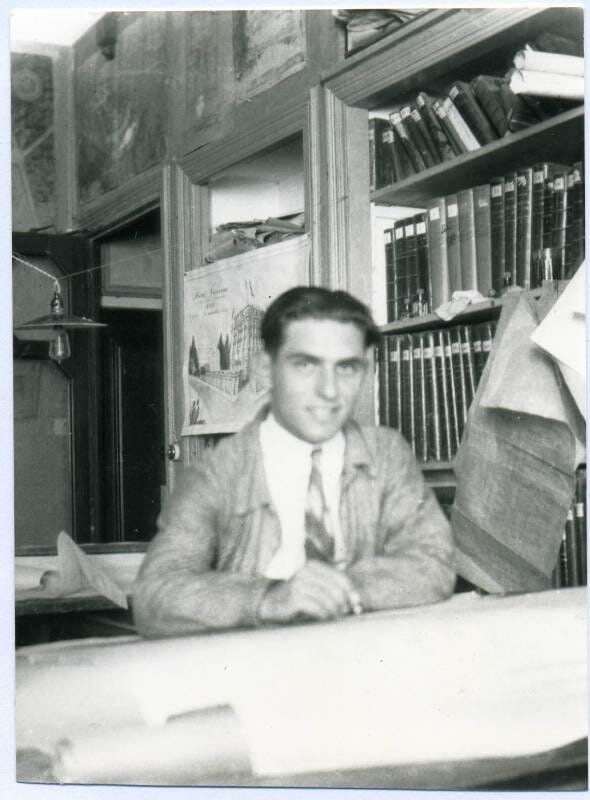 Resting in Peace in Monaco 
It is also in Monaco that he is now resting in peace, in his final home, where his parents are also buried. 
Emmanuel Bellini was multi-talented and found channels to exploit his range of talents. So much more than a fine architect, in the 1930s he would draw cartoons for the press under the nickname Mène.
The Bellini Chapel 
Emmanuel Bellini in 1953 acquired a beautiful baroque-inspired chapel, erected in 1884 by Count Vitali; it became Bellini's workshop. Today this place is a museum dedicated to the oils and the many watercolours of this multifaceted artist: poster artist, caricaturist, painter.
His daughter Lucette has now turned the Chapel/workshop into a real museum in Cannes where she spends much of her time. As well as Emmanuel Bellini's bright colourful paintings, his daughter Lucette has a cache of plans of villas drawn in charcoal, even a construction helmet from his days working on-site as an architect.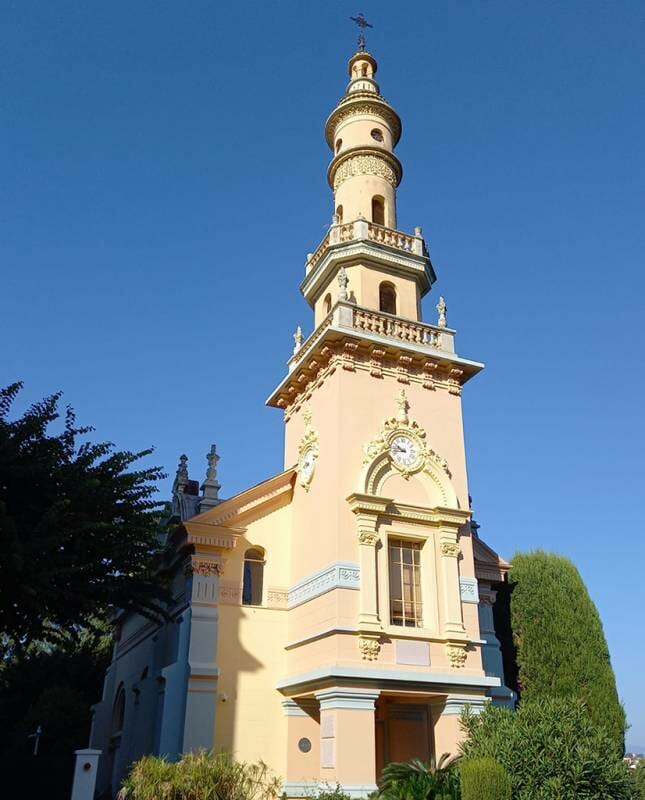 Monaco Continues to Celebrate Bellini through the decades 
Monaco celebrated Emmanuel Bellini in 1972. Indeed, His Serene Highness Prince Rainier III offered him a retrospective of 150 of his works as part of the Sporting d'Hiver. It featured the very first "Deux Perruches", a work specially returned from New York for the event. 
Monaco also honoured him on his 80th birthday, the Sovereign Prince once again invited him to the Centenary Hall for his "Clowns and Velasquez". And he was also exhibited twice in a most famous gallery at Boulevard des Moulins.
After having been the guest of the Salon des Artistes de Monaco he is also exhibited at the Exotic Garden. 
In fellowship with other Monegasque artists, countries including Japan issue invites to exhibit internationally e.g. at the "Monaco à Portopia" in Kobe, as well as at the International Painting Exhibition in Budapest (successively in 1981 and 1985). 
After his death in 1989, he lies with his family in the Principality. The Monaco City Hall paid tribute to him twice at the Villa Lamartine.
Emmanuel Bellini Prize 
The performing arts were vitally important to this painter who loved life with all its seriousness and all its humour. 
And so every year, since passing away in 1989, an Emmanuel Bellini Prize has been awarded at the Monaco International Circus Festival. Winners have included the horses in freedom of the Giona Brothers, the acrobat Glen Nicolodi and the American clown Grand'Ma. 
Emmanuel Bellini bears the Honours of Officer in the Order of Saint Charles and in the Order of Cultural Merit of Monaco.
Hello Monaco magazine warmly thanks Lucette Bellini and Amis de la Chapelle Bellini association for the illustrations.