WOW
Words Of Wisdom in Monaco with Grigor Dimitrov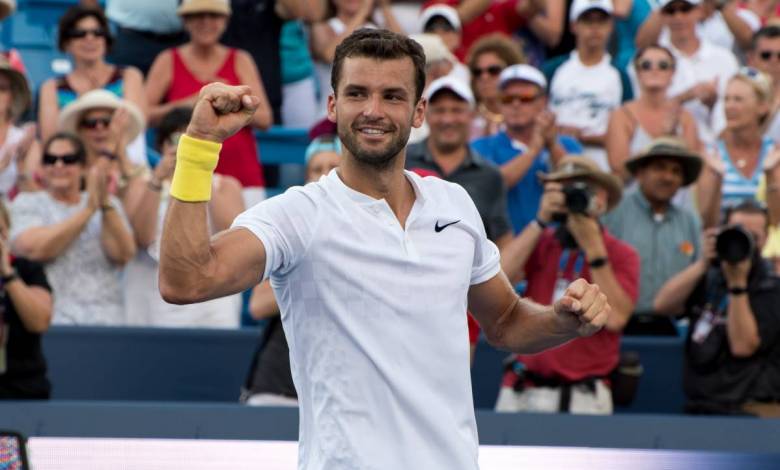 Bulgarian tennis player Grigor Dimitrov is a superstar of big tennis. He is the winner of many tournaments, the first Bulgarian male tennis player to win an ATP title. Grigor won eight ATP singles titles to date. His career-high ATP singles ranking is world No. 3 in 2017 after winning the ATP Finals. The tennis champion is an ambassador for the world's most famous brands, attracting the attention of journalists and fans. Today HelloMonaco magazine talked with Grigor about his future plans, success, charity and life harmony.
HelloMonaco: The first question is about what is going on now. You chose not to continue your participation in a tournament in Paris, because you have an injury? Is it really very serious?
Grigor Dimitrov: Аctually yesterday I had to undergo a manipulation on my foot. I never have problems in general, probably because I am used to it… Athletes are basically risking a lot, pushing the physical and psychological limits, every day, on the line. I think there is a misconception,  people often misunderstand, that in living what seems to be a good and glamorous life, there's always a big part of it where you put a lot on a daily basis and I think only you can appreciate it as a professional athlete. 
HM: Does that mean that this season is over for you?
GD: Yes, pretty much. I think it's very important at times, for whatever reason, to take a step back. And for me, this year has been so crazy and one thing I understood from the coaches and people that have experience in the business, that sometimes the right thing to do is to take a step back. For the first time in my career, I've listened to that. Here I am.
HM: Are you looking forward to the Rolex Masters?
GD: Of course. For us, especially now, we're going through a lot of conversation with the ATP, the player's association. I don't think we've ever spoken that much to each other, in general.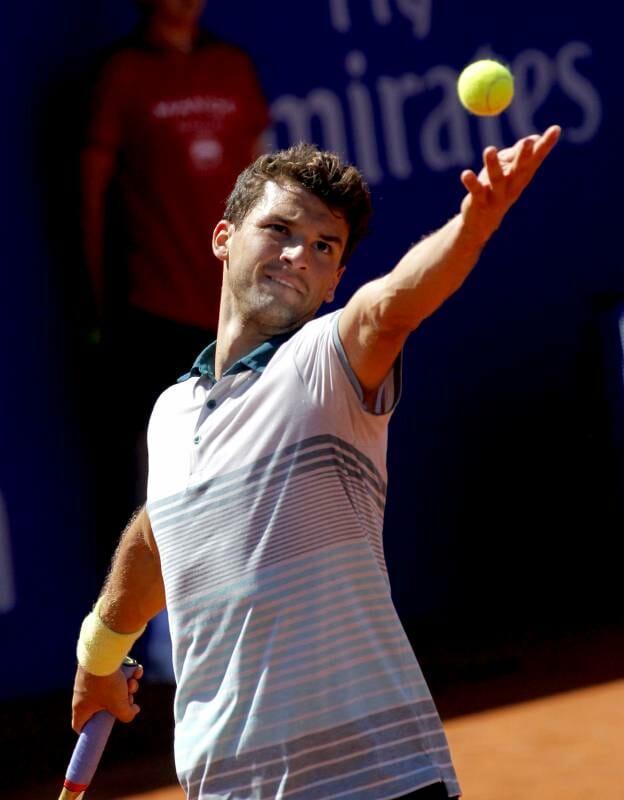 HM: How was your coronavirus experience? 
GD: I think it was hard. But it was also a positive thing as well. In the beginning of the pandemic, I took such good care during the first three months I was in the States, so I was very isolated. I was practicing, I was working, I wanted to catch up a little bit on fitness, on tennis and I was able to do it. And then 20 days self-isolation at home — you can only imagine how much you can really think about stuff. And I really did think a lot. I appreciate, even more, the people that really care about me.
HM: Some people got depressed during these COVID times, not just lockdown, but some take it as a lesson. Did something change in your life during this time?
GD: Whatever we do during the day, we always come home, to four walls. It may look great what we do in professional tennis and may seem that we're kind of spoiled in general — with the luxury hotels and life can offer. The sacrifice, the thing that nobody understands, is the other part that needs to be done in order to get there. The big gap, at some point hits you later on in life. A lot of players or athletes in general are struggling with the transition from being in the spotlight to just basic life. And in tennis, we always have somebody, 24 hours, we can call with whatever we need. I think it's important to be able to talk to someone. Obviously, some players are not able to afford some kind of psychologist or somebody to talk with, in that department and we all have very different backgrounds: culture, family and so on, so I don't judge any of that. But, I think, especially at the very beginning of the pandemic, I spoke very highly about that because it was very important to have a set or group of people around you. Not just to talk to, but to refer to. 
The trick is to always have the right ratio between positive and negative thoughts and to be more towards the positive, because negative thoughts may come to even the most positive person on earth.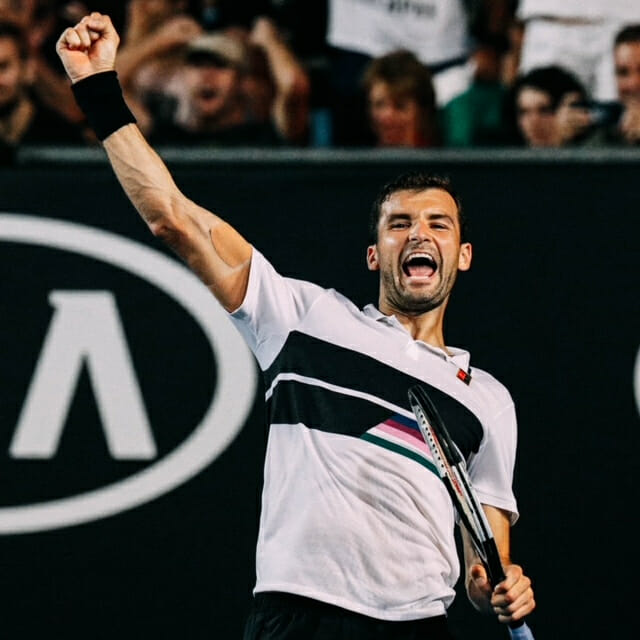 HM: Talking about your family, how would you describe your relationship with your mum? She's your role-model, or she's your friend or your coach? 
GD: I come from such a sporty family. My dad was a tennis coach, my mom is a former volleyball player, so sports was something that I just knew I would do. I could never answer when people asked me if I were not to play tennis, what else would I do? I don't know. I only wanted to be a tennis player and it just happened.
Mom is just a very positive person. I don't believe I've seen a day in her life that she felt negative or any sort of discomfort. I always ask her: «How do you do it?» I could never understand and she's just, «I don't know. It's just how I am, how life brought me» and how everything had developed for her throughout the years. I think I've picked more up from my mom on so many levels and aspects of life, even though she's very strong and positive, she's always managed a way to provoke me and challenge me to do things better. And she has such a good connection with my dad and they complement each other in so many different levels and I think that's also why they bond, they've been together for 30 years.
HM: Are you thinking about having your own family? 
GD: Of course I'm thinking about that. I hate to say it this way, but I push myself sometimes to be a little more «basic» than what I usually am, just live that life of not doing anything for a little bit.
HM: Do you think that because your parents are from the sports world that it helps you a lot to make your career? 
GD: I like to think so. My dad was my tennis coach, so of course everything that I am on the court is him. I always felt the love. That in itself is already such a big help as a kid, to just lift you up. And then, obviously, I was alone for so long, but I managed to stay on course. Of course I've had some tough years, but I never lost sight of what was my primary goal.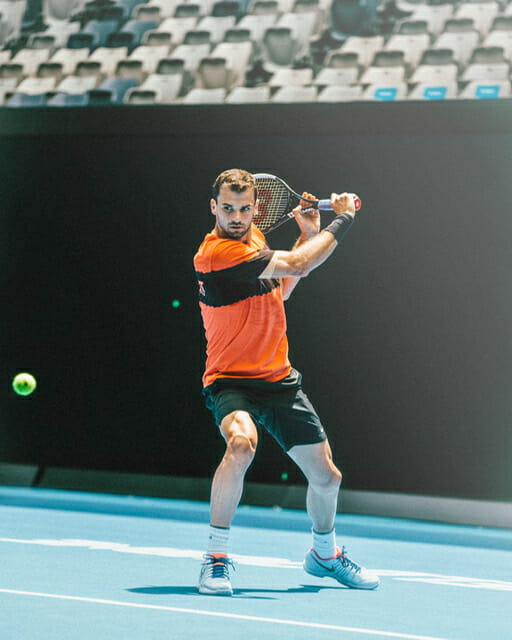 HM: Talking in general, do you have any role-models, people who inspired you, not just in sports? 
GD: There's a lot of people that I like and who I look up to. One of the only things that I always followed was my gut, my instinct, my intuition. People always ask me: «What advice would you give to a kid or somebody that is your huge fan?» and I would say, I appreciate that somebody asks me that, and the kid is a fan of mine, but I would never tell the kid to do what I did. I can only guide and navigate myself and then of course tell about my own experience. So I always say: «Find your own way, carve your own path».
HM: Life is a sequence of victories and defeats, how do you celebrate your victories? Do you have any rituals?
GD: Now I celebrate victories the same way, winning or losing. When it's good, it shouldn't be that good, and when it's low, it shouldn't be that low. Our sport requires that. And I think, that's why finding the balance is the same thing, I'd say, in life. Nothing is ever that good and nothing is ever that bad. Once you start finding that balance, you start learning not the rules of life, but you learn the elements of life.
I draw inspiration from so many different things and if I can from anything, whether it's from going on a racetrack or just enjoying a walk, or having a nice painting. If you're able to take some positivity out of it and implement it, use it, it's exciting. In the end, when you do things, it's very important to have a purpose.
HM: Coming back to wins and losses, do you work on your mistakes? 
GD: I think I've learned from mistakes but I've never wanted to go too deep into it. I'm very rigorous with myself. The best thing in our sport is that you always have a next week. So you always have time to correct yourself, which is a good thing. In life, you don't really have that much time to do that kind of thing. What we do is we live our dream right now, on the court. It's not real life. As an athlete, you have an expiration date, just like any product in the store. We live our dream, it's not gonna be forever. So, you better correct your mistakes quickly. 
HM: Do you have a tennis player in mind who you would like to win against?
GD: Well, I did it last year at the US open against Roger. And I think to beat him on such an occasion and the way it happened, it meant more to me than against any other player. Of course I appreciate so many other wins that I've had, but that particular win, it meant more than the actual win to me. I would say that match was the one that sticks out the most.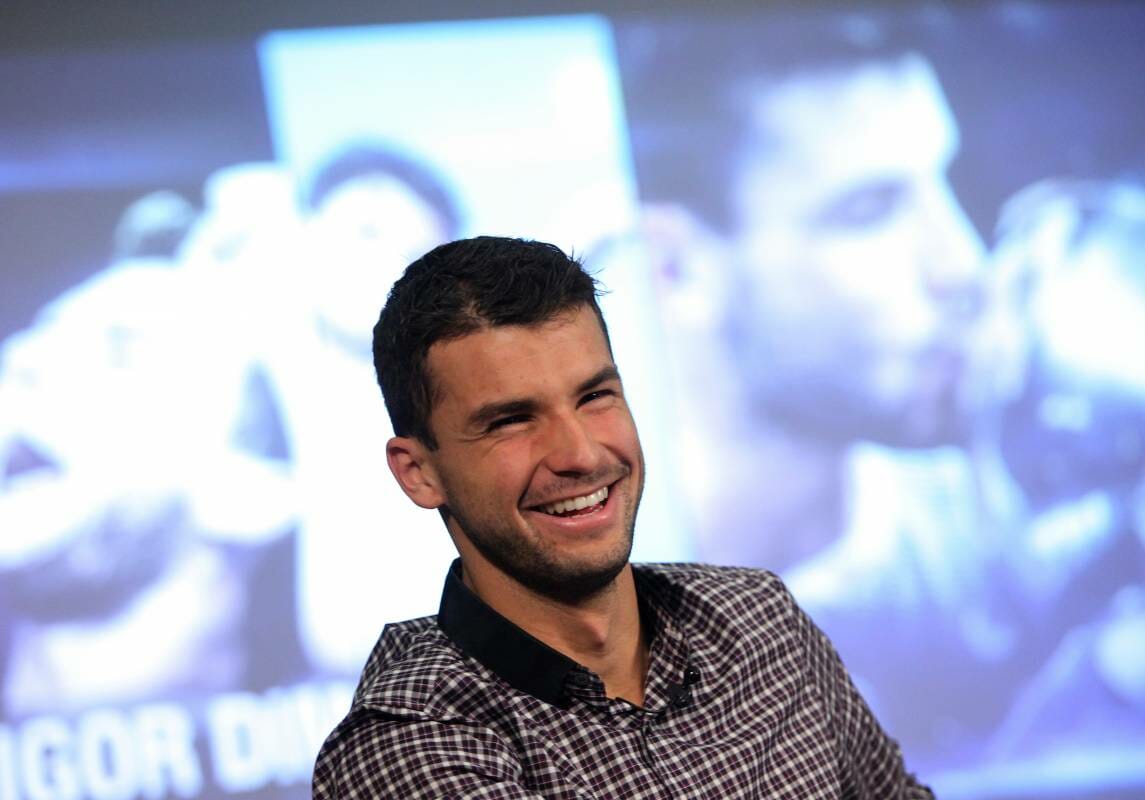 HM: Have you ever thought about what you're going to do after your career is finished?
GD: I have a lot of ideas, but I think this year has shifted so many other things that I'm just gonna keep my options open. Maybe one year of holiday?
I have so many different interests and in so many different parts of the world before Corona. I loved going to fashion shows. Architecture, I'm a big fan. A big thing is that I really wanna help upcoming kid players, the young generation, early on between 10 and 20 years old, because I think this is one of the most important things for an upcoming player.
HM: You are the ambassador of a few famous and well-known brands. I think the most important part is to agree with their conception, philosophy, but at the same time, carrying some of your own messages through these collaborations.
GD: Of course. I think that this is very important, every time I sign a contract for whatever reason, whether it's with a tournament or any brand, it's because I have my reasons to do that. I've just been so fortunate to be with Rolex, with Nike, with Wilson for 12 years now. If I'm signing with a company it's because I know I can add value that I think the company needs. For me it's important to be distinguished, it's important for you to find your own identity.
And I always say, in order to be in that place, you must be different and I like doing different things and I like thinking outside of the box.
HM: Are you involved in charities? 
GD: I've always been passionate about it. Last year when I got injured for the first time, I went home to Bulgaria. I was with my mom and there were a couple places I wanted to visit just to see how the kids were living. Especially in the orphanages in some of the areas there to see how they are. That was not an easy view, it was tough, it was hard to see kids that have no chance in life, basically. 
I just started my own charitable foundation, the Grigor Dimitrov Foundation so I'm very happy. It's in Bulgaria. In the past, we've helped number of foundations there. Hopefully we can do some more in the future when things get better.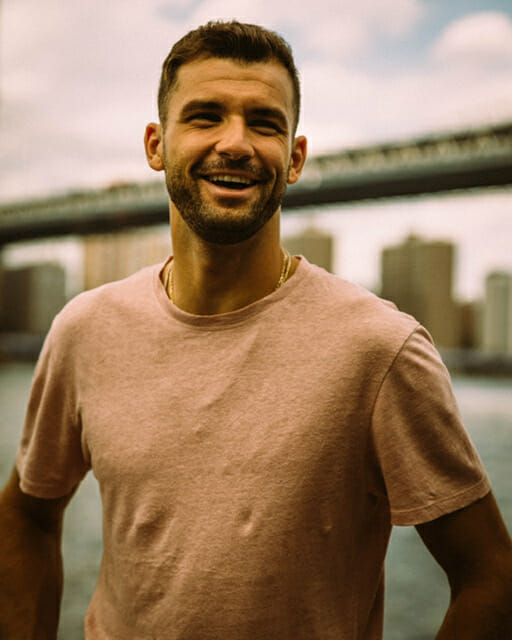 HM: The situation with orphans, is it crucial in Bulgaria?
GD: It's not crucial, but I have a story. I was a kid and my mom always used to pick me up from school. I was very, very young. We always used to stop at a traffic light to wait to pass. And every time we were stopping, there were these kids behind us and they were always stretching their arms through the fence netting. My mother tried to explain: «Son, they're there because they don't have family». So I always felt so sad and I was crying, when I was passing by that place. And one day, when my mom asked: «You want to help them?» and I was like: «Yes, I want to help them one day». And she said: «Just become a good tennis player, then start helping kids». So that's been stuck in my head since I was a kid. I always wanted to build that type of school.
I also support the ALEKSANDR SAVCHUK foundation. The objective of the foundation is to promote educational, sporting and scientific projects against cancer. 
HM: I saw that you are surfing, mountain biking, do you need more extremes in your life?
GD: I need my adrenaline going. I definitely need that, I'm very co-dependent on exercising. You know how I can't stay at home much. But with time, I also learned to appreciate nature, I love being outdoors, I love doing a lot of activities, I love being in the sea, I love mountain bikes, I love going to race on the track, there's so much that I like to do outside of tennis. 
HM: I also read that you collect old cars?
GD: I'm starting to, actually, it's cool. I lived in LA before for quite some time and I think this is where I got hooked. In Monaco you always see these crazy, great, amazing cars, but I like to be different and I like different things. So, let's see what the future will bring.
HM: What are some of the precious items that you've collected?
GD: Watches. I started collecting watches when I was 18. I still keep my first watch that I bought.
HM: But why watches and cars, not art, for example?
GD: I have a lot of art at home, that's true. I have a lot of contemporary art. Every piece that I have at home that is hanging on the wall is because it means something to me, it's not just because it's nice I'll buy it. Whatever I have, own, or see around me is to add to me, to talk to me, I don't just want to have things to have things. It adds value to me, when you come home, I have this big wall, and everyone is like: «Where's this from? Where's that from?» I like it cause it's more colourful and everything has a story.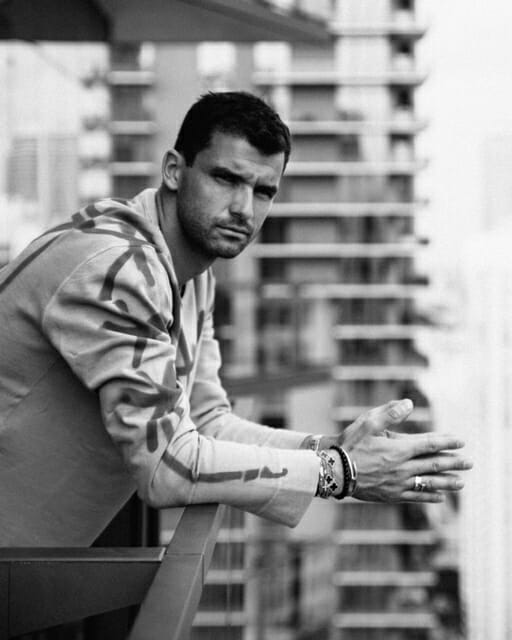 HM: What is your daily routine which you've never missed? 
GD: Some days, anywhere I am in the world, what I miss is gathering with friends and family. Everything else, in a sense, is easy. If I want to go somewhere, I'll go, if I want to do something, I'll do it. But it's more of that spontaneous lunch or dinner, or travelling, that most basic thing that we're all used to doing. I think, other than that, I have got everything. 
HM: What is your perfect weekend?
GD: I'm very simple, I don't really go out, even back when I could. Never tried alcohol in my life. I like to enjoy occasional dinners with friends and family again. I just want more spontaneity. Drive around, have a nice cup of coffee. I love being home, just staying at home. I like to write things down. Thoughts, whenever they come to me, just keeping things very basic. 
HM: If you like to stay at home, are you a family oriented man?
GD: I like to think so. With travelling, you don't feel normal, it takes me more time to readjust to being at home as well. My last match was four days ago and it still takes me time to readjust, to wake up and it's like: «I got to run! Where am I going?» I have no gym, no tennis, no fitness. So I'm like: «Oh my god, I have to eat now, no I don't have to eat now, I can eat in two hours».
HM: Are you on a diet? How do you maintain yourself in good condition, food is a big part of it.
GD: During tournaments and before the tournaments, 3–4 days, I'm always trying to eat a little more clean than usual. More basic food. Never mix foods. Gluten-free for sure, 3–4 days before. But nothing too extreme. 
I like fish. Twice a week, have meat. I actually like sugar — chocolate chip cookies, ice cream, basic chocolate. I love it, but I'm not dependent to the extent that I'm like: «Oh my god, I need to have it otherwise I'll start shaking». During tournaments I'm very disciplined. 
HM: Before Monaco, you trained and lived in different countries including Spain and France. Now in Monaco. What is special about this place for you?
GD: For me, every time I come back here, I feel like I'm on holiday, that helps me to relax a lot. You come home, drop your bags and just want to go for a walk on the beach. You feel safe as well. You have so much privacy; that for me is the absolute key. I never had that when I was living anywhere else. Paris was different. Sweden was actually very quiet, but still, when you go to the centre, it was very different. LA, I'm not even gonna talk about that. So, once I'm back here, it just feels like home. I think that it's a very humbling feeling considering that you travel so much to be able to come to a place and call it home. A lot of athletes are not thinking about that very much.
HM: How do you react when people come and ask for an autograph? 
GD: I've learned over the years to appreciate the fans a lot differently. When you play, the atmosphere when the fans are there is completely different. Playing Madison Square Garden in front of 20,000 people is amazing. Being home in Bulgaria, same thing. Playing a New York night match, you feel like an absolute rock star, you feel immortal.
HM: Do you have a dream?
GD: My dad always keeps telling me that «The only way to keep on going is to keep dreaming». So I keep dreaming, every day a different dream.