WOW
Words of Wisdom in Monaco with Namira Salim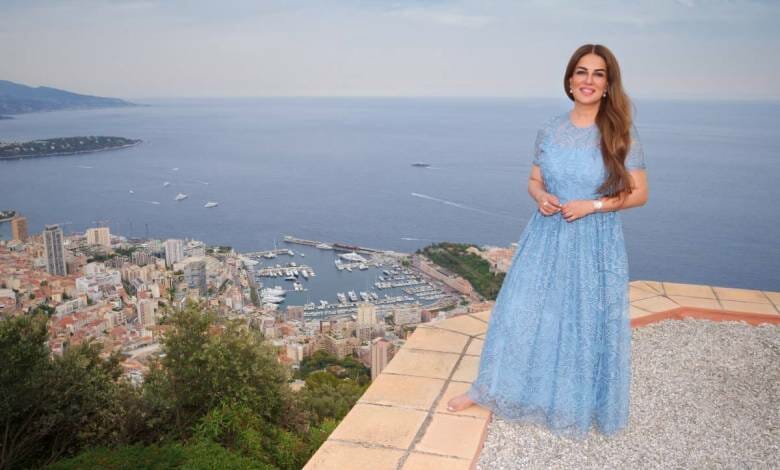 Namira Salim is an award-winning adventurer, future astronaut and multi-disciplinary artist based in Monaco and Dubai. She has many world firsts under her belt, such as being the first Pakistani and the first woman from Monaco to have reached both the North Pole and the South Pole. She is also the only one from Pakistan and also the first one from Monaco among the first 100 aspiring Virgin Galactic astronauts. She spoke with Hello Monaco about her many trailblazing adventures and endeavours, including skydiving over Mount Everest, meeting Richard Branson and her non-profit initiative which promotes space as the new frontier for Peace.
HelloMjnaco: When did you begin dreaming about going to space?
Namira Salim: I was born with the dream. As a little girl growing up in Pakistan, I was not even five years old, I used to cry and tell my parents, 'I don't want toys, I just want to go to space.'
HM: Where did this idea come from?
NS: It was a spiritual thing for me because I'm a very spiritual person. When I look at the stars I feel that there's a spiritual connection and there's some higher force, a divine force. I feel a connection and I feel a pull as if something is calling me to go out there. I feel that that is the final destination, in the stars, we will all return to the stars one day.
HM: What about your parents, did they support your intention to go to space since childhood or did they take it as a child's whimsy?
NS: Of course they thought that I'm just saying it as a child. And then one day, I signed up for this flight and I told them now I need the money for the ticket and that's when they freaked out. My mother was very upset, she said, 'No this is very unsafe, how can you go to space on a commercial space liner?' So it was a fight, but I got the money for the ticket.
HM: When did you purchase your ticket for the space flight?
NS: It was in January of 2006. I signed the contract in Monaco, in the Hotel de Paris at the Grill overlooking the palace and the port. The commercial director of Virgin Galactic flew here and I signed as the first person to go to space from Monaco and I also ended up becoming the first Pakistani future astronaut. This was not expected, but Richard Branson came to Dubai in March 2006, two months after I signed up with the inaugural flight of Virgin Atlantic. He decided that he would also launch Virgin Galactic in Dubai. They realized that I represented so many different countries; I was also the first from Dubai, from the UAE, in fact. Richard Branson introduced me to the global media as one of the earliest founders. We are called 'founder astronauts', the ones who bought the ticket in advance and paid for it. I'm the only founder from Monaco, the first from Dubai and the only one from Pakistan.
HM: Where did your adventurous spirit come from? Did your parents give you your fighting spirit?
NS: I was born to a very conservative family. My father's family was very orthodox; my mother's family was more moderate. But my father was a very positive person. He was somebody who gave me all my confidence, he made me travel the world, he gave me the best education. And the best thing about my parents was that they were very open-minded and trusting. They never doubted me, they gave me the freedom because there was a lot of trust. I was a very good girl from the beginning, I was not a rebel. I rebelled in different ways, with adventures. And that was only to test my own limits and to give myself the confidence as a timid, shy and introverted girl from Pakistan. Because I'm still very introverted, I'm still very shy. I don't hang out at big parties or in big crowds. I don't partake in nightlife, like in nightclubs, I don't do any of that. I like to create, I want to think about my projects and I like to meet people one-on-one.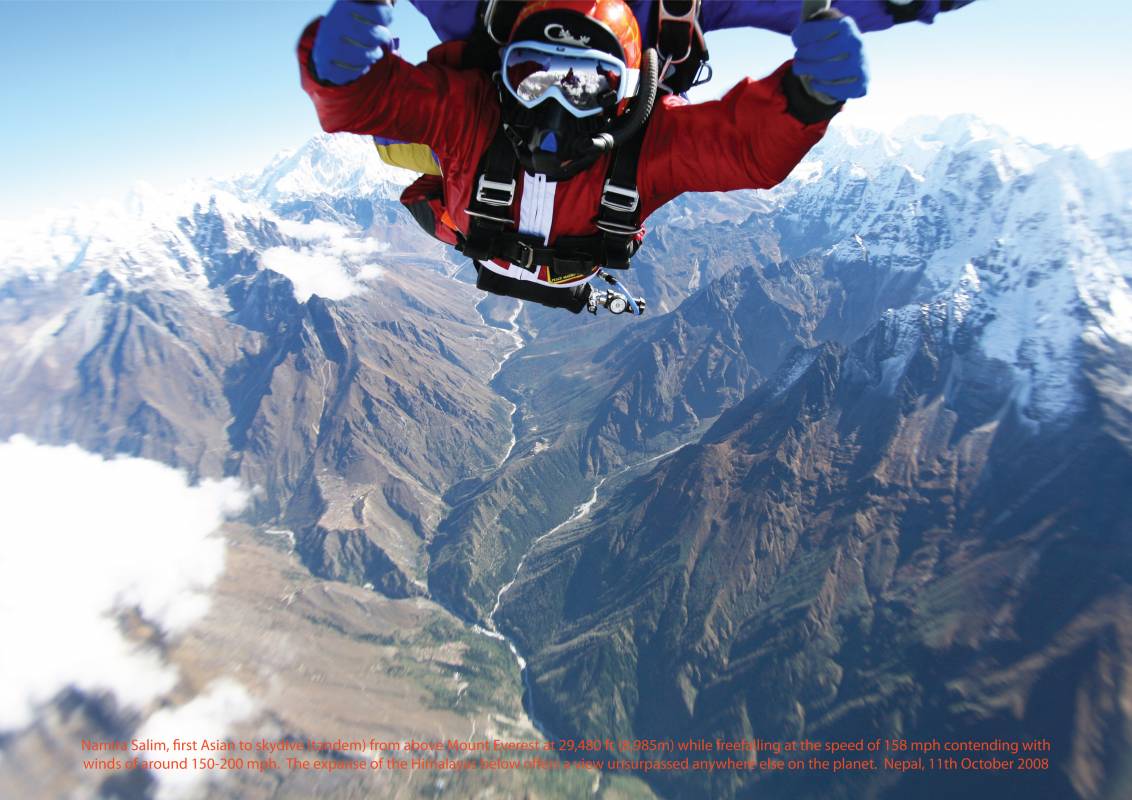 HM: Why did you decide to establish your foundation Space Trust?
NS: I have the experience of being in the space industry since 2006. And I'm not somebody who just wants to go to space; I've always been interested in astronomy and space as a subject and I have this spirit to make the world a better place. Before Space Trust was founded, I was promoting peace through my art. My company in Monaco has existed since 1998 and I changed the name from A Soul Affair to Namira a few years back as my name is strongly identified as the brand at this stage. I created all my lines, decorative arts and collectibles, under the label of Soul Affair. I was exhibiting them in UNESCO alongside the executive board meeting. I did that in the year 2000, then I went to the UN in May 2002, which was postponed from 9/11 September 2001. And for that, Prince Albert gave me an exclusive message. In that exhibition, I promoted peace through my art objects which were from different world leaders about different UN issues, including peace. And then, when I joined Virgin Galactic and I had all this experience, I learned about the commercial space industry and how it opens space to all humanity and how when astronauts go to space, they see the earth without political boundaries.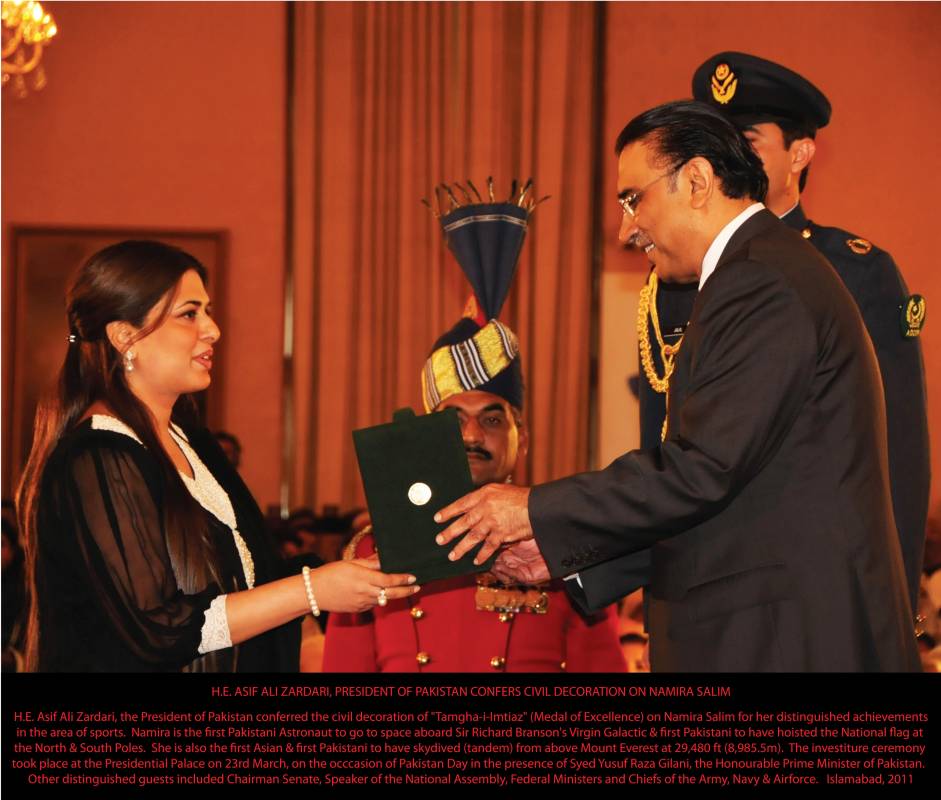 HM: You had an idea to send world leaders and politicians to space…
NS: That was the idea. Basically I promoted, through events like the 0G Summit, which has become the lead initiative of Space Trust, that space should be the place to have the first peace summit. I had seven or eight governments that came to my second UN event with one sitting head of state, the president of Malta, and they all agreed that, yes, we should make space the place where people make peace and sit and see the world in a different way. There are 17 goals for the United Nations, they're called the sustainable development goals or SDGs. The Prince of Monaco is aligning with the SDGs. We are promoting several SDGs, like innovation, peace and STEM education through the work of Space Trust.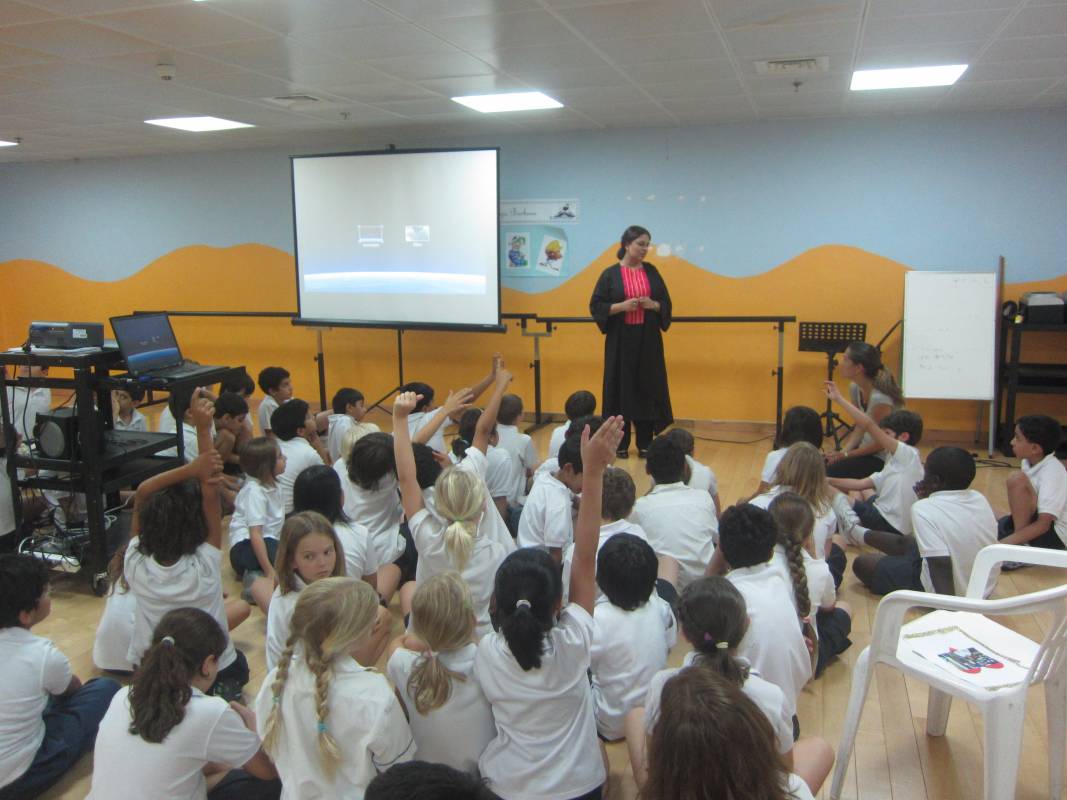 Space Trust has just signed a Memorandum of Understanding (MOU) with an American university and a university in Kenya for a project to promote a sustainable STEM based education program (STEM stands for science, technology, engineering and mathematics and refers to any subjects that fall under these four disciplines. — НМ). I've just hired somebody to fundraise to get some grants for this initiative. We are going to build, between the American University and the University in Kenya, a small cube satellite and it will go to space with messages from different world leaders in it, to show how we can actually make space the new frontier for peace. I have the support of a very big multilateral organization and they have promised me that they will give me messages of peace from at least 50 prime ministers. 
I'm looking at the moment to engage a high school or secondary school in Monaco, in order to teach the students how to build a cube satellite. I'll be having some meetings with the government and trying to align one school as a partner from Monaco.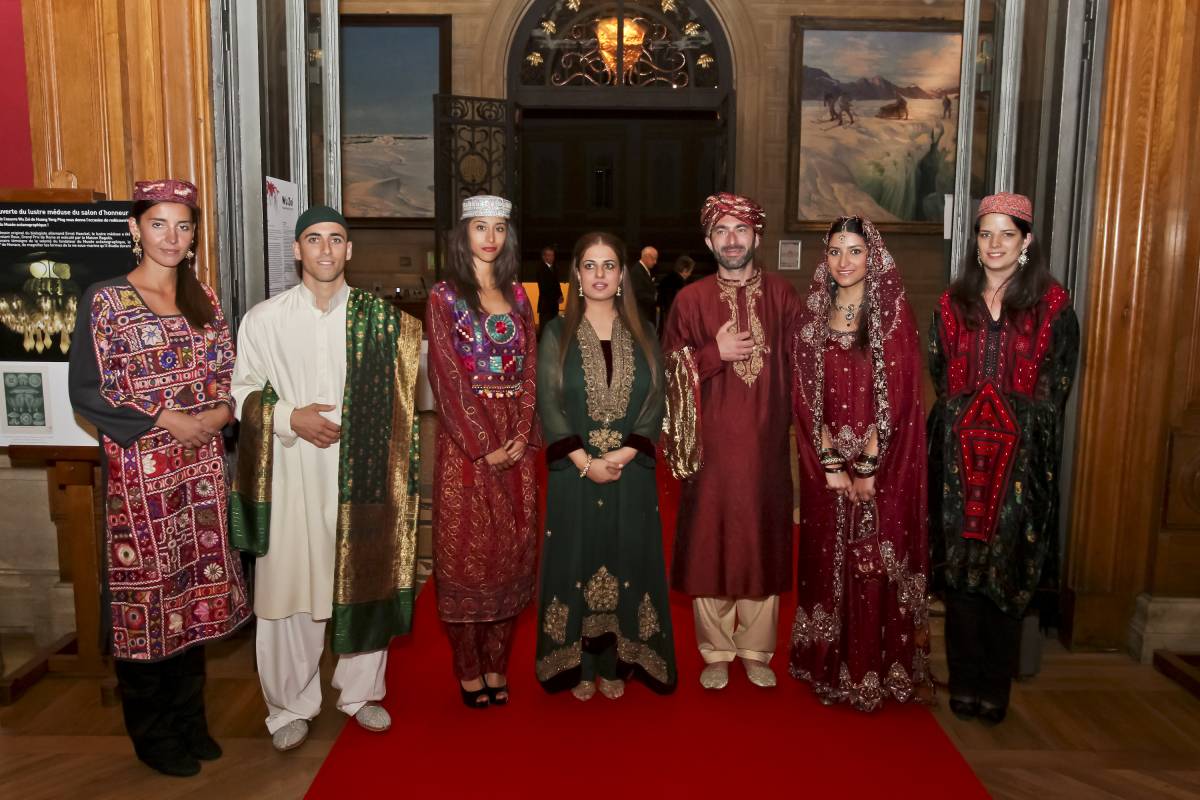 HM: Tell us about your adventures to the South and North Poles.
NS: When I joined the space flight initiative and it was getting delayed, I was afraid that maybe people were going to say, 'Oh she's not going to space' and then I would be going back in a quandary. So I thought, 'Where can I go on earth, as far as possible, before breaking orbit?' It was the North Pole. I was the next person after Prince Albert to go to the North Pole from Monaco, and maybe I was a bit inspired when I saw his adventure. And the South Pole, I went even before him, I was the first person from Monaco at the South Pole, one year before Prince Albert.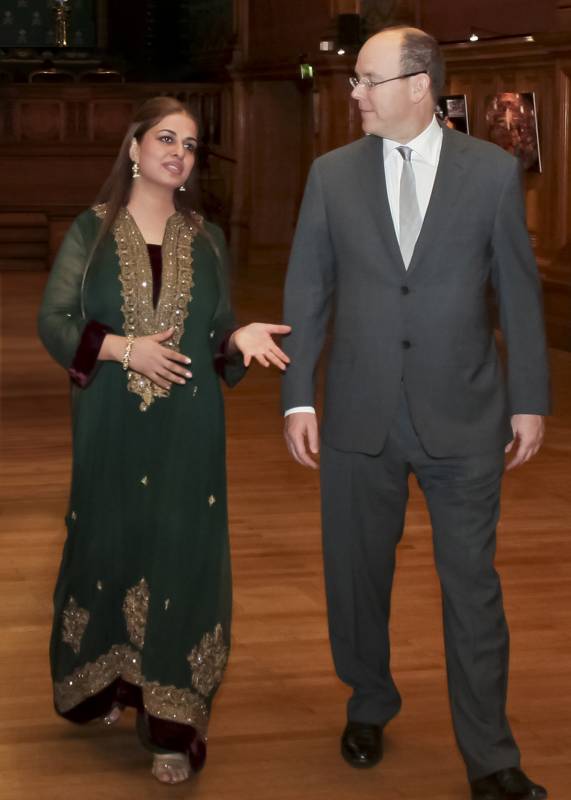 I discovered, at the South Pole, many adventurers who were mountaineers and they all told me 'Why don't you climb Everest?' I was like 'Okay, I mean, that's the third pole of the world. I'll do it.' Just as I was deciding to climb Everest, a friend of mine who's in the founder Astronaut Club at Virgin Galactic, told me about the first historic Everest skydives in history, in 2008. So I said, 'This is going to be quick and easy, let me just do this, nobody's done this before from Asia, from Pakistan'. I had never done skydiving. So I went and there were many problems. The jump program was delayed, there was one jumpers' crash, one plane crash, which killed I think 17 or 18 Swiss jumpers in one shot. There was like a late monsoon, there were black clouds, it was crazy. And every day on the drop zone, the clouds would come and we couldn't jump. But I did a 10-day trek before, to acclimatize; it was the most beautiful experience I had, it was amazing. I did the acclimatization, then I was waiting at the drop zone and it was October 2008. We had the financial market crash, half the people left. My mom was really angry with me, 'How can you put me through this, first you go to the North Pole and the South Pole.' My mother was traditional, she did not like me doing all this. She was okay when she read the newspaper, though, she was very proud. Then she was like, 'No. You have to get married, you have to have children.' She was calling me every day at the drop zone, she said, 'Don't do this, it's so dangerous.'  But it was the most amazing jump, it was so beautiful. It was like being a little fly coming down, I was that small in the process, because the Himalayas were so expansive under me.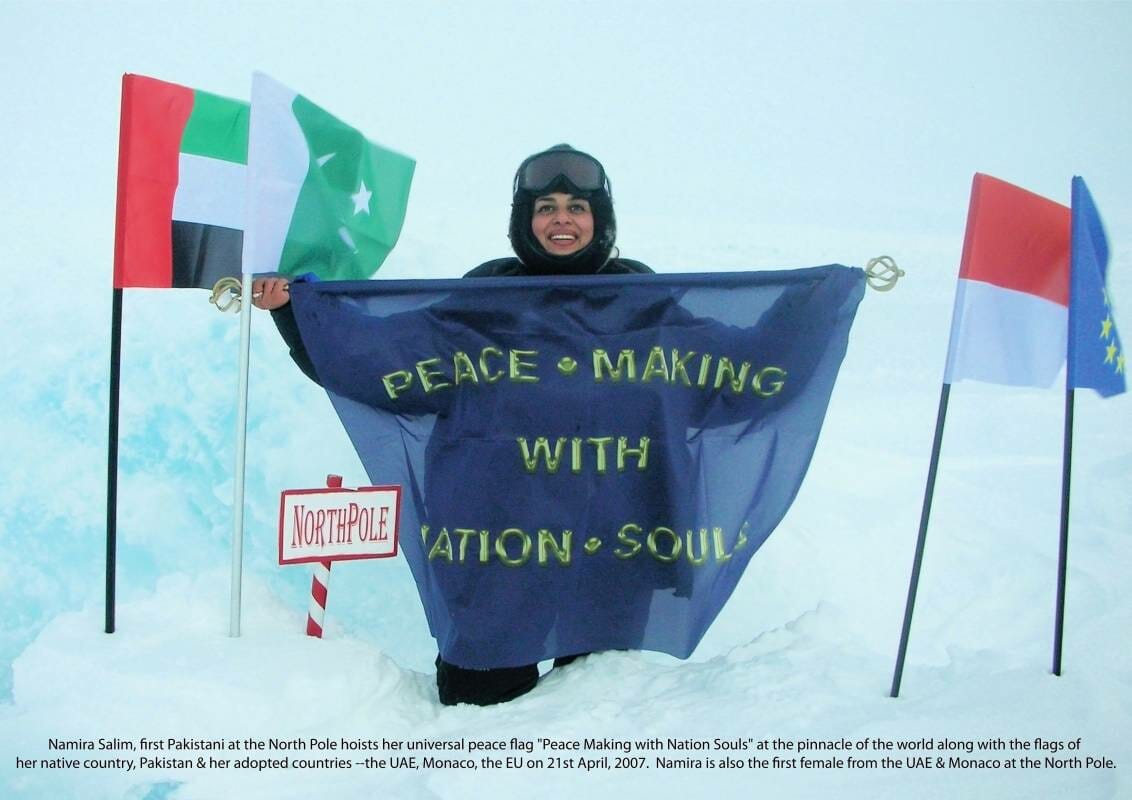 HM: You were at the famous launch of the first Virgin Galactic flight, with Richard Branson on board. How was it?
NS: I was on my way to Monaco when I got an email saying, 'you're invited to attend Richard Branson's launch in New Mexico' and I was expecting that he would go, because he had announced that he would like to go before Jeff Bezos. I've known Richard Branson since 2006 and I know his spirit, he has a fighting spirit, he's a winner. And I knew that he would be able to make it to space before Jeff Bezos, not because it was a race; we always say in the space industry that we want to be safe, we don't want to race. Operational safety of the space ship is the most important thing. But he had promised that he was going to deliver the first private space-line in the world and I knew that he would. And when he took off in front of me, I was only concerned and praying for safety. It was not about, 'oh he's going to be the first one'. He had been training for the last many years to do his space flight and he's very fit. There was no doubt that he would come back successful. And the spaceship has been tested quite a few times now and we've learned lessons during the test flight program. We were confident also about the safety of the space flight and everything went well.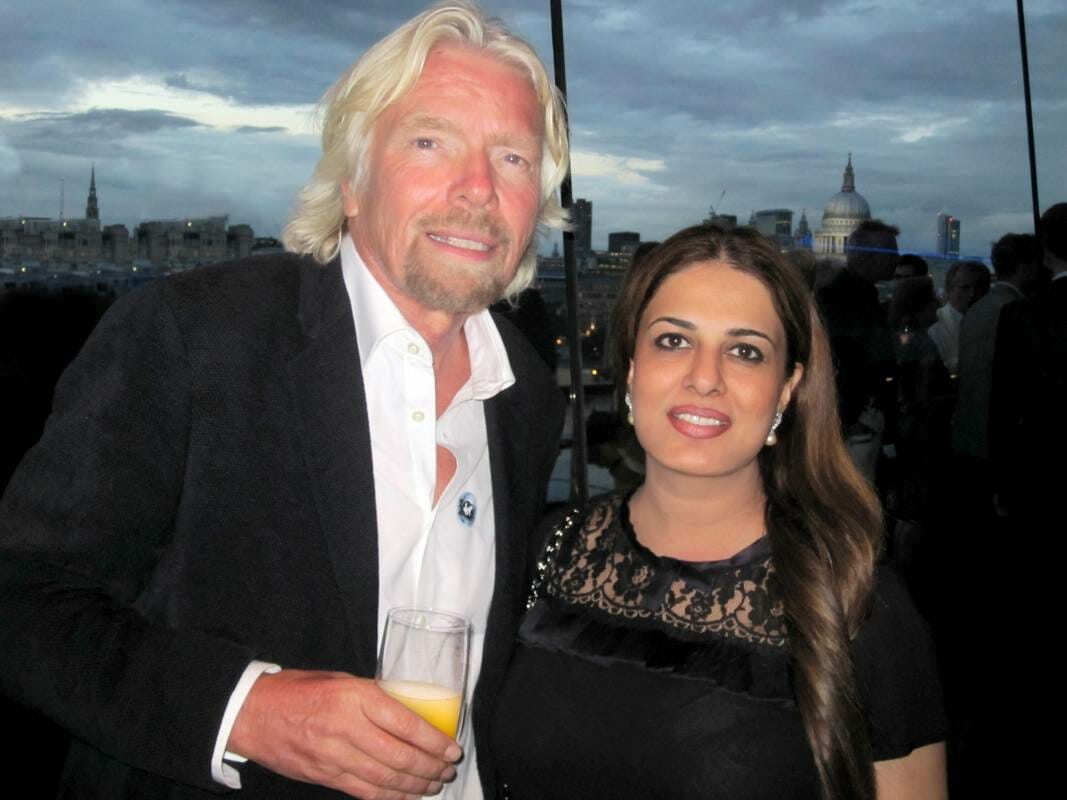 HM: When do you expect to fly?
NS: I think now we will have two more test flights this year and then the commercial operations will begin and the founders will be the first to go. I think in a year or two maximum.
HM: Are you expected to go with Richard Branson?
NS: No, Richard Branson has already done his flight. The final choice and selection will be made by Virgin Galactic, because it's about operational safety, it's about body weight, they have to balance everything. But yes, I hope to go up with some of my best friends in the club.
HM: Do you need special training or special certifications in order to fly?
NS: I did the training in 2007. It's called the 'sub orbital space flight training'. And other than that, we will have special training just before we go for about three to five days, I think. Richard Branson went through that exact same training; he wanted to test the customer experience through his space flight from end to end. He does that to ensure that every customer, every founder, every future astronaut, has an excellent and smooth experience before, during and after the flight.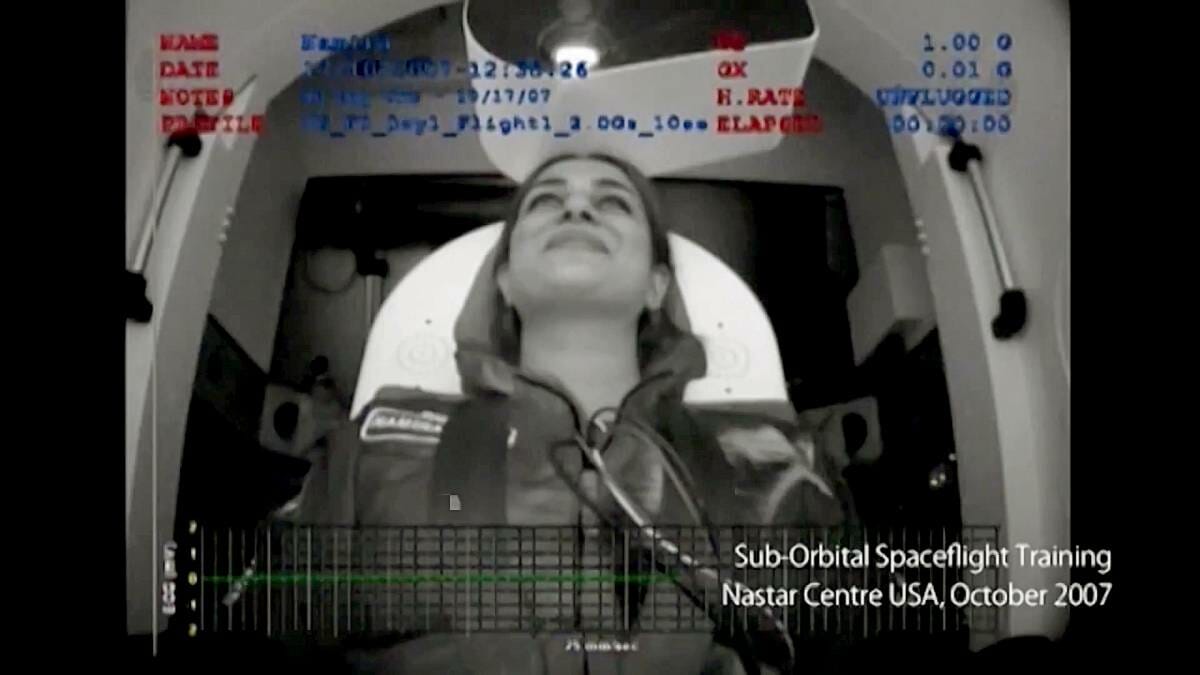 HM: Are you afraid to fly? Even just a little bit?
NS: No, not at all. In 2014, in November, one of our test flights crashed. The pilot died and the co-pilot survived and at that time I was in Monaco and I was interviewed by BBC World and other channels in Europe, and they all asked me, 'Will you still fly?' I said, 'Branson will still fly to space, he will not cancel the program because I know he's a fighter and he has the winning spirit.' And two days later, he announced that, yes, the program will not stop. I have faith. The moment of our birth and the moment of our death is destiny, it is written in the stars. 
HM: What gives you this confidence? Is it religion or your spirit or does it come from your family that you believe in destiny?
NS: I think it's our upbringing, it's our training from our roots, from our traditions, from our religion and culture. We're not afraid of dying because we think that the next world is the eternal world and I really believe in that. I have faith and I believe that god has given me everything that hardly any woman has, but god has not given me what nearly every woman has, like a marriage or children and I love children. And if I don't get something in this world and if I follow my values correctly, and if I'm a good person, I will have the advantage to ask my god and say, 'I was very patient in this world, which was a temporary world, about certain things that you did not give me which everyone had. Now you give it to me and you give it to me on my terms.' 
HM: What are your future plans?
NS: I've actually written a children's book series of seven books about my life. It's beautiful, it's very inspirational and I'm really looking forward to launching that. It's in English and it's an amazing story because I've written it for children. Poetically I use the English language very skillfully and I play with the words. The book is an enjoyable read, not just for children but also adults, because I worked with an editor who's done a lot of Hollywood projects and she loved my book. She said, 'this is for children and for adults because it's for a book that will be read out to children and early readers.' I'm looking forward to launching my jewellery line which is also inspired by space, it's really beautiful. There's the North Pole brooch, with a diamond as a star. They are all astronomically accurate and designed by me.