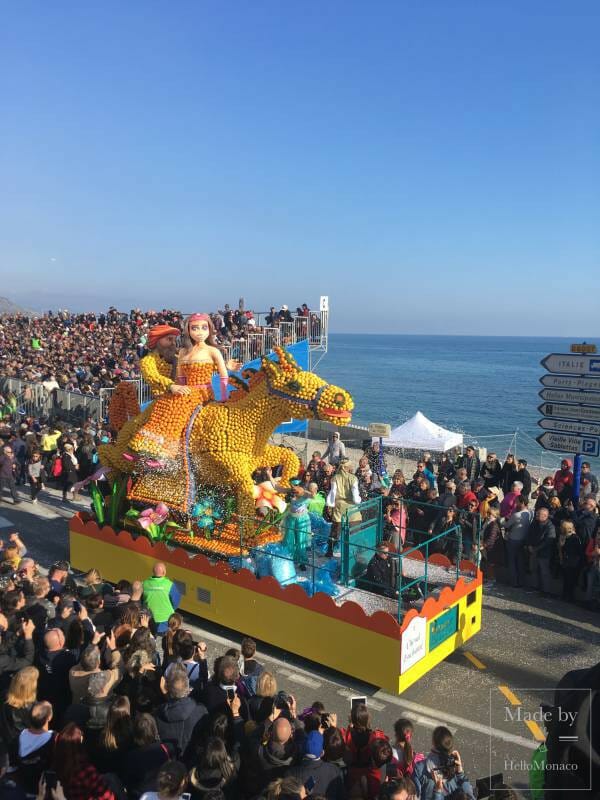 How many times would you go to see the Carnival in Rio in your life if money and time were no object. Would you take your children to Disney or go visit the Louvre just once in your life – if you could? From February 16 to March 3, the whole city invites residents and guests of the French Riviera to celebrate the 86th anniversary of the festival. It is quite remarkable how the Fête du Citron has launched itself into the first division of festivals and Carnivals. And HelloMonaco will shine a light on why it should be on your A-list of outings; on why it has deserved to break out from a spectacular Côte d'Azur event – and spectacular it definitely is – to international recognition with excited delegations from as far away as Japan and Korea. And that's the key – for Monaco residents, it's right next door and it's first-class entertainment. And if you have not been before you are in for an absolutely delightful surprise rising to amazement.
A picture speaks more than a thousand words when it comes to illustrating the wonders of this Carnival – that started out in 1895 as a seductive flower and lemon Fair that had so much zest it grew to become a twin sister of the Nice Carnival. This is no Cinderella! Canny thrill seekers in this sunny Winter Mediterranean paradise will take advantage of the proximity and gorge themselves on the festivities of both Carnivals, Menton and Nice.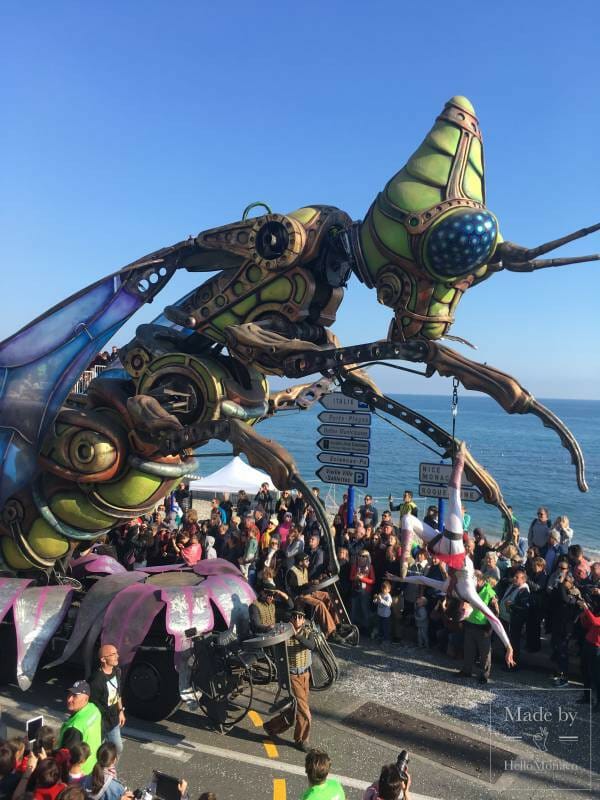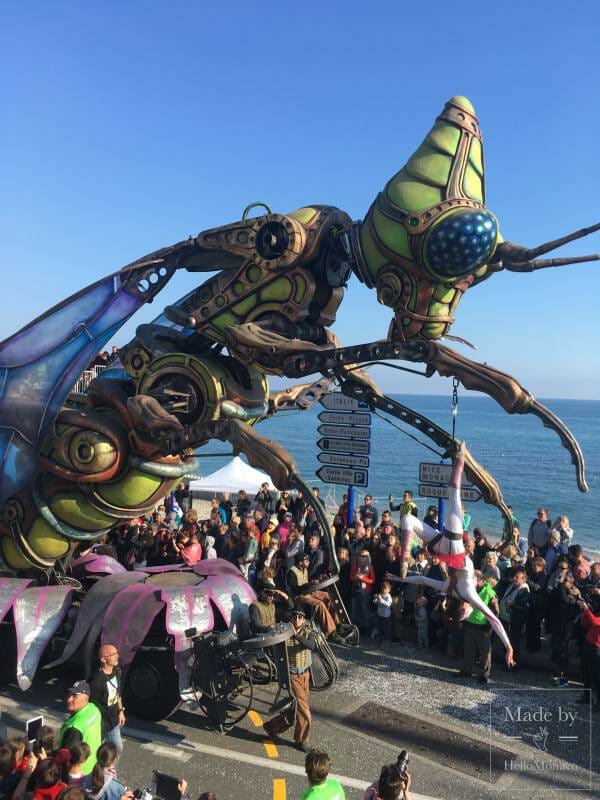 Just look at these eye-popping artistic creations – one of a kind masterpieces in the Fête du Citron (Lemon Festival) in Menton. This is a world of art, architecture and fantasy stretched to the limits of the imagination to create dizzying showstoppers. HelloMonaco will give you a flavour from the latest two years: just a couple of reminders from 2018 "Bollywood" and this year's 2019 "Fantastical Worlds". Each year has an original theme, so it's definitely worth repeating the experience to add a little spark to your February.
Revisiting Lemon Festival 2018
Unbelievably realistic is the only way to describe the immense sculpture with the head of the elephant entitled "Ganesh" which in Hinduism is considered one of the central deities, symbolizing wisdom and well-being.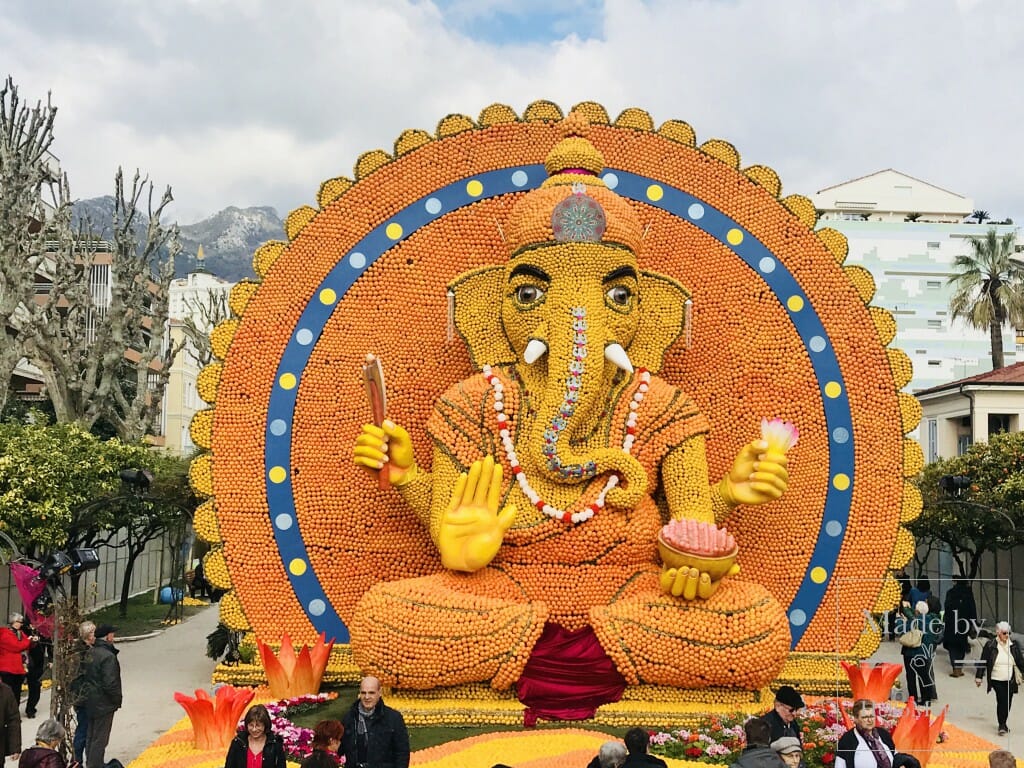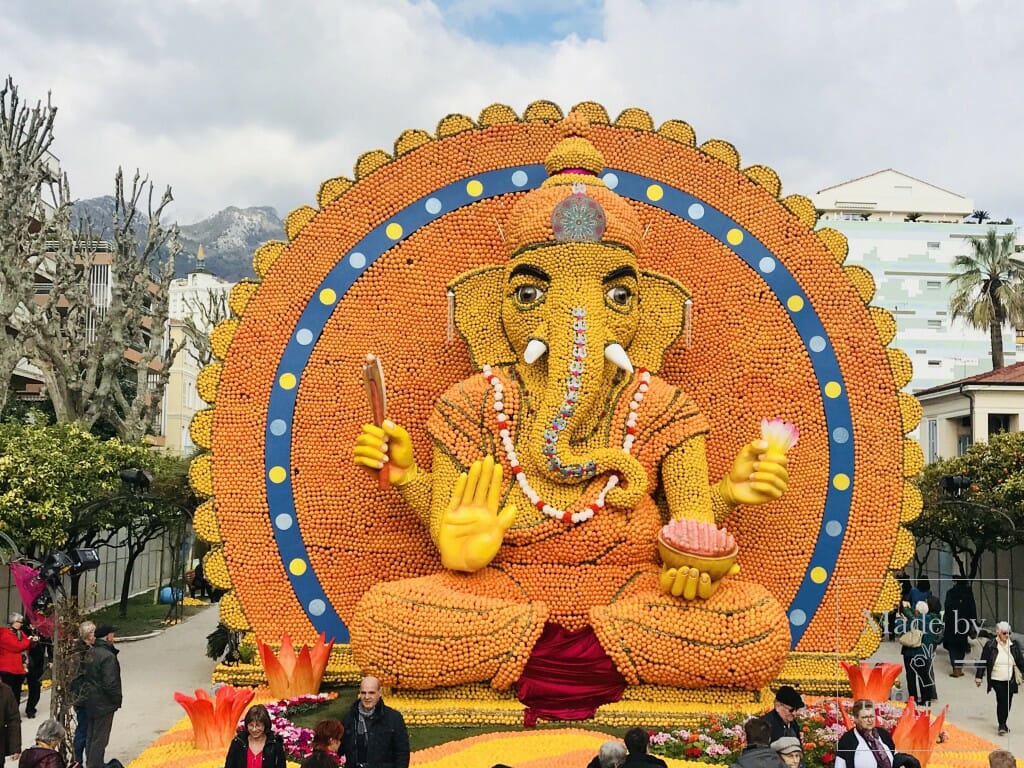 Huge statues of lovebirds dressed in "citrus" attire circle to the rhythm of music in the center of the fountain, surrounded by a picturesque waterfall.

And now the Festival of Lemons 2019 which will provide you with hours and hours of entertainment. HelloMonaco proposes the following for maximum enjoyment. Go to these three events:
1. Biovès Gardens Expo
First, visit the Biovès Gardens during the daytime to see the gigantic orange and lemon sculptures. This is world-class botanical art. It's worth applause and standing ovations. Here are just three examples: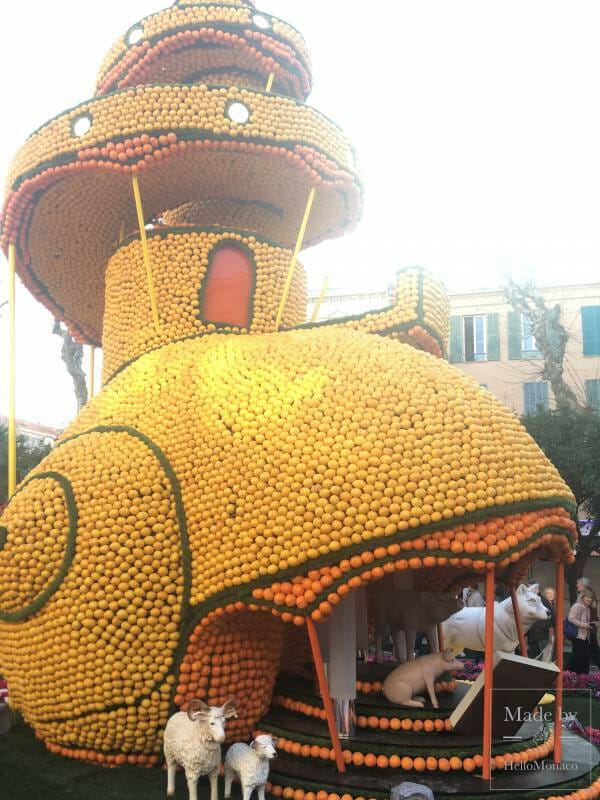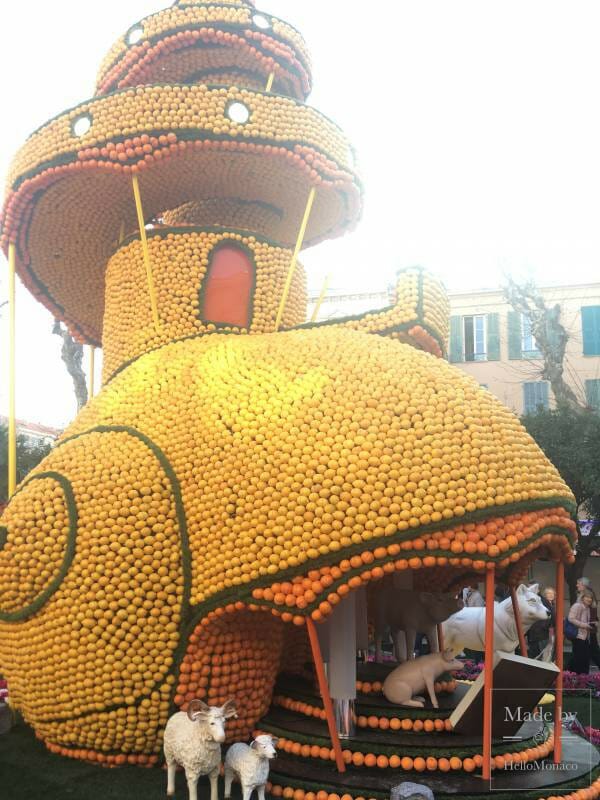 There's a story behind each one of these fantastical creations. Here is the one about Scheherazade from "1001 nights".
King Shahryar from Persia discovered that his first wife was being unfaithful to him. He thus decided to marry a new virgin every day as well as behead the previous day's spouse, so that she would have no opportunity to be unfaithful again. He had murdered 1,001 such women until he was presented with Scheherazade, the vizier's daughter, who was a gifted story-teller. And so the king kept Scheherazade alive as he eagerly anticipated the finishing of the previous night's story. At the end of 1,001 nights, and 1,000 stories, the king had fallen in love with Scheherazade. He spared her life, and made her his queen.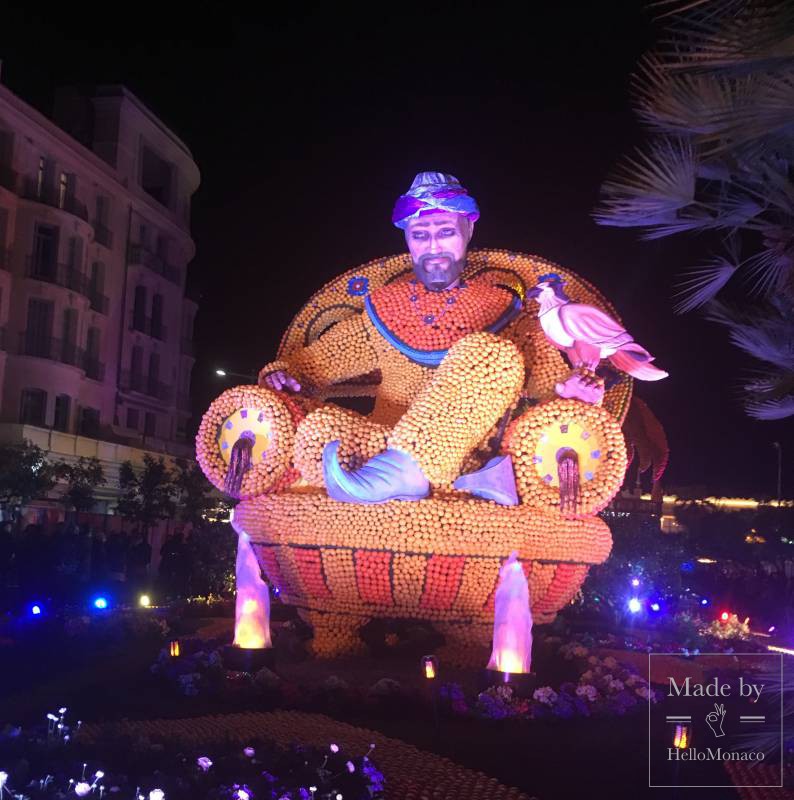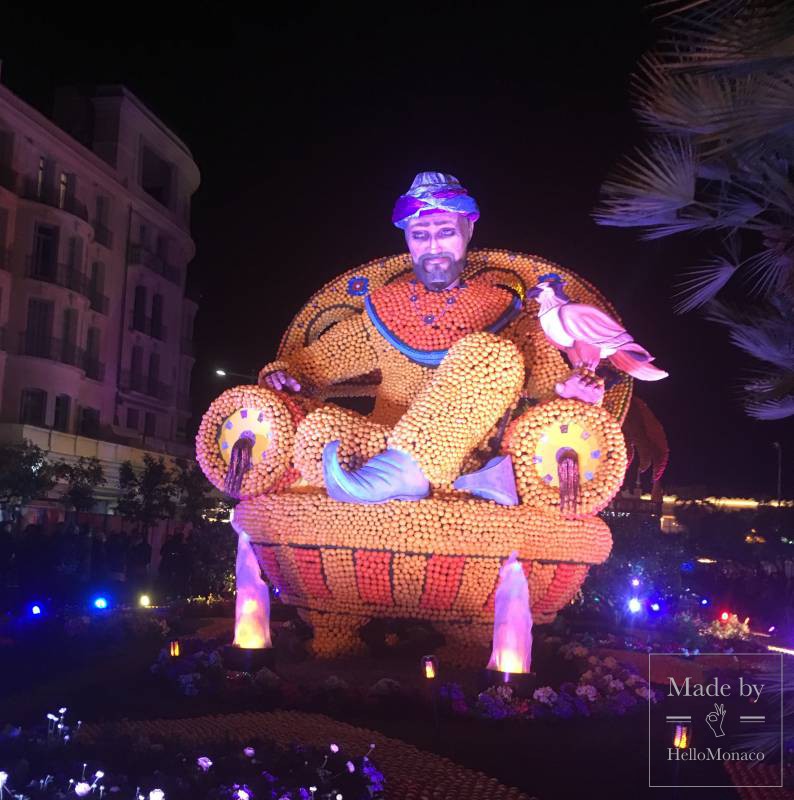 2. Night-time Spectacle: Jardins des Lumieres
After your daytime visit, then go to the Biovès Gardens again during the evening from 8.30 pm. It is literally and metaphorically as different as night and day. Called Jardins des Lumieres, the experience is eye-popping, a kaleidoscope of colours, a combination of theatrics that feel like a mix of Jurassic Park and Alice in Wonderland with an Arabian Tales twist. Truly spectacular and amazing.
Take a look – it's as if a Hollywood studio has descended and created a film set: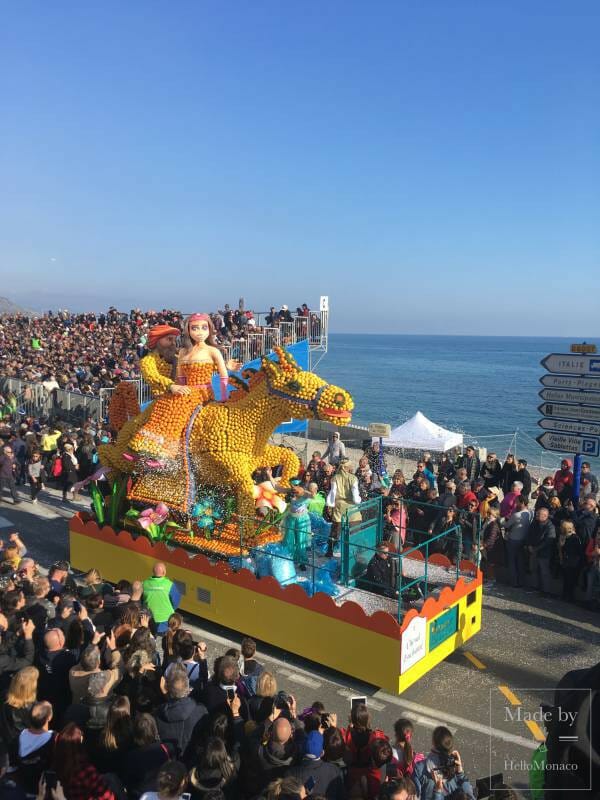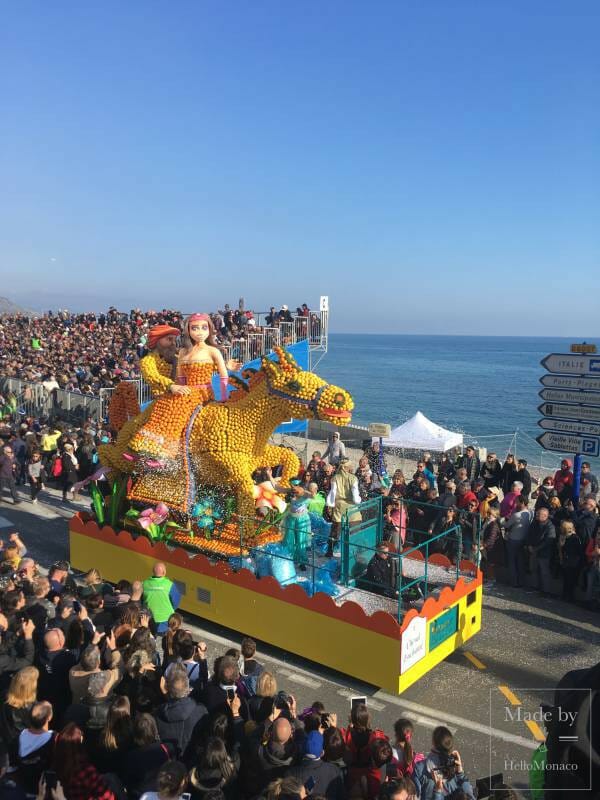 And here's one more fantastical character story from Arabian Nights Tales. Did you know that while this is well-known and loveable children's story, in its original version it was actually quite violent and frightening!
Ali Baba is a poor woodcutter who discovers the secret of a thieves' den, entered with the phrase "Open Sesame". The thieves learn this and try to kill Ali Baba, but Ali Baba's faithful slave-girl foils their plots. Ali Baba gives his son to her in marriage and keeps the secret of the treasure.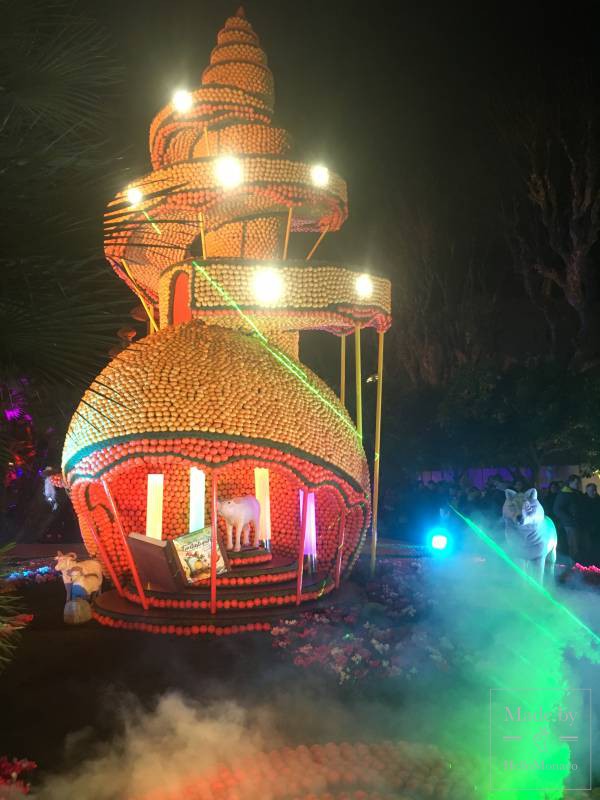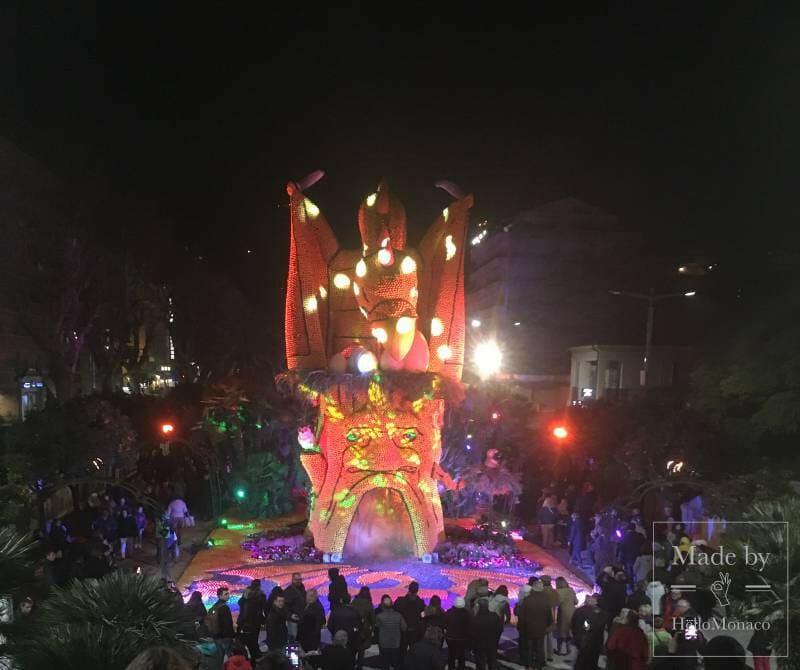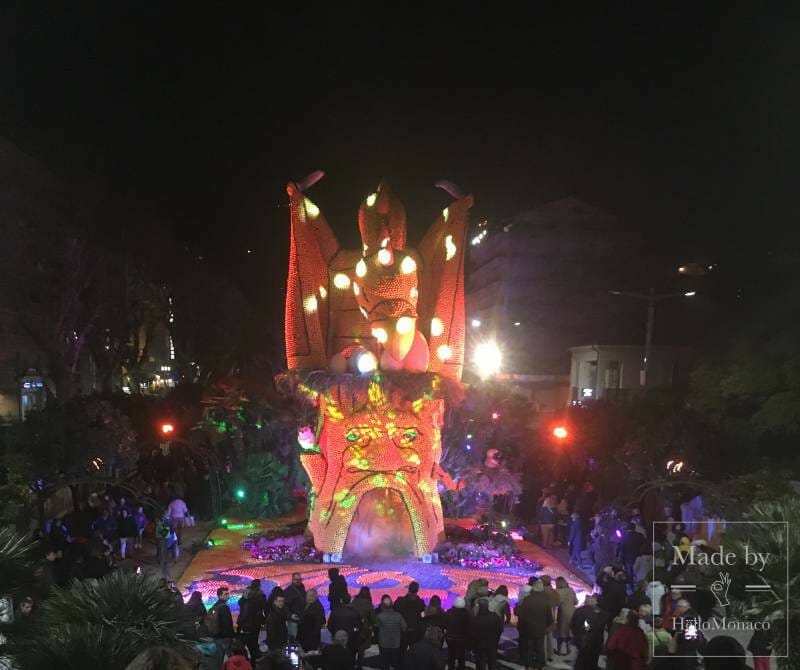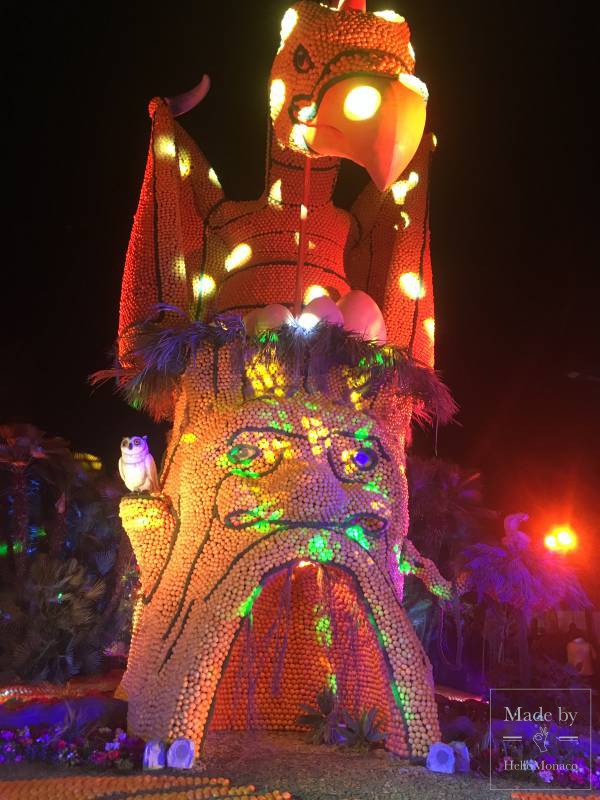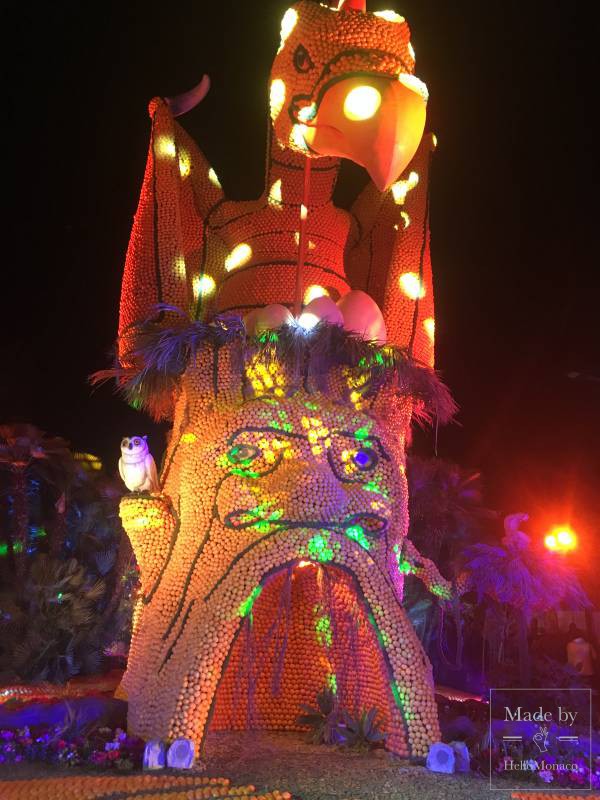 The Fete du Citron is so successful – a miraculous boon for the locality – that the region has created a Myth to celebrate it:
Legend has it that the lemon tree first took root in Menton, when no less than Eve herself chose the beautiful Bay as a paradise in which to plant this golden fruit. According to the story, Menton grew from a pip, to become the prime lemon-growing region in Europe based on a lemon that has always been special. It's a very bright yellow, elongated rather than round, and prized by chefs for its rich essential oil.
3. Golden Fruit Parade
Of course the "Piece de Resistance" of any Carnival is its parades. The Lemon Festival is so much more than a world-class and unique botanical sculpture park. It's full of live entertainment with a vibrant carnival atmosphere. At the heart of the festival, magnificent lemon-themed parades take place day and night, with stilt-walkers, fire-eaters, musicians and acrobats providing spectacular performances. This year's floats feature creatures of the deep – dolphins, whales, giant squid and fantasy fauna take over every festival venue, with citrus-scented works of art, all created from carefully-placed oranges, lemons and glorious Mediterranean flowers.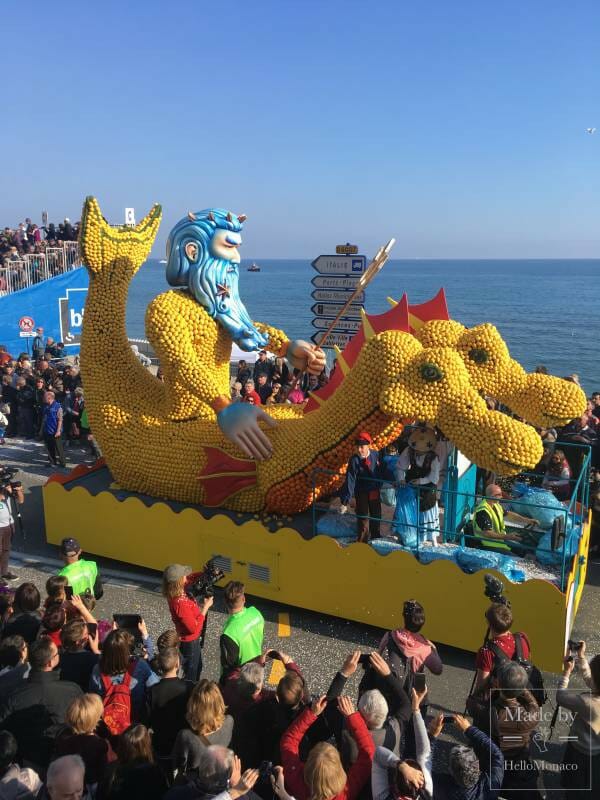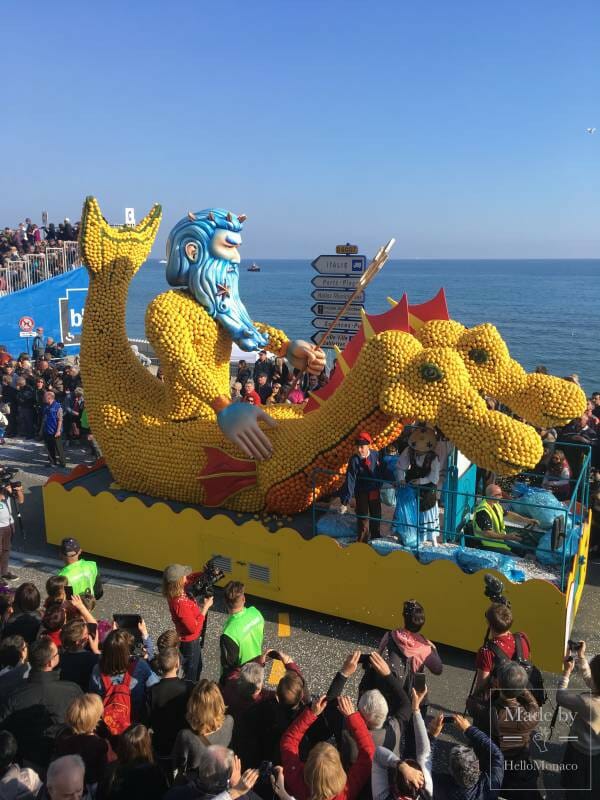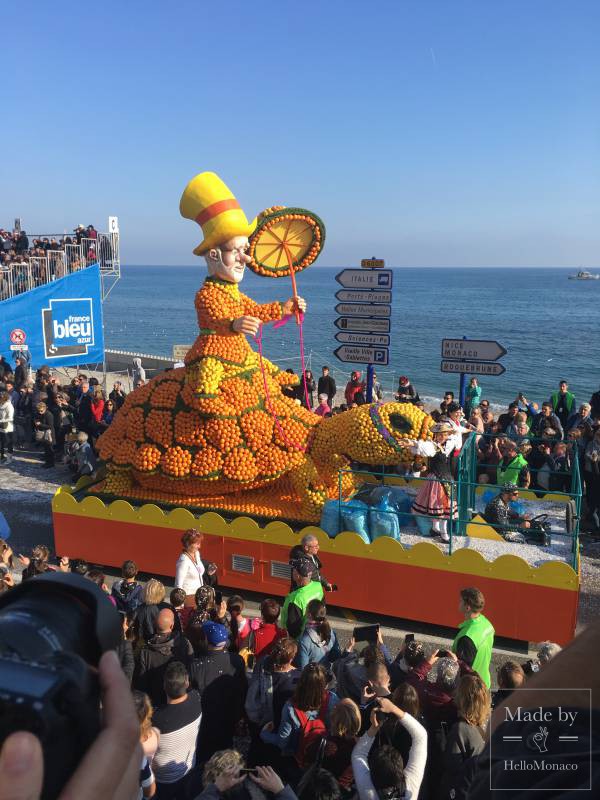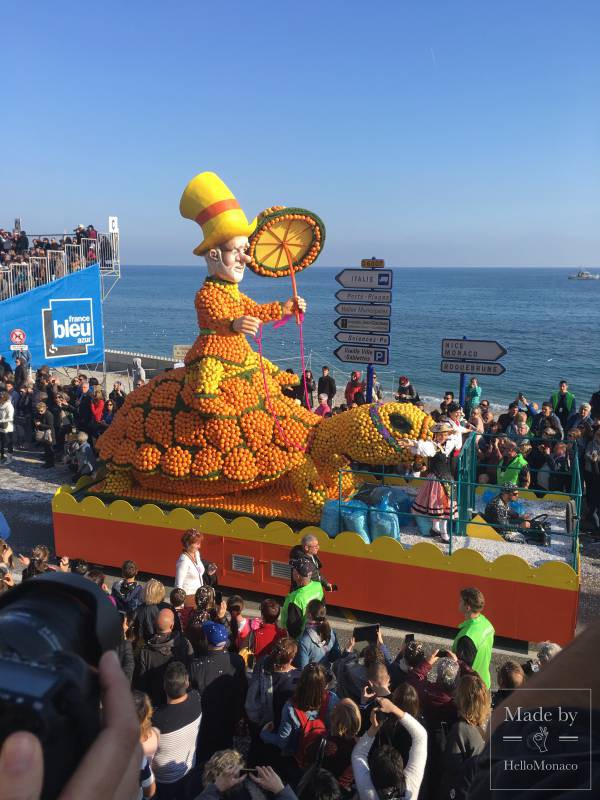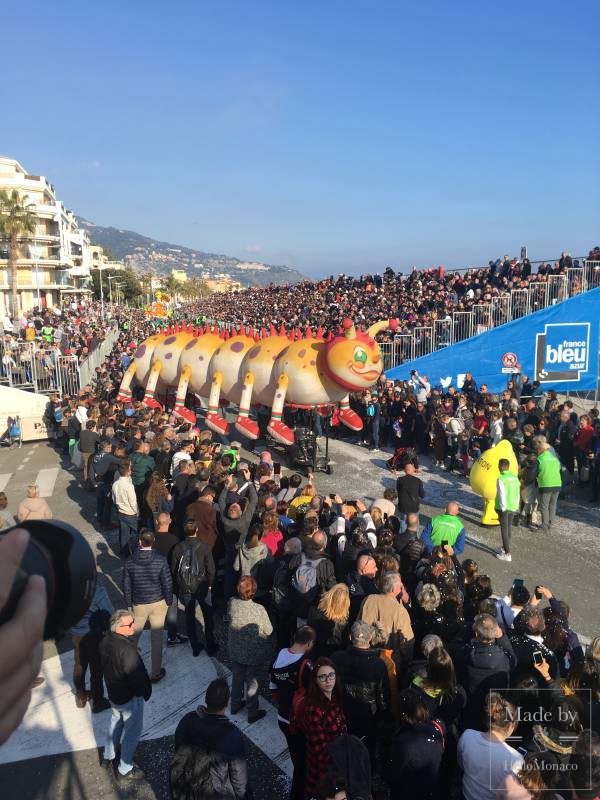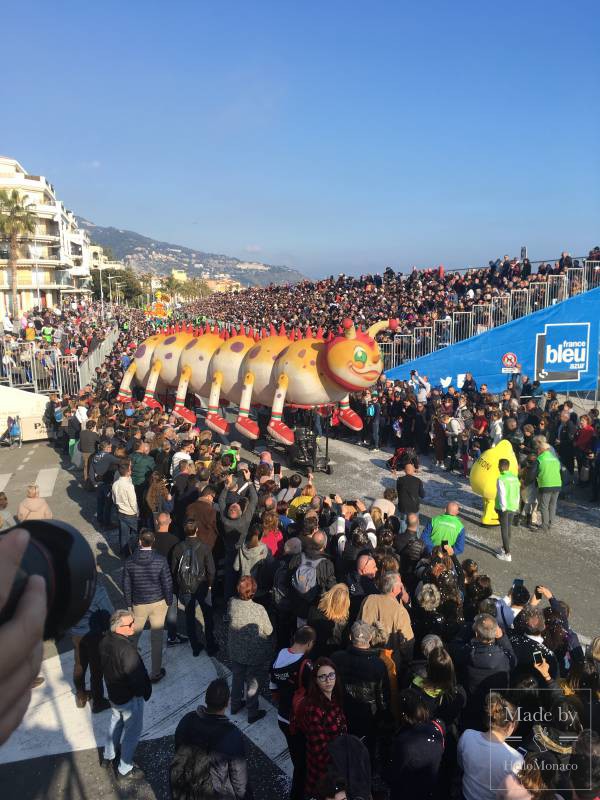 It's easy to forget how much livelihoods depended on oranges and lemons and olives in this Mediterranean paradise of sun, glitz and celebrity. So even when historically Prince Charles III in Monaco was launching the finest Casino in the world in the 1800s, his famous collaborator François LeBlanc of original SBM fame had an equal eye on the local price of olive oil. Did you know the LeBlanc family even conceived the idea of a twin town next to Monte Carlo potentially to be called Upper Monte Carlo (today called Beausoleil) partly to attract more people to create demand for the local olive oil.
You still see the effects of the region's balmy climate with many streets in Monaco still lined with Orange trees – now the source of a divine local orange liqueur.
So it's no surprise that sunny Menton owes its glory historically to its fruit – the unique lemon.