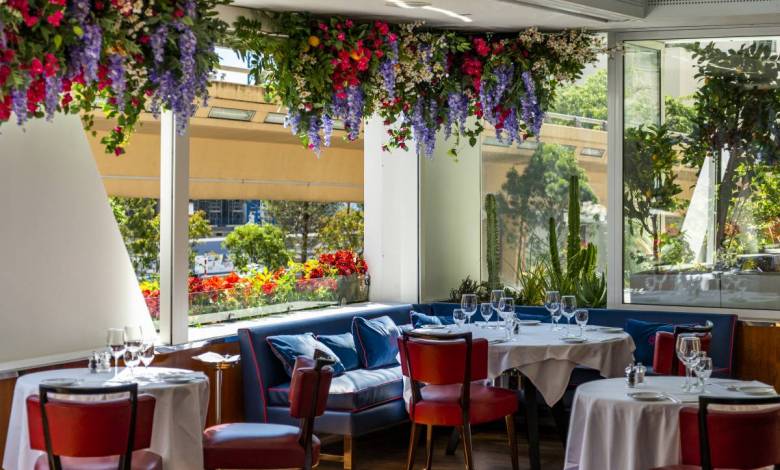 Cipriani Monaco: Owner's Fame & Formula 1
Cipriani Monaco offers fine Italian dining with celebrity panache. The restaurant was successfully launched in 2012 by Italian businessman and entrepreneur Flavio Briatore.
Briatore loves what he does and entered the fashion world in 1979 with Luciano Benetton. He then made his mark in Formula One with his unique and innovative management style and an innate capacity to discover new talents. During his career in Formula 1, he achieved incredible results, winning seven world championships with two teams – Benetton Formula and Renault.
The Principality of Monaco has always had an exceptional relationship with Formula 1 racing and the Monaco Grand Prix is widely considered to be one of the most important and prestigious automobile races in the world. With the Indianapolis 500 and the 24 Hours of Le Mans, they form the Triple Crown of Motorsport. The circuit has been called "an exceptional location of glamour and prestige". Many of the past and present Formula 1 race drivers are actually residents of Monaco.
Flavio Briatore's success goes well beyond Formula 1. He now creates cult nightclubs and luxury resorts that represent a glamorous and exclusive lifestyle. He also launched his second restaurant and nightclub Twiga in Monaco in 2014.
Elegant Interiors, Mouthwatering Food & Great Reviews
Cipriani features mahogany walls, polished stainless steel, large mirrors, marble floors and Cipriani's signature brown, leather chairs. The ambience envisioned by Michele Bonan reflects the feeling of a luxury yacht with a nautical theme, embellished with blue and white elements which also offer an elegant sensation of the 1920s. The restaurant showcases many Formula 1 related photos representing the heritage of Flavio Briatore.
At the first floor of the restaurant, Cipriani offers an exclusive members-only area offering absolute privacy and exclusivity with a private bar and a sea-view terrace.
Cipriani's refined, fresh and flavourful Italian cuisine is exceptional in Monaco showcasing classic appetizers from delicately sliced veal with tuna sauce (vitello tonnato) to homemade gnocchi with rich and herbaceous tomato sauces, pastas, risottos and freshly grilled fish and seafood – a diverse selection of the very best of Italy. Cipriani is open for dinner from 7 pm and the exclusive club member's area is available for private lunches from 12 noon.
"Every city boasts a medley of Italian restaurants, pizza houses and pasta joints, and being so close to Italy, Monaco is no different. But Cipriani is different, Flavio Briatore is different and this location oozes charisma and is full most evenings with clients from all walks of life from young, Aperol spritz drinking party-lovers to serious and elegantly dressed business people.
I have had the opportunity to work with Briatore's management team on numerous occasions and they are as passionate as he is, every minute detail covered and they strive for success and growth in what is a very competitive market.
The restaurant oozes sensuality, panache and has a stimulating ambience that offers well-made Italian classics, a well-managed international wine list and is a venue that helps you feel relaxed in the hands of great professionals.
I was privileged to be able to taste the Rigatoni all' Amatriciana prepared specially by the Italian Chefs, paired with a wonderful Tenuta dell'Ornellaia Masseto 2008 – this Roman (Lazio) speciality of cured pork cheek, pecorino cheese and spiced tomato is just delicious; tender meat with smoky, savoury characters and paired with this wonderful wine, all I can say is that Briatore has exquisite taste and you should come and visit him soon to try his favourite dish." – Bradley Mitton
Cipriani Monaco Menu Highlights
Rigatoni all'Amatriciana Favoured by Flavio Briatore
Recipe (serves four)
Ingredients
600g fresh rigatoni
100g bacon
100g Praga ham
400g diced fresh tomatoes
50g white onion
1 dried or fresh red hot chili, sliced finely
1 cup grated fresh parmesan
chopped parsley
Boil a large pot of water, add a pinch of salt.
In the meantime, prepare the bacon by removing the rind and cube up the rest of the meat and fat.
Heat a large skillet and cook the bacon pieces until the fat has melted and sizzled to a golden brown.
Add the onion, tomato and chili and bring back to a simmer over low-medium heat. Cook for 10 minutes, stirring occasionally.
Just before taking off the heat, add the parmesan cheese and stir through, until the sauce is creamy. Set aside until pasta is ready.
Add the pasta to the boiling water and cook until al dente.
Drain the pasta, saving about one cup of the pasta's cooking water.
Add the pasta directly to the skillet with the Amatriciana sauce, along with a splash of the cooking water, to help loosen the sauce. The sauce should coat the pasta but still be quite thick. Toss well until the pasta is coated (if the sauce has gone cold, reheat it before tossing) then serve immediately, with more parmesan over the top if desired and sprinkled with parsley.
A Perfect Wine to Go With Rigatoni all'Amatriciana
"Tenuta dell'Ornellaia Masseto 2008 . Tuscany, Italy.
The Cipriani team know how to choose wine with style and when they brought this wine out with the rigatoni, there was an air of excitement around the table.
Iconic, classical and a trend at the moment, this merlot from Tuscany is a big, bold and brash Italian counterpart to any meal.
Masseto 2008 is the expression of a warm vintage, and with great concentration, its colour is particularly deep and young. The nose is characterized by rich and fully ripe fruit yet without any traces of over ripeness, focused and intense with spicy and mineral notes.
On the palate the wine is remarkably dense, concentrated and opulent, with a very pure expression of fruit. The tannins are present and firm giving the wine focus and precision to balance the wine's richness.
The 2008 vintage is undoubtedly one of the great expressions of Masseto, with excellent ageing potential. If days were always like this, we would never yearn for tomorrow." – Bradley Mitton
Published with the consent of the authors of  "Signature Dishes of the Principality of Monaco with Wine Pairing Guide"​ by Bradley Mitton (Author), Zsolt Szemerszky​.