Culture & Arts
Le Studio – an educational space at Villa Paloma (NMNM)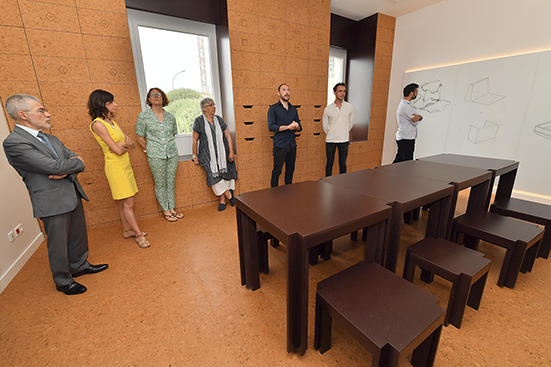 In the presence of Patrice Cellario, Minister of the Interior, and Marie-Claude Beaud, Director of the Nouveau Musée National de Monaco (NMNM), the museum's permanent new studio, Le Studio, was officially presented by the designers behind the project, Adrien Gadet and Benjamin Lina from Studio Quetzal.
Aimed primarily at school pupils and young people in the Principality, the studio makes extensive use of new technology (screens, video projector, CNC milling machine, etc.) and is built largely from cork and glass, drawing inspiration from archaeological sites. It has been conceived as a place for research and experimentation, and will allow pupils to undertake work in the context of the NMNM's various exhibitions. The wooden tables and chairs are fully modular and can be put together in an infinite number of permutations depending on the needs of different workshops.
Winners of the Grand Prix Van Cleef & Arpels at the first Design Parade in Toulon, the members of Studio Quetzal have worked with Villa Noailles and the Georges Pompidou Centre in a variety of architectural workshops.
Places are still available for the following workshops: "PORTRAIT pour trait" ("Step by Step Portraits") from 15 to 19 July (ages 7–9 years and 10–12 years) and "Empreintes de plantes" ("Plant Footprints") from 23 to 26 July (ages 10–12 years).
For information, prices and booking, contact: public@nmnm.mc or +377 98 98 49 38
Source: en.gouv.mc