Interviews
I Love Art: Axel Lefrançais, a peacemaker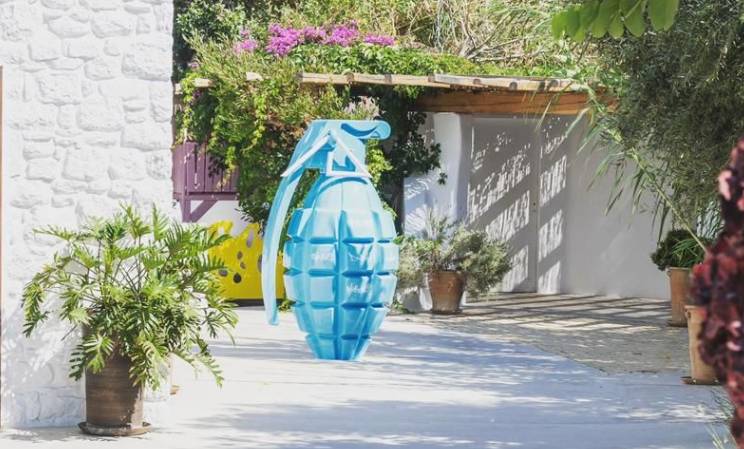 His resin grenades are bombarding us with a message of love. He doesn't have the looks for the job. He was a rugby player, and has a physique to match together with the luminous idealistic face of a teenager and a simplicity miles away from all the mundane. Axel Lefrançais has entered the world of art as if it were a religion, namely with an unwavering faith in love. His life rules involve combatting all forms of violence. His weapons? Resin-sculpted grenades and brass knuckles with their surprisingly aesthetic contours. The young, 35-year-old designer has shared his thoughts in a sincere and purposeful interview.
Hello Monaco: Axel, what was the start of your artistic path?
Axel Lefrançais: I have always been immersed in the world of art, particularly, Street Art. But I was too cautious to go into painting graffiti… Eventually, while working on yachts, I started using resin and fiberglass to repair boat hulls. And it all clicked in. I have taken to these materials, coming up with different styles and colours for my small-size objects.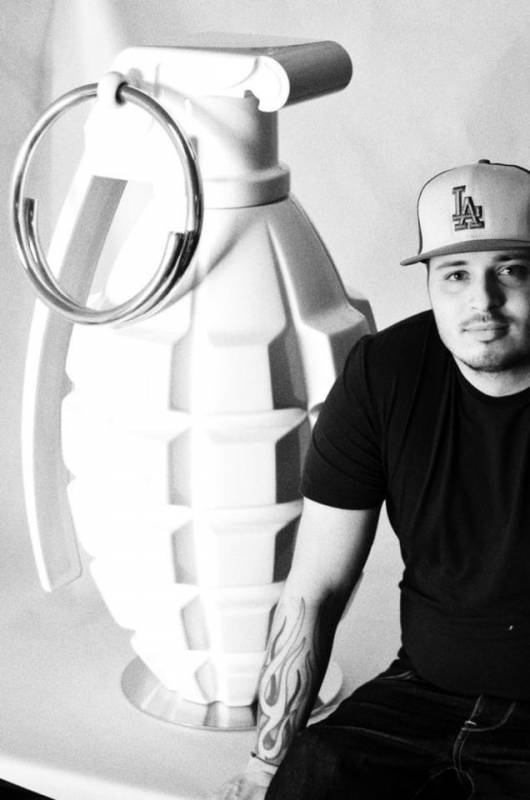 HM: Why did you choose the grenade?
AL: I am fighting for people to accept the idea that this is an aesthetic, magnificent object, sadly intended for war. My mission is to make grenades unnecessary, turning them into works of art. My biggest model so far is two metres tall, and right now I am working on a 4-metre mold. I also have my real-size "grenadines", experimenting with a number of different paints and plasters, big and small. Every grenade is unique.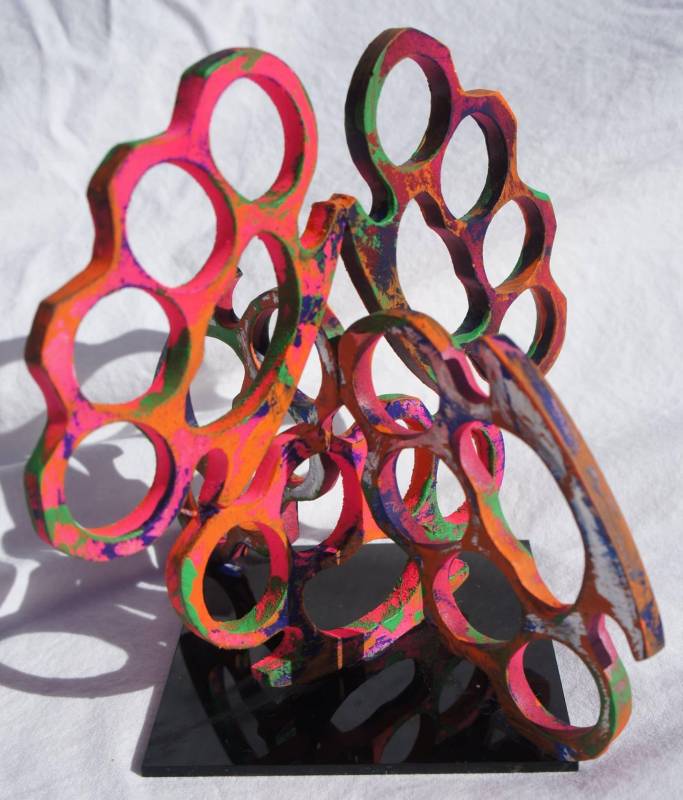 HM: You have successfully undergone a complete retraining. Do you manage to make a living from your art?
AL: For the past three years, that's the only thing I've been doing. I have quit my job as a manager of a small villa maintenance company in Cannes to fully devote myself to art. Every morning I wake up living my passion. It's worth all the gold in the world! Each of my works does indeed bring me happiness!
Before the health crisis, several galleries were interested in my work, but Covid got in the way of my projects. Thankfully, social media has helped me out a lot. I have been exhibiting at the Coya Monte-Carlo restaurant and should soon be exhibited in the Hôtel de Paris lobbies. I have collectors contacting me from all over the world. I go and visit their places, trying to imbue myself with their personality and offer a matching work.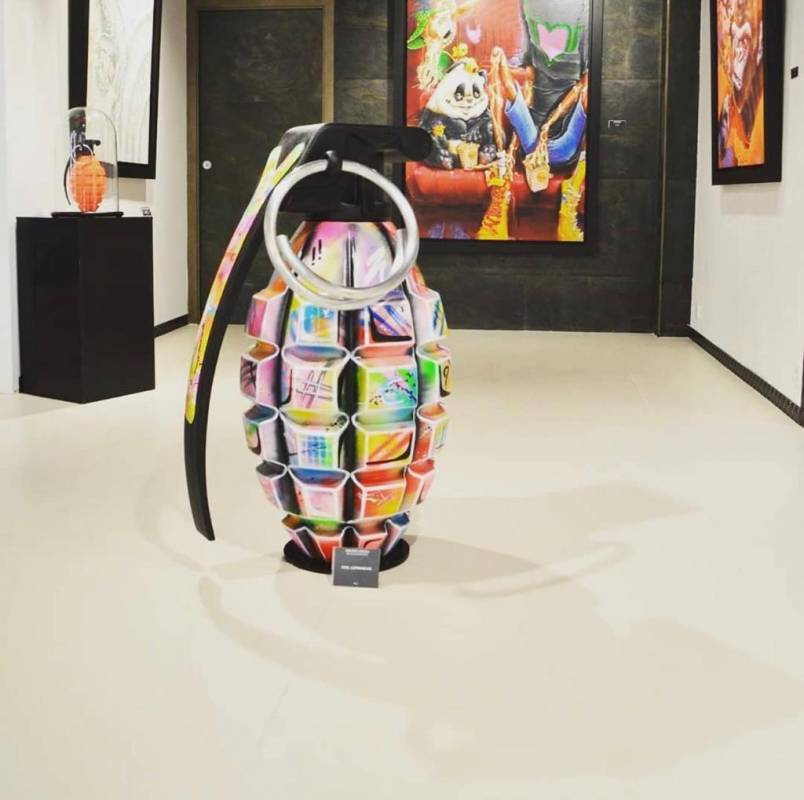 HM: You are one hundred per cent self-taught. Do you somehow feel like you've become an artist by chance?
AL: I do not consider myself an artist, but rather a craftsman who has an idea and message to convey. My mission is fighting against war with my art. Based in an old greenhouse, my studio looks more like a dusty shipyard than an artist's lair …
This being said, I intend to take sculpture lessons to make my grenades in marble and wood, preferably, mahogany.
HM: You define yourself as a militant pacifist, claiming to fight evil in all its forms. What is evil for you?
AL: Evil is jealousy, petty wickedness, negative thoughts. Any form of racism is beyond me. I am the son of a Norman mother and a Cape Verdean father; my wife is half Italian and half Laotian. Our two-year-old son is gorgeous, we all call him "Lefrançais", my mother's last name! That is my real name, not a pseudonyme …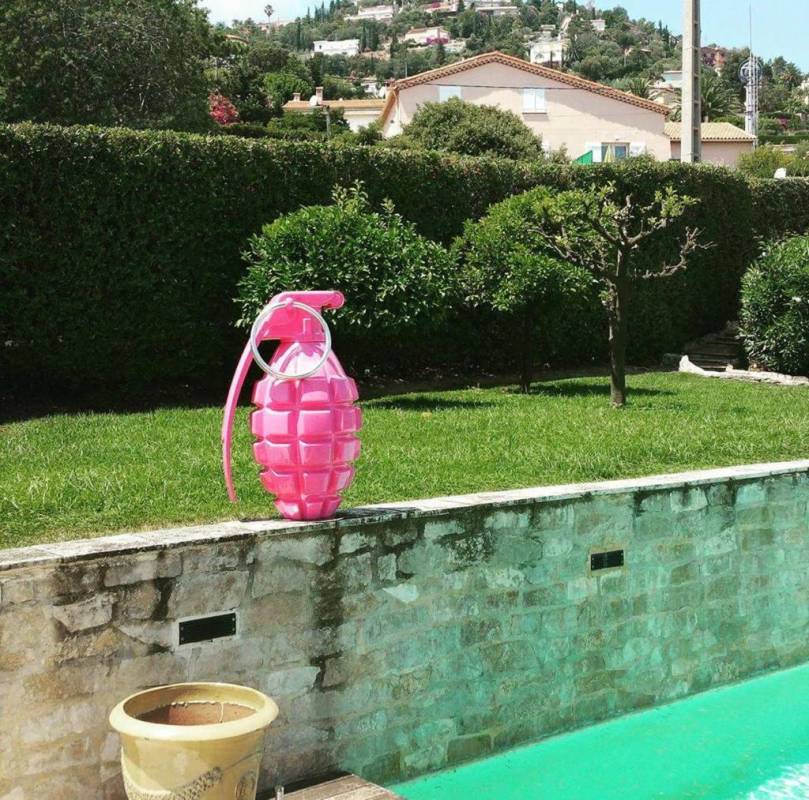 HM: What kind of projects are you working on?
AL: Right now I am working on another weapon, brass knuckles. I am trying to make them attractive… After that, I intend to tackle Darth Vader, the "Star Wars" villain, ridiculizing his character.
I am also working on "The Hybrid" ambivalence — a grenade capped with an extinguisher head. Their common denominator is a safety switch, but the whole combination raises the question of choice: shall we waver for good or ill?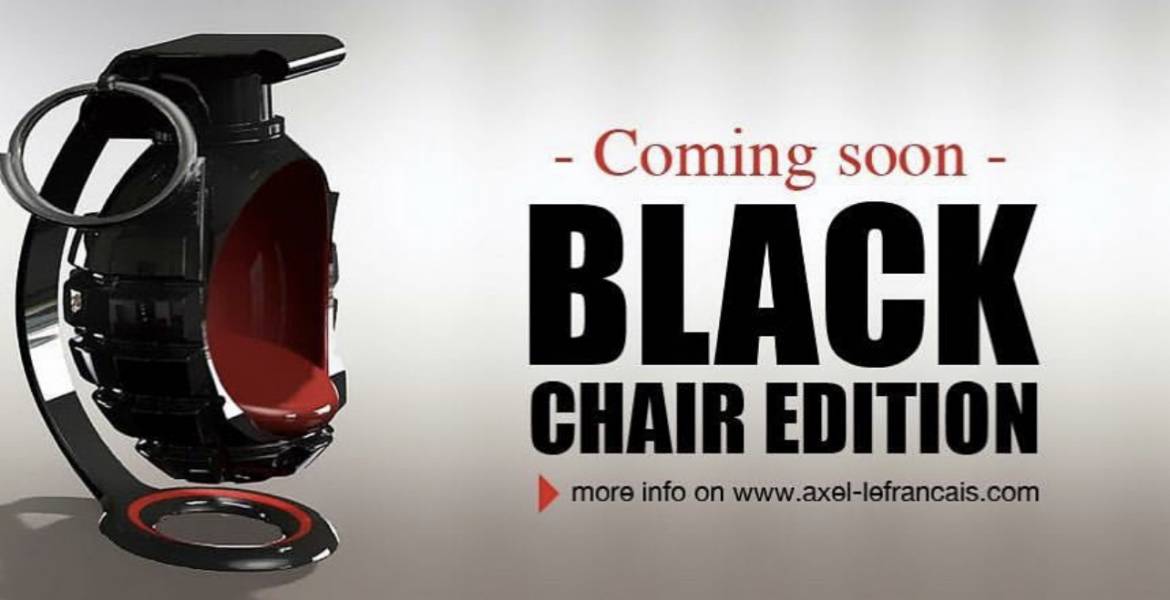 HM: You are a very successful designer. Do you intend to delegate certain steps of your work so that you can produce more?
AL: Never! I perform my work from A to Z. Whatever my future success, I will continue in the same way. I wouldn't be able to look at myself in the mirror if I signed my sculptures without doing them from scratch with my own hands! Certainly not like certain others who have their sculptures made in China.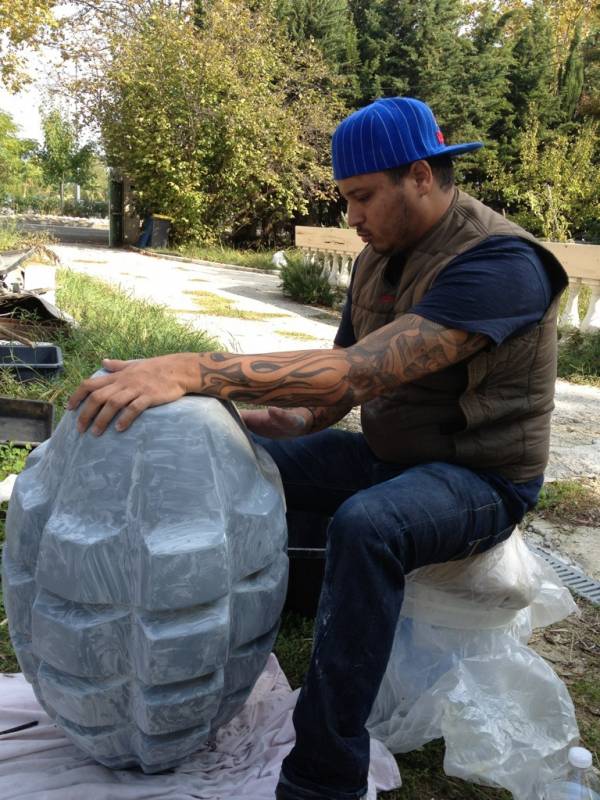 Contact: Axel Lefrançais
tel (33)7 6852 5789
la-grenade@hotmail.com