Interviews
Manila di Giovanni: "It's not just a belief, not just a dream, it's the reality. The Monaco Metaverse is Launched"
Manila di Giovanni, at only 22 years of age, is Monaco's youngest technopreneur, a vibrant visionary businesswoman creating the world's first ever Virtual Economy, an enhanced virtual twin ecosystem of the real world. Manila is doing it through her Monegasque company DWorld, which now also has a holding company in Singapore. A valedictorian graduate of the International University of Monaco she discovered the latest technologies in China having already absorbed the best Japan has to offer in animated worlds… not only that but also the best of the Smart City technologies in Singapore. Manila doesn't just dream, she acts fast and launched DWorld, the Monaco Metaverse platform which is now targeted for other cities and countries.
Manila di Giovanni has collaborated with the Principality's smart city project, part of Extended Monaco, and was chosen to showcase DWorld at Monaco's Pavilion at Dubai Expo 2020. Not only that, she has collaborated with Monaco Tourism to showcase the Monaco Metaverse in different countries in Asia and in London.
"Monaco Now" regularly features the DWorld Monaco Metaverse, the latest in collaboration with Frederic Genta, the Government's Interministerial delegate for attractiveness and digital transition.
Manila di Giovanni won the Top Young Italian Entrepreneur Prize by the Association of Italian Entrepreneurs of Monaco, Rising Star award at the Meta Entertainment World, and was nominated in the "Forbes 30 under 30" list. Additionally, the chief of DWorld was runner-up for the top prize at the Young Chamber of Commerce (JCI) awards. 
So what makes Manila di Giovanni tick? Is it the Ying and the Yang of Asian perfectionism combined with European creativity plus the determination to innovate in the Principality? 
Is it an all-consuming vision, passion and belief that Monaco will be the first country in the world to fully embrace the Metaverse and jump from the e-world to the v-world? 
Is it her natural gift to find special people … those gems to transform her vision into reality … virtual reality and the Metaverse?
Is it her belief that she can improve the world for all of us, that we will all have a brighter future communicating with each other in this new eco-system which will come to us wherever we are?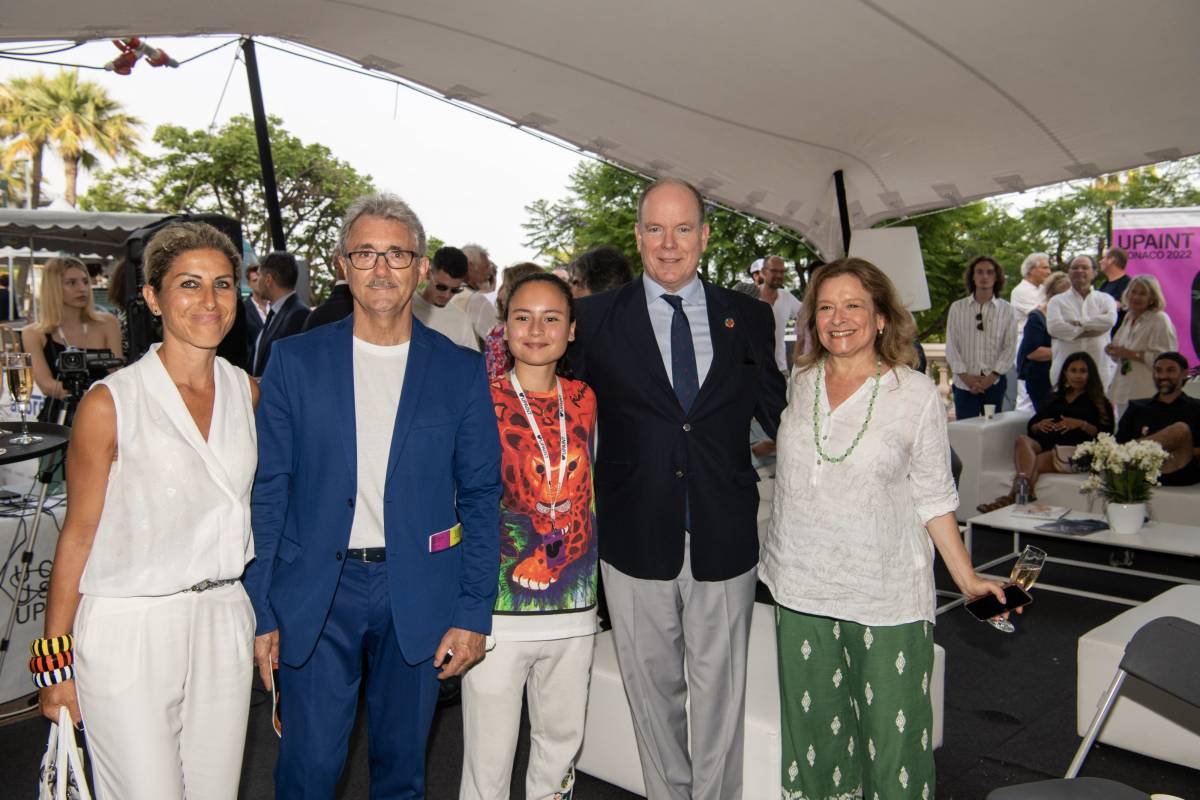 Not only those fortunate enough to be in the Principality will be able to engage with Monaco but literally everyone in the globe around the clock. Tick tick tick … Is this what makes Manila di Giovanni tick? Let's find out in HelloMonaco's interview with Manila.
HelloMonaco: What is the Metaverse? Can you explain it simply? What is unique about the DWorld Metaverse?
Manila di Giovanni: The metaverse is a terminology that was actually first conceived by the author Neal Stephenson of the sci-fi novel "Snow Crash" back in 1992. The term itself implies a virtual simulation and an immersive virtual world that anyone can access globally via a headset. It's a combination of all the latest technologies, not just VR, but also NFT, blockchain and crypto monetization and so on.
What makes DWorld unique is the fact that we don't focus on fictional landscapes or just NFT sales that end up in people's digital wallets as collectibles, but no one really makes use of them. It's rather the fact that we focus on real world cities and work with local entities to create a high fidelity virtual twin integrating the future projects of the city with the local and international enterprises and other government entities. All then can participate in the ecosystem where each virtual product or service, that can also be purchased as a NFT, can be used also within the virtual world of the city or can be provided in real life. The result is a real bridge between the real-world city and the virtual one.
Our long term vision is to involve citizens in the decision making process of governmental entities to create and shape the future of their respective cities.
HM: So if I have access to a virtually identical ecosystem of Casino Square and One Monte-Carlo, what does that do for SBM? What does that do for brands like Chanel, Cartier and Dior in Monte-Carlo? 
MdG: We take all the economic sectors, from retail to events to tourism to arts to yachting and put them in one single ecosystem. All the companies, including for example, SBM, have their virtual space in the virtual twin of the Principality and people world over can access the hotels or the restaurants or the casino etc. With monetization they can pay a fee for example to enter the casino. It's a new revenue stream, and a new channel to sell their products and services. So the goods aren't sold just in a digital format, but as a "phygital" (phygital=physical plus digital) where also the real world goods will be delivered to people's homes. So it's really a revolution of the whole economic ecosystem for any city globally.
HM: What are the implications for celebrities, like Charles Leclerc?
MdG: In the real-world Charles' fans often cannot really get access to him. In the virtual world they can because of his avatar (virtual persona) which can arrange racing master classes directly or people can also take direct pictures with him inside the metaverse. It's a new way of creating a dynamic engagement between celebrities and their friends globally. 
HM: Is it similar to Instagram? 
MdG: No, Instagram still keeps you detached. Even if you're writing to them, they or often their agent might never reply. But in the virtual world, it creates empathy with these celebrities because it really feels that you are close and can talk to them.
HM: Your role as an entrepreneur fits well with Monaco but sport is another fit isn't it … you nearly became a professional athlete … is that right?
MdG: True, I focused on becoming the best tennis player regionally and trained for nationals in Italy, and attended the second best tennis academy in the world in Barcelona. The way that I work now, the discipline, determination, and persistence is thanks to my coach and tennis. 
HM: You have the key member of the team here today, Deniza Marcinkevičiūtė?
MdG: Deniza is a special "Gem" thanks to her high EQ (Emotional Quotient). She knows how to be the most supportive team member, knows which people we can trust and with whom we should interact …also in terms of digital marketing and from a PR perspective in order to reach the right target.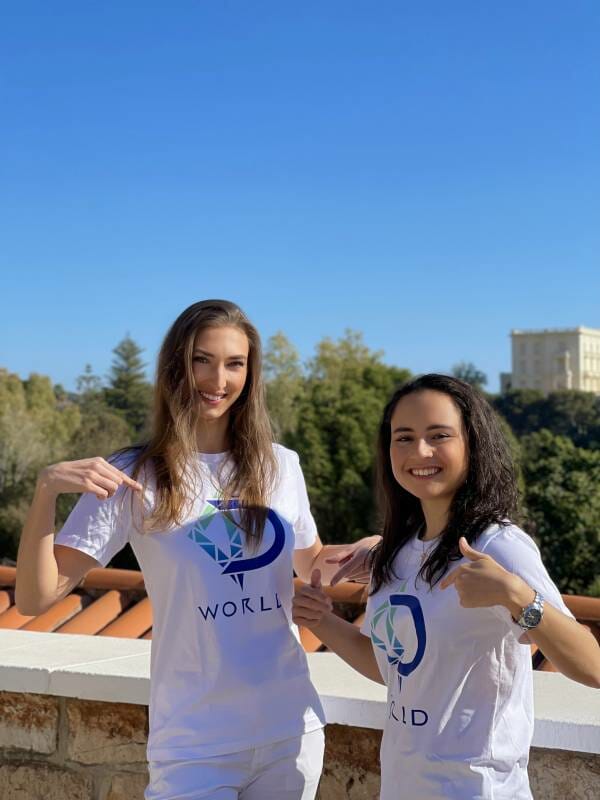 HM: Tell us more about your team.
MdG: My team is special. Deniza has always been one of my main supporters, I knew her from university. All of the others it was destiny, they really understood the vision and what I strongly believe in; this combination of virtual and real world to enhance society is a version of the future they wanted to see too. All of the talents, John Gwinner, our CTO who has been in this industry for over 20 years and in the past was even CTO at the U.S. Marine Corps, Janet Xanthopoulos helping us in strategy and business development internationally and also with respect to the company's overall development and roadmap definition, head of yachting and aviation at Rosemont, Julia Riedmeier who is helping us as our brand strategy advisor has a doctorate in luxury brand management and has her own consulting firm Code\Luxe, Laurent Marochini, our financial advisor and head of innovation and blockchain development at Société Générale in Luxembourg, Corinne Kiabski helping us in both local business development and PR who had worked with the government of Monaco, Fabio Operti who is helping us in creating partnerships with the luxury brands, and everyone else helping us from abroad to get more governmental entities onboard and in tech development. It is a very international group. Some people I haven't even met in person yet! We met online. Like John followed our company abroad before it was even registered. And he was from LA! So even with the time difference it's such a commitment, we alternate who stays up late for calls.
HM: Would you say that even your work-place is in many ways virtual. Your current team and potential expanded team can be anywhere on the planet. How do you lead a team that is so International remotely?
MdG: I think that we wouldn't be leading a Metaverse company if our team wouldn't be able to work remotely. Many people in typical workplaces are still traditional and need an office with a desk. In contrast, we can work from anywhere and still be very efficient.
HM: Give us the scoop, when does the rubber hit the road, when do I get to play with the Monaco Metaverse?
MdG: People can start registering with their virtual wallets and get a feel for exploring. They are able to insert themselves into the Monaco Metaverse right now … as of the 10th of March!
HM: What are the next steps for the company?
MdG: We have already done a lot. We recently opened and transferred funds into our holding entity in Singapore to manage all of the cities that we are developing in the metaverse, starting with Monaco but other cities are lined up which we can hopefully announce soon. Monaco has been the start for us, but other cities abroad have shown a strong interest in creating a Metaverse for their cities and we want to help their governmental entities to make their cities become digital leaders while enhancing their smart cities' infrastructures in this domain. At the moment, our main focus is finalizing the backbone of the virtual economy for the Principality of Monaco with the blockchain network which we have been working on for a while now so that we can implement it abroad as well. 
HM: Will the virtual twin use cryptocurrency of any sorts?
MdG: Not from March 10th, but in the next updates of the platform. It'll be stable coins like the USDC to keep the internal platform transactions stable without too much volatility (i.e. 1 USDC is $1).
HM: You speak Italian, Spanish, English and French and some Chinese too. Are you the new Global Citizen?
MdG: Ah, I got an internship offer for Deloitte in Hong Kong at the end of 2019 and speaking Chinese with a minimum HSK3 level was a requirement. I went to the Chinese school during my semester abroad in Shanghai and they said it takes 18 months and it would be impossible for me to learn it in two months. But I told them that I had to and sat the exam two months later in order to pass the HSK3 certification and scored 95 %. Unfortunately, Covid started and I couldn't reach Hong Kong, but destiny wanted me to be fully focused on starting DWorld instead.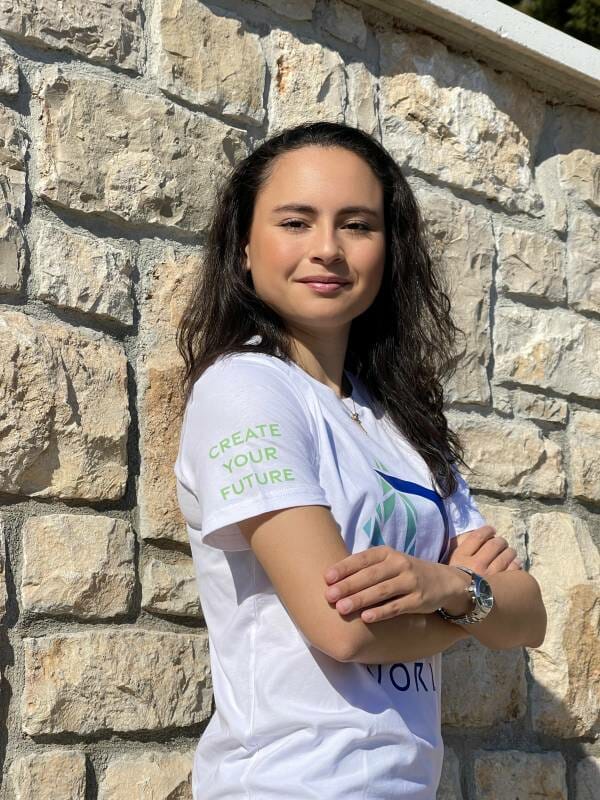 HM: You are principally committed to free education, visiting Universities to explain the Metaverse to students etc.?
MdG: Do you know how much you pay for university nowadays! I gave speeches at the University of Sydney, and in Monaco and Switzerland. There are two factors that make a country prosper and these are: human capital formation and infrastructure. I believe that education should be free so that all people, no matter their means, can realize their potential.
HM: You are a visionary, but you are also an entrepreneur. Do you constantly have to think about money? What is your business model? 
MdG: We're currently raising another round within the Monaco subsidiary and we are raising 1 million euros this time from VCs, family offices, private investors, and from governmental funds. Laurent is already interacting with several VCs and family offices here in Europe and outside. 
If anyone reading this is interested in investing with us, sees the economic growth potential, and believes in the vision, we would love to on-board them. 
Here locally in Monaco there are many HNWIs and UHNWIs but not many understand startups; they see them as real estate assets for their present value without seeing the long-term valuation. A startup is quite tough to manage because you constantly have expenditures to develop the solution you are providing and to keep expanding and in the first years of the startup's life, it needs constant investments to sustain the tech development, marketing, legal, and all the other costs before becoming fully profitable.
The main revenue streams of DWorld come from the B2B side. There's an upfront cost enterprises pay us to develop their virtual space in the Monaco Metaverse and a rental fee for keeping this space within the virtual world with a small participation in the revenue stream from each product or service being sold through DWorld. The first companies inserting themselves in the Monaco Metaverse that we are developing won't pay their rental fee for the first year to incentivize them to access it.
HM: What role has Monaco played so far in your life? And in the future?
MdG: Monaco wants to lead the world in areas where Prince Albert II has been committing himself… obviously in caring for the environment but also as a futuristic digital leader as a smart city and as a centre for entrepreneurial excellence. As a young female entrepreneur, I feel there is infinite opportunity to innovate here with the right collaborative and open-minded people. It's a door opener for international opportunities.
HM: Final question …. When will you turn your dream into a reality? When will you have arrived? 
MdG: It's not just a belief, not just a dream, it's the reality. We finalized the prototype of the Monaco Metaverse already in April 2021 with the Smart City department of the Government of the Principality of Monaco before any other country. Now there is the alpha version just released on the 10th of March. No other city in the world has managed to do this.
An idea remains an idea if it stays in our head. DWorld has taken the idea of the Metaverse from our heads and is sharing this invention with people. We are out to the market already. From here I want to provide real innovation that will be massively adopted globally. I dreamt of virtual worlds as a kid and look it's happening. Now we just need to dream bigger… There's really no limit to the dream at this point. Let's dream together.