Interviews
Monaco Olympic athletes in the spotlight. Interview with Charlotte Afriat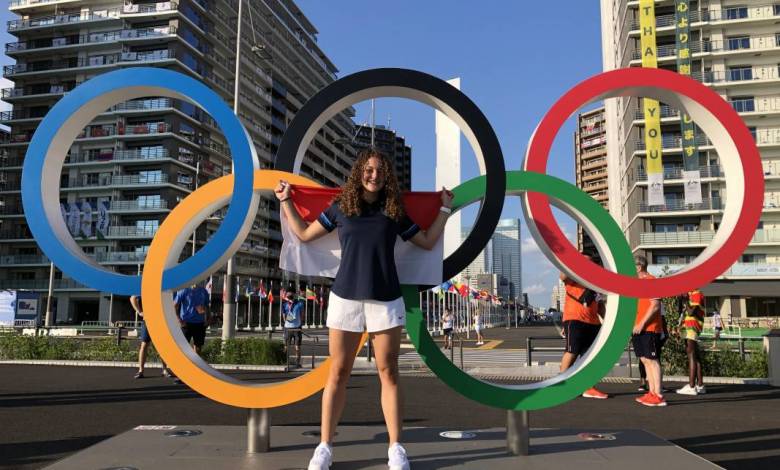 Born in Monaco on the 17th October 2002, she is a Monegasque track and field champion, member of the AS Monaco Club, with a special focus on sprint athletics challenges.
She started competing at the age of twelve and she has gone on successfully at national and international level until now, overcoming any injury. In particular, she attended the 2018 Youth Olympic Games in Buenos Aires (Argentina) and the 2019 World Athletics Championships in Doha (Qatar).
She has just attended the Tokyo 2020 Olympic Games representing the Principality for the category 100m Women under the guidance of her coach Frédéric Choquard.
Besides sports, she is fond of music, playing the cello, the piano and the guitar and she loves singing.
One of her preferred sportspeople is the British World-champion sprinter, Dina Asher-Smith, and the World-record-holder Jamaican sprinter, Usain Bolt.
Her mother, Virginie Gollino, represented Monaco in the 100m hurdles at the 1997 World Championships in Athens (Greece).
HelloMonaco: What about your first reactions when you were officially invited to attend Tokyo Olympics ?
C.A.: I was super excited and happy to hear this piece of news. I was attending an athleticism workout in Spain and the Olympic Committee told me I would be part of the Olympic delegation. I jumped for joy being over the moon. I wasn't sure about that call since I had a busy time. In fact, early in the year, I got hurt and also I was very busy with the course of pre-academic studies I am attending. Nevertheless, as soon as I recovered, I started working hard to achieve sport records and I got them. It took me partly by surprise, then.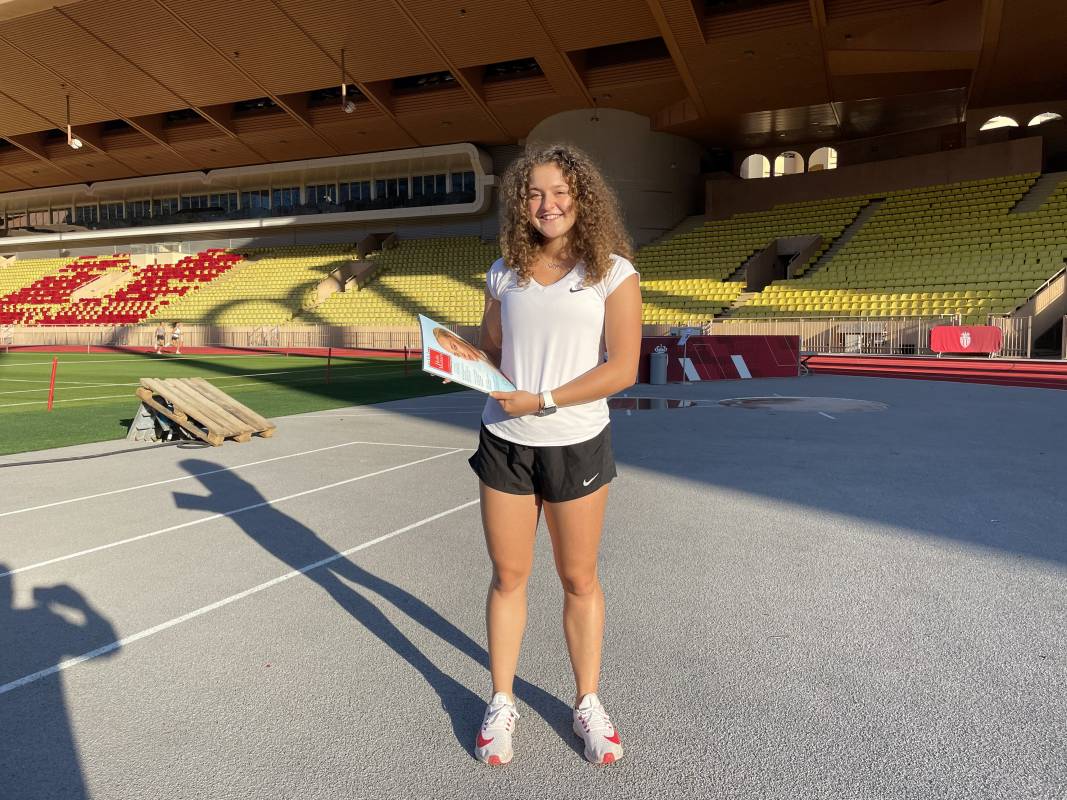 HelloMonaco: What was the most exciting moment (and maybe the worse time) while attending the Olympics ? Are you satisfied with your results?
C.A.: Everything was great from start to finish ! The highlight was when I discovered the Stadium for the first time, crowded with athletes. In fact, I had my training two days before the challenge. Then, the official start of the racing. The Olympic outcome (fifth position on the world ranking) was very satisfying and unexpected. Olympics gather the world's best athletes. Thus, it is not easy to be classified in the first places or among the top ten and to place the winning time in the final. I consider the Olympic performance one of the best I have ever done, also from a technical point of view. I kept a good running course after a promising initial reaction time. What more could you ask for?
HelloMonaco: Did the anti-covid-19 restrictions affect you before and during the Olympics?
C.A.: I really missed not having the stadium full of fans. That would have made things even more exciting but without these measures the Olympics would not have taken place. And it would have been even worse. Anyway, I was thrilled to be there, and PCR tests and masks didn't bother me. Of course, the pandemic influenced me at the beginning since I got the virus in Spring 2020 but luckily it was the milder form and pushed me to stop for about ten days, only.  Hopefully, I had the chance to keep on training with my coach in Stade Louis II even during the worst moments, being a professional athlete of an individual sport that can be practiced on open air.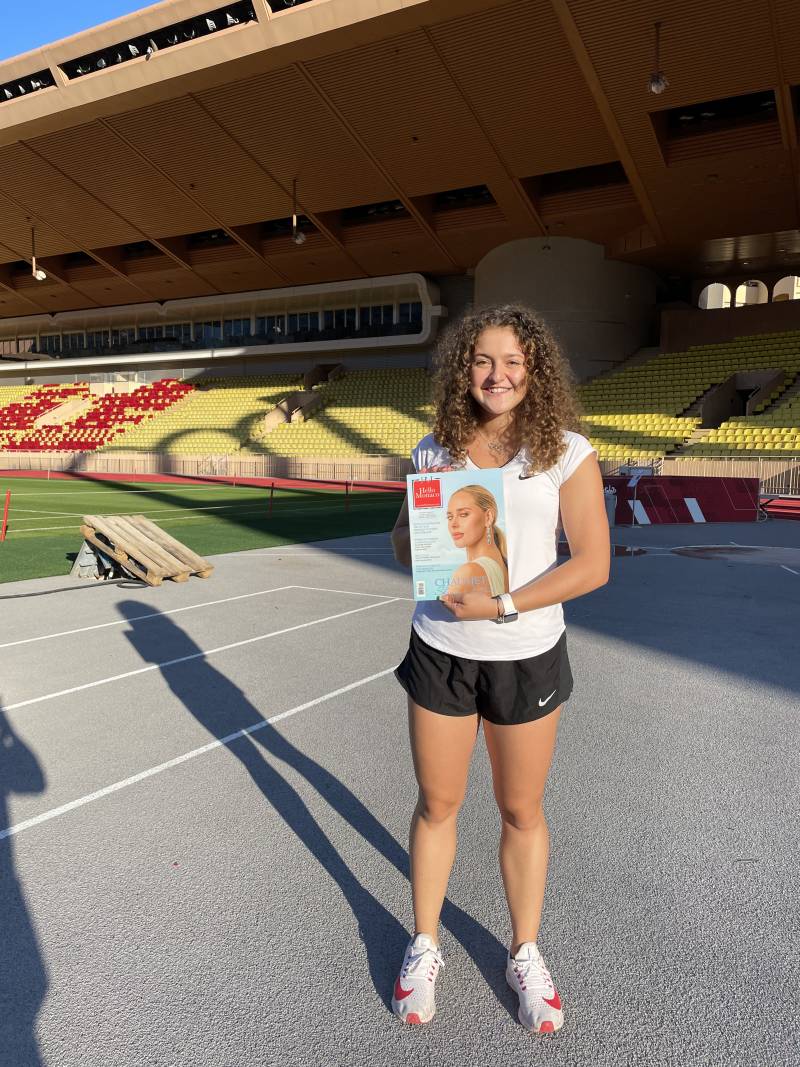 HelloMonaco: World athleticism is well known in the family as your mother used to be a champion in the same discipline. Did it influence your choice?
C.A.: Originally, my mother tried in every way to dissuade me from doing athletics because she didn't want to affect my decisions. So, before I got to athletics, I tried many different types of sports.
Surely, when she told me about this sporting experience I dreamed of being able to live those strong emotions one day. My mother is still a very good example to follow. She has been through all this before me. She is therefore the only one who can really understand what I feel when I enter the running track within an international championship.
HelloMonaco: What do you appreciate most of athleticism?
C.A.: Despite being still junior in the athletic racing,  I have the full awareness that I must run for myself, every time. I always say to myself: "The greatest opponent is myself. I can only reach a record!". At the same time, it is so amazing to share the same feelings at the same time with all other athletes when you are in the stadium.
HelloMonaco: What is your typical daily training?
C.A.: I am used to training every day on a weekly base with a day off. I usually run in late afternoon or evening also for studies reasons. Pure sprint and endurance are main challenges in my discipline. Consequently, I focus on muscle strengthening and physical condition. I am followed by a personal trainer addressed to the athleticism and a fitness coach fond of fitness. 
HelloMonaco:  H.S.H. Prince Albert II of Monaco was your main supporter by attending the event live, did you appreciate it?
C.A.: The presence of the Sovereign Prince was decisive in sustaining our moral. He was always ready to remind us not to give up. Moreover, he acted also as the representative of our Country. For me, it was therefore like running in front of the whole Principality. I felt reassured by His attendance since He used to be an Olympic athlete as well, so He understands what it means being there. Although not being able to speak to us in person, He followed us constantly. I was super happy when He congratulated me on the telephone after my performance. The fact of receiving His attention, despite all His commitments, has been a precious thing.
HelloMonaco: What are your plans for the future ?
C.A.: My next main challenge will be in March 2022 when I will face the World Athletics Indoor Championships in Belgrade (Serbia). Then, looking into the far future, I am determined to participate to Paris 2024 Olympic Games. It would be the completion of a dream that I wish to share with my family in person, hoping that, at that time, the pandemic will be just a bad memory.