Interviews
Stella Almondo: "I only have one thing in mind: giving my best!"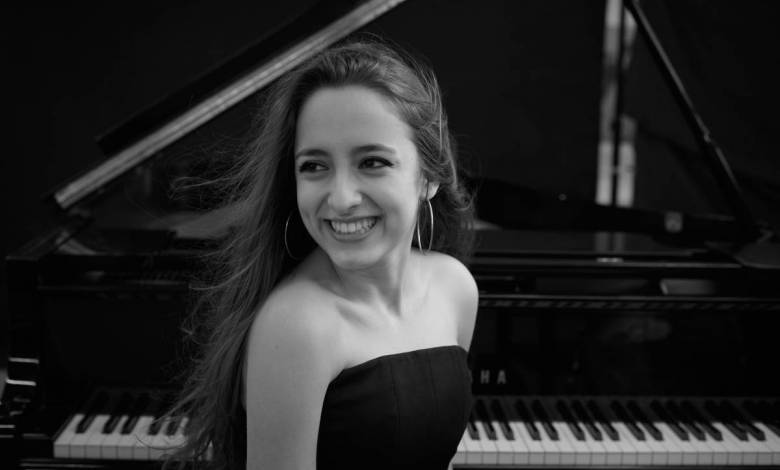 Monaco, with its area of just about two square kilometres, is known not only as a state with the largest concentration of millionaires, but also as the most cosmopolitan country in the world. More than 140 nationalities have chosen it as their place of residence. Obviously, the Principality attracts real nuggets in business, sports, culture and the arts.
Today we present a new section dedicated to the young talents of Monaco. Our first guest is the young pianist Stella Almondo, who by the age of 16 has already received a large number of music awards as well as the respect of professionals and love of the public.
The young Monegasque pianist Stella Almondo, born in 2006, already has an impressive record of achievements: Winner of the "Flame" competition in Paris, "Simone Delbert-Février" in Nice, GCIP in St-Tropez, Steinway & Sons in Cannes and Les Clés d'Or in Le Raincy and Monaco. In October 2018, she received a distinction prize at the International Young Chopin Competition in Martigny, Switzerland, presided over by the eminent Martha Argerich. In April 2022, Stella won the 1st Cum Laude Prize at the 20th International Scriabin Competition in Paris.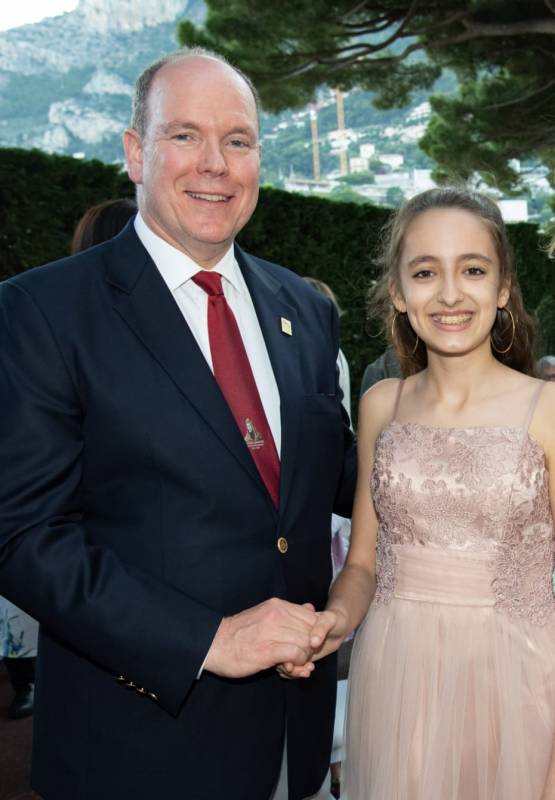 At the age of 14, the young pianist obtained her DEM diploma, the highest distinction of the Nice Conservatory, with unanimous approval. Since then, she has continued her musical studies at the prestigious Schola Cantorum in Paris. She is trained by the famous Russian pianist Igor Lazko who counts Alexandre Kantorow among his students.
Stella first performed in public at the age of 10. Since then, her vivacity and flamboyant temperament have won over audiences in Nice, Cannes, Monaco, Paris, England, Italy, Croatia and Moscow.
Stella was trained by such great piano masters as: Salzburg Mozarteum's Professor, Jacques Rouvier; head of the special piano department at the Moscow Central Music School, Mira Marchenko; Paris Conservatory's Professor, Marie-Josèphe Jude; Professor of Ecole Normale in Paris, Rena Shereshevskaya; Professor at the Milano Conservatory, Vincenzo Balzani; Akiko Ebi and last but not least, Natalia Trull of the Moscow Conservatory.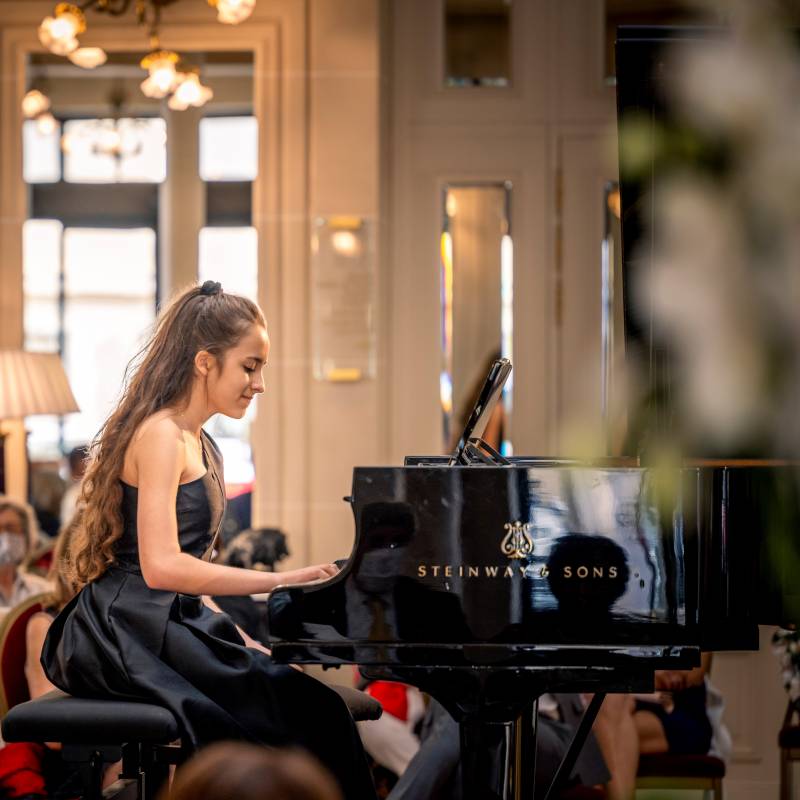 She performed brilliantly in the "Prodiges" show on France 2 in December 2020.
Stella was then invited to participate in the Monte-Carlo Gala at the Princely Palace for Planetary Health managed by the Prince Albert II of Monaco and the Princess Charlène of Monaco Foundations. She later accompanied Robert Redford on a reading at the Grimaldi Forum.
Stella gave her first concerto at the age of 15 with the Cannes Orchestra. Later on, she had a great success performing Mendelssohn's piano concerto n°1 with the Slovak Sinfonietta Orchestra conducted by Maestro Misha Katz.
On 5 June 2022 Stella took part in the "39th Festival des Heures Musicales" in Biot, performing Grieg's sonata for piano and cello with Gautier Capuçon.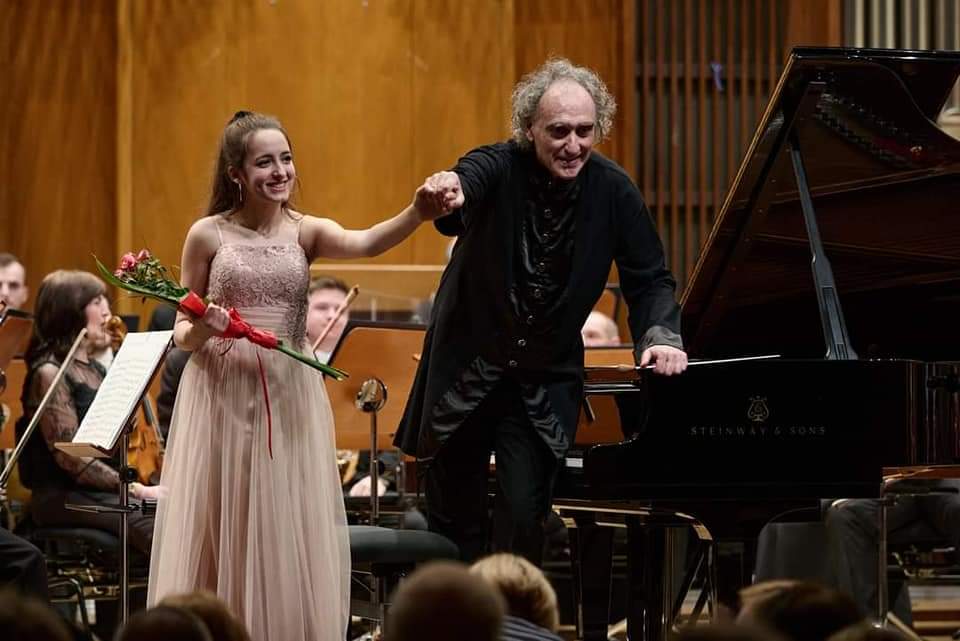 Hello Monaco journalists posed some questions to Stella and her mother Nathalie Bijou.
Hello Monaco: Stella, how did you start your music career?
Stella Almondo: I've always had a consuming passion for the piano! Having discovered this instrument at a very young age, back in nursery school, I have devoted my life to it ever since. I started giving my very first concerts at the age of 10.
HM: Tell us about your schedule. How many times a week do you practice music? Do you have time for hobbies or friends? How do you combine music with studying in school?
Stella: I practice an average of 6 hours a day. I am lucky enough to be doing distance schooling through CNED, getting to devote my entire days to music! Whenever I have time though, I really enjoy reading, writing, cinema, chess, the art of magic or talking to my friends.
HM: You took part in the famous TV show "Prodiges" on France 2. Tell us about your emotions on stage.
Stella: It was a very powerful moment and a unique experience. "Prodiges" was my childhood dream! Once on stage, above all, I've had a sensation of enormous pleasure! It was the first time I was performing with an orchestra, in front of my entire family. It was also a chance to receive precious advice and to meet some wonderful people!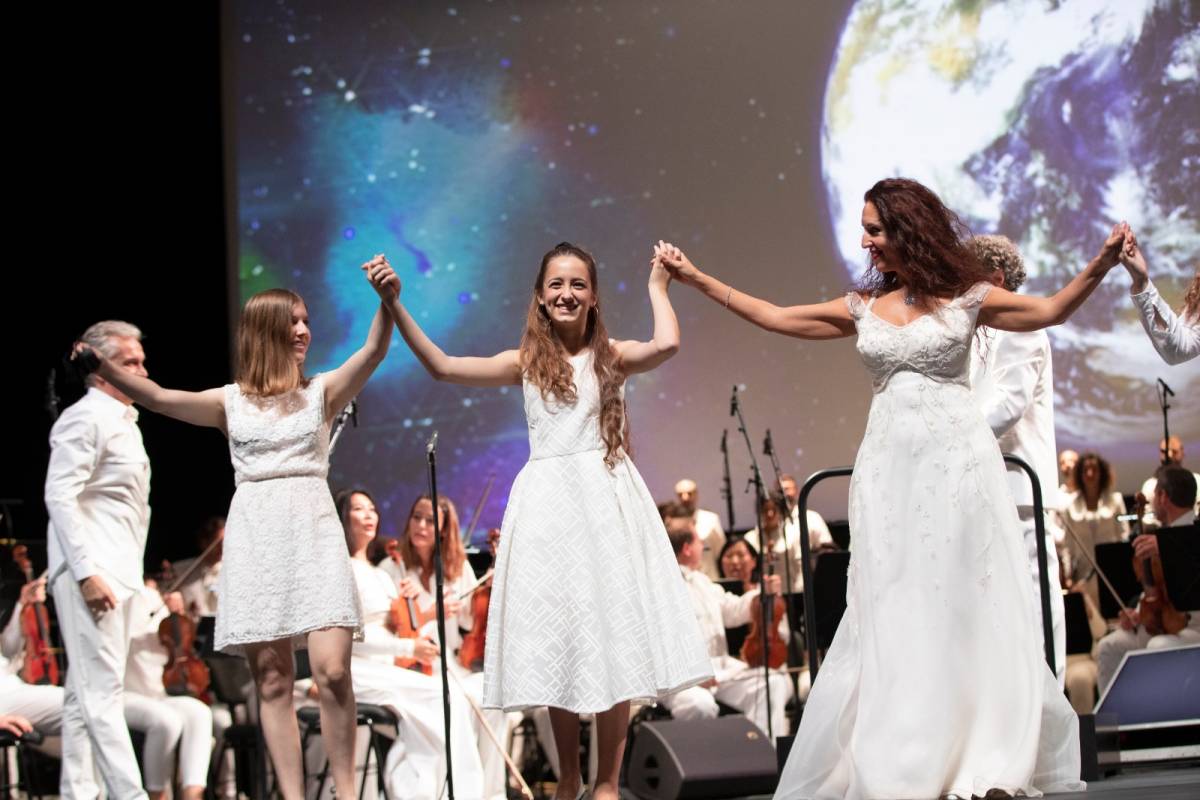 HM: You recently shared the stage with the famous cellist Gautier Capuçon. Can you give advice on how to find the right connection with another musician? What is your secret?
Stella: I was instantly on the same wavelength as Gautier Capuçon! I believe that it is all about listening to each other carefully, concentrating on the music and the present moment only. You have to be one and all with the composer, the cello and the piano.
HM: At your young age you already took masterclasses from the leading world-famous teachers: Jacques Rouvier, Mira Marchenko, Marie-Josèphe Jude, Akiko Ebi, Rena Schereshevskaya, Natalia Trull, Maestro Misha Katz. Is there a musician or teacher you would like to play together with?
Stella: I wouldn't be able to choose just one musician! Every teacher and performer I meet brings something special, unique and individual. Working with such talented musicians is extremely enriching and important to me!
HM: You have participated in a huge number of competitions around the world. How do you prepare for a performance? How do you deal with stress?
Stella: I don't like the word 'stress' and 'competition'. I just don't think about it when I go on stage, in front of an audience or a jury. I feel the adrenaline, bubbling away together with the eagerness and excitement. And I only have one thing in mind: giving my best!
As to my getting ready, there is only one thing to it: practice! So that I can express myself freely afterwards!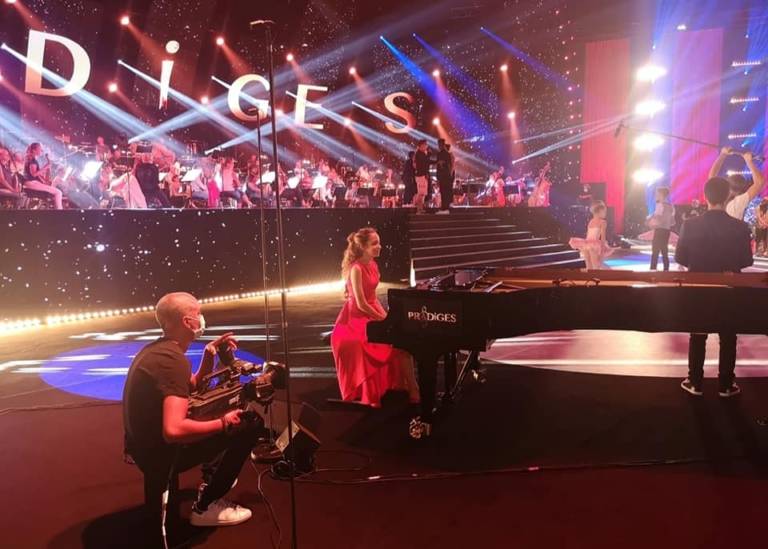 HM: In the last few years you have travelled a lot: New York, Paris, Slovakia, Rome and Switzerland. Can you tell us which country has made the biggest impression on you? Where would you like to go next?
Stella: Every city, every country is an extremely rich discovery. I love travelling meeting new people, exploring new cultures, flavours, languages… The city that has struck me the most so far this year is New York! As to my future destinations, it's impossible to choose just one!
HM: Tell us about the pieces you are currently playing? What inspires you?
Stella: Right now I am working on a number of different pieces: Mozart, Rachmaninov, Mendelssohn, Chopin, Scriabin etc. I get inspired by reading, my own experiences, the encounters I make, my travels… Music allows me to express my innermost feelings, dig into my imagination.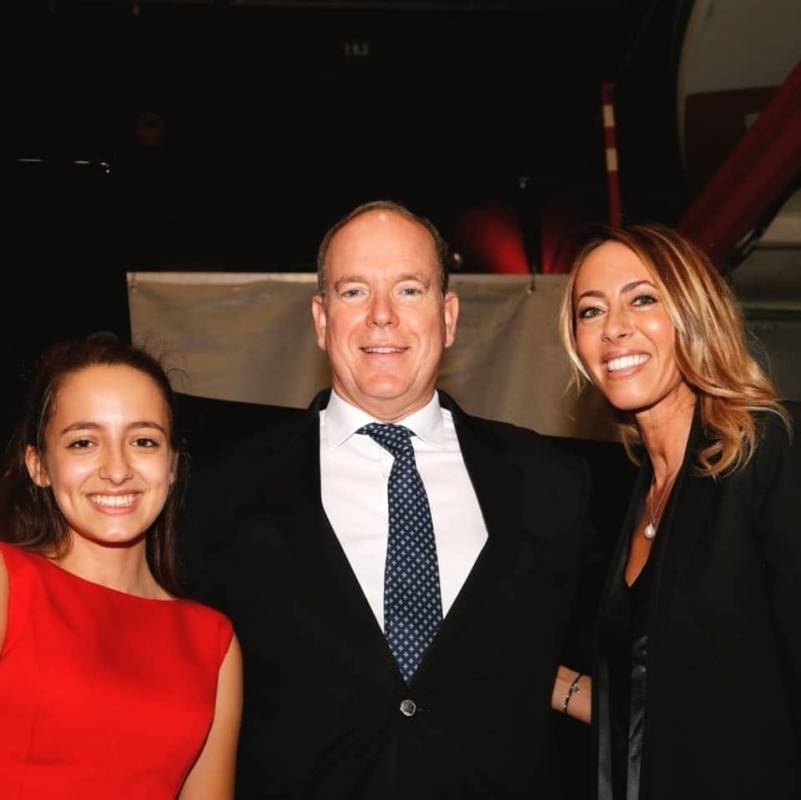 HM: Classical music is not very popular among young people nowadays. How does one attract the attention of the younger generation to this musical genre?  
Stella: The so-called "classical" music is a world of its own! To discover the richness and the power of this art, you just need to dive into it and abandon yourself completely. If you don't know much about it, I would simply recommend to be curious, listen and go to concerts! Especially do so in Monaco, where the best world musicians are performing!
HM: What is the Principality of Monaco for you? How do you spend your free time here?
Stella: Monaco is my homeland, the blood running through my veins. I regularly visit my grandmother and my family who live in the Principality. I am fascinated by the kindness and benevolence shown by Monsignor Prince Albert II of Monaco ever since I was a child. The Prince has a great sensitivity for classical music which particularly touches me. When I am performing in front of him, I feel that he is completely immersed in listening, that he is with me. This truly gives me wings. I am very proud to be Monegasque!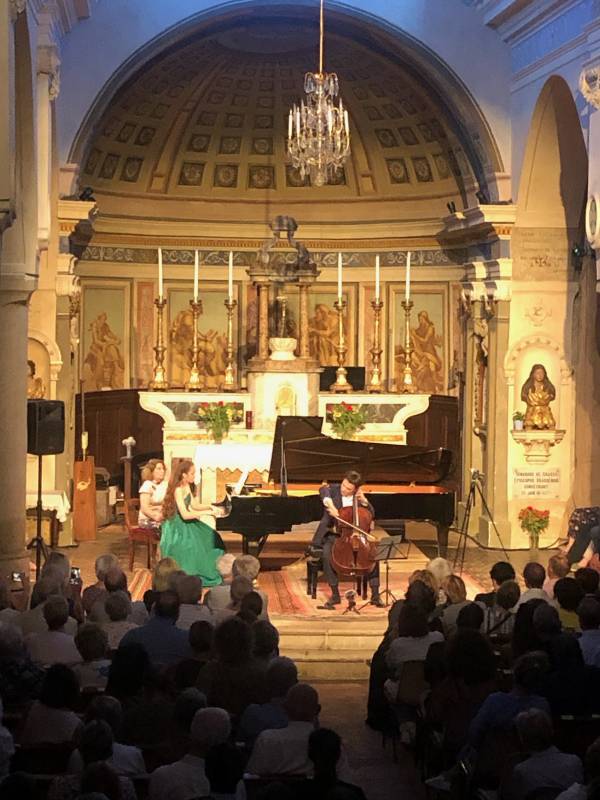 HM: Tell us about your plans. Where do you see yourself in a few years?
Stella: I still do have so many things to discover! One thing is sure, however, music will always be my reason for living. I hope to continue to progress, to learn and discover new things, to carry on with travelling and giving concerts!
HM: Nathalie, who decided that your daughter would study music? How did you help her to do this? Why did you choose the piano?
Nathalie Bijou: Stella demonstrated artistic ability at an early age. It wasn't me who chose the piano for Stella. From the time she was very young, it was obvious. They chose each other, it was an immediate fusion! Whenever she was in front of a keyboard, it was evident, she was just naturally made for it!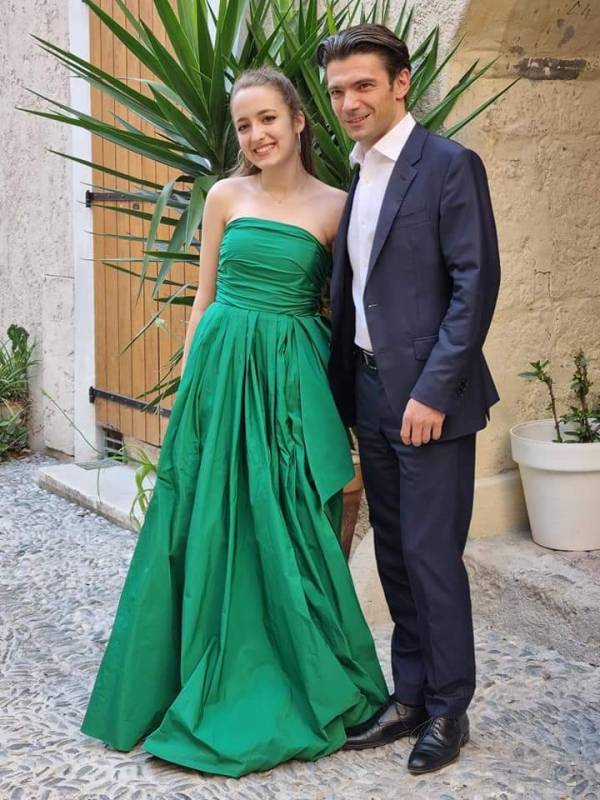 HM: Do you personally have a musical background?
NB: Music has always been an essential part of my life. I listened to Mozart a lot when I was pregnant with my daughter. Stella was therefore rocked by these musical vibrations from a very young age. I am sure that this has had an influence on her! Ever since, living by my daughter's side, I've been perfecting my musical ear and knowledge. A real chance indeed!
HM: Is it difficult to raise a child who is building a successful career and has a busy schedule at her young age?
NB: Stella has a very strong character. For any parent invested 100 % in raising a child as I am, this is not a smooth ride! Juggling her schooling and artistic career is sometimes a challenge, but her being at ease with everything helps a lot.
I take challenges as a gift. Going through them makes us learn, grow and evolve. When I see my daughter on stage, I instantly forget all the hassles. Stella gives me so much happiness. And so does her little brother Ulysse contributing to her success in his own way. It's the entire family, the team supporting her day after day!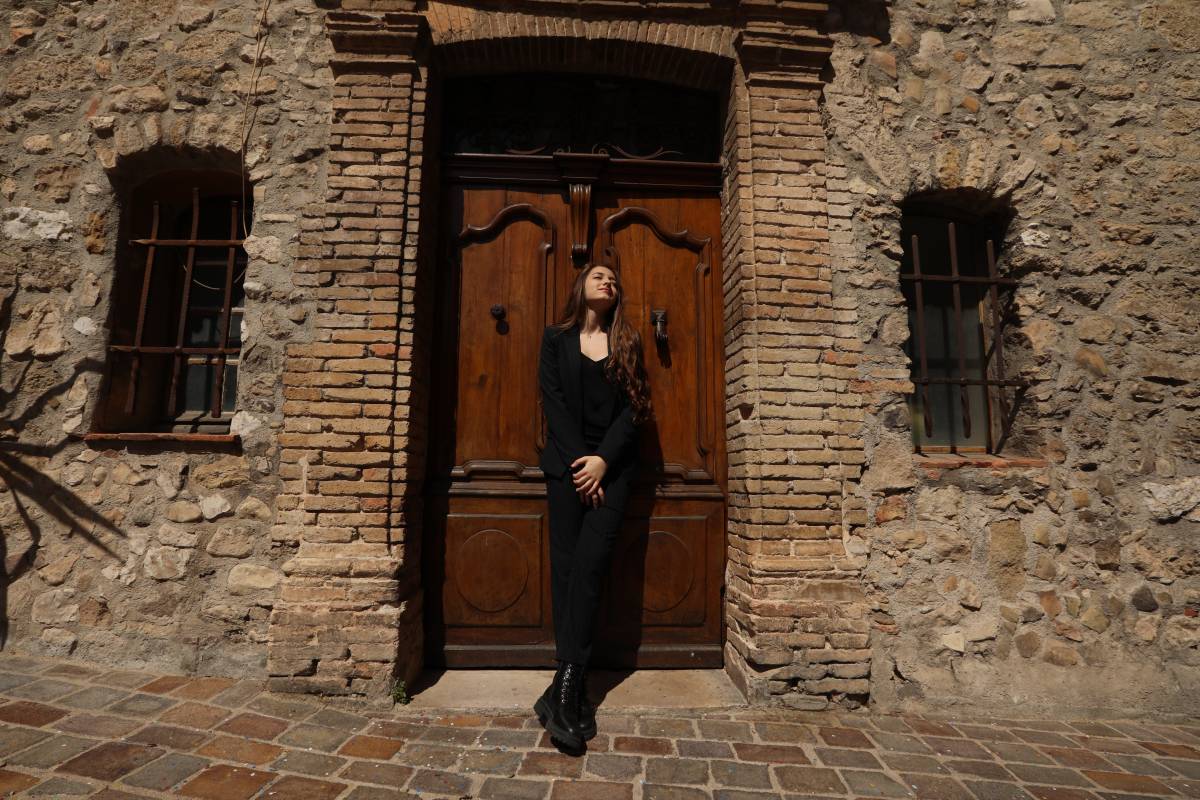 HM: How do you feel when you see your daughter on stage?
NB: I feel proud since I know how much effort, work and sacrifice she puts in daily to be where she is. I also feel fear knowing how important music is to Stella. She is very demanding of herself. I am aware of the monstrous pressure of the stage, but I also know this place brings her the greatest happiness in the world!
I am very attentive and observant of her evolution as a musician. Witnessing her incredible progress from one performance to the other, nothing can be more beautiful. She never stops surprising me, Stella is a different person on stage. She gives 100 %, takes all the risks, always going beyond her capacities. Seeing her surpass herself is very touching.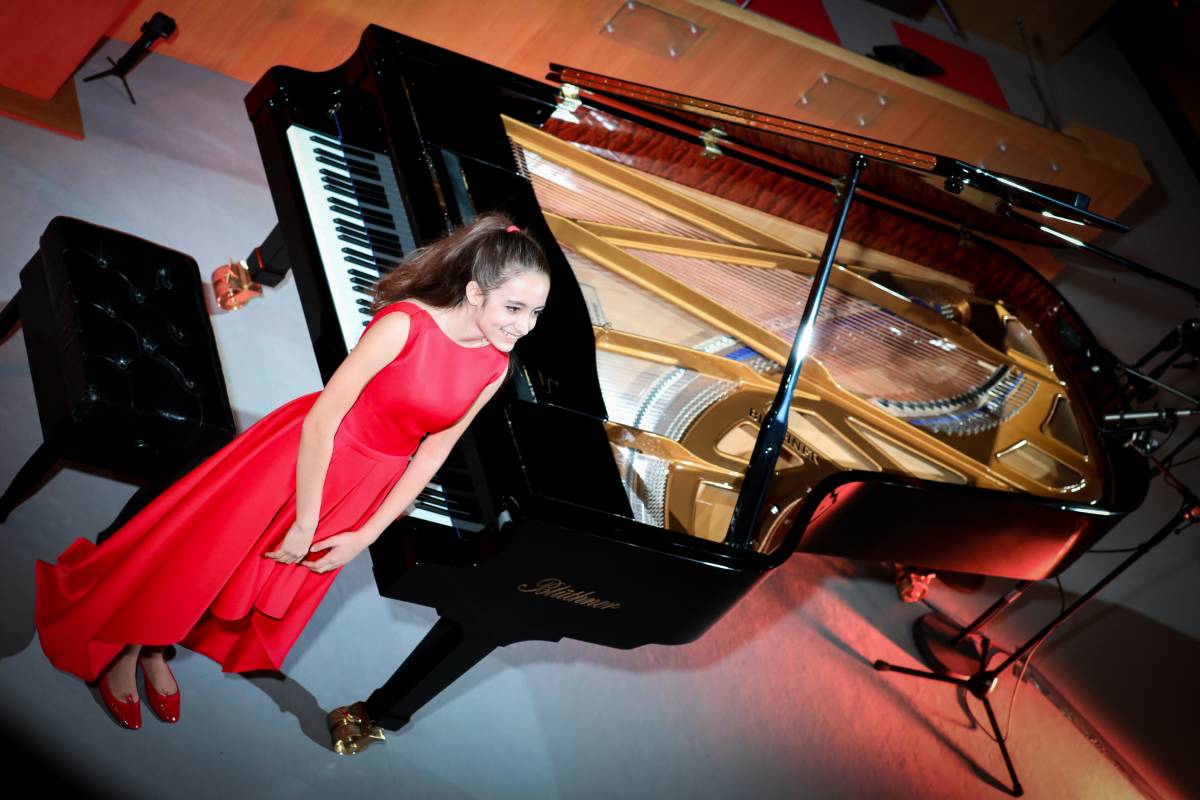 HM: Has there been a moment in your daughter's career that has been particularly difficult for her and for you?
NB: Every difficulty is a gift giving us both a chance to grow. We sometimes question ourselves since the path she has chosen is one of the most challenging and demanding ones. But it also makes her the happiest, so I support and encourage her as best I can!
HM: How do you spend your free time with your daughter?
NB: We don't have much free time, but very busy schedules. We do share everything however. There is a special bond between us. We go through some very emotional moments. But like all mothers and daughters, we also love to eat out, go to the cinema, read, do sports, dance, go for walks and naturally, go shopping!
YouTube : Stella Almondo
Instagram & Facebook : Stella Almondo