Latest news
Dive into the world of jaw-dropping superyacht swimming pools with Oceanco
AQUIJO 85m (279ft) / 2016
Sailing yachts and swimming pools aren't often seen together, but Aquijo is by no means a regular yacht. The world's largest high-performance ketch marries state of the art technology and design with an outstanding wellness center, located in her extraordinary beach club. Guests can work out on the gym equipment or relax in the steam room, sauna and lounge before enjoying a long, leisurely soak in Aquijo's stunning ocean-view jacuzzi. The beach club is illuminated by a large skylight concealed in the main deck aft above, and opens out directly onto the swim platform at the stern. The décor by Dölker+Voges Design evokes a contemporary beachside spa, with warm wooden paneling and plush while leather sofas. To enjoy an alfresco ambiance while taking a dip, guests can head up to the sun deck's jacuzzi, which provides stunning 360-degree views from its elevated position. With its own sit-up bar and surrounding sun pads, the jacuzzi is a popular spot for convivial fun.
BARBARA 88.5m (290ft) / 2017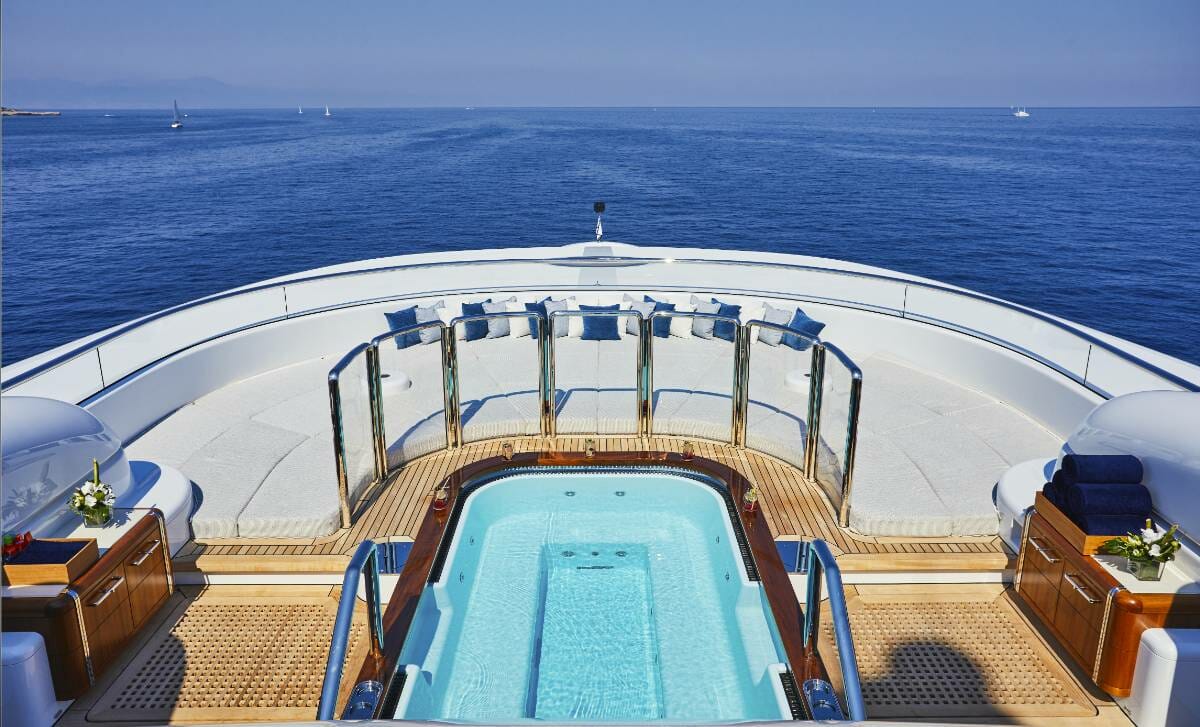 Barbara's sun deck is dedicated to wellness and revival, with a fully equipped gym that is primed to provide a rigorous workout before you indulge in some well-earned relaxation outside. The 10-person hot tub located front and center of the top deck, complemented by an inviting bank of sun pads, is the perfect sanctuary to soak up the sunshine while taking in the scenery from your lookout.
KAOS 110m (361ft) / 2017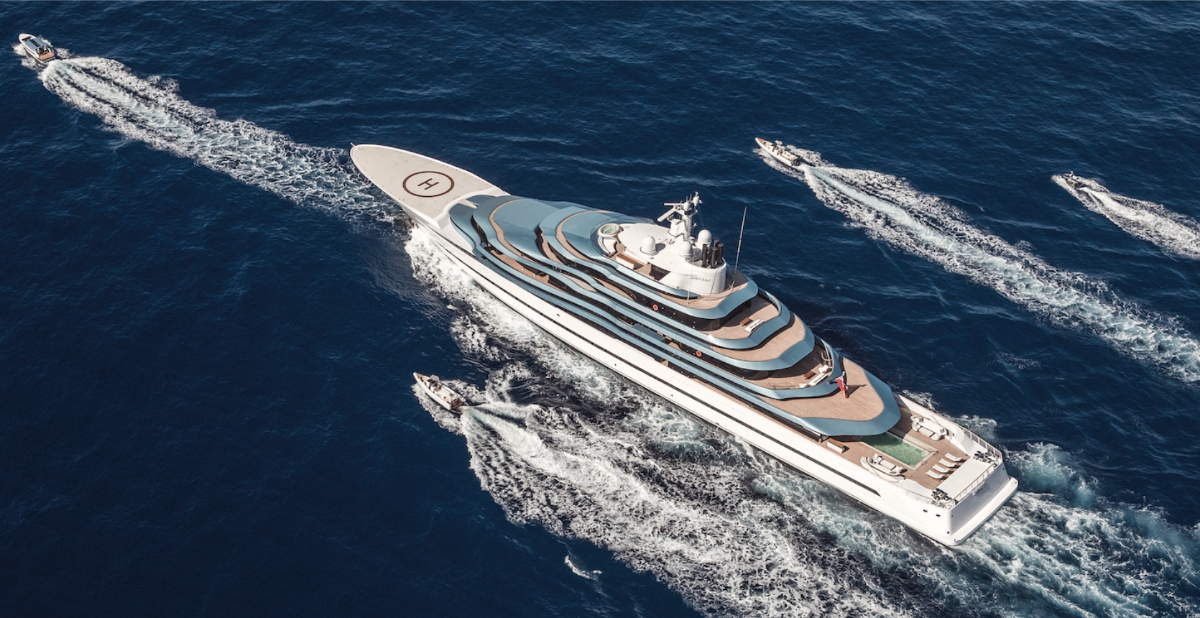 The sleek and chic swimming pool onboard Kaos matches the style credentials of her Lobanov Design exterior and Sorgiovanni Designs interior. The gargantuan pool is so large you would be forgiven for thinking you had been transported to a rooftop pool on land. Presiding over the lion's share of the main deck aft, it is flanked by sumptuous sofas and features a built-in aquarium for an added element of cool. Kaos was the largest superyacht to be built in The Netherlands at the time of her delivery (when she was named Jubilee).
DAR 90m (295ft) / 2018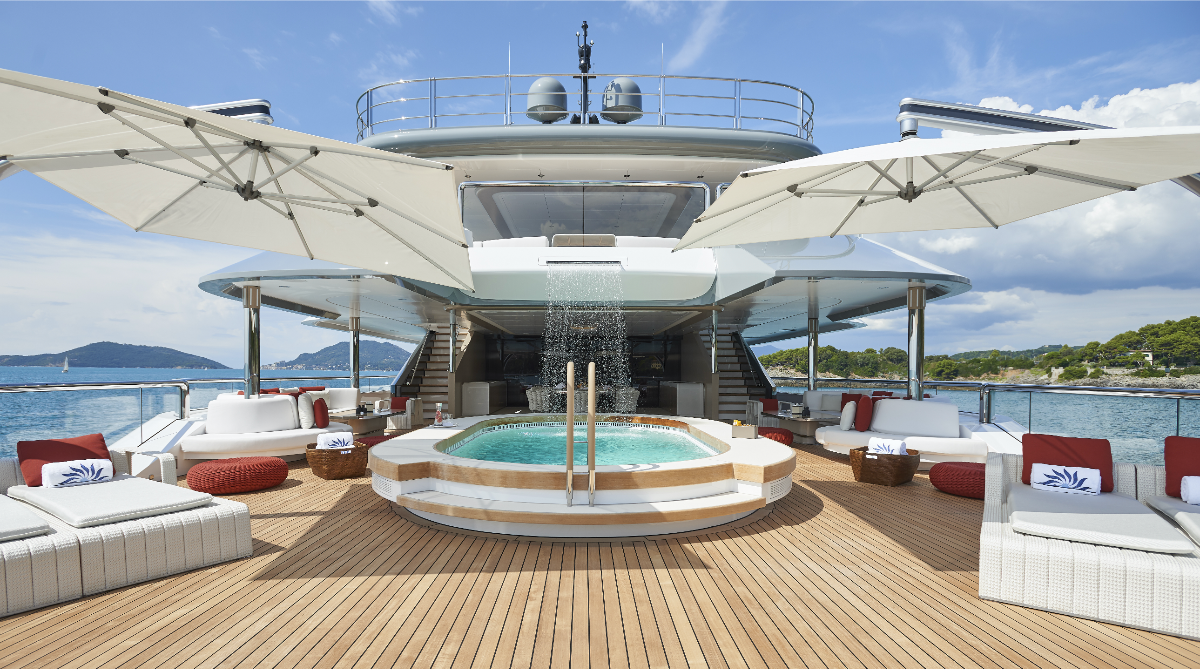 Waterfalls are increasingly appearing on superyachts as an eye-catching way to visually link two decks while simultaneously reflecting the aquatic surroundings onboard. The entrancing waterfall on DAR cascades from the bridge deck down to the upper deck's swimming pool, which is raised to provide an added element of safety for younger children onboard. The space is highly convivial, offering a wide selection of sofas and sun loungers from which to take in the seascape after you have cooled off in the pool.
DREAMBOAT 90m (295ft) / 2019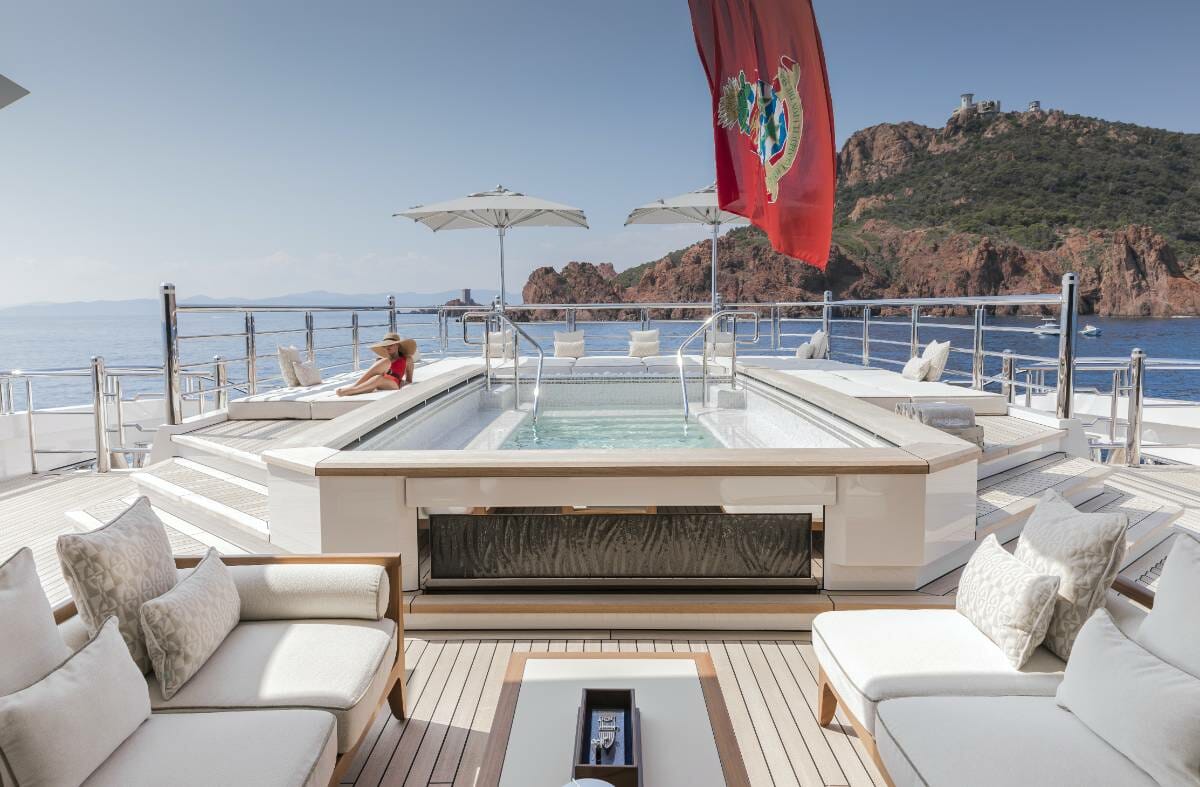 The yacht is the result of a first-time collaboration between revered yacht designers Espen Øino and Terence Disdale, and her understated, sophisticated design extends to the large lounging area and adjacent swimming pool. The pool and surrounding sun pads are raised above the rest of the main deck aft to afford superb oceanic views on three sides. To add some variety to your aquatic enjoyment onboard, there is a second jacuzzi on the owner's deck above for more privacy as well as a sun deck jacuzzi that is perhaps the biggest in her class.