Latest news
Femmes Leaders Mondiales Monaco presents cheques to Cardiothoracic Centre and Princess Grace Hospital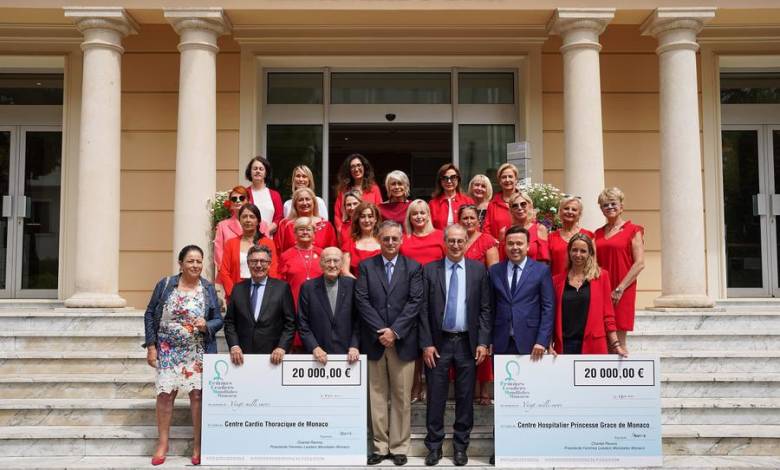 Under the honorary presidency of H.S.H. Princess Stéphanie, Femmes Leaders Mondiales Monaco is continuing its work to help prevent cardiovascular disease. The Soirée du Cœur (Heart Evening) event, held at the Yacht Club de Monaco in April 2022, raised 40,000 euros through donations and proceeds from an auction in aid of the "Save Women's Hearts" campaign.
Thanks to the money raised, the association was able to present two cheques for 20,000 euros each: one to the Monaco Cardiothoracic Centre (CCM) and the other to Princess Grace Hospital, at a ceremony held on Wednesday 8 June at the Ministry of State. The presentation of the cheques was witnessed by Christophe Robino, Minister of Health and Social Affairs, Stéphane Valeri, President of the National Council, Benoîte Rousseau de Sevelinges, Director of Princess Grace Hospital, Guy Nervo, Director of the CCM, Dr Jean-Joseph Pastor, Dr Armand Eker and representatives from Femmes Leaders Mondiales Monaco, who were all wearing red.
The association's President, Chantal Ravera, recalled that cardiovascular disease is a major health problem and cited some worrying figures: one in two women die from such conditions in Europe. She explained that the next evening event to be organised by the association, on the theme of "Actions for Life", is planned for 22 October 2022 at the Yacht Club de Monaco. The next Soirée du Cœur is scheduled for 7 April 2023. Finally, she noted a new initiative to be launched in March 2023: the first Journée du Cœur (Heart Day).
Source: www.gouv.mc