Latest news
Monaco Art Week 2021: Art from urban dimension to starry firmament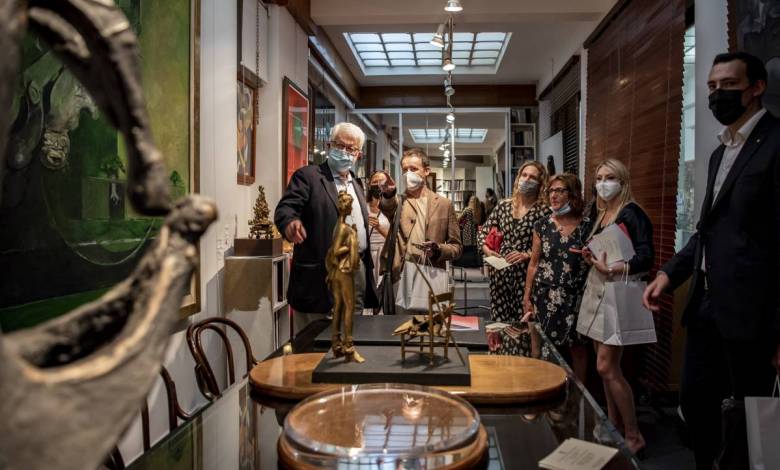 One of the most anticipated events of Monaco's art scene came back more vital than ever. A whole week in which international events, showrooms and networking meetings follow one another under the sign of the most intriguing artistic creativity in all its aspects. Monaco Art Week (MAW) 2021 Walking Tour, held in the Principality from the 13th until the 18th July 2021 under the High Patronage of H.S.H. Prince Albert II of Monaco, involved collectors, professionals or just art amateurs in a whirlpool of colours, shapes and innovative design which enriched their knowledge and is good for the spirit.
Where else can you find paintings, sculptures, photographic outcomes, graffiti and unpredictable installations in the same urban context? All this comes from the Monegasque artistic vitality fuelled by a synergic cooperation among major art galleries, auction houses and institutions of the Riviera. They have gathered in the MAW Association since Spring 2018 by the initiative of Jonckheere and Moretti Fine Art, recently taken over by a new Board chaired by Louise Gréther (Artcurial), Fabrizio Moretti (Moretti Fine Art), Caroline Jelmoni (Kamil Art Gallery) and Sabine Steiner-Toesca. The smart idea is to best promote Art from classic masters to modern and contemporary talents, throughout Condamine, Monte-Carlo and Larvotto districts. A real renaissance of the senses after a very dark period.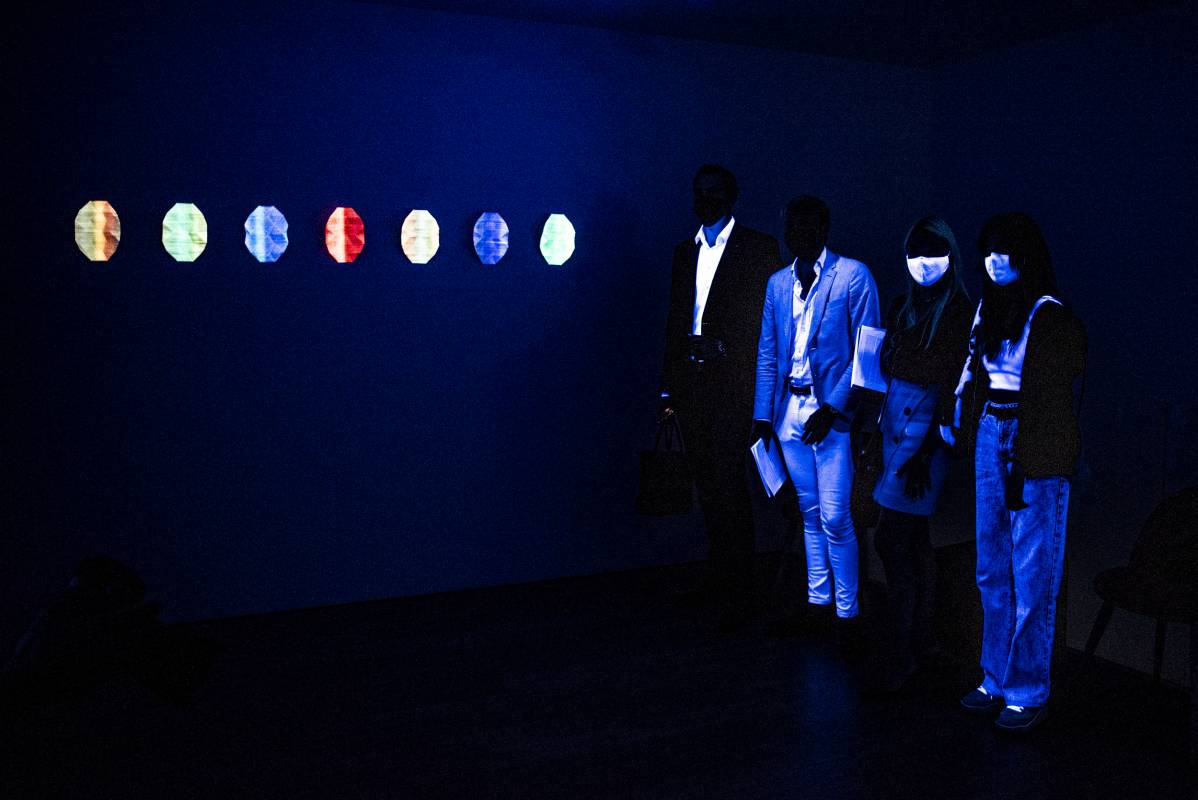 NM Contemporary Gallery offered the first monographic exhibition of the best-known Vincenzo Marsiglia, named 'Prospect' after the strong bond between the Italian versatile artist and the perspective that turns into probability and hope. The immersive space was able to represent the 'philosophy' of Marsiglia whose traditional & technological vision develops from a four-pointed star called Unità Marsiglia (UM). Among them, his most recent origami luminescent work of art, 'Prospect,' amazing for the ability to interact with viewers via harmonious force lines and tensions marking his personal touch.
"The artist is currently exposing at the Pavilion of Architecture of the Venice Biennale and at Parma 360, Contemporary creativity Festival stressing his interaction with private and public spaces also through augmented reality" pointed out Clara Pacifico Natoli art gallerist – "this artist was particularly active during 2020 lockdown when he asked to major representatives of art, culture and music to take a selfie of themselves in order to create a meaningful project called United Around A Portrait", she added.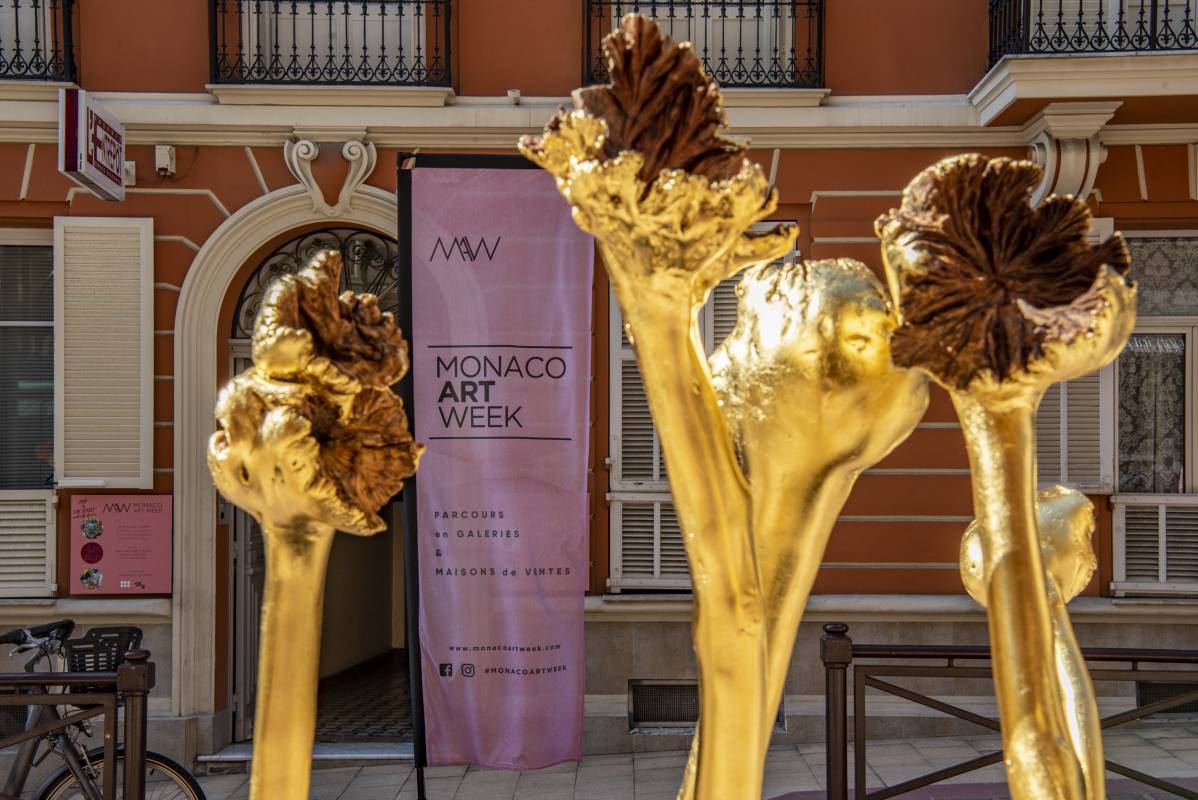 Daniel Boeri & Magdalena Gabriel proposed a 'medley' of leading contemporary artists of international fame. 'Royal Love' impressive installation by Sonia Falcone who painted in gold dried inflorescences, Flor de Soto, from the Bolivian rainforests, to turn them into a unique sculpture, originally designed by Nature. A symbol of union between natural beauty and Art both precious gems of our Planet. The same fantastic visual perspective nature-based effect was given by Pierre Bonnefille's 'Cortex' series of work on paper depicting beetle shells and mineral fragments like innovative abstract watercolours.
"I start with microscopic research to create unusual forms through a long-lasting multi-layer crystallization following the salt evaporation process", pointed out the artist – "I have recently installed a huge inspiring fresco by the will of the three- Michelin star chef Mauro Colagreco. A mother of pearl fresco for the new The Maybourne Riviera Hotel (former Vista Palace) inspired by the reflection of the water" he added.
Art-Box.Store & Galerie d'Art l'Entrepôt presented "Pop and the Street', an art tour where shining colours of South France Provence spread from the collection of Jean Antoine Hierro designer, painter, scenographer and musician as well as  the extraordinary pop-art symbolic reinterpretation of  human-rights  by the Iranian-American artist, Manou Marzban who captured the attention with his fantasy; to end up with the smart free style abstract creations by Joris Brantuas, originated from the Street Art painting techniques.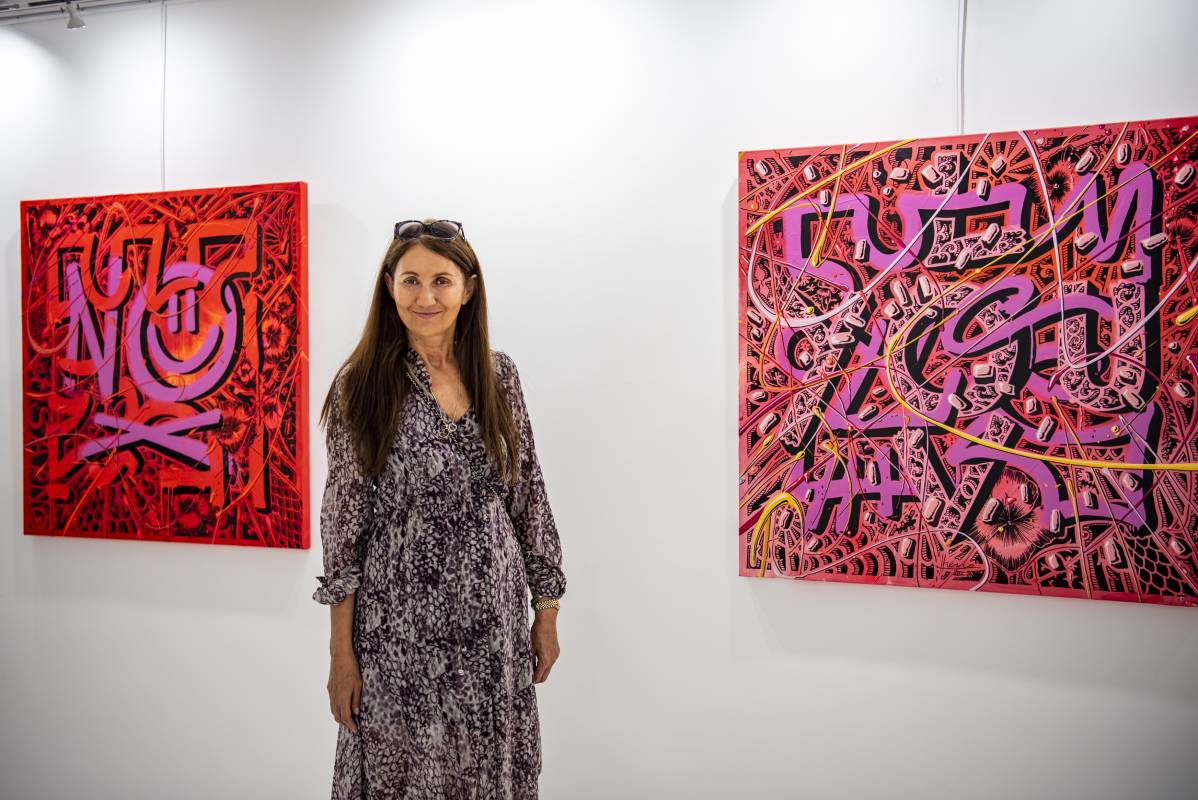 Adriano Ribolzi's Gallery gave space to the artistic nuances of Sergio Fermariello, one of the most influential contemporary Italian artists.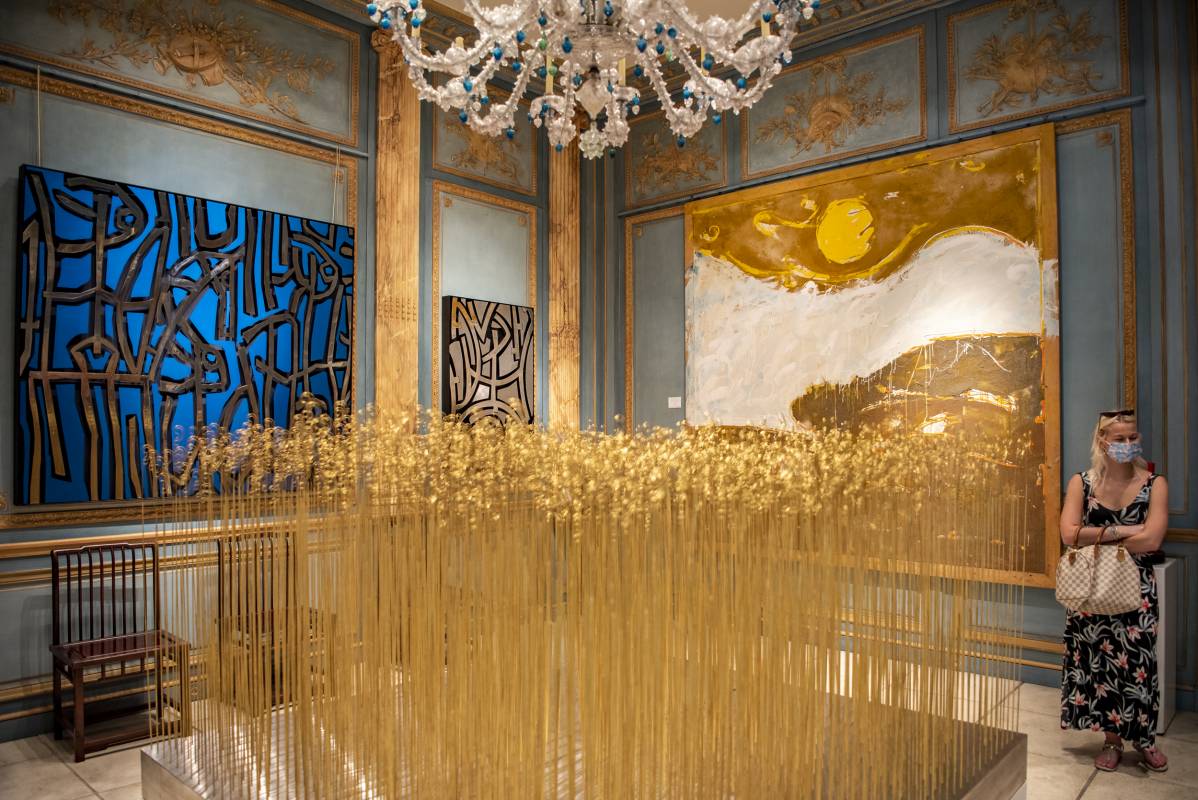 "To celebrate the second part of the Maison Ribolzi Centenary, I invested in offering interesting and high-level works and creations by renowned artists with the same passion and commitment as always", highlighted Adriano Ribolzi – "His three-dimensional paintings-sculptures use primitive figures, notably the warrior on horseback, combined with modern materials giving the appearance of an archaic figurative writing", he added. M.F. Toninelli Art Moderne provided a refined taste Twentieth Century art interpreted by its masters like Giorgio de Chirico, Hans Harp, Giacomo Manzù and Marino Marini.
The brand-new Monaco Sotheby's headquarters unveiled its first 'pop-art' sales area including a 'red carpet' of modern and contemporary masterpieces which best represent the famous international auction house. Picasso, Picabia, Braque, Renoir, Léger, Matisse, Nolde and Twombly were associated with modern Italian masters like Fontana, Boetti and Burri with an interesting 'interlude' of kinetic sculpture by Alexander Calder and a selection of jewels by Glenn Spiro British master, and Audemars Piguet's watches, from 1990's until 2000's.
The first Italian Renaissance was clearly displayed at Moretti Fine Art where an exquisite Madonna and Child, set in a precious gold background, perfectly preserved, outlining a living intimacy and inspiring an inner devotion stands out. The masterpiece is by the Sienese artist Sano di Pietro whose great artistic production is scattered in the most important museums of the world. Wannenes Art Contact Gallery gave an effective preview glimpse on a sale that was being held at Yacht Club de Monaco. A parade of rare pieces of jewellery by Cartier, Bulgari, Van Cleef & Arpels, Tiffany, Massoni, etc. was shining in front of the audience's eyes headed by a circular Art Deco platinum-emerald-diamonds brooch by Oscar Heyman & Brothers and a gold necklace adorned with Egyptian statuettes attributed to Carlo Giuliano.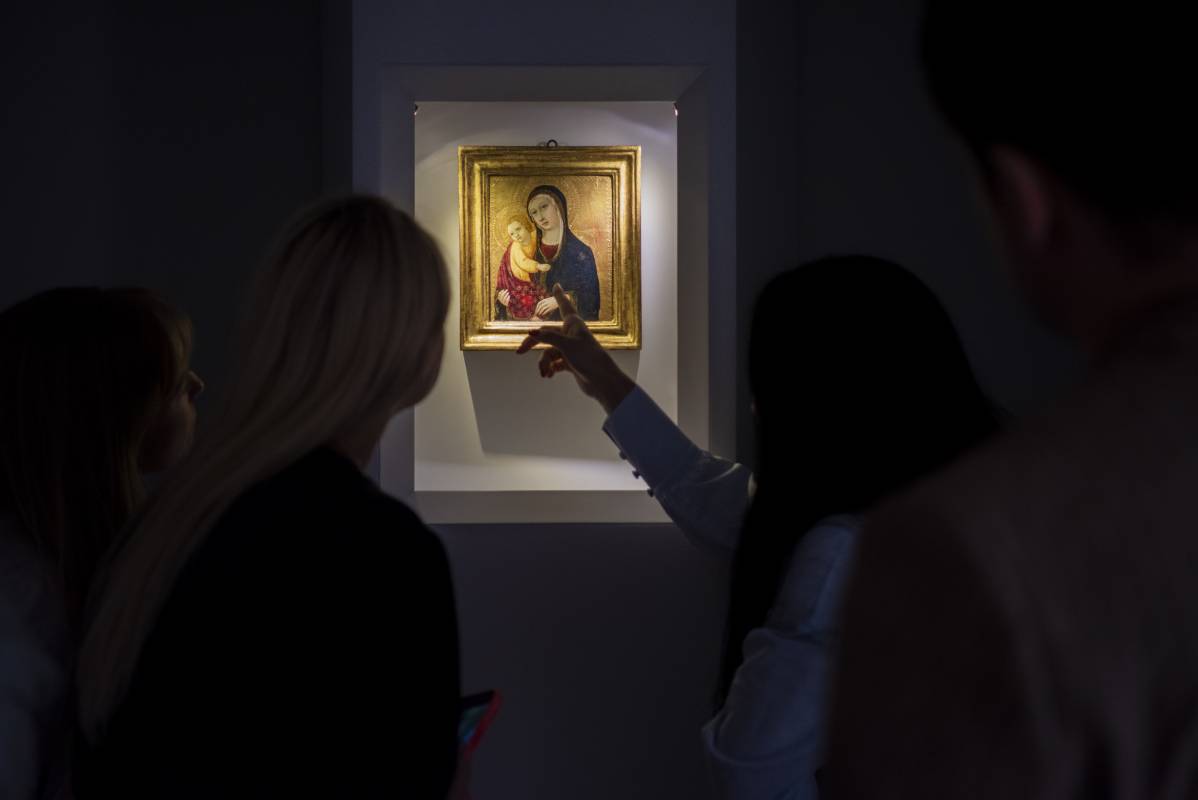 Bigger and smaller sized sculptures were displayed in the Artcurial Monaco Gallery and on the 22nd July, 2021 a prestigious auction sale alongside art masterpieces, important watches and Hermes Vintage will be exposed to the highest bidders in the imposing Salon Belle Époque within Hotel Hermitage. 'Compression de quatre éléments' (Compression of the four elements) by César, a must of the Gallery.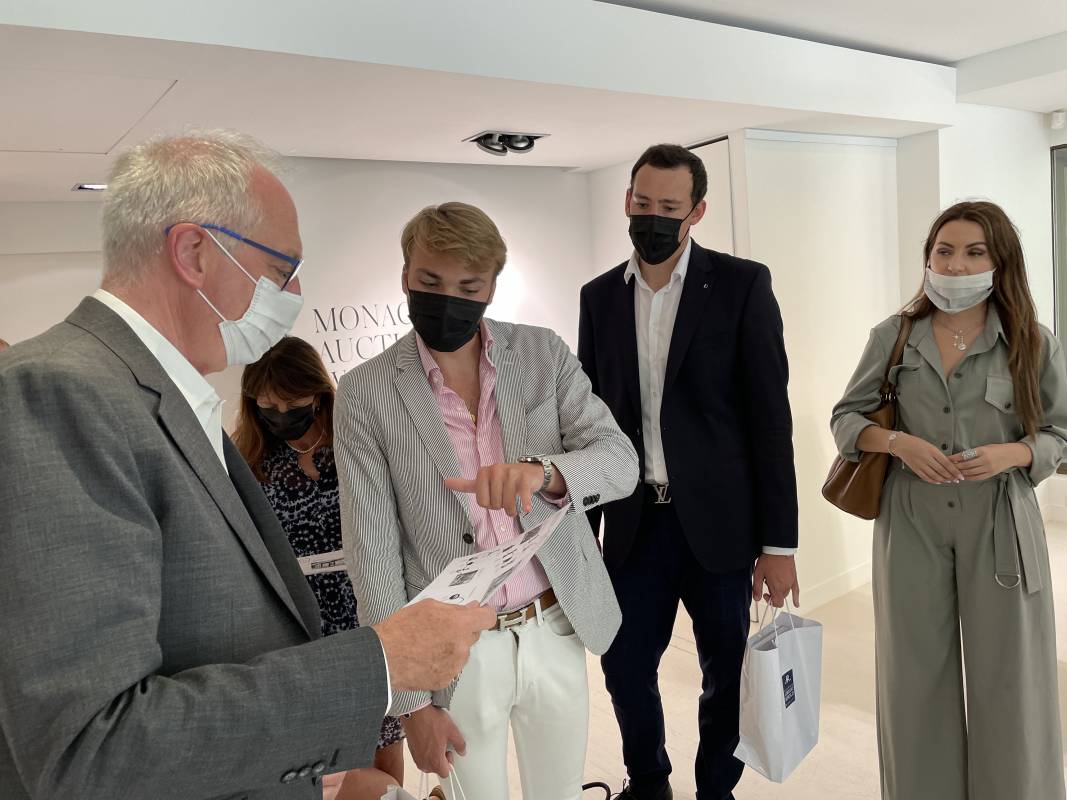 "I am particularly happy to host the historic piece by César who conceived this new way of artistic element compression, and the Nana Fountain Type by Niki de Saint-Phalle and Jean Tinguely which expresses a beautiful love story", highlighted Martin Guesnet, director of Artcurial Europe.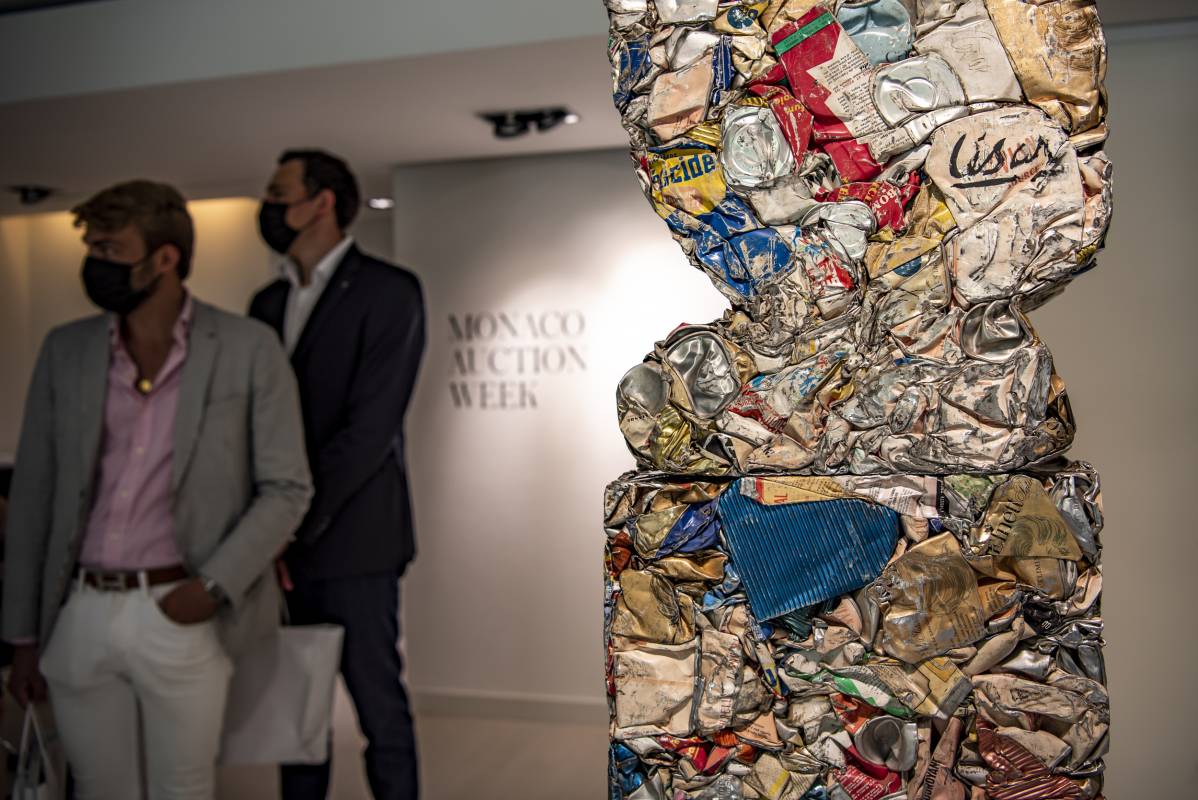 Hauser & Wirth were exhibiting Louise Bourgeois' 'Maladie d'Amour', a theme that explores the couple's discontents through a series of sculptures, installations and works on paper carefully selected. Bourgeois' sensitivity and vulnerability takes its roots in the medieval idea of love like 'sickness' as expressed in the tradition of courtly love of the 'troubadours' (South France). Finally, the artist believed that her sculptures came directly from her body and the audience will be able to enjoy the metaphor from one of the artist's spider spinning its web out of its body.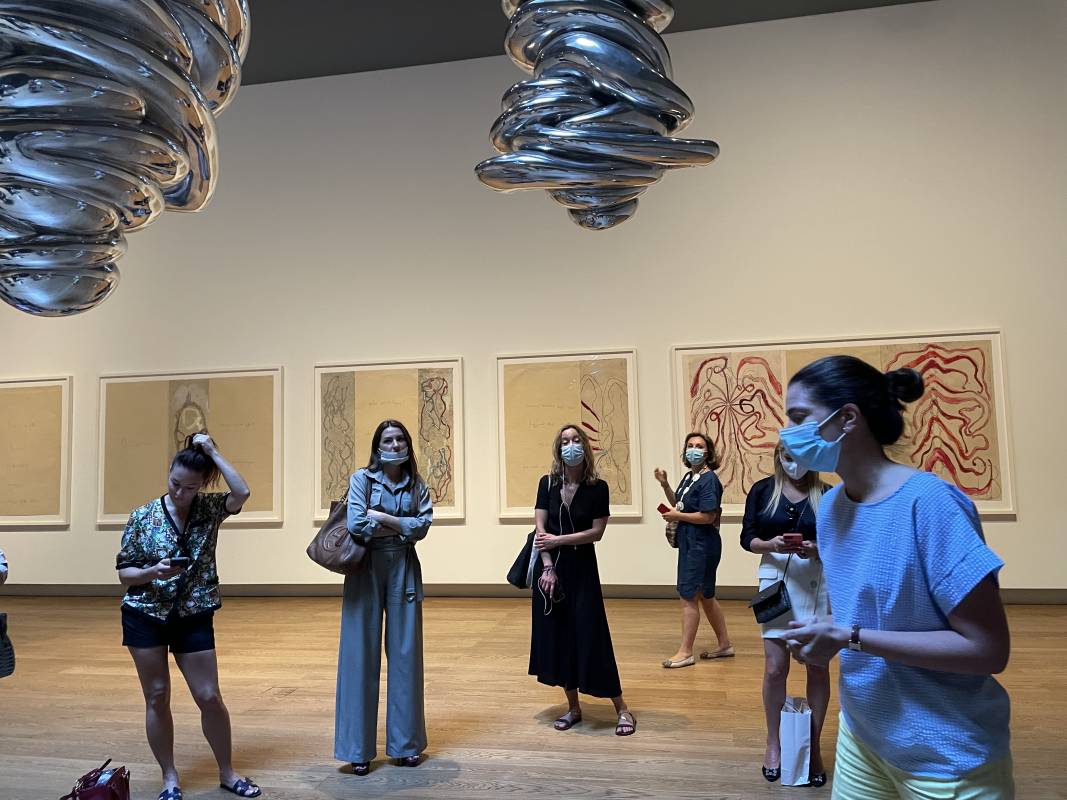 Les Galeries Bartoux introduce two artists: Fernando Botero and Jean-Michel Folon. They were both emblematic humanists representing "Men" in all their forms, with a single essential message of freedom which still evokes first the disruption and then the appeasement of our souls in search for  dreams and tranquillity.
"We focused on the paramount creations of those two artists since they have a special link with Monaco, having spent both a period of their lives here" stated the gallerist, Nicolas Bartoux.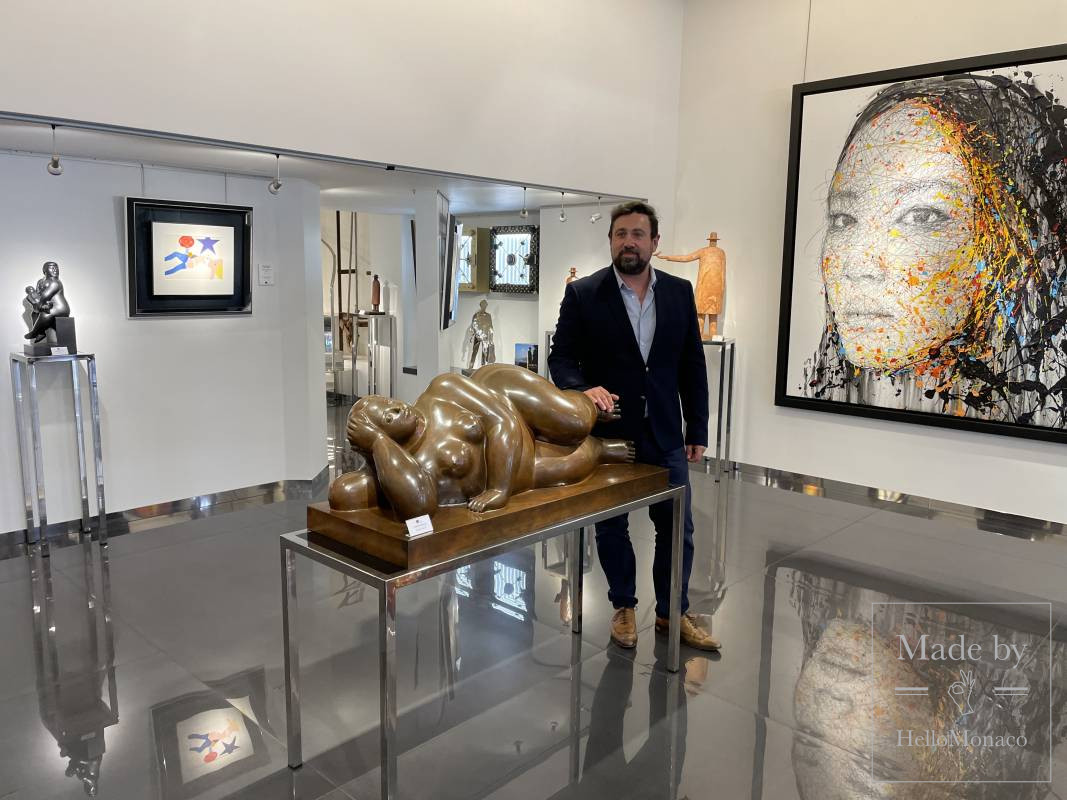 Kamil Art Gallery and its 'Monte Verità' (The Hill of Truth) by Eric Massholder starting from the utopia of a group of young idealists, disillusioned by the failures of modernity at the end of 19th century in a Swiss canton. The artist with his series of "Monte Verità" combines a complex universe evocative of hope and fear; always interacting between surface and depth, matter and spirituality, destruction and construction and he encourages us to wander as far as this "hill of truth".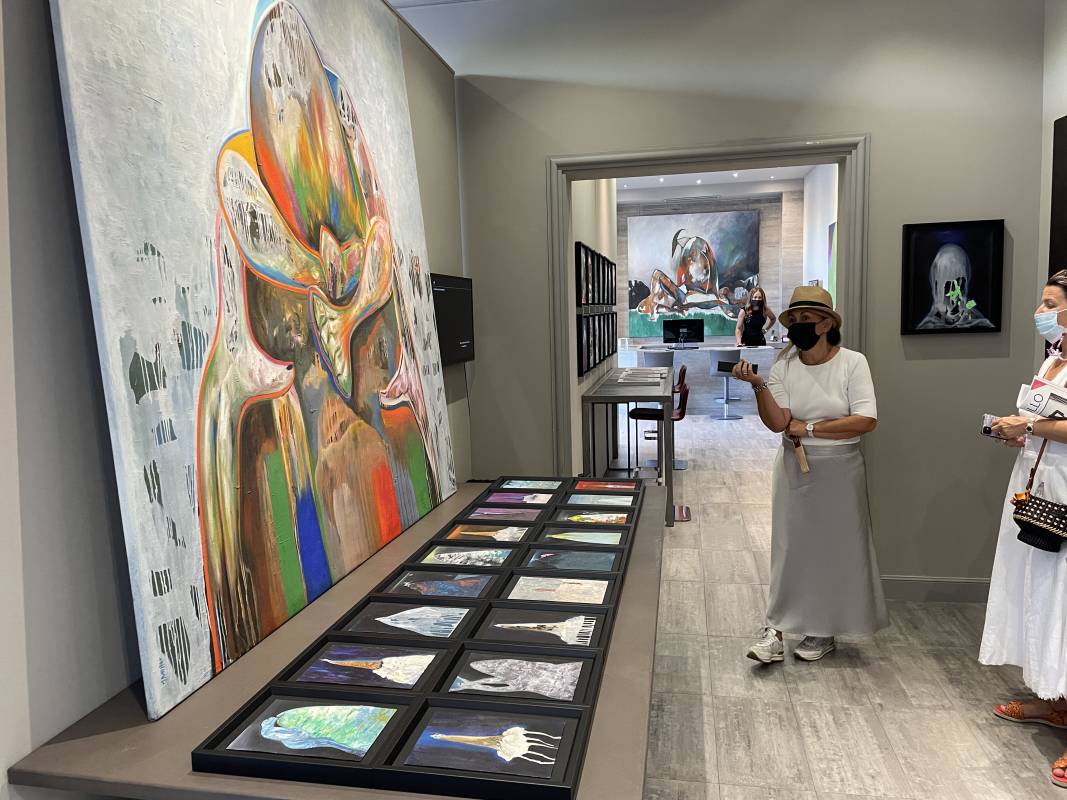 "Ecological, political scientific and health crisis, facing an uncertain future, call for exceptional artists", underlined Kamil – "I have known Eric forever being amazed by his work made of such passion, creative force and talented genius", he added.
G&M Design made the public know Mark Evans an artist who comes for the first time in Monaco. Evans grew up in the Welsh mountains and had his whole life influenced by the "knife". By this simple tool he works with conventional and traditional materials such as charcoal, oils and acrylic. Later on in his life, by accident, he came across another material which is leather.  He then started engraving all kinds of animal skins from all over the world with incredible and astonishing artistic results.
To close this small review, we cannot help mentioning Espace 22 – 'Une maison pour la Vie' (A Home for Life) presenting an Album of Portraits of people fighting HIV by the photographer JDG-Photographe. An album of hope and life for the 10th anniversary of Fight Aids Monaco Non-profit Association created by H.S.H. Princess Stéphanie of Monaco, giving help and health support to people affected by this social scourge through a structure and a team of specialists aimed at giving them strength and hope to continue to live as peacefully as possible.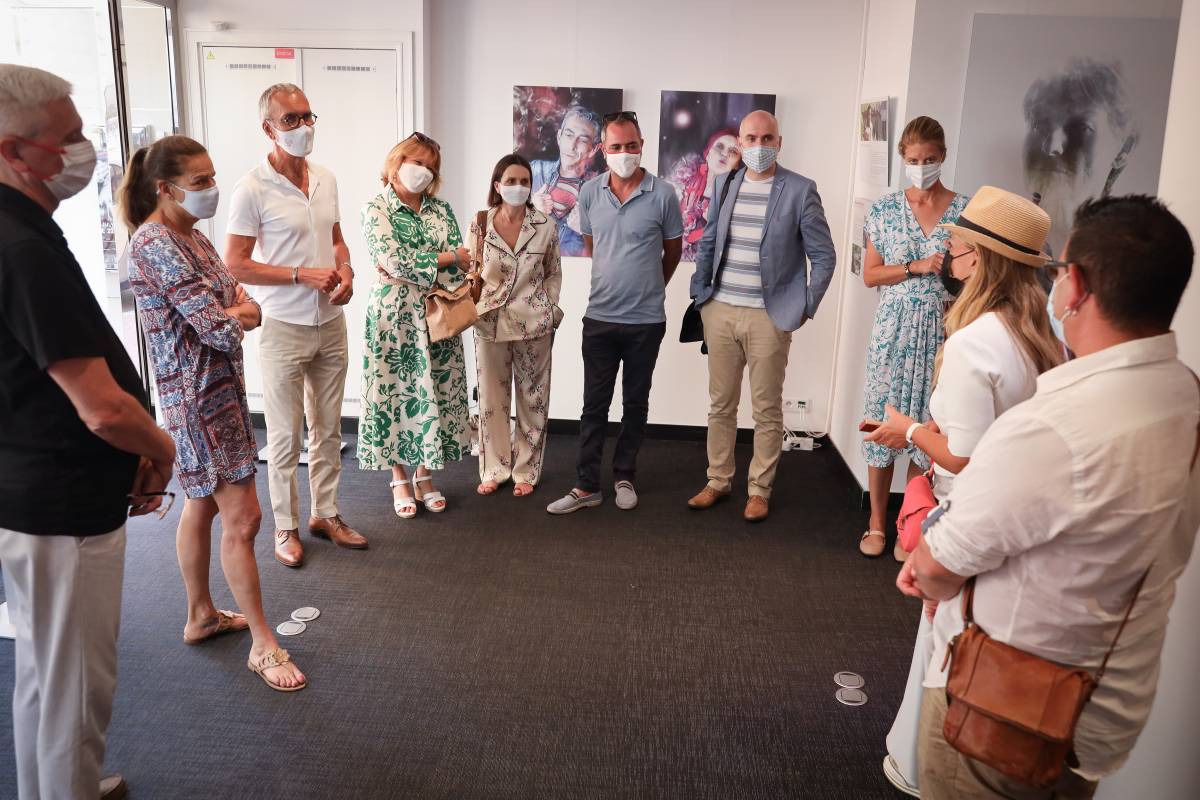 This exhibition shows a dozen selected portraits of women and men who confidentially exposed themselves, often bare and with uncovered faces, to tell their life stories in a raw and unrestrained way and in all truth.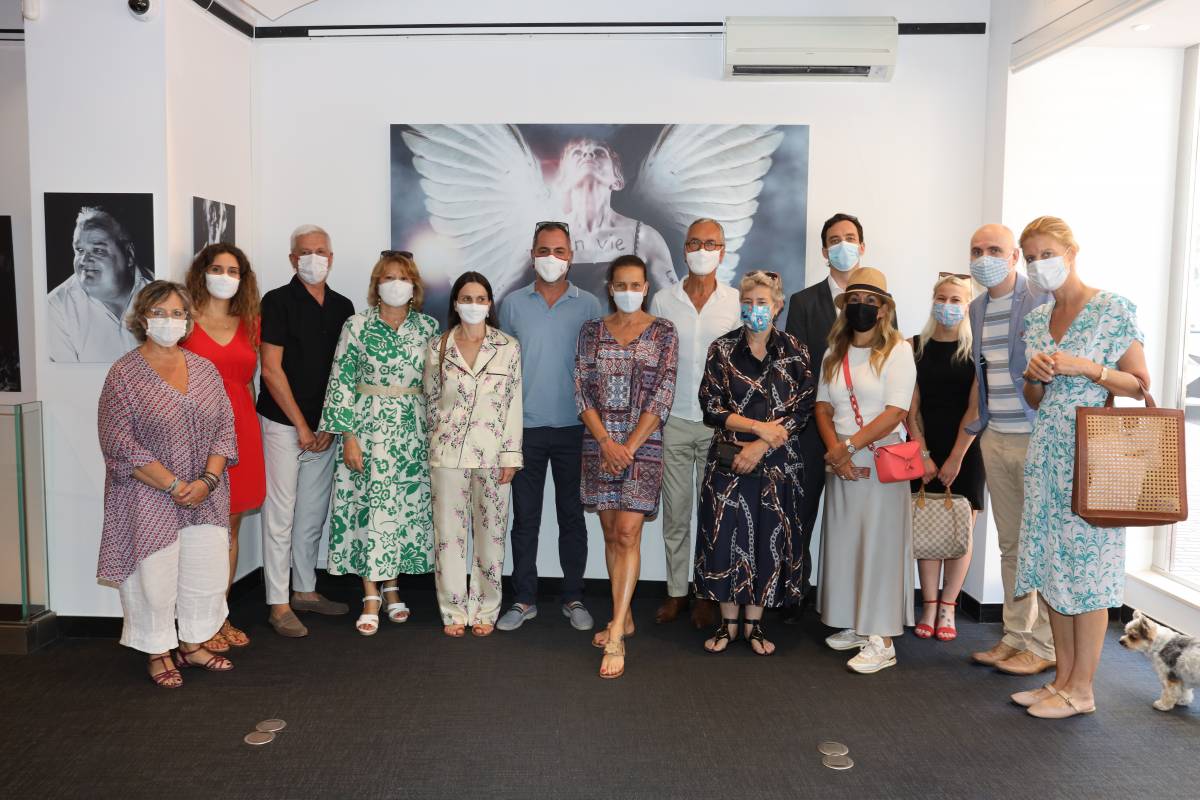 As usual Monaco Art Week (MAW) 2021 has enriched the visitors' cultural background with surprises, knowledge and superior Art.