Latest news
Monaco Firefighters Team Up with Southern France's Defence To Coordinate Civil Security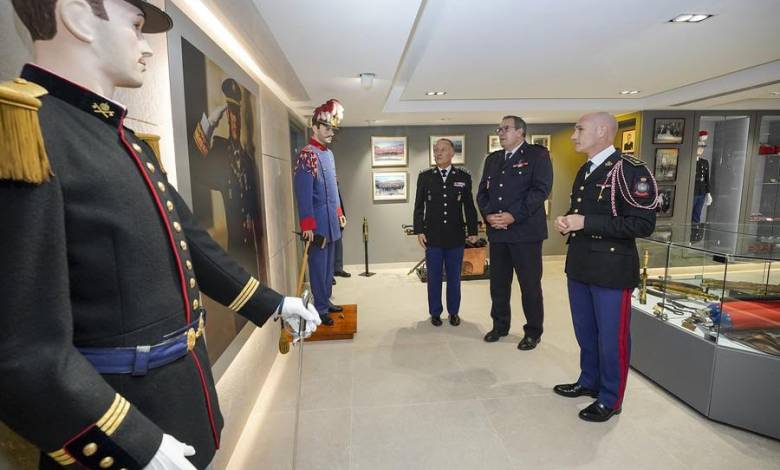 The Monaco Firefighters Corps received the Inspector General Jean-Yves Noisette, Chief of Staff of the Defense and Security Zone for Southern France. This defense zone is, among other things, an operational tool for crisis management. Responsible for operational monitoring and information dissemination at the national and departmental levels, it coordinates the actions of civil security, including the allocation of ground and aerial resources.
In the presence of Colonel Tony Varo, the Superior Commander of the Public Force, Lieutenant Colonel Maxime Yvrard, the Corps Commander, presented the Corps flag before inspecting the fire brigade. The Inspector General then attended the presentation of the Company and visited the Event Management and Operations Control Center (CGECOS), as well as various departments of the General Staff.
The day continued with a lunch at the Barracks, attended by Patrice Cellario, Government Counselor – Minister of the Interior, and Christophe Prat, Director General of the Department of the Interior.
Finally, the Chief of Staff was able to explore the various vehicles and technical means used by the Monaco Firefighters before a working session that allowed for discussions on the conditions of an operational partnership between the Monaco Firefighters Corps and the Southern Defense and Security Zone in the context of civil security issues.
Monaco Civil Protection Services 
Civil Protection Services in Monaco are composed of the Fire and Emergency Service and the Palace Guards.
Its duties involve:
Fighting fires of all kinds

Combating chemical or radiological risks

Providing rescue services for victims of road accidents

Providing an emergency response for sick or injured persons at home and their transport

Assistance for animals in difficulty

Protecting property against risks of all kinds (meteorological, technological, etc.)

Fighting pollution on land
The Company carries out surveillance and prevention with regard to fire risks at the Prince's Palace, the Oceanographic Museum and during key sporting, artistic or cultural events (Formula 1 Grand Prix, International Circus Festival, football matches, etc.).
In parallel to its operational duties as such, the Fire and Emergency Service devotes much work to fire risk prevention.
In addition, the Fire and Emergency Service carries out Civil Security duties:
Preparing National Security Plans

Permanent contact with international organizations regarding major natural and technological risks

Cooperation with developing countries (Mauritania, Burkina Faso) in collaboration with the Department of International Cooperation
The Unit also has a detachment to intervene during natural or technological disasters as part of international civil security aid.