Latest news
Monaco Yacht Show continues its pace of innovation and sustainability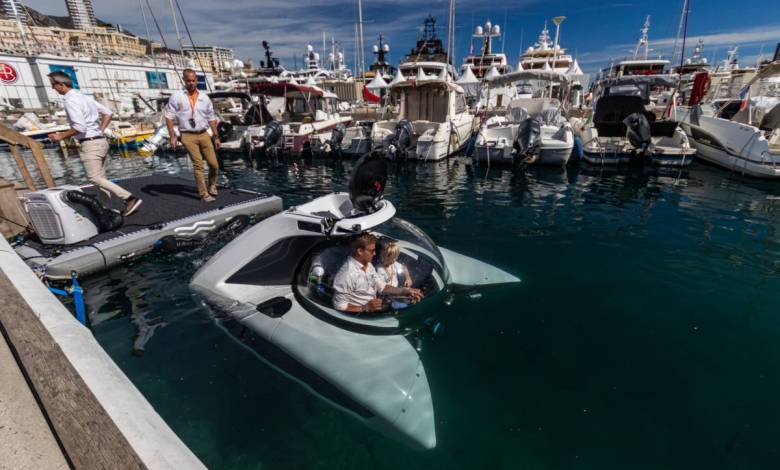 We are summing up the biggest event of the Fall. This year the most anticipated event in the yachting world, the Monaco Yacht Show (MYS) was held on September 28 to October 1, featuring a number of innovations and unique yachts. Among the latter, the first hydrogen-powered model was presented, alongside the largest yacht (115-metre) ever exhibited in the Monaco port.
Increasingly, many large yachts were purchased by first-time owners. This growing trend emerged during the pandemic. Instead of buying a small boat first and then upgrading it, owners now go for a larger model straight away. According to Boat International's Global Order Book, 1,024 superyachts ordered in 2022 are currently under construction which is a 24% increase compared to the previous year. A 10.5% increase was also observed in yachts of 45 metres+.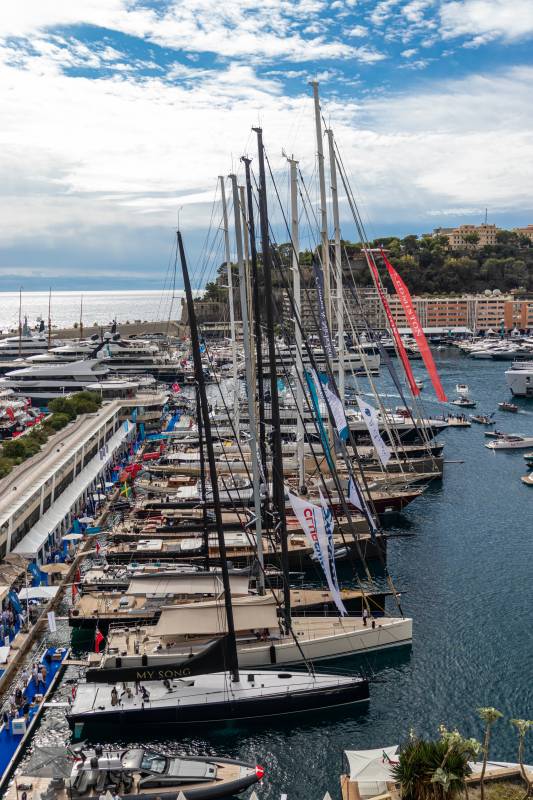 Some $4.3 billion worth of yachts by the most legendary superyacht brands were showcased in the Port of Monaco, attracting the rich and famous from all around the world. This international yachting event was an opportunity to socialize with fellow yachting enthusiasts and enjoy the glamour and exclusivity that Monaco has to offer.
The MYS had announced three themed exhibitions for 2022 — a new Design and Innovation Centre, the Sailing Yacht Zone and the Adventure Area. It is certainly back on track helping the industry reinvent the yachting experience and attract new clients for superyacht charters.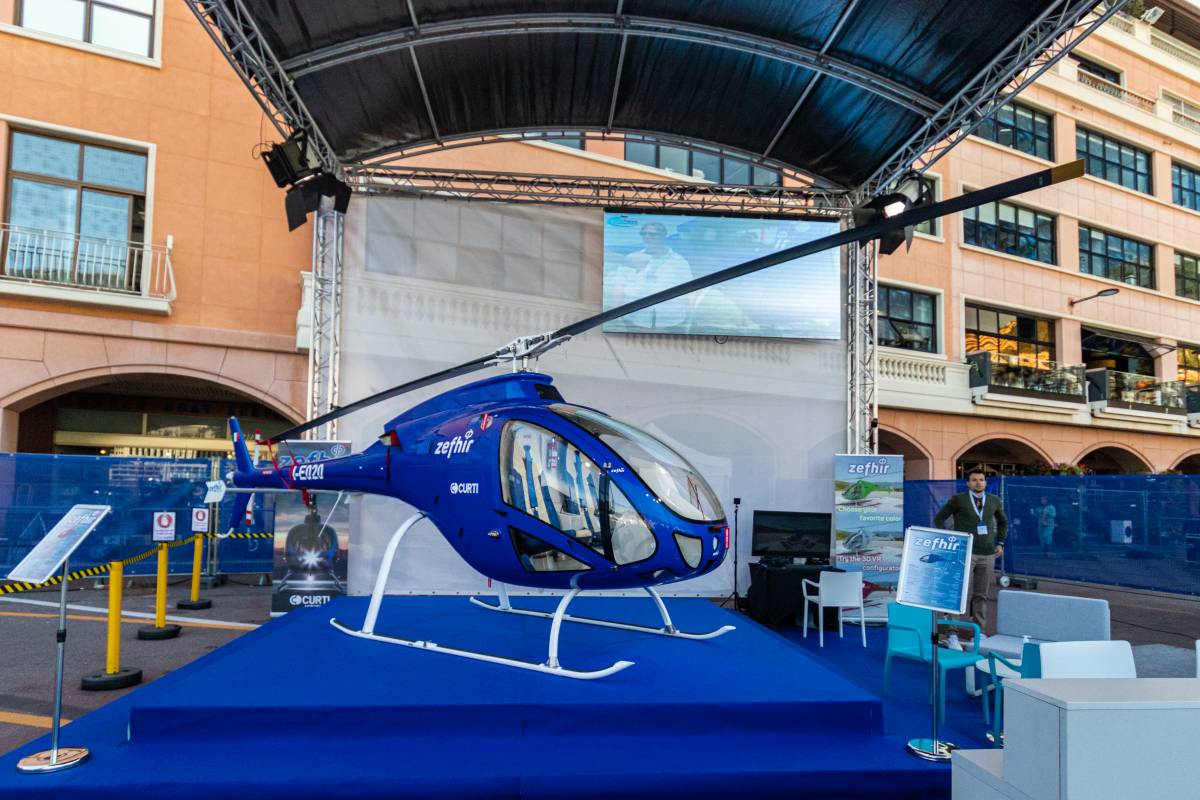 This year, the sailing yachts were moved inland to Quai l'Hirondelle in Port Hercule. Visitors thus got a chance to see some exceptional sailing boats distinguished by international awards.
Theme exhibition areas were also set up more efficiently. The Monaco Yacht Show's new Adventure Zone featured a wide range of casual and sports tenders, luxury and off-road vehicles, water toys, high-tech gadgets, helicopters and customized offers to explore the most remote corners of our planet.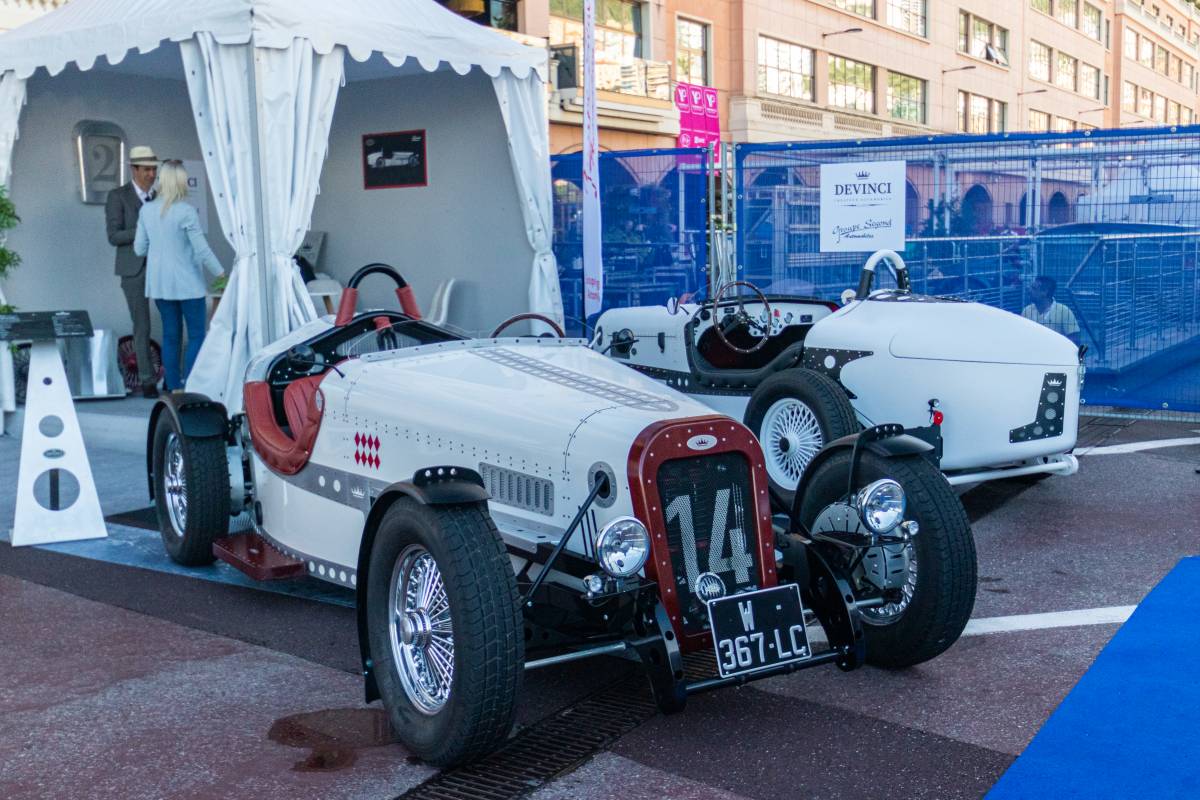 As to the Design and Innovation Centre, it presented the first hydrogen-powered yacht, run on a fuel cell. The breakthrough falls to the credit of the French brand Hynova Yachts.
The Sailing Yacht Area featured 10 boats, 4 new vessels among them: ClubSwan 80 (27.7 m), Swan 98 (31.05 m) by the Finnish manufacturer Nautor's Swan, Sorvind (34.59 m) by the Southern Wind shipyard and an eco-friendly sailing catamaran Sunreef 80 Eco (23 m) by Sunreef.
Hello Monaco thanks TWW Yachts for organizing the visit.
Eco-friendly sailing catamaran Sunreef 80 Eco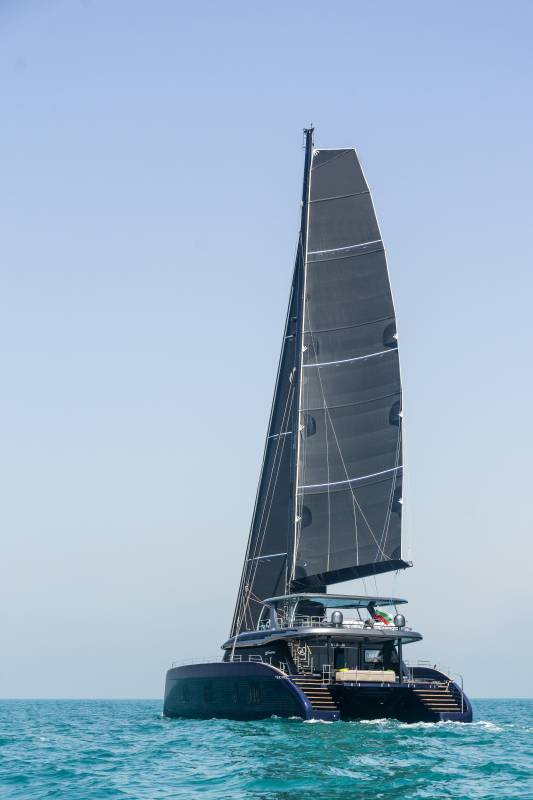 Sunreef 80 Eco is an environmentally friendly luxury catamaran. It offers superyacht-style accommodation, excellent sailing performance and the latest innovations in sustainable technology. Thanks to Sunreef Yachts' innovative solar energy system, the catamaran can generate up to 45.5 kWh. A total of 164 m² of solar panels are integrated into the hull and curved parts, including the mast, boom and superstructure. This luxury catamaran also features an ultra-light battery pack for significant weight savings and increased performance. The front terrace has a comfortable seating area protected from the wind and sun. The cockpit is equipped with a hydraulic platform for extra comfort. Exceptionally spacious hulls make it easy to design custom layouts with luxurious guest cabins and spacious owner suites. This is an ideal place to chill after a long day.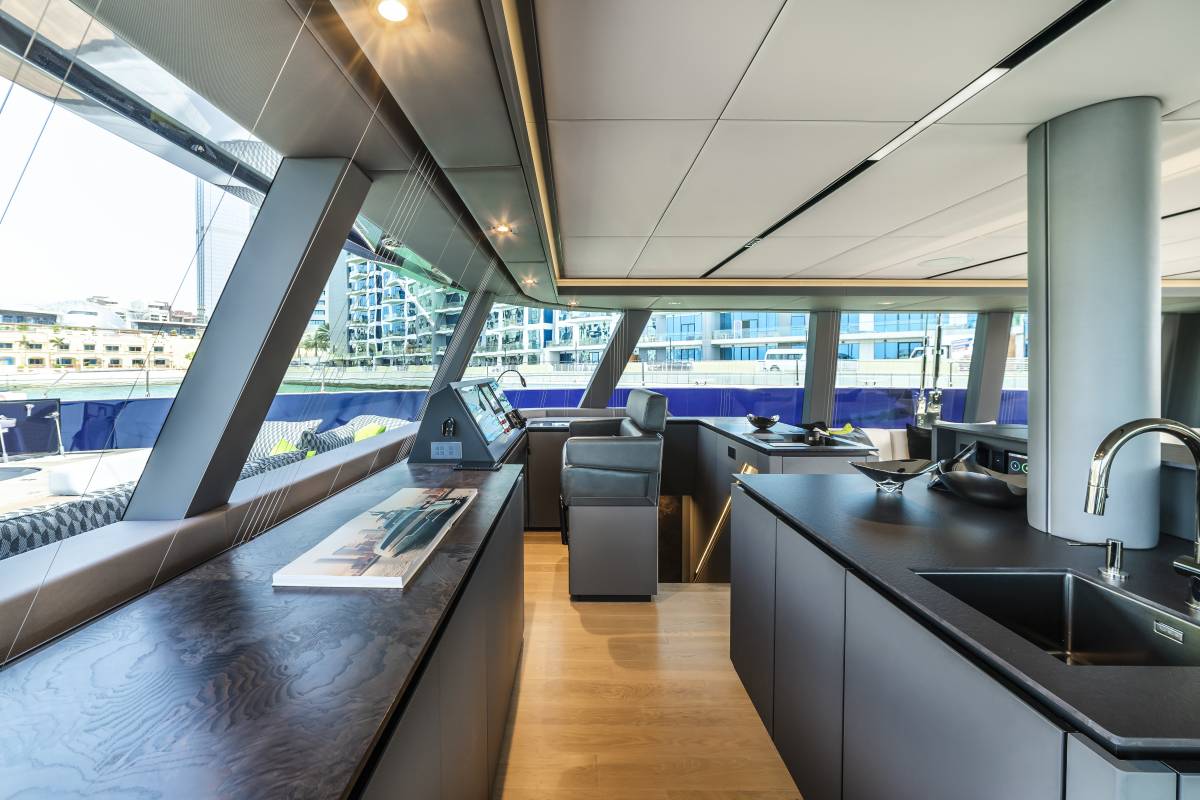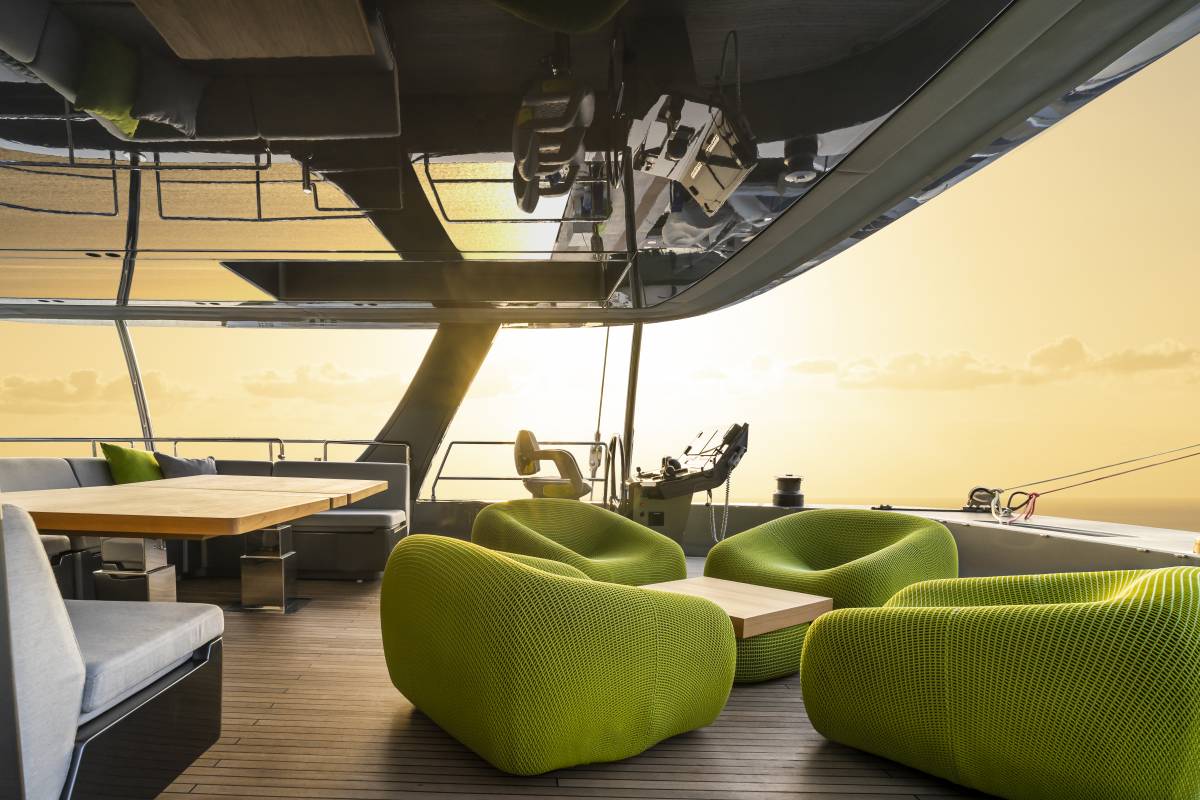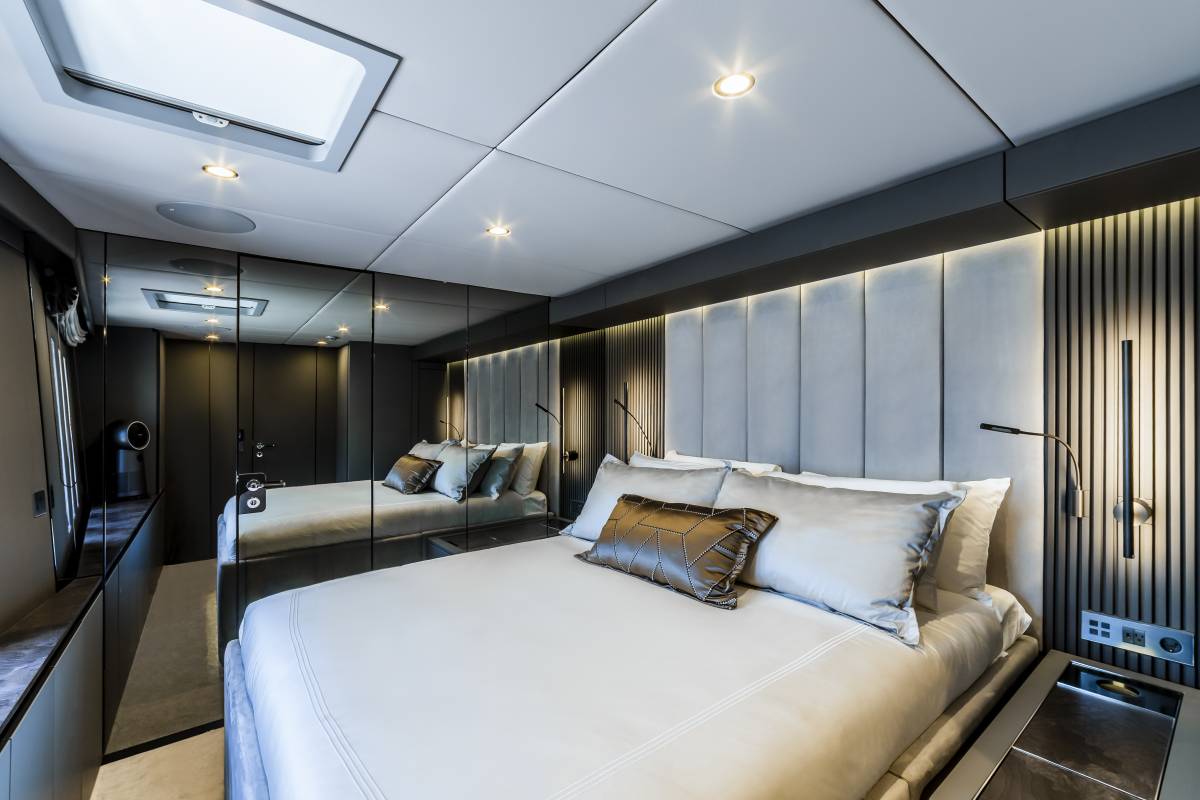 Length: 23 metres
Number of people on board: 8
Shipyard: Sunreef Yachts
Enigma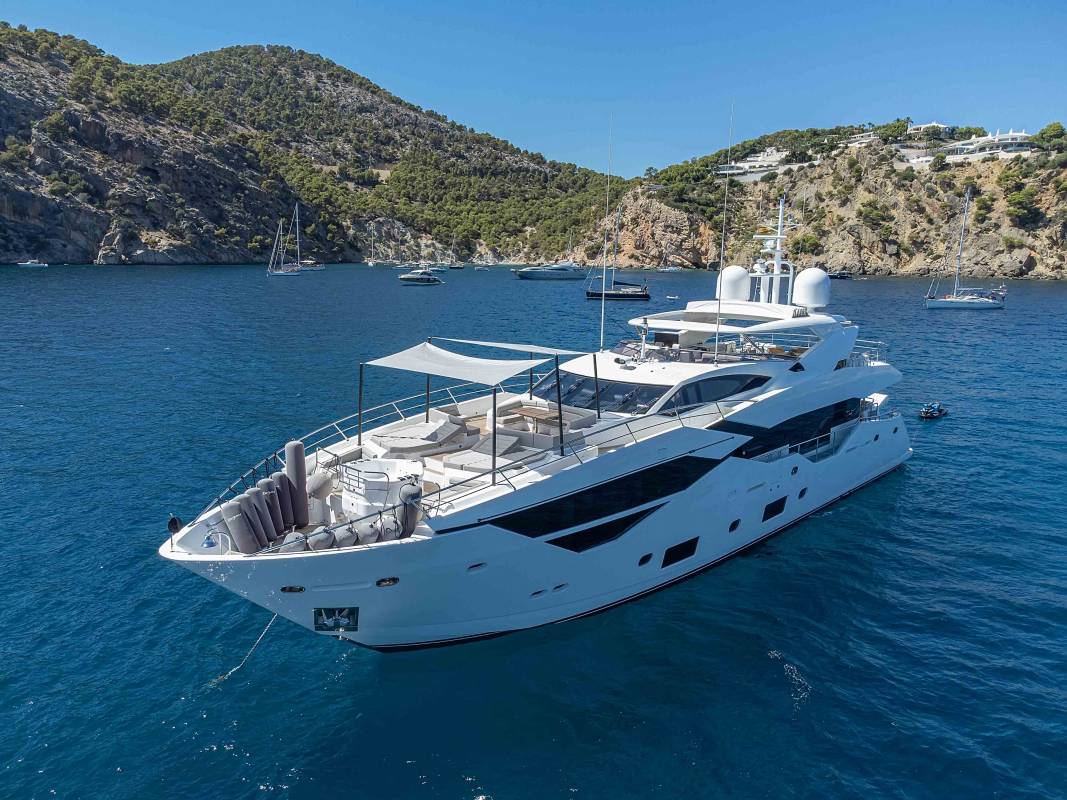 Sleek, spacious and contemporary. West Nautical were thrilled to present luxury motor yacht Enigma. Delivered in 2020 with an outstanding €1,750,000 of upgrades to her interior by the renowned Vickers Studio, alongside her spectacular flybridge and open plan layout, M/Y Enigma offers her next owner unparalleled levels of space, style and reliability. Further forward she has two large double sunbeds and a perfectly positioned jacuzzi, from which magnificent ocean views can be enjoyed. Another unique feature on board MY Enigma is that the entire internal hull area was sprayed with a sound deadening compound during the construction phase to heavily insulate the hull from noise and vibration. In addition, the flooring in all guest areas has been prepared with a sound proofing insulating material to further enhance the comfort and tranquility of the spaces on board.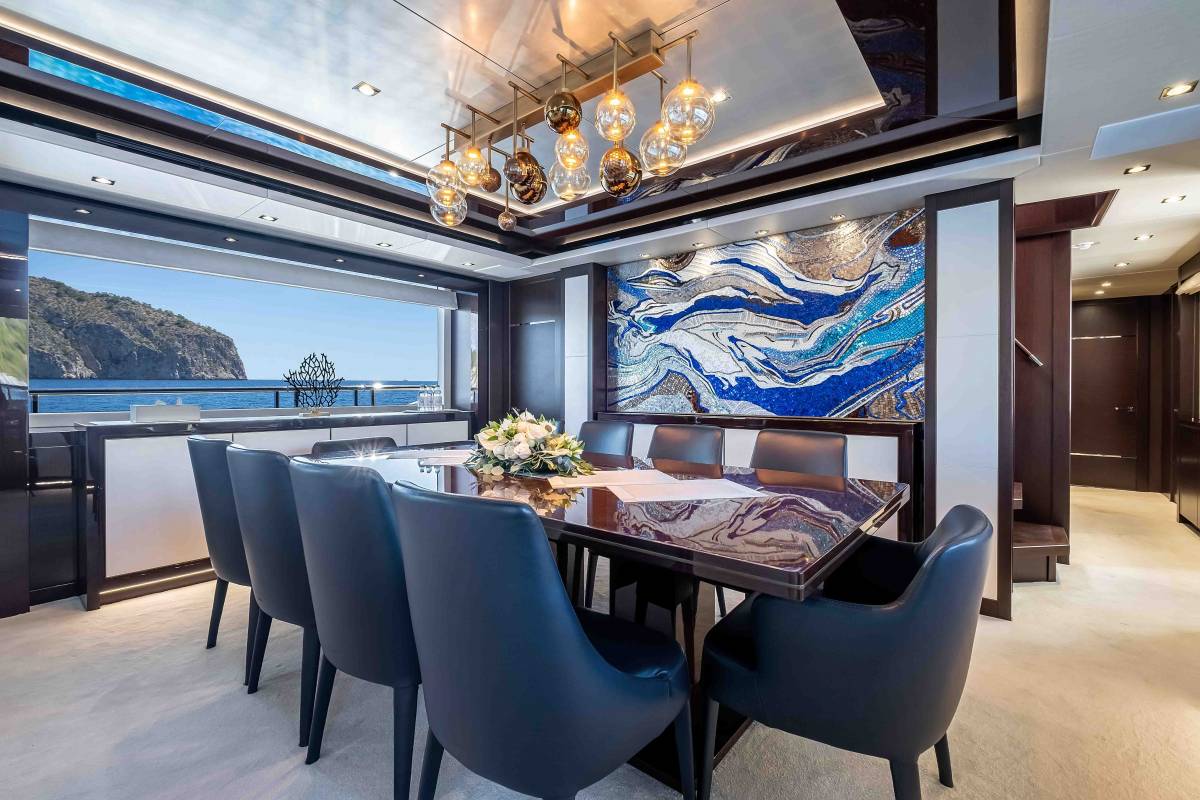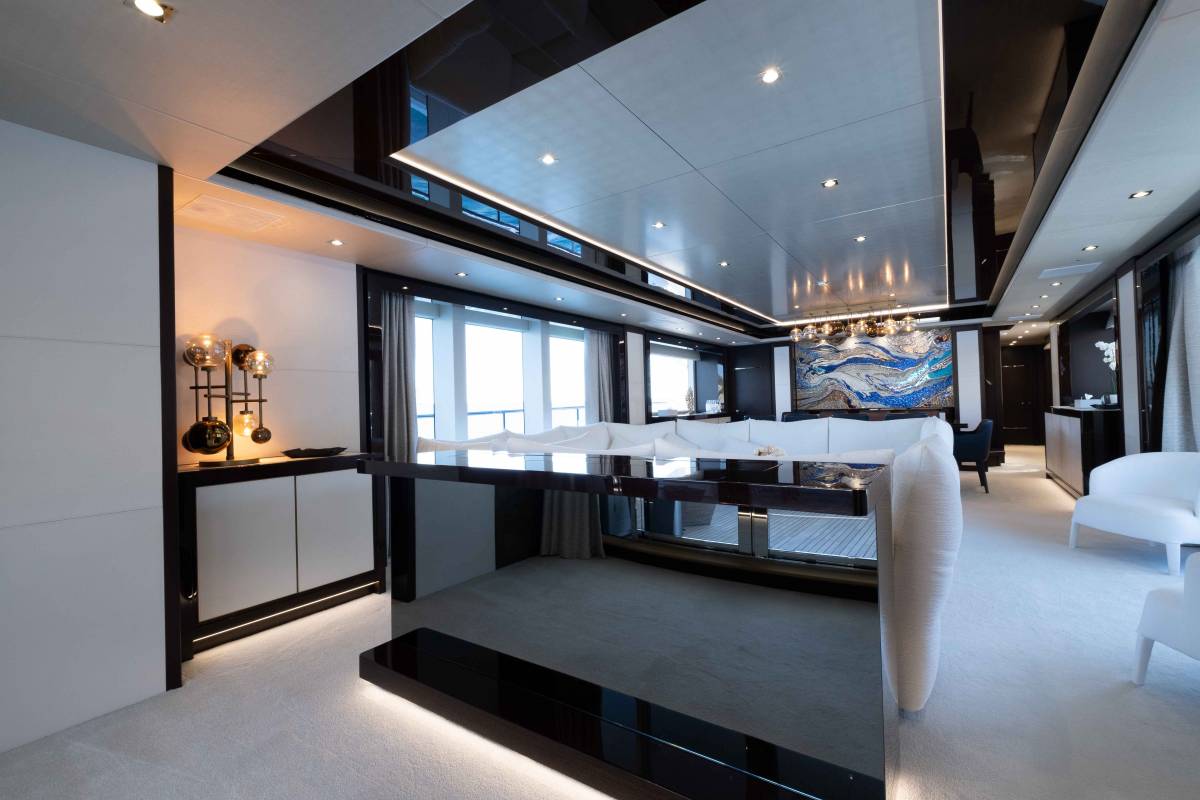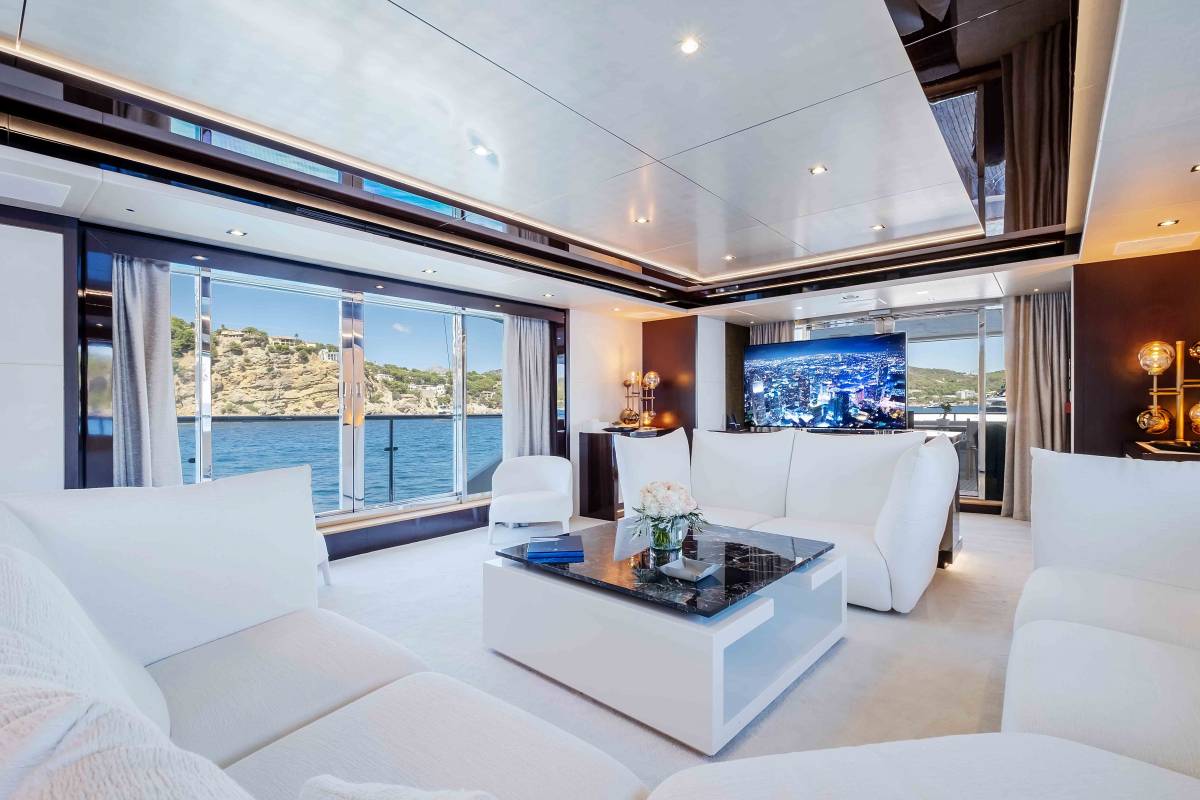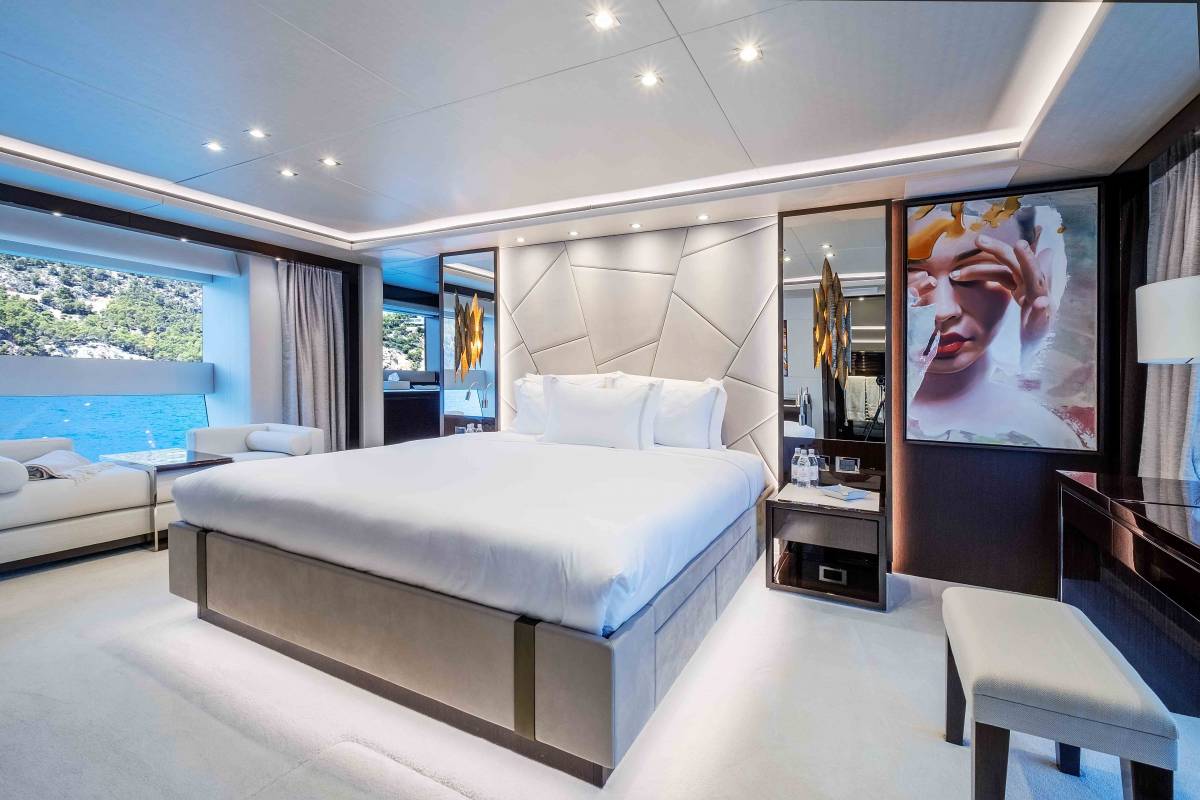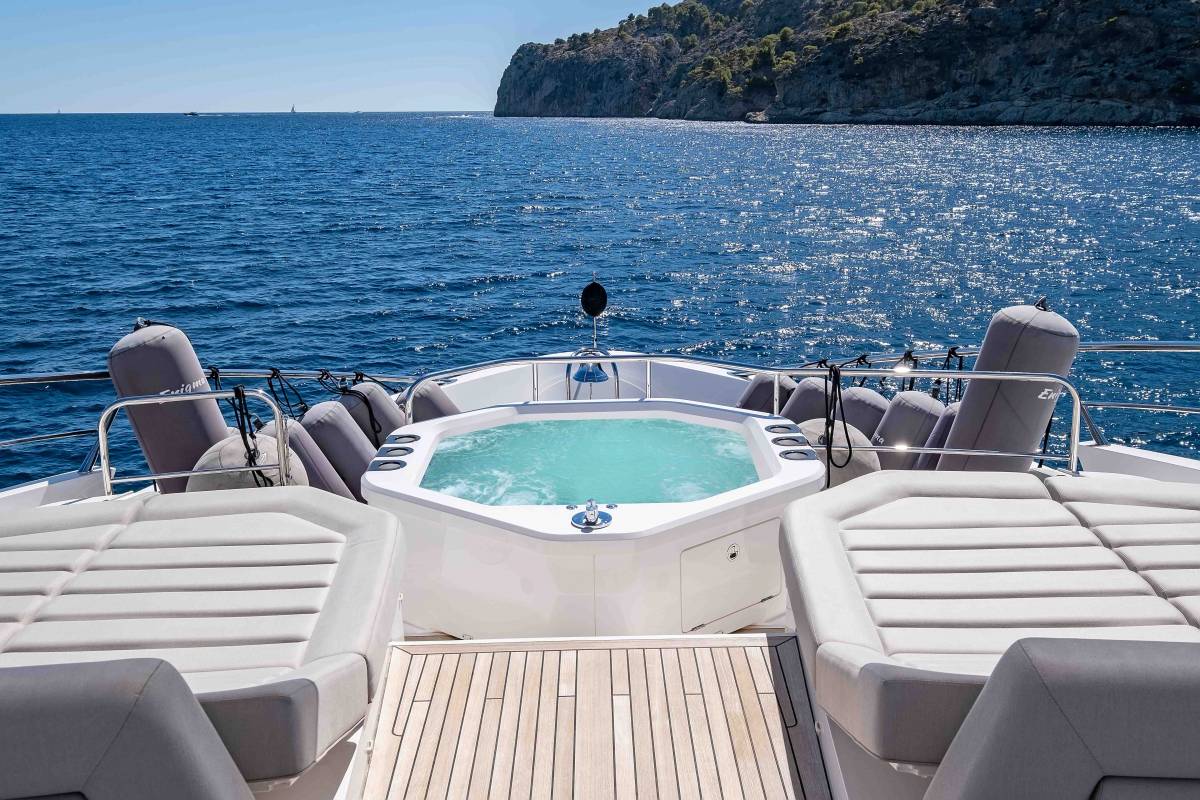 Length: 35 metres
Number of people on board: 12
Number of cabins: 5
Maximum speed: 24 knots
Gross tonnage: 245
Shipyard: Sunseeker
Ahpo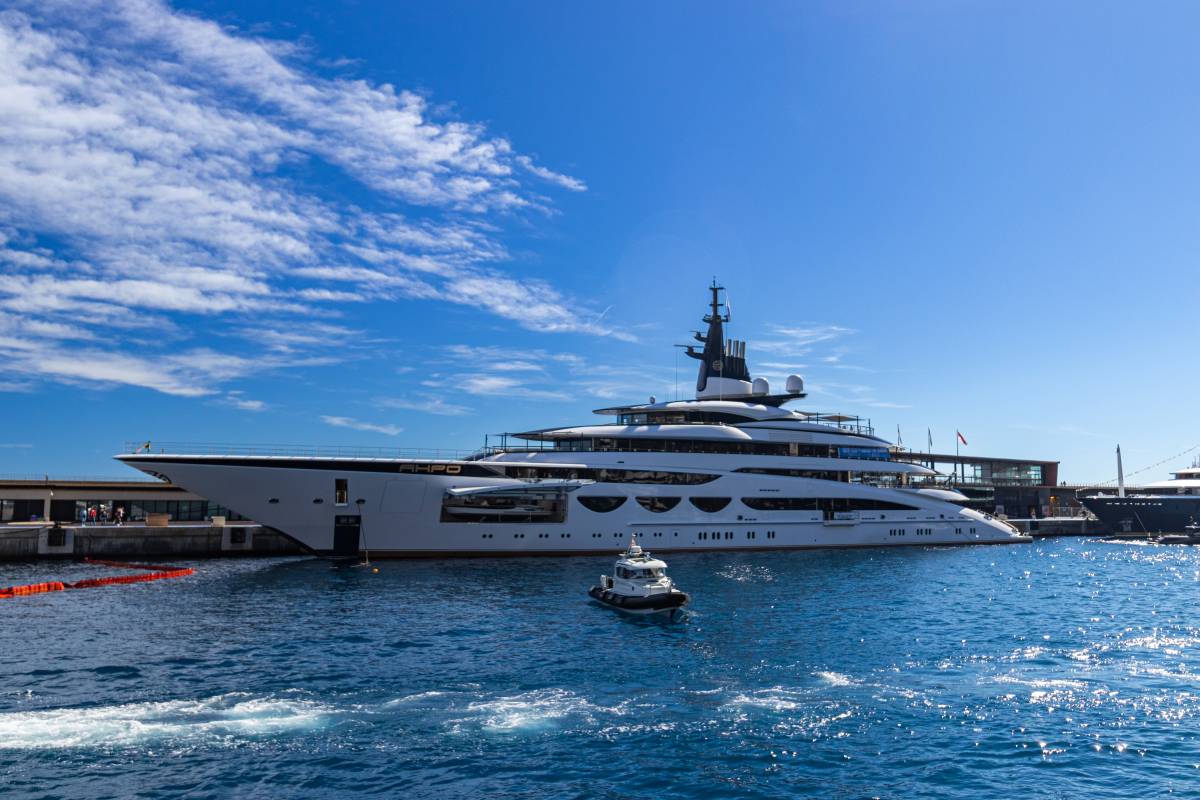 This mega yacht was built for a loyal client, businessman Michael Lee-Chin, who previously owned an 86-metre Lürssen. Ahpo can accommodate up to 14 guests on board. Formerly known as Project Enzo, it was delivered by the German shipyard last November. Ahpo offers many amenities, including a large cinema room, a massage room, an extra-large gym on the sky lounge deck and several unique dining and social areas. Ahpo is the 63rd largest superyacht in the world.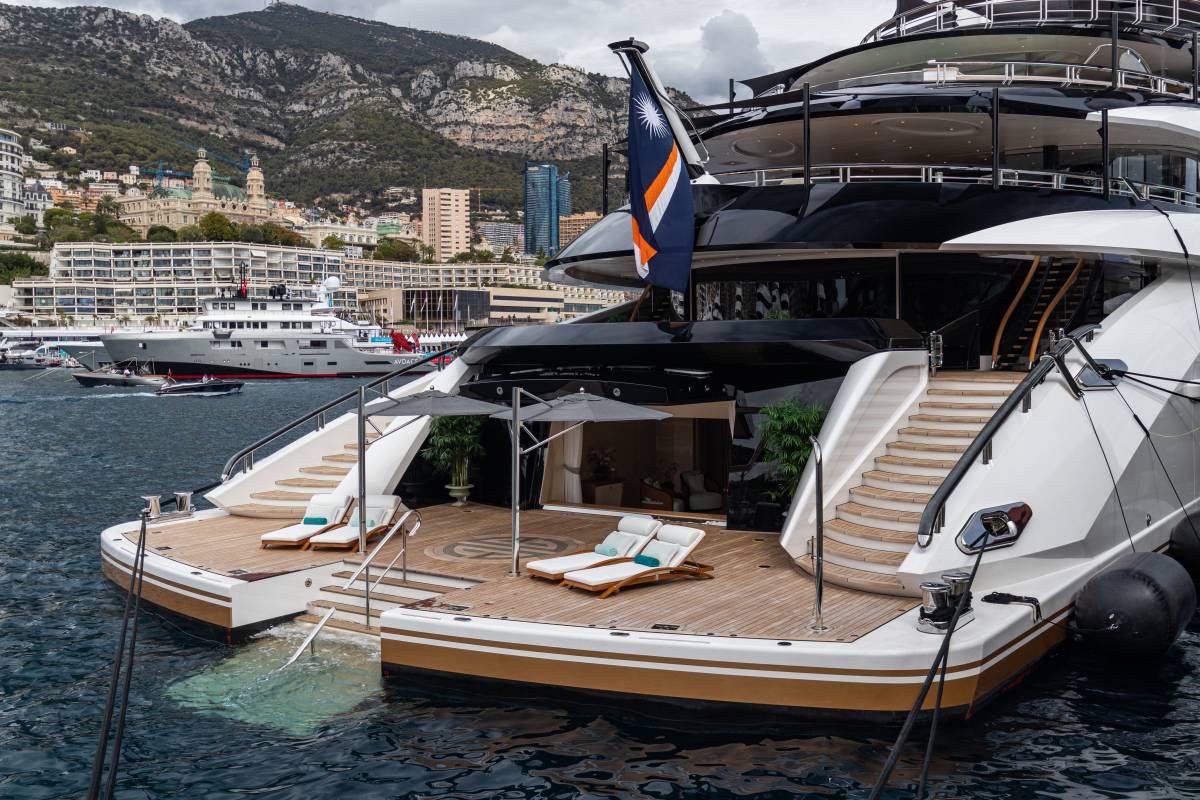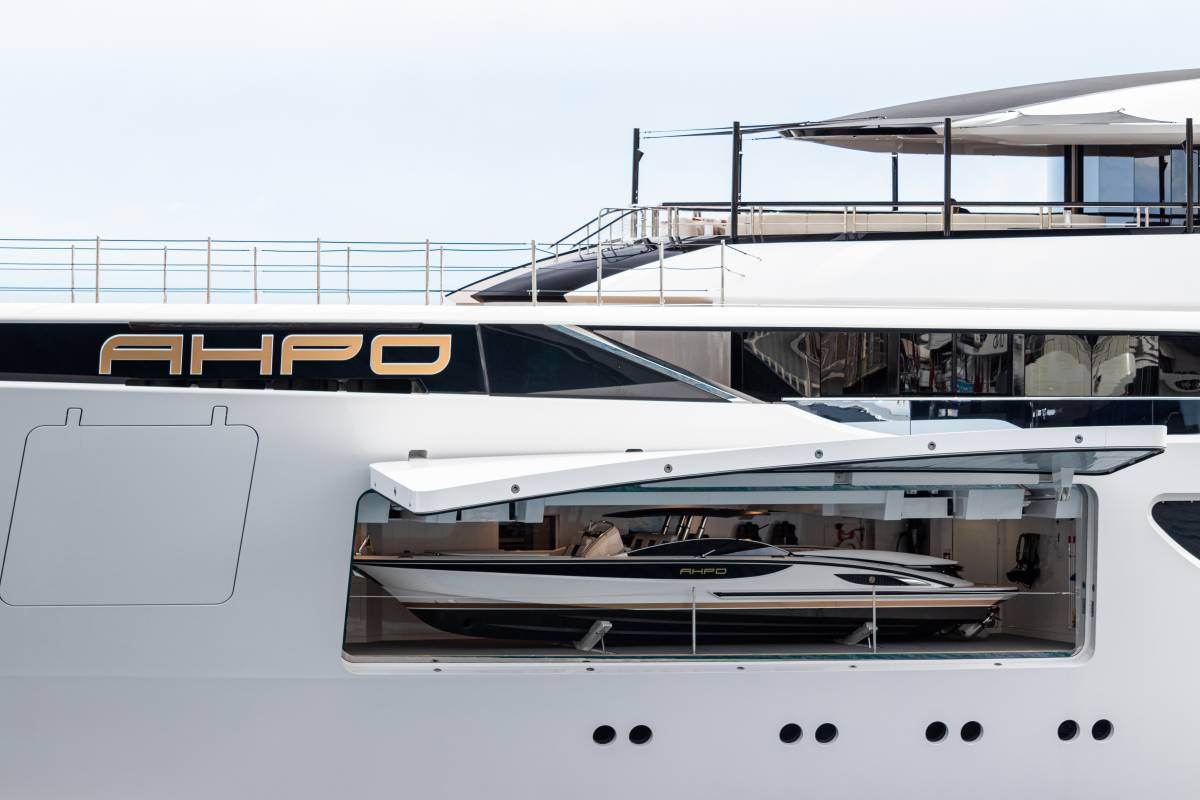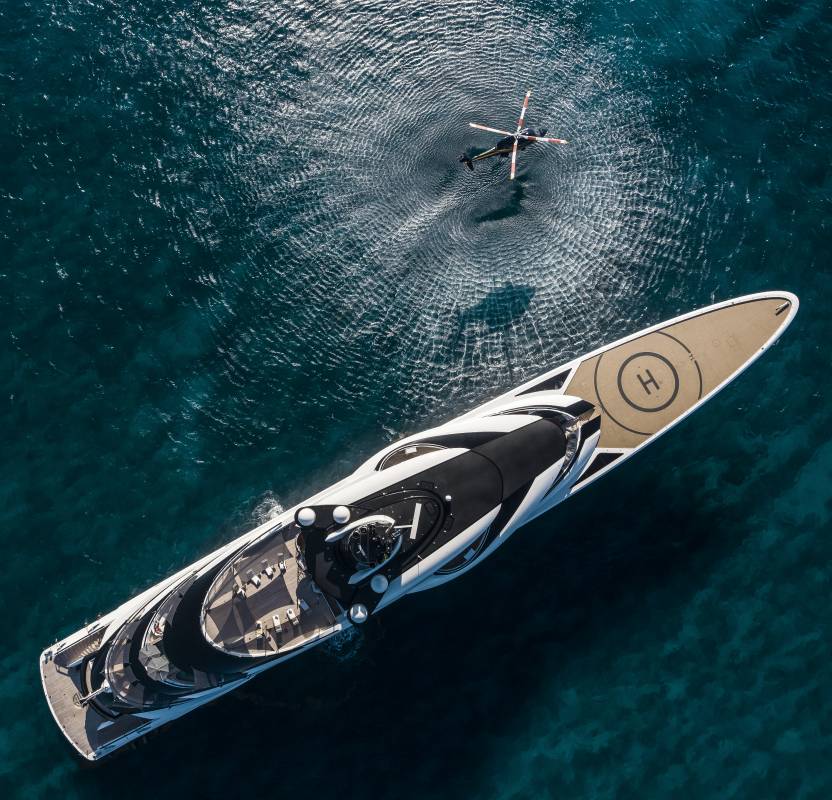 Length: 115 metres
Number of people on board: 14
Number of cabins: 7
Maximum speed: 37 km/h (20 knots)
Gross tonnage: 5257
Shipyard: Lürssen Yachts
Private Nemo submarines
The Dutch manufacturer U-Boat Worx has undertaken large-scale production of pioneering one and two-seater Nemo submersibles. The Nemo 1 and 2 are the only private mass produced submarines in the world. The Nemo's lightweight and compact spaces are a turnkey solution ideally suited to yachts of all sizes. Both Nemo 1 and 2 feature U-Boat Worx' signature seamless acrylic spherical viewport, battery-powered electrical propulsion, a multitude of safety systems, air-conditioning and certification by an internationally renowned company DNV.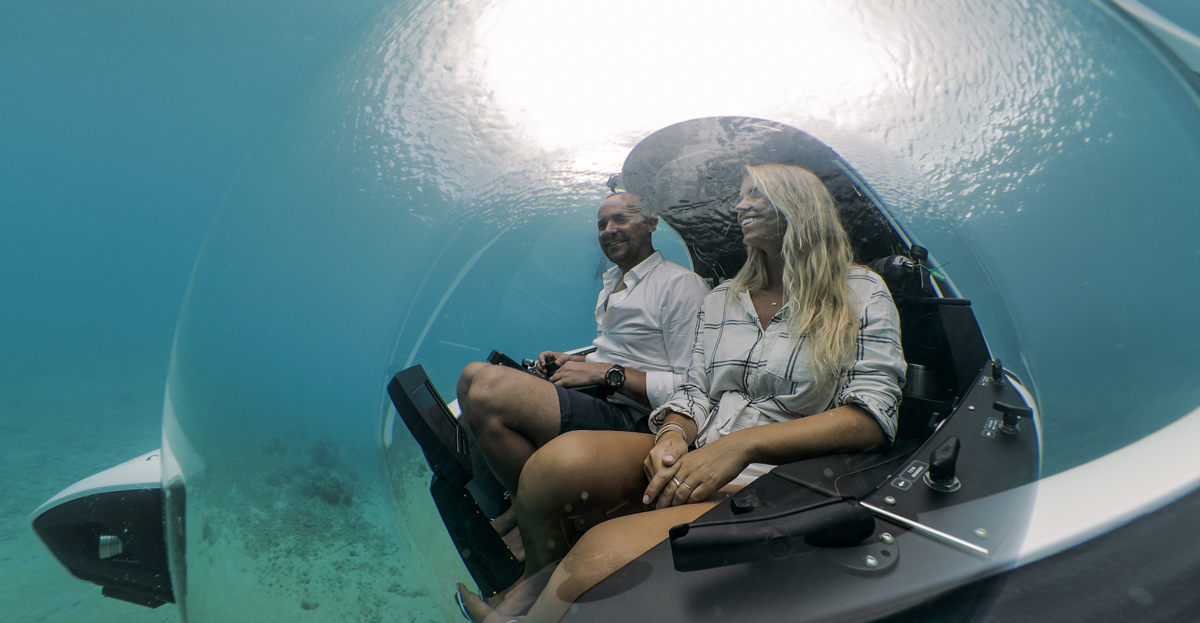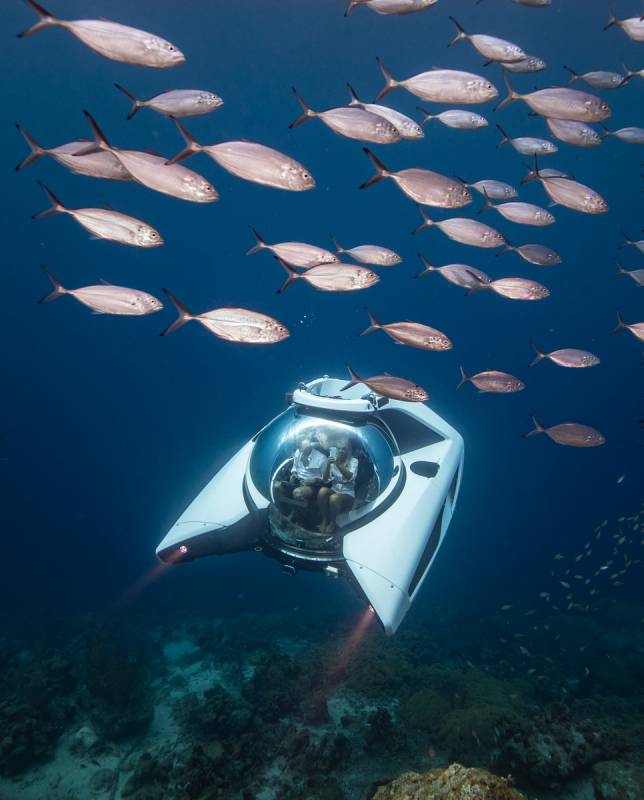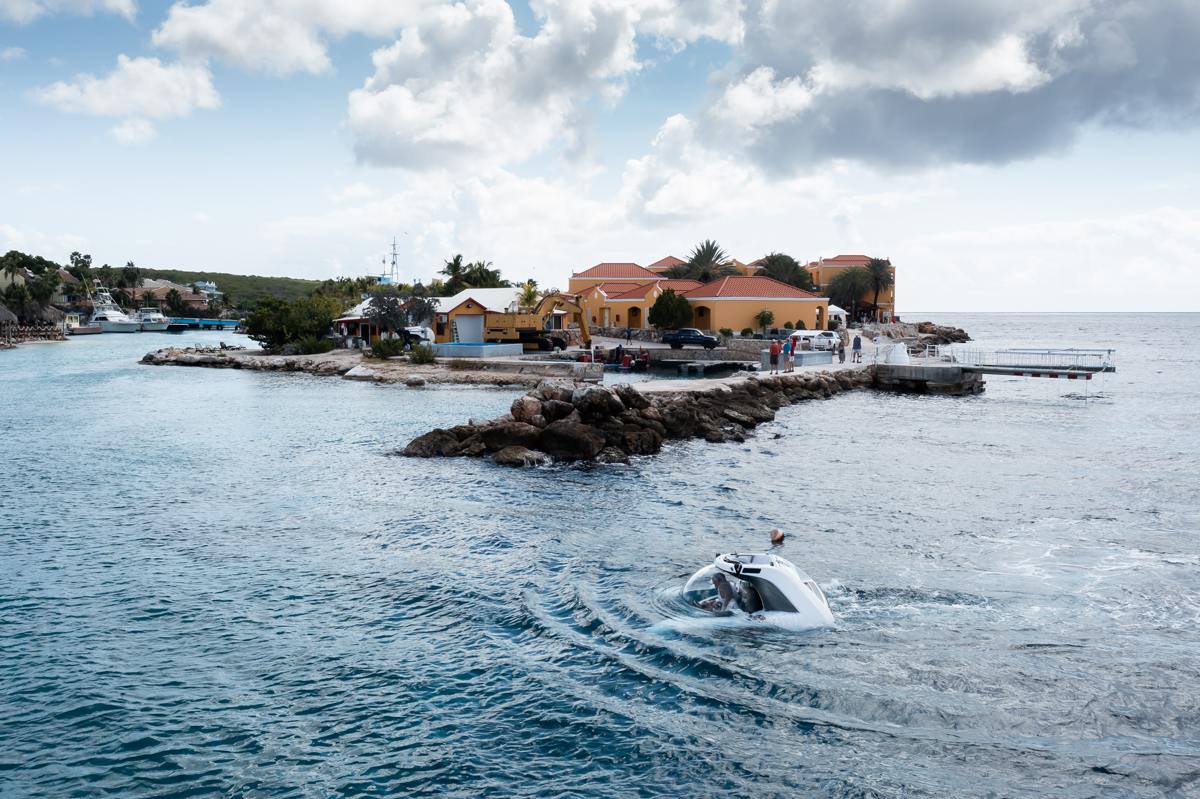 Kensho
Kensho offers accommodation for up to 12 guests in eight cabins, including a master suite, two VIP cabins, two double cabins and three cabins that can be either double or triple. A crew of twenty-three persons is ready to provide guests with an unforgettable yacht experience. On Kensho, you and your guests can enjoy a variety of activities including a swimming pool, beach club, and a well-equipped gym. You can relax in the on-deck jacuzzi and enjoy the scenery. The yacht is also equipped with a lift, giving you quick and easy access to every part of the vessel. Satellite communication systems allow you to stay in touch wherever you go and the stunning underwater lighting will make your evenings even more memorable.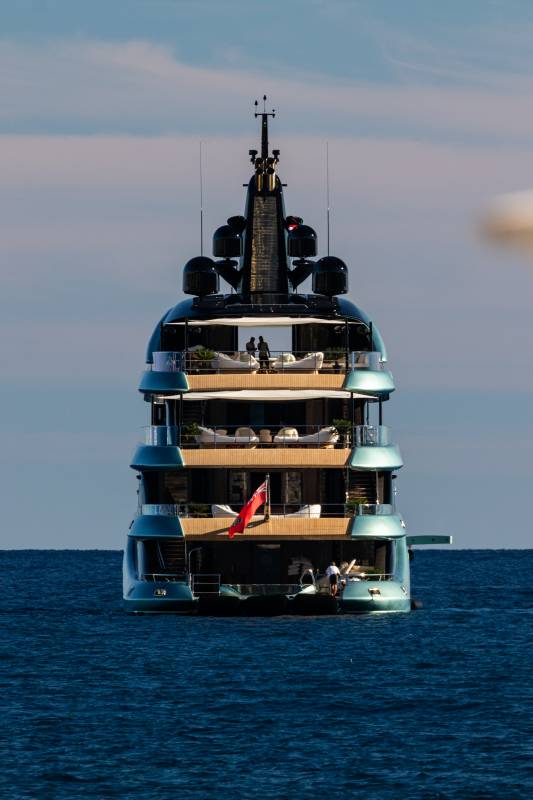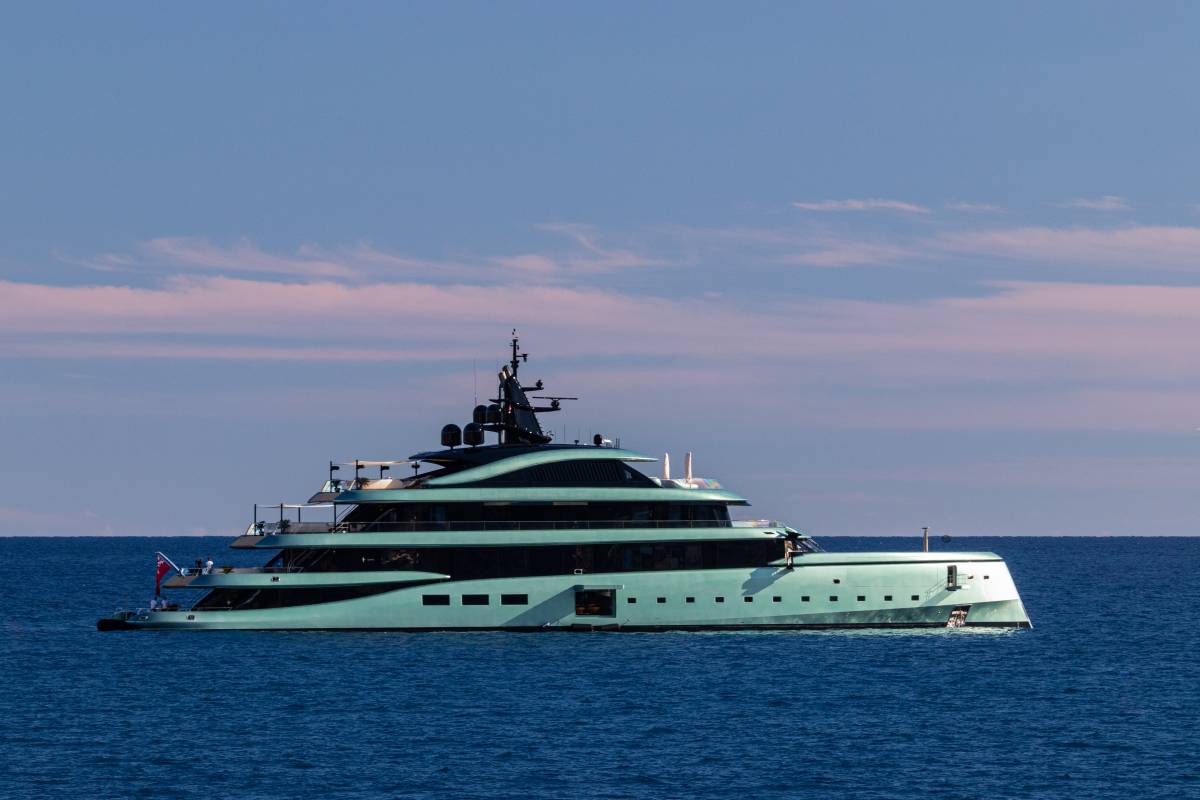 Length: 75 metres
Number of people on board: 12
Number of cabins: 8
Maximum speed: 15 knots
Gross tonnage: 1980
Shipyard: Admiral Yachts
Mangousta ААА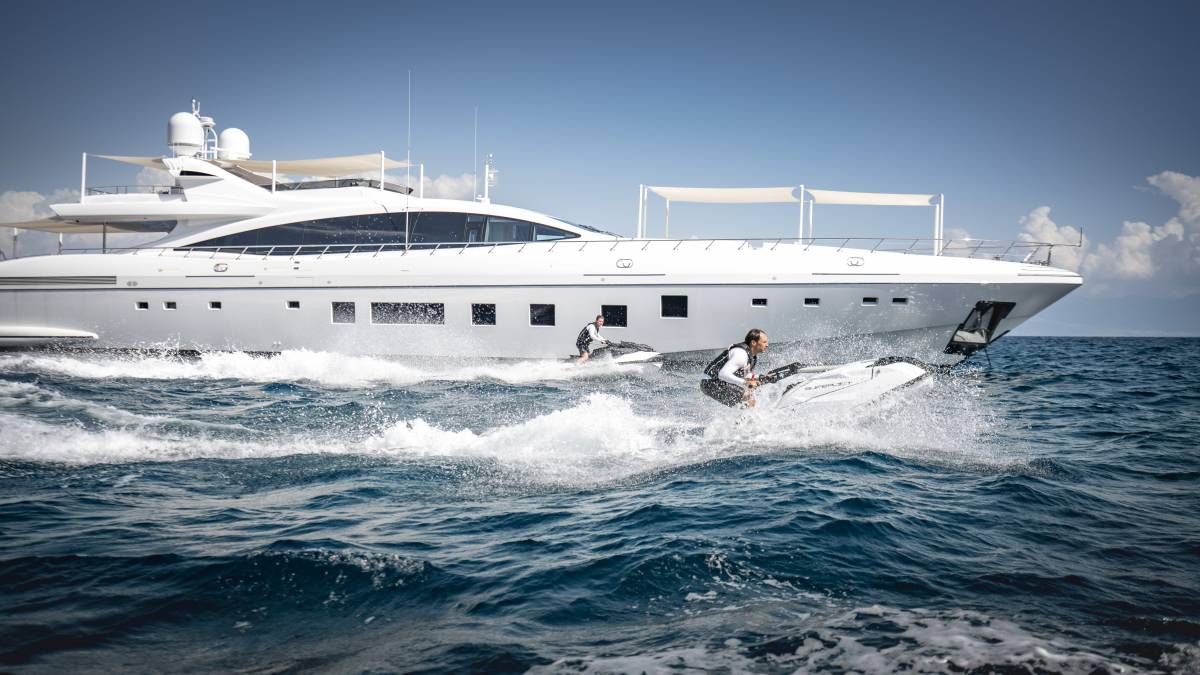 The yacht has at least two jacuzzis located on the foredeck and flybridge. The forward deck Jacuzzi can be enclosed and converted into a sunbathing area. The yacht also features a massage room and an incredible variety of water toys, including a Sea-Doo and Yamaha jet ski. Externally the M/Y AAA is a perfect embodiment of the classic Mangusta line combined with the extremely refined interior design by Stefano Rigini. The dining table for 12 in the main dining room offers the highest level of comfort for enjoying the chef's quality meals, all surrounded by charming contemporary lighting that creates a calm and relaxing atmosphere.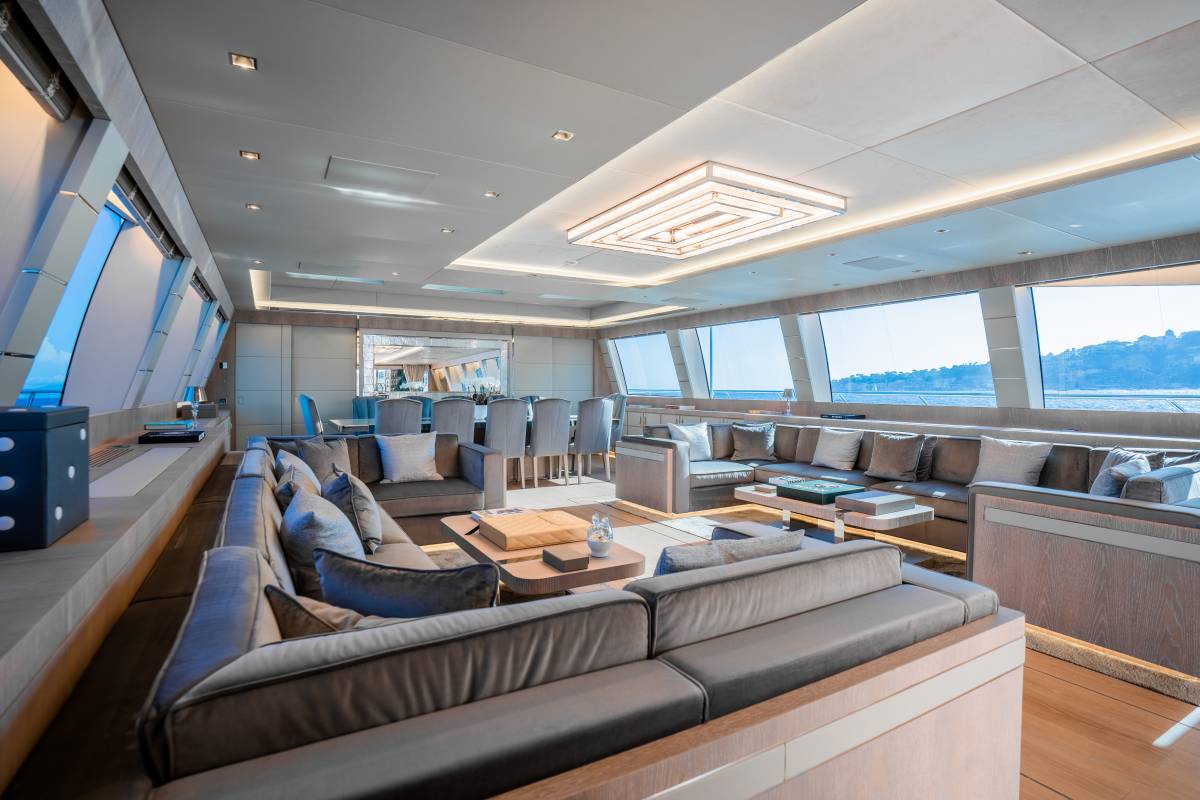 Length: 50 metres
Number of people on board: 12
Number of cabins: 6
Maximum speed: 35 knots
Shipyard: Overmarine Group
Project X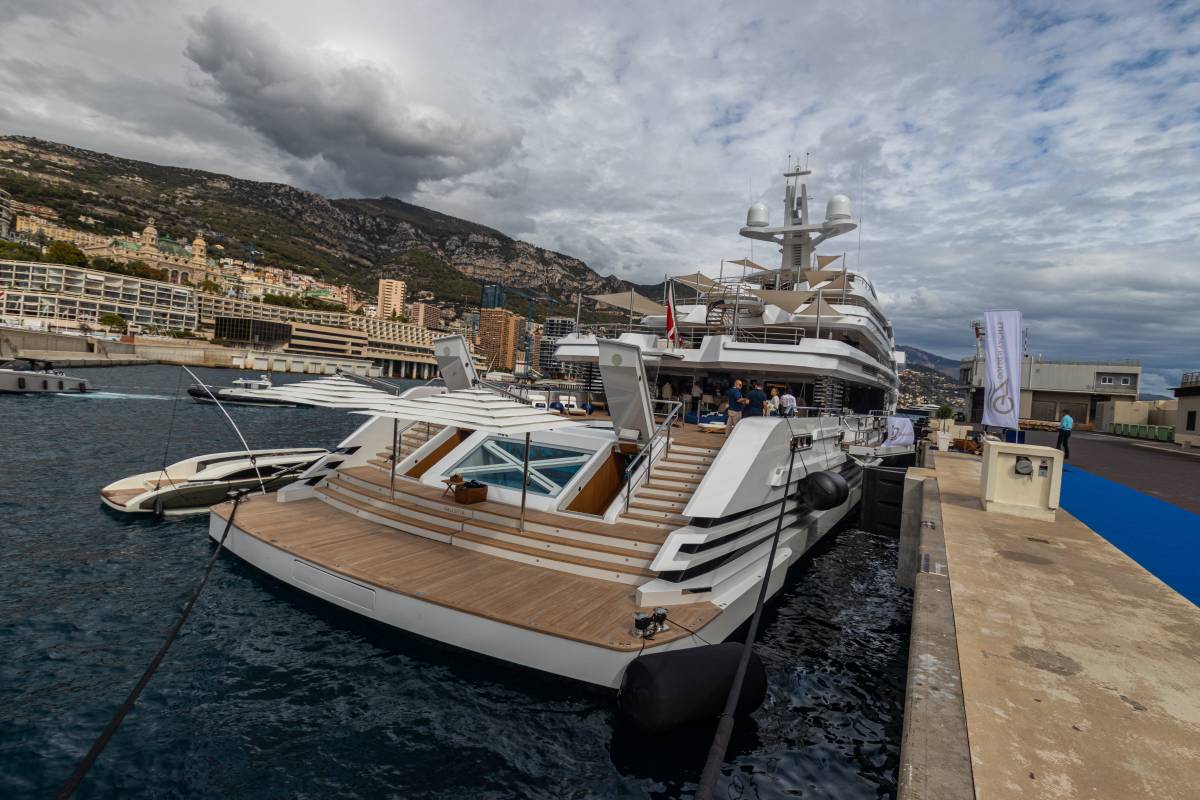 Built in 2022, Project X is designed for sophisticated living, both indoors and outdoors, and boasts large indoor and outdoor spaces across multiple decks: the perfect spot for sunbathing, relaxing and entertaining. The yacht has a beauty salon, an elevator, underwater lighting, a beach club and a gym. Project X offers accommodation for up to 12 guests in 9 cabins, including a master cabin, one VIP cabin, five double cabins and two double cabins.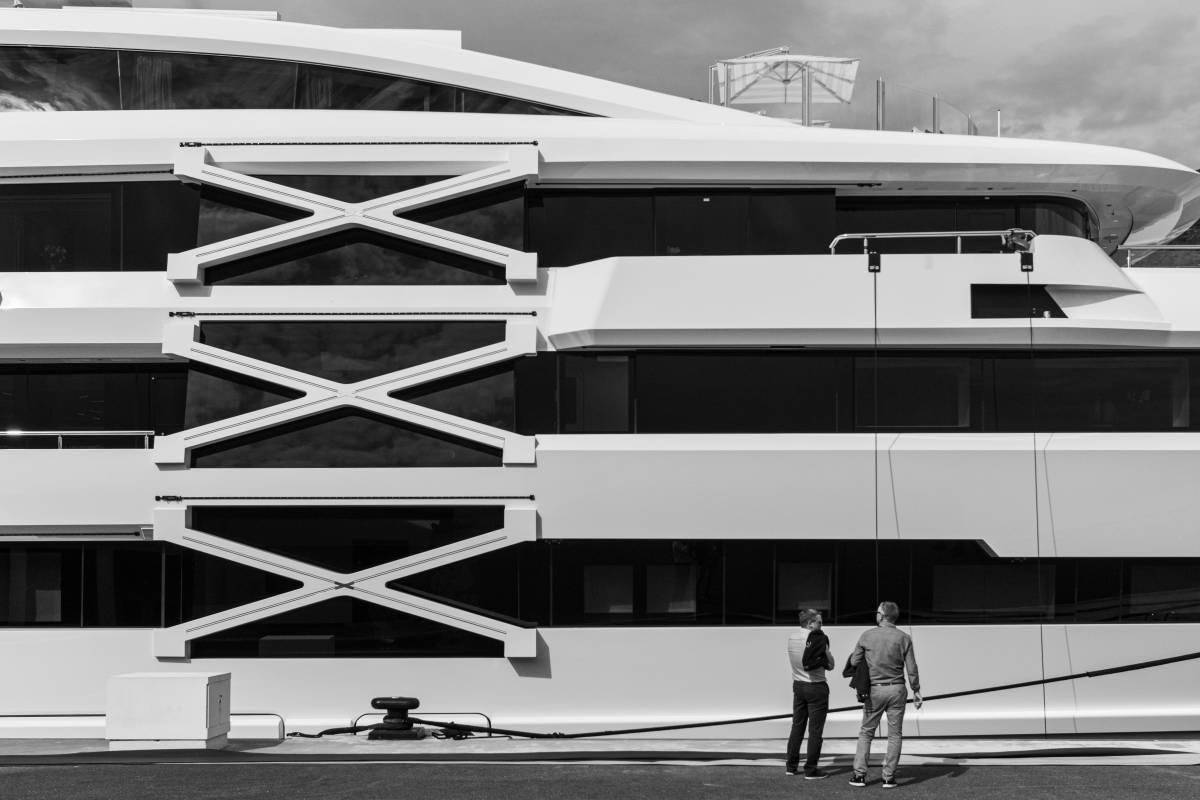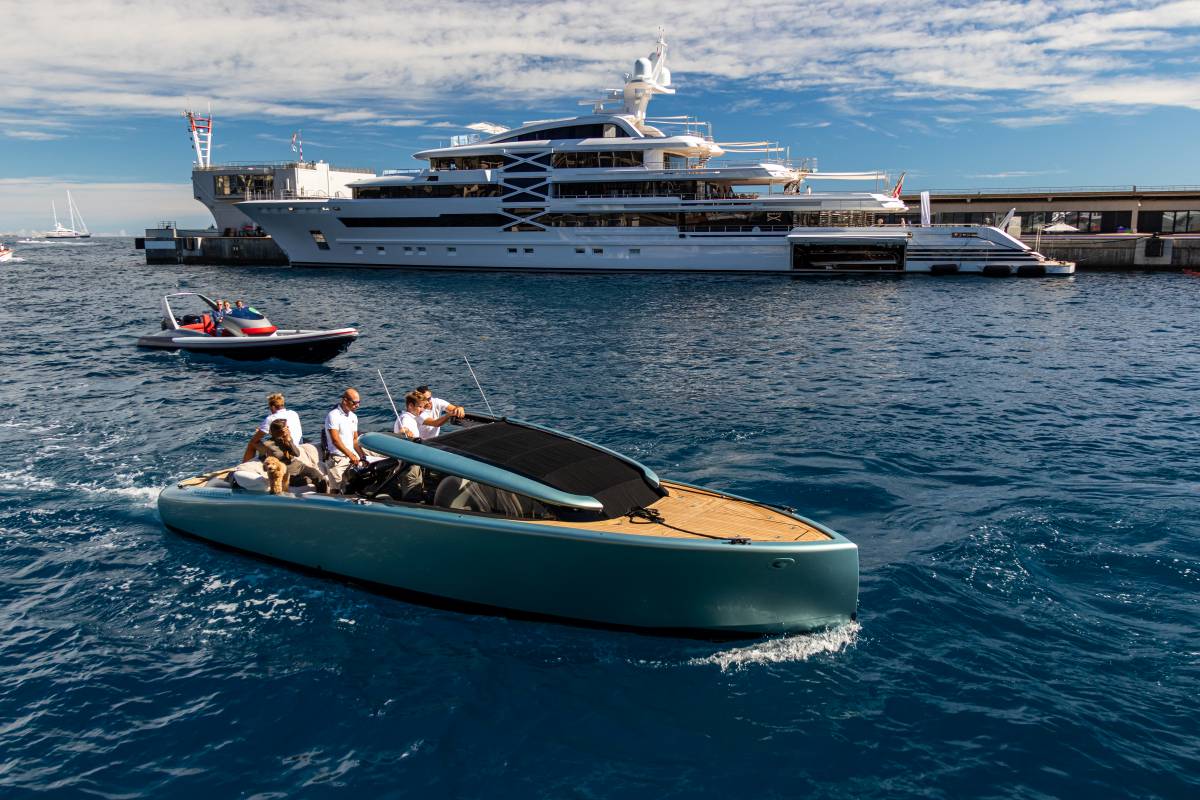 Length: 88 metres
Number of people on board: 12
Number of cabins: 9
Maximum speed: 18 knots
Shipyard: Golden Yachts
Soaring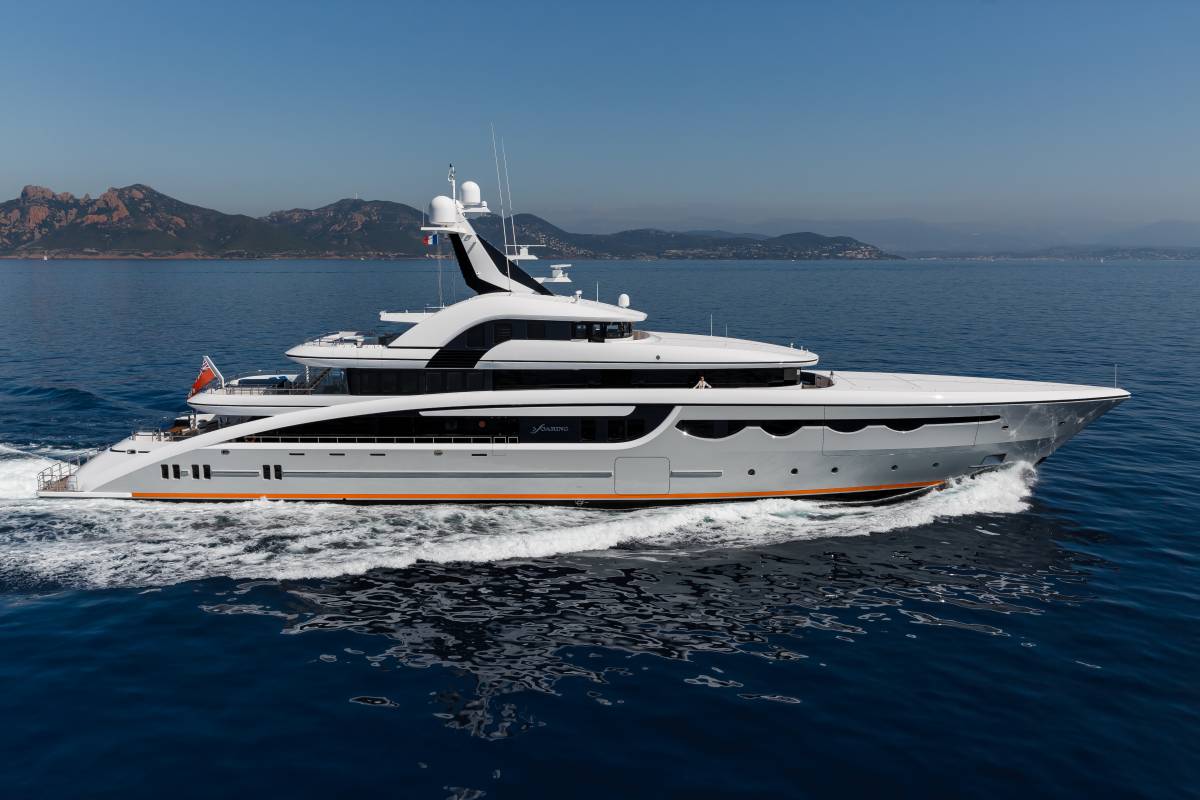 Built in 2020, Soaring boasts a variety of decks ideal for both indoor and outdoor relaxation and entertainment, guaranteeing guests a truly wonderful seaside experience. The yacht is equipped with essential amenities such as spa, elevator, underwater lighting, beach club and gym. Guests can enjoy comfort during their stay on Soaring in any weather, thanks to the air conditioning. Soaring has a range of water toys and accessories to keep vacationers entertained on the water for the duration of their cruise.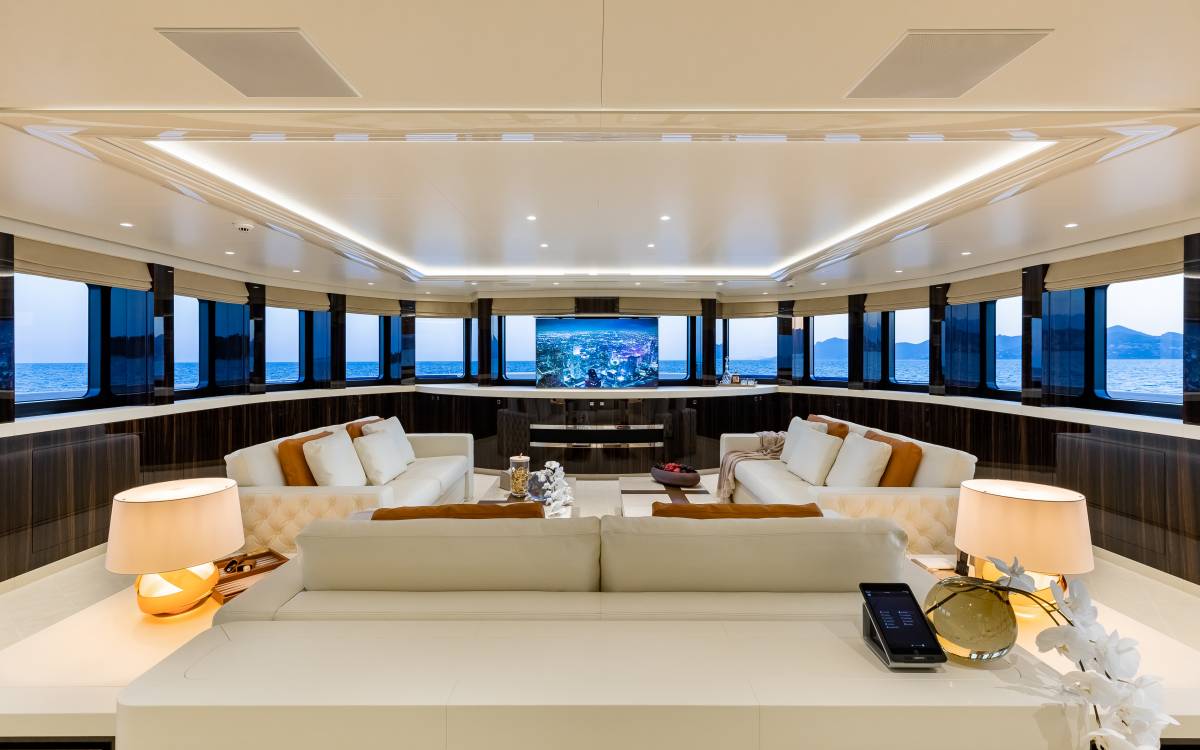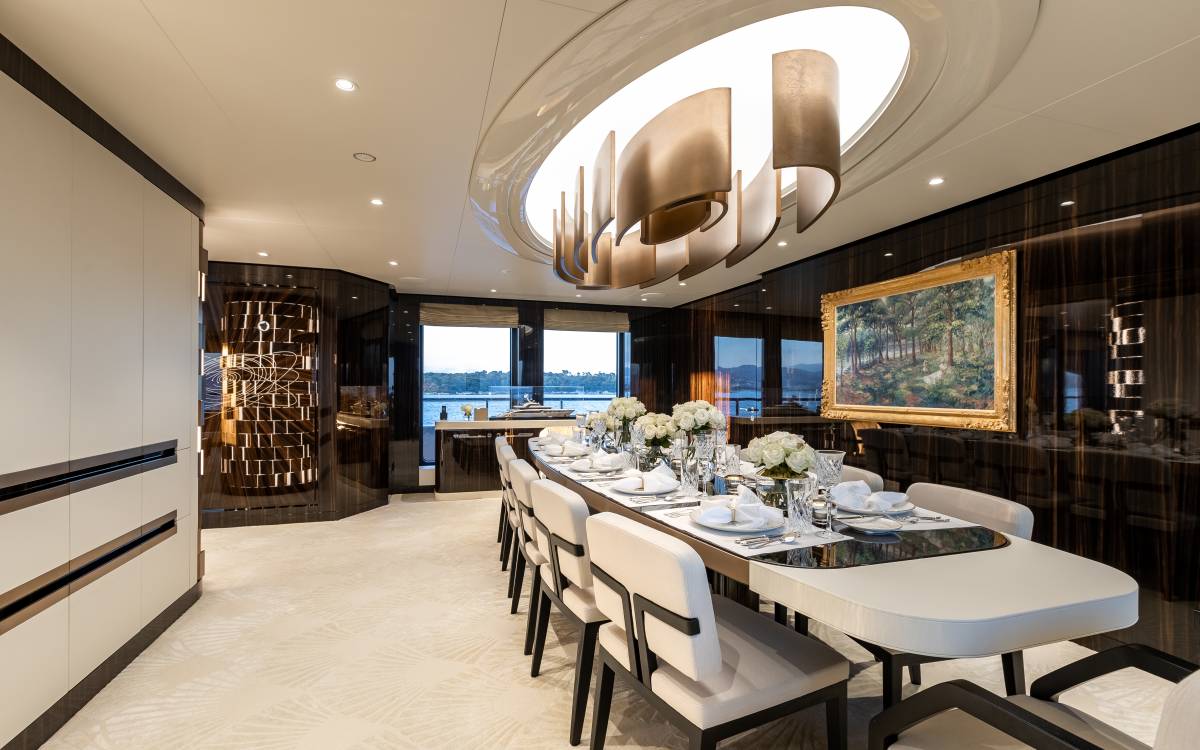 Length: 68 metres
Number of people on board: 12
Number of cabins: 6
Maximum speed: 16 knots
Shipyard: Abeking & Rasmussen