Latest news
Monaco's Nativity Trail at the Palace: Joyful and Triumphant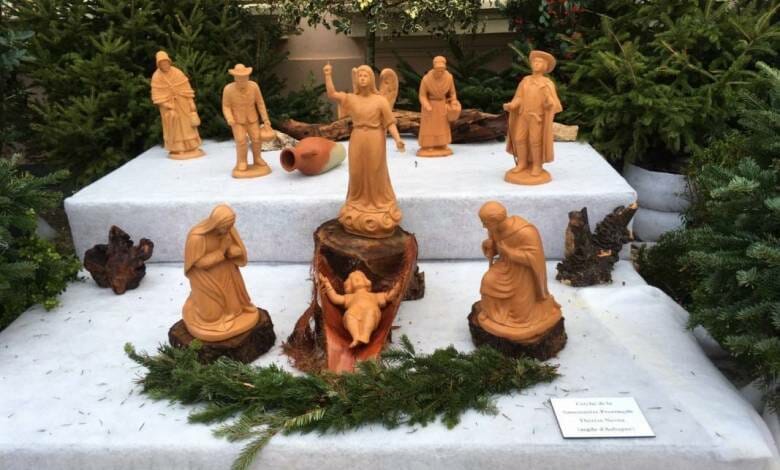 Something magical happens on the Rock every two years at Christmas through the New Year. And as uniquely challenging as 2020 has been, nothing was going to stand in the way of the Principality's exclusive exposition of Nativity Scenes from Fabienne Mourou's collection. She has over 200 stored in Monaco, some of which were handed down through her family and which she passionately extends whenever she may travel and stumble across another gem.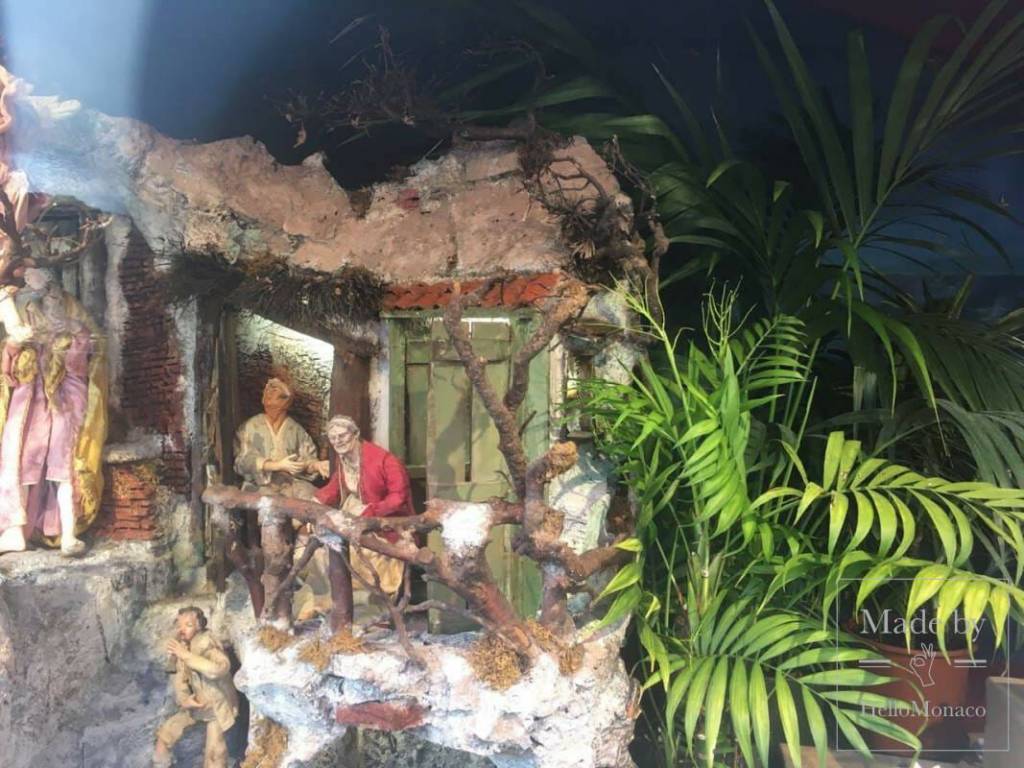 Open to See on the Palace Square until January 10th, 2021
From the 200 scenes Fabienne has at her disposal she has chosen 30 to delight us as we wonder around the Palace square. It is an endeavour supported by Prince Albert who is Honorary President of «Le Chemin des crèches de Monaco» founded by Fabienne – in these troubled times these nativity scenes provide a sprinkling of joy to gladden our hearts. The star scene that stole the show of the last Crèche Expo had to be a scene intricately tucked into a 1914 soldier's boot «Poilu Godillot». It was created to honour the fallen on the Centenary anniversary of the First World War. 
It is for you to choose the star of the 2020 exposition, though HelloMonaco has a shortlist. 
Naples
Is it the one from Naples dating probably approximately from the end of the 1700s bought from the owner of a Neapolitan restaurant. It has been restored in its entirety.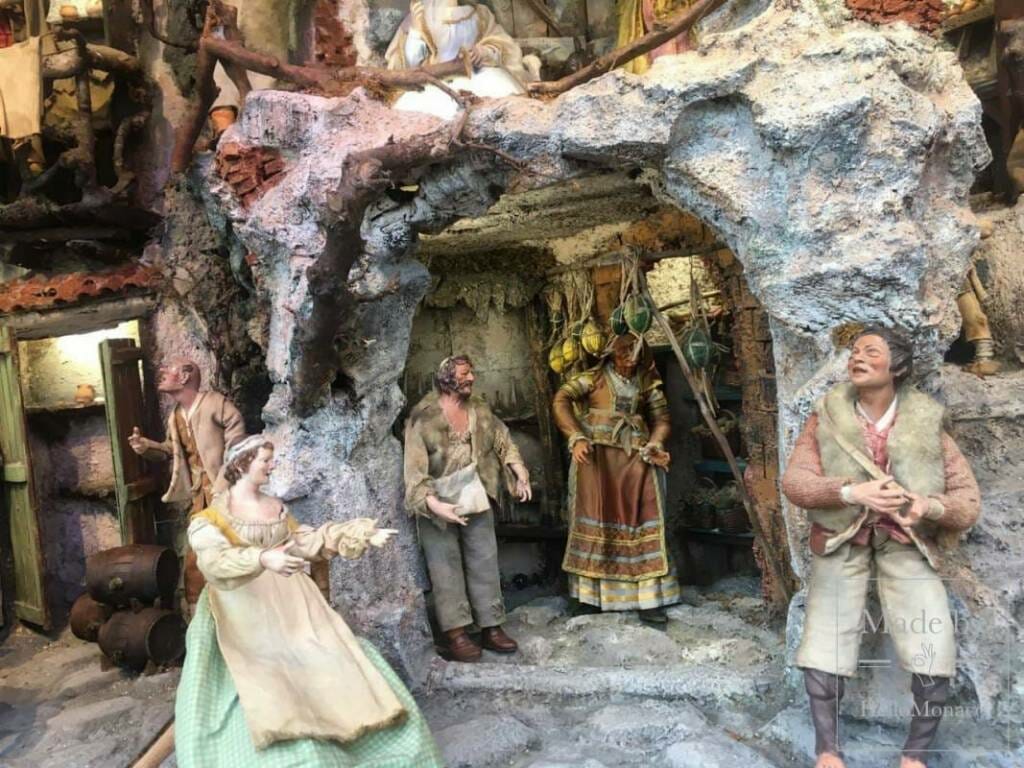 Marseilles
Who would have thought of cutting a nativity scene from a small cube of Marseille soap. Superb artistry. 
Venice
Fine Venetian craftsmanship with tall sophisticated figures.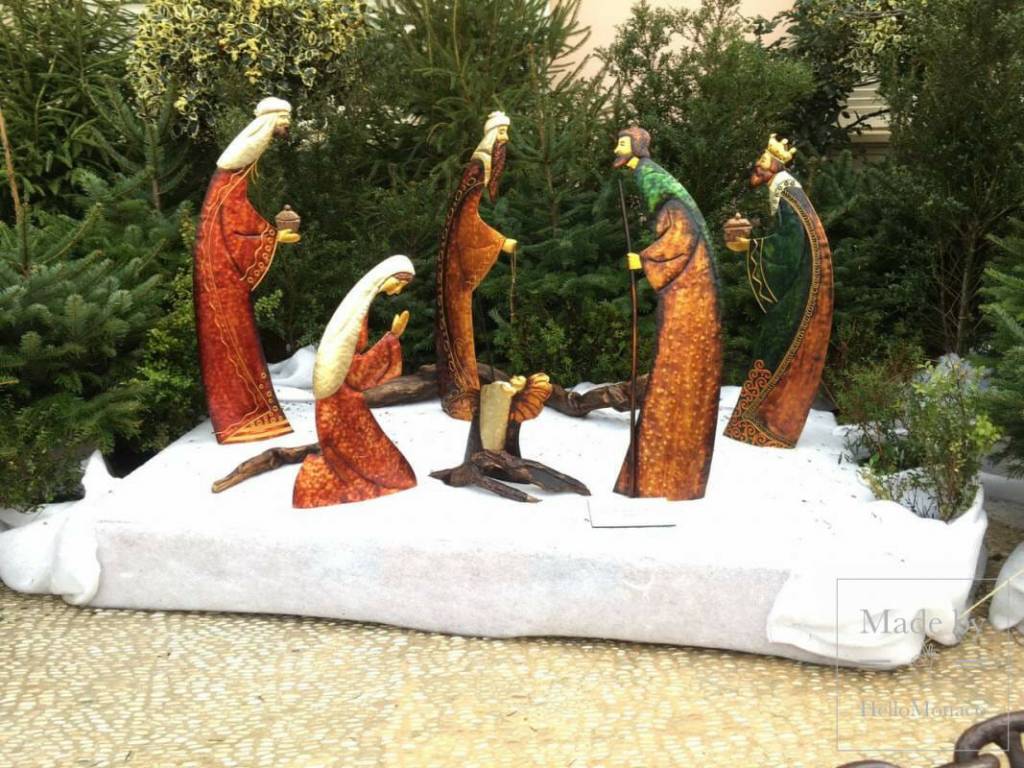 Perhaps the Smallest Attracts Your Vote 
The tiniest scene is the one with just Jesus, Mary and Joseph in gilded metal in a brown shell.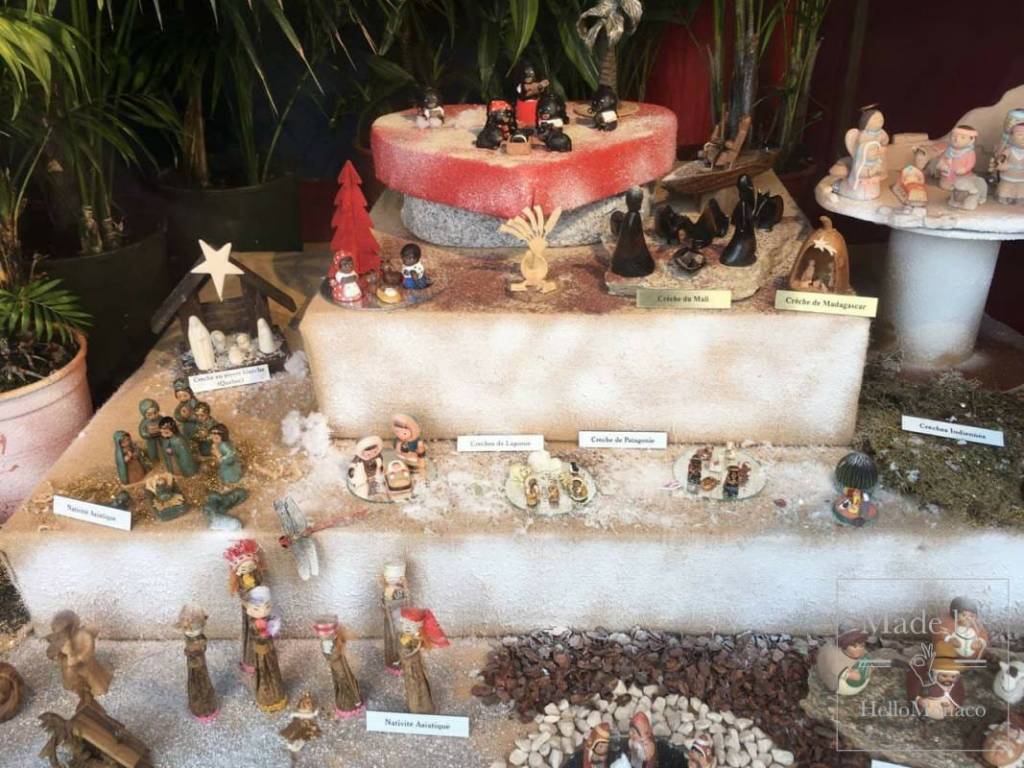 François de la Malice
François de la Malice, always seems to attract Fabienne Mourou's attention where this year she has installed a sculpture in sculpted stone by Juvin, an artist from Menton, and another stone nativity scene this time carved in dolomite stone by the Sisters of Bethlehem.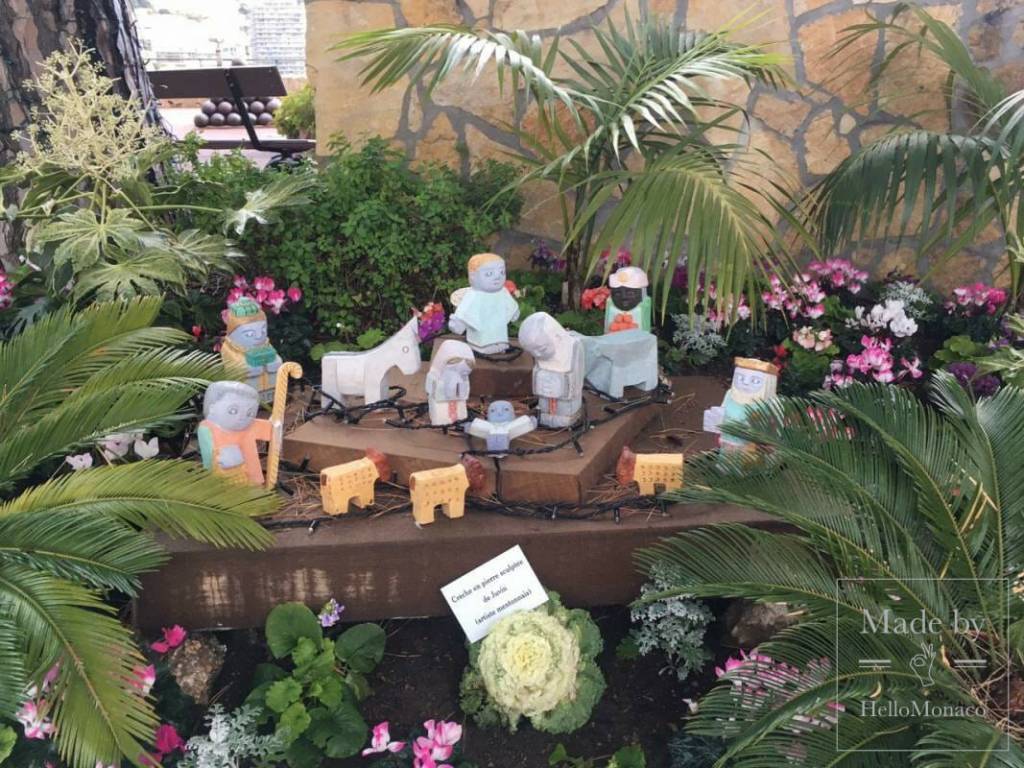 Italian White Marble 
On the carabinieri terrace, are three exceptional must-see crib scenes. One comes from the santonnière Thérèse Neveu. The santons are sculpted from raw clay and are impressive with their 60 to 70 centimeters height. Is the most striking of all the Italian nativity scene the one by Fontanini, carved in white marble – for you to decide. The third, from Italy again, is in painted iron, quite a contrast to the classic white marble piece.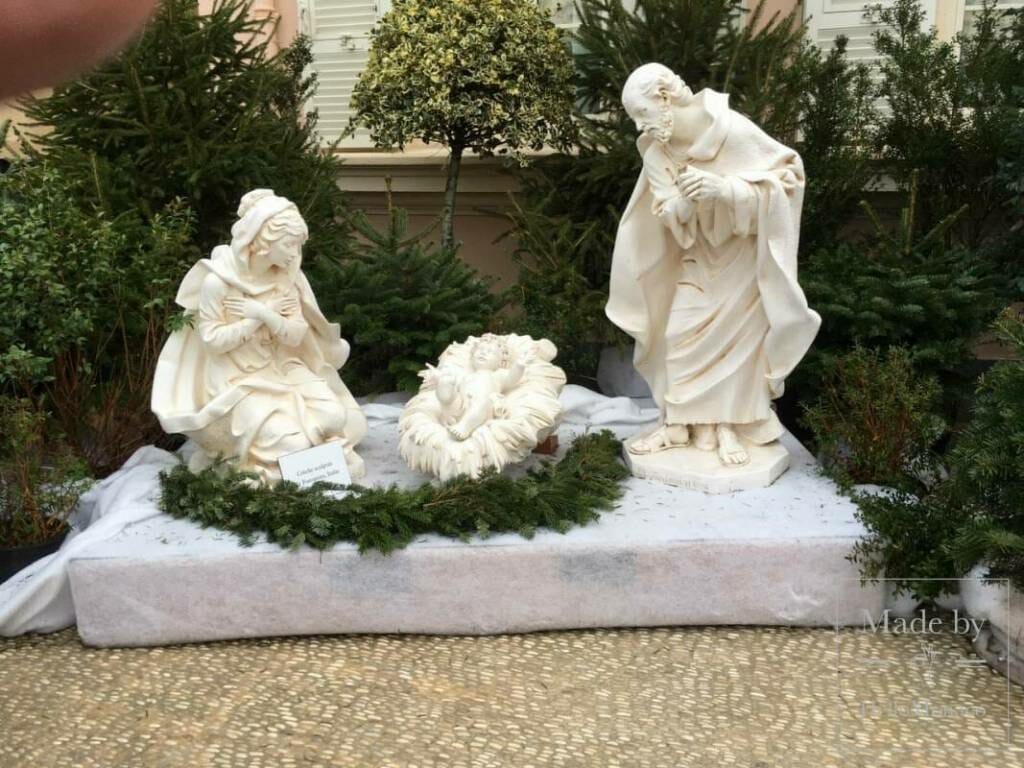 And these Crèches also reflect Prince Albert's values who asks us, as we enjoy our stroll along the Nativity Trail, to remember the less fortunate, especially the children, and all those affected by war, by poverty, by persecution and natural disaster.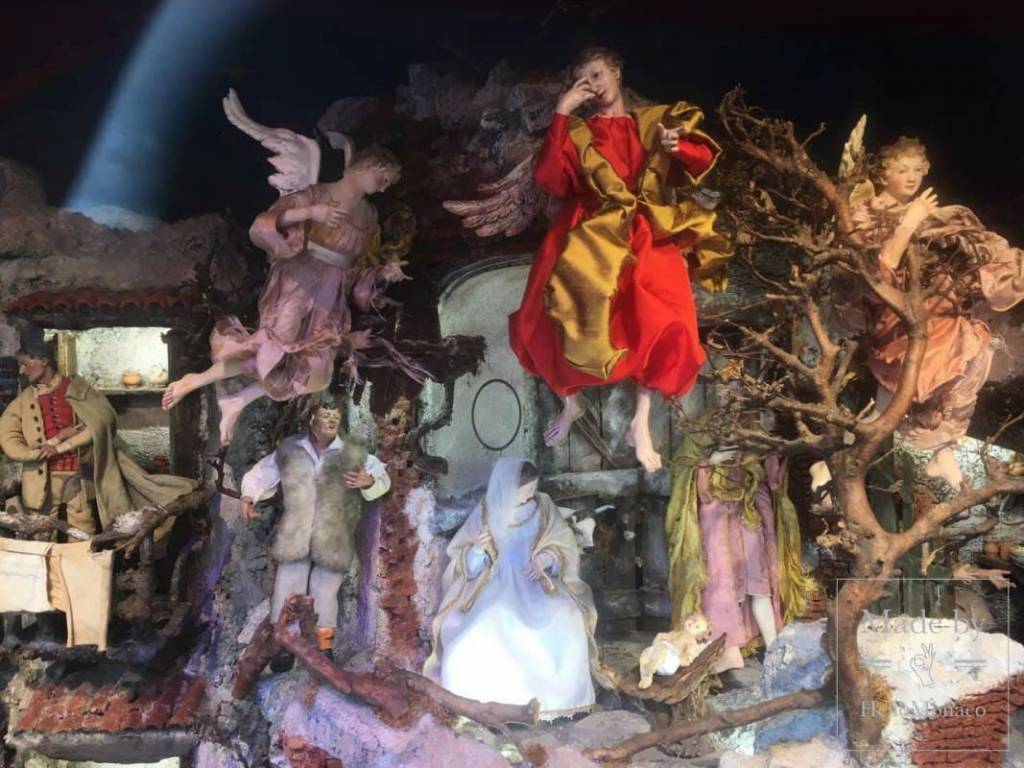 Worth a visit also is the website chemindescrechesmonaco.com which has the most beautiful photos of Nativity figurines from private collections. Which are your favourites?