Latest news
Monte-Carlo Casino's €1 million Punto Banco Tournament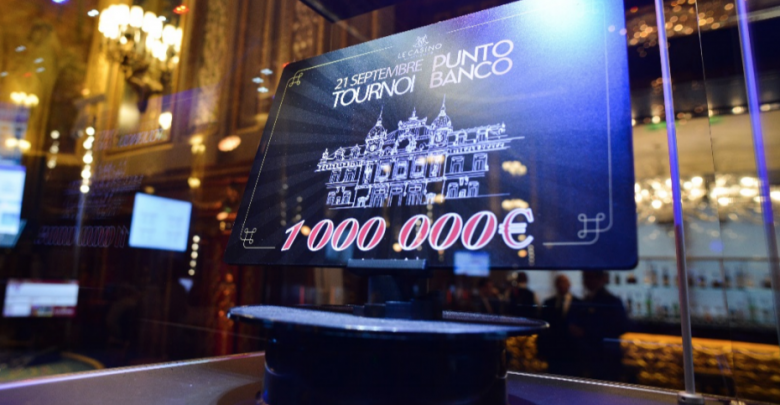 On 21 September 2019, the Casino de Monte-Carlo organized its second Punto Banco tournament with the highest prize pool in Europe, 1 million euros, for the top players. 56 participants representing 21 nationalities had to pass the qualifying stage before attaining their place at the prestigious Medecin hall. The tournament was a special Monte-Carlo experience over the weekend for the sought-after players, which demonstrated once again that the game is a form of art.
Qualifiers for the tournament took place from 1 August to 20 September 2019 at the Casino de Monte-Carlo, the Casino Café de Paris and the Sun Casino, based on accumulated "My Monte-Carlo" loyalty points; the new loyalty program by the Groupe Monte-Carlo Société des Bains de Mer.
At the end of the tournament, the prize pool of 1,000,000 euros was divided between the first place winner, who won 700,000 euros, the second place winner, who won 200,000 euros and the third place winner, who won 100,000 euros.
The €1 million Punto Banco tournament is part of a bigger plan to revitalize casino games, which has been promoted for nearly four years. Led by the General Management of the Games, under the leadership of Jean-Luc Biamonti, Chief Executive Officer of Monte-Carlo Société des Bains de Mer, the plan aims to make playing games in Monte Carlo the most exclusive experience in Europe.  The Punto Banco tournament illustrates this process. The game is originally from Mexico and also known as Baccarat.


Launched in January 2018 for Monaco casino customers, the My Monte-Carlo loyalty program is now extended to customers of all Monte-Carlo Société des Bains de Mer establishments. It allows loyalty customers to take part in unique experiences, such as exclusive tournaments, dinners at the Casino de Monte-Carlo, theme nights at Casino Café de Paris and other major events. My Monte-Carlo customers have the chance to play and stay in the most beautiful establishments in Monaco, have delicious gastronomic experiences, go shopping and have the best seats available at certain events and shows.
"Monaco remains a reference in the world of games, a sought-after destination for its know-how, remarkable locations and an unparalleled framework," said Pascal Camia, Games General Manager for the Monte-Carlo Société des Bains de Mer. "Within the roadmap by President Jean-Luc Biamonti, which is centred on revitalizing the games at the Monte-Carlo Casino, we have proposed this tournament with a unique Prize Pool in Europe. I would like to thank the Casino teams for their investment and for meeting the expectations of a demanding clientele, which has contributed to the dynamism of our Group's core business."