Latest news
New CÔTE d'AZUR FRANCE and VISIT MONACO welcome space opened at Nice Airport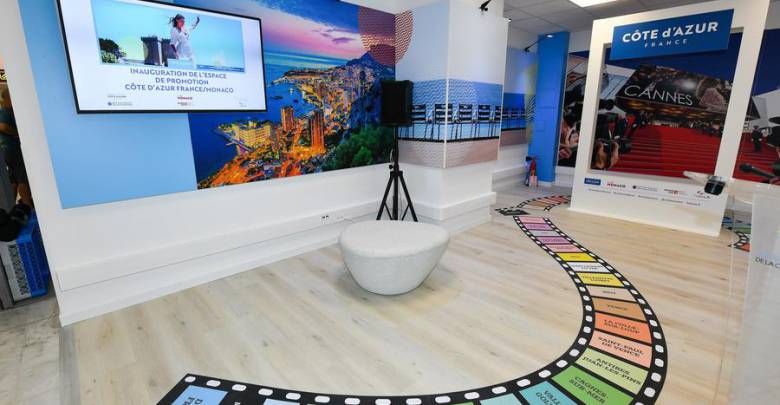 On Friday 26 July, David Lisnard, Chairman of the Côte d'Azur France Regional Tourism Committee (RTC), Sandrine Camia, Deputy Director of Monaco's Tourist and Convention Authority, and Dominique Thillaud, CEO of Aéroports de la Côte d'Azur, officially opened the brand new Côte d'Azur France/Monaco promotional space at Nice Côte d'Azur Airport.
To facilitate the widest possible access to tourist information on arrival at Terminal 1 (which caters for 35% of passenger traffic, or more than 4.8 million travellers), the Côte d'Azur France RTC and Monaco's Tourist and Convention Authority were keen to reintroduce a promotional showcase for the Côte d'Azur and the Principality at the Airport. It was decided to locate the space in Terminal 1, which caters for more international arrivals, in the baggage claim area, where it will be easier to capture passengers' attention for longer.
"Our clients' journeys begin here, and this space should make them want to enhance that journey with all the best that the Côte d'Azur region has to offer them. Our Principality is naturally part of that, and the experience that we will give them will be one of our strengths in terms of winning their loyalty," said Sandrine Camia, representing Monegasque tourism.
David Lisnard from the RTC commented that "26% of tourists visiting the French Riviera and the Principality of Monaco (15% of French tourists and 34% of foreign tourists) arrive by plane. Establishing a permanent promotional presence for our destinations at Nice Côte d'Azur Airport, something which had no longer been in place in recent years, is thus a strategic move."
Covering an area of 29m2, the promotional space is open, attractive, fun, original and highly visible. It invites passengers who are waiting for their luggage to immerse themselves in the region's most characteristic and spectacular views and landscapes from the moment they arrive. It showcases flagship destinations such as Monaco, Nice, Cannes, Menton, Antibes Juan-Les-Pins, Mandelieu-la Napoule, Grasse and the landscapes of Mercantour.
At the back of the space will be a photo call area, which will be changed every year, and some large images, encouraging passengers to share their first photos using the hashtags #CotedAzurFrance and #visitmonaco.
Source: en.gouv.mc