Latest news
Once in A Lifetime Christmas Present – the Charles Leclerc signed Ferrari SF1000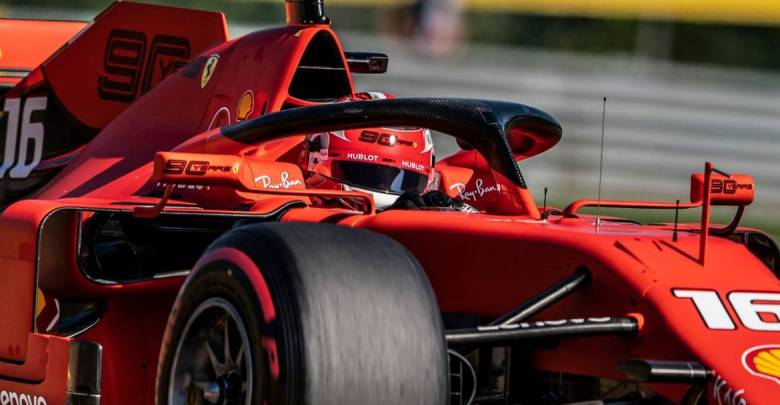 Christmas is coming and Sotheby's knows when to rev up its unique, once in a life-time sales. "All I want for Christmas is a Ferrari" could be the theme song for this surprise event. But not just any Ferrari. How about a one-seater Ferrari from the 1000th Grand Prix raced by the Prancing Horse stable. 
An expo racing machine with unique accoutrements since it was made to celebrate the 1,000th Formula 1 race of the Prancing Horse stable.
RM Sotheby's and Scuderia Ferrari announce Once in a Millennium sale held in celebration of Scuderia Ferrari's 1000th Grand Prix at Mugello, Italy on 11-13 September 2020
Offered entirely, the auction will feature 16 exceptional motorsport lots, including a unique full-scale SF1 pic.twitter.com/vgAwltSl1I

— Vincenzo Borgomeo (@VikyBorgomeo) December 1, 2020
Charles Leclerc and Sebastian Vettel entered the track at the Mugello circuit for the Grand Prix of Tuscany in a Bordeaux-colored single-seater. The colour was inspired by the historic outing of the Ferrari 125 at the Monaco Grand Prix on May 21, 1950, the year of the first Formula 1 world championship.
Mario Binotto, current maestro of the Ferrari team would undoubtedly shout from the Scuderia rooftops this is a unique opportunity for collectors to acquire a piece in the history of the most successful brand in the flagship category of world motorsport. 
The show car had been built in two copies: the one entrusted to RM Sotheby's and another promised to enrich the collection of the Ferrari museum in Maranello. Best of all, this version was signed on the hood by the two drivers of the Italian team, Charles Leclerc and Sebastian Vettel. 
Ferrari 1000th GP Memorabilia
RM Sotheby's, in partnership with Ferrari, presents the unique Online Only: Once In A Millennium auction, offered entirely without reserve. Held in celebration of Scuderia Ferrari's milestone 1000th Grand Prix event, which took place at Mugello, Italy in September of this year, the Online Only sale will offer 16 exclusive motorsport lots relating to the race and will be held to coincide with the season-ending 2020 FIA Formula 1 Abu Dhabi Grand Prix.
A replica of the Ferrari #SF1000 will be the main attraction of an online auction organised by RM Sotheby's that will run from 7 to 14 December. #Ferrari https://t.co/YswWxgYp6t #Ferrari #ferrarilover pic.twitter.com/A4ncSxK4IE

— Antonio Prigiobbo (@killermedia) December 6, 2020
Bidding will open at 11 a.m. ET on Monday, 7 December and run through to Monday, 14 December at 11 a.m. ET.
For those that don't carry quarter of a million euros of hard cash loose change in their pockets, wads of a mere 10.000 euros or so might still fill your Christmas stocking with a Charles Leclerc signed racing suit, helmet and gloves or a personalized racing experience at the home of Ferrari – or memorabilia also autographed by Sebastian Vettel and Mick Schumacher, son of the "Red Baron".
It's worth a Christmas punt – just go on-line: https://rmsothebys.com/en/home/lots/fe20
And Ferrari and RM Sotheby's occasionally join forces to boost deserving charities. Reportedly at the end of October during the sale of a Ferrari Roma, the profits had been donated to Save The Children, supported by singer of Maroon 5 Adam Levine, and his model wife, Behati Prinsloo. Reportedly $ 750,000 intended to support educational projects.