Latest news
The Embassy of Monaco to the United-States and Canada assembles its Consular Corps in Seattle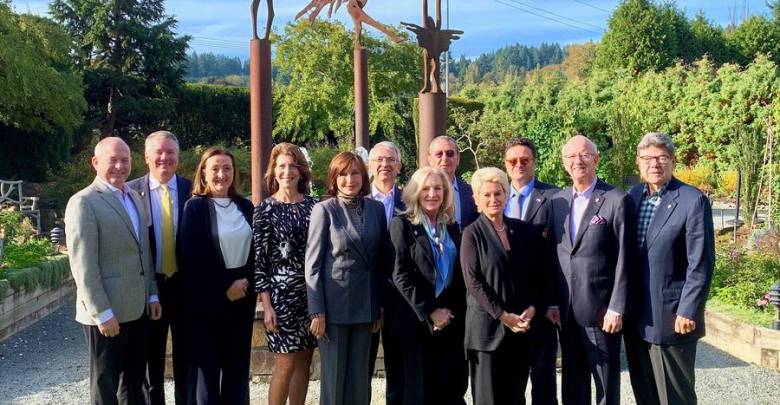 The Embassy of Monaco to the United-States and Canada assembles its Consular Corps for a four-day retreat in Seattle.
The Principality of Monaco's Consular Corps in the United States and Canada convened for its annual meeting October 10-14 in Seattle and nearby Woodinville, WA.
The city of Seattle was specifically selected for its prosperous economy, dynamic environmental conservation and sustainability efforts, issues of utmost importance to H.S.H. Prince Albert II.
On October 10th, Monaco's Ambassador to the United States and Canada, Her Excellency Maguy Maccario Doyle, presided over the annual gathering at Willows Lodge, in the presence of the Consul General of Monaco in New York, Mr. Gildo Pastor, and members of Monaco's consular community in Atlanta, Chicago, Dallas, Las Vegas, Los Angeles, Miami, New Orleans, San Francisco, and Vancouver. During the meeting, Ambassador Maccario-Doyle highlighted the upcoming projects for 2019 and 2020, to entice support and collaboration.
Speakers during the  consular meeting also included Ms. Brisa Trinchero, (CEO of the Princess Grace Foundation-USA); Ms. Cindy Hoddeson, (Director of the Monaco Government Tourist Office, North America); Ms. Karla Modolo, (Secretary/Treasurer of the Princess Charlene of Monaco Foundation, USA); Mr. Michel Bouquier (Senior Advisor to Monaco Private Label); and Mr. J.B. Kelly III (President, Prince Albert II of Monaco Foundation-USA).
The program for the proceeding days focused on educational enrichment, the exchange of ideas and information, and a series of meetings with relevant government, cultural, and educational representatives. The agenda included a visit to the Bullitt Center in the heart of Seattle, considered to be the "greenest commercial building" in the world; and to the highly respected College of the Environment at the University of Washington where members of its senior faculty engaged the group in discussions on ocean acidification, ice formation, and sustainable development.
The cultural side of the program included a visit to the studio and workshop of renowned American Glass Sculptor Dale Chihuly.
Seattle's warm hospitality, the delicious wines of vineyard Château Lill, and the sampling of local produces from the Pacific Northwest added to the cultural  enhancement of the visit.
Source: www.gouv.mc