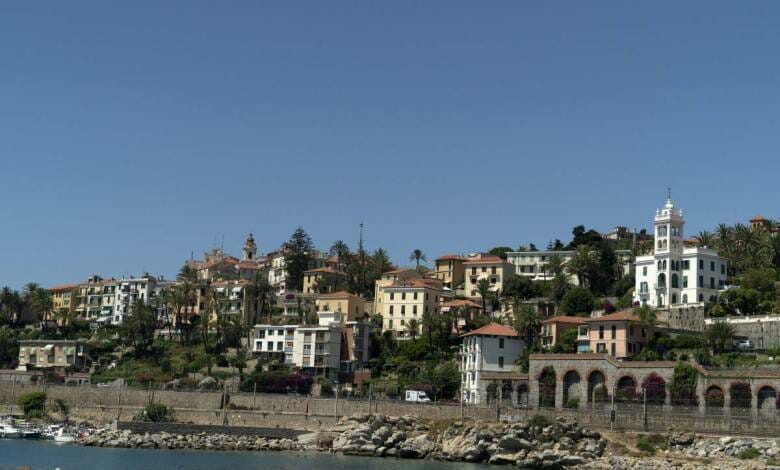 When you live in a grey world with clouds threatening to burst and rain drizzling more often than seems possible, cold and damp permeate your bones, unless you are rich in which case you become very good at finding the very best spots to escape to. If the British aristocracy excelled at anything in the 19th century it was this. And Bordighera was one of their finds for Winter holidays — a sunny climate, the Mediterranean gently lapping its shores, a garden paradise, colours to brighten anyone's day — and depending on the season unrivalled displays of Bougainville, pink, orange and above all brilliant bursts of magenta. And because of its micro-climate and its special light (from the hills above it seems blessed by a special aura) architects, botanists, artists and painters flocked there too — among them Charles Garnier (Opera Monte-Carlo and Paris), Ludwig Winter, celebrated landscape gardener, and, of course, Claude Monet who lived in Bordighera and painted numerous pictures of the town.
Fast forward to today and Bordighera is the same delightful seaside town on Italy's Ligurian coast where the Alps plunge into the Mediterranean, just over the border from France. It sits peacefully on a lush promontory with panoramic views across the northern part of the Italian Riviera and to Monte-Carlo. The popular resort of Sanremo is a few kilometres to the east of here. 
A promising way to start your exploration of this jewel of a resort is to walk along the seafront which, at two kilometres long, is one of the longer promenades in Liguria and is lined on one side by mature Mediterranean plants and trees. All four seasons beckon. And in winter twin a visit with Monte-Carlo for an enhanced cultural, dining and up-scale shopping experience.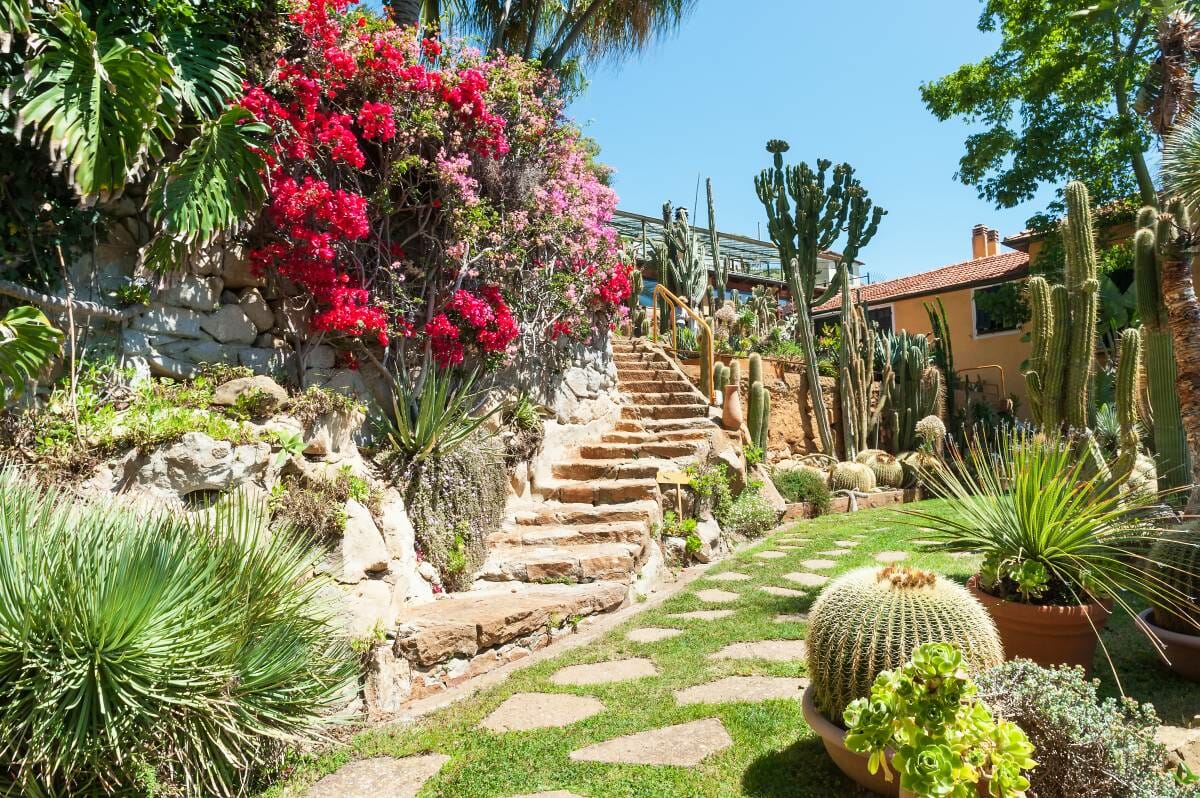 Promenading in winter, spring and autumn 
Not all promenades are born equal. Stroll down Bordighera promenade and you will feel the magic. It is the magic of authenticity — of a promenade that is quintessentially Italian, but so special it has attracted painters like Monet, British, European and Russian royalty and today Hello Monaco. Take any Sunday; choose a sunny day, of course. We have many of them even in late autumn and winter. And you can feel that almost unique Italian family atmosphere of warmth, and friendliness bubbling in anticipation of engaging anyone they meet to share their weekend joy. 
"Am I in Buenos Aires..?" you ask yourself, as you stroll past signs saying Lungamare Argentina. This coastal wonder wears its beautiful disguise well. You can imagine yourself singing "Don't cry for me, Argentina" as it was indeed Eva Peron who inaugurated the promenade in 1947 and named it Lungomare Argentina. This promenade should not exist in such a pure unspoiled form. It basks radiant against the pull of gravity of exotic Riviera development. It is exotic but natural and relatively undeveloped — no high rises, no rows of brand name boutiques — just natural beauty, the vista of the sea, the curve of the bay, the backdrop of the lower Alps. All an unspoiled feast for the senses.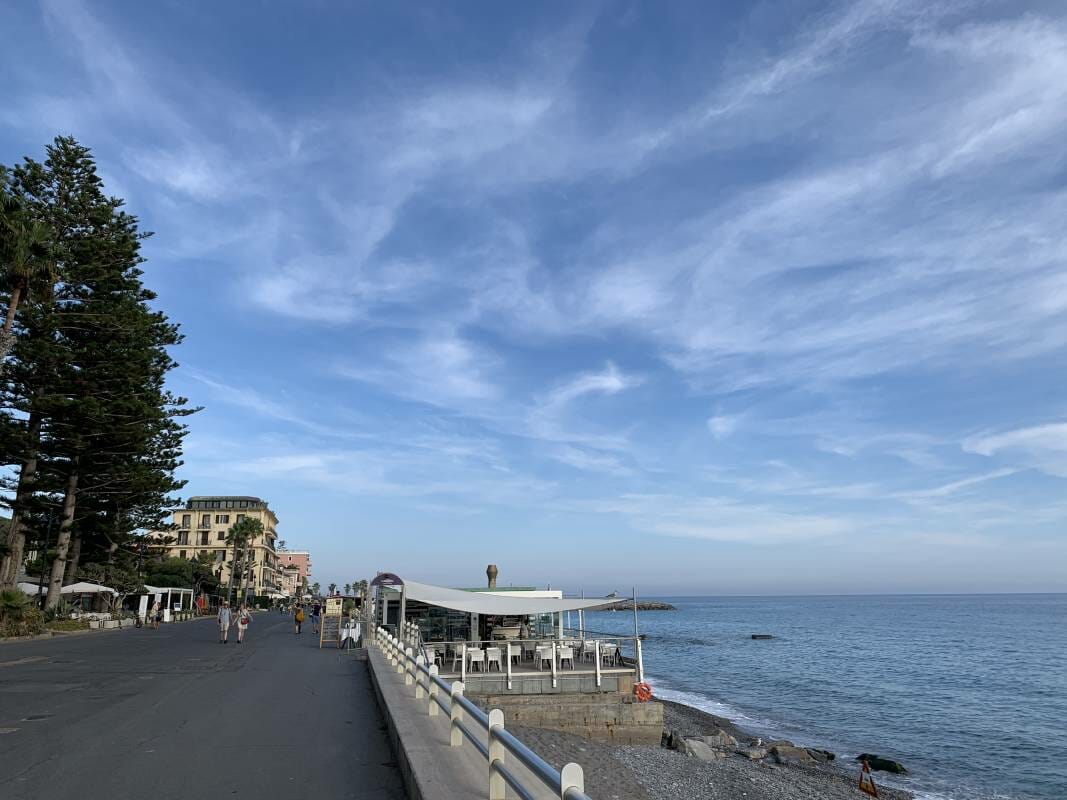 Exploring Grand Royal Palaces
The promenade if not the eighth wonder of the world always delights. What else is there here to charm my senses? Let's explore where those aristocratic adventurers first built their nests starting our short journey on foot in Corso Italia in the centre of the town and not far from the shoreline. Corso Italia runs north to the places where the Grand Royal Palaces of the 19th century overlook the town. And it is exactly where Corso Italia joins Via Romana that the origins of Bordighera as an aristocratic resort can best be seen. Via Romana has that relaxed royal feel to it and is indeed a very pleasant road with shady trees and lots of turn of the century villas, including Villa Regina Margherita, built as the Winter Residence for Queen Margherita of Savoy. Pretty streets with palms and bougainville run off it with romantic names that evoke Queen Victoria and Shakespeare.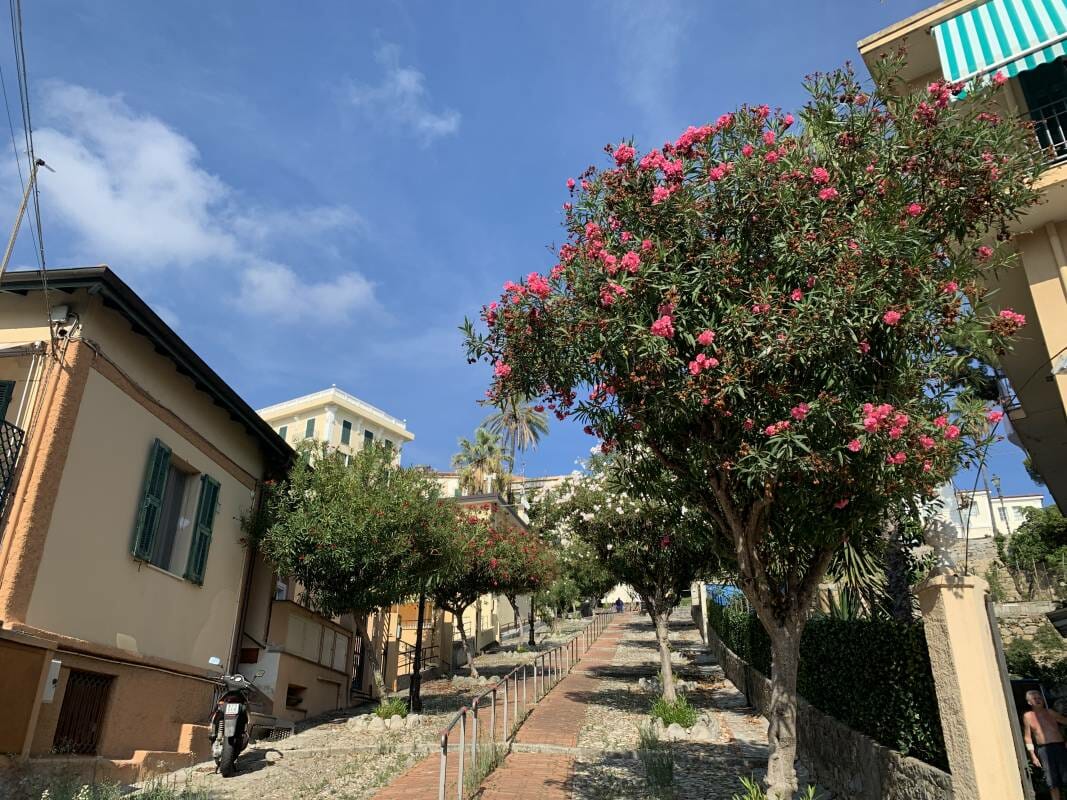 Visiting Corso Italia
And now back from the tranquillity of the palaces on Via Romana to Corso Italia in the centre of town. Corso Italia is both a pretty street and a more lively street, with all the expected attractions, tea-houses, restaurants, boutiques, festivities and occasionally themed markets. It is a welcoming venue during the day for coffee, tea and pastries (you have to try La Casa Del Caffee) and shopping and depending on the season the welcome continues at night. The street is so popular it is often cordoned off and is a pedestrian paradise, sometimes with music and diners reveling in their good fortune with the weather, Italian cuisine and ambiance.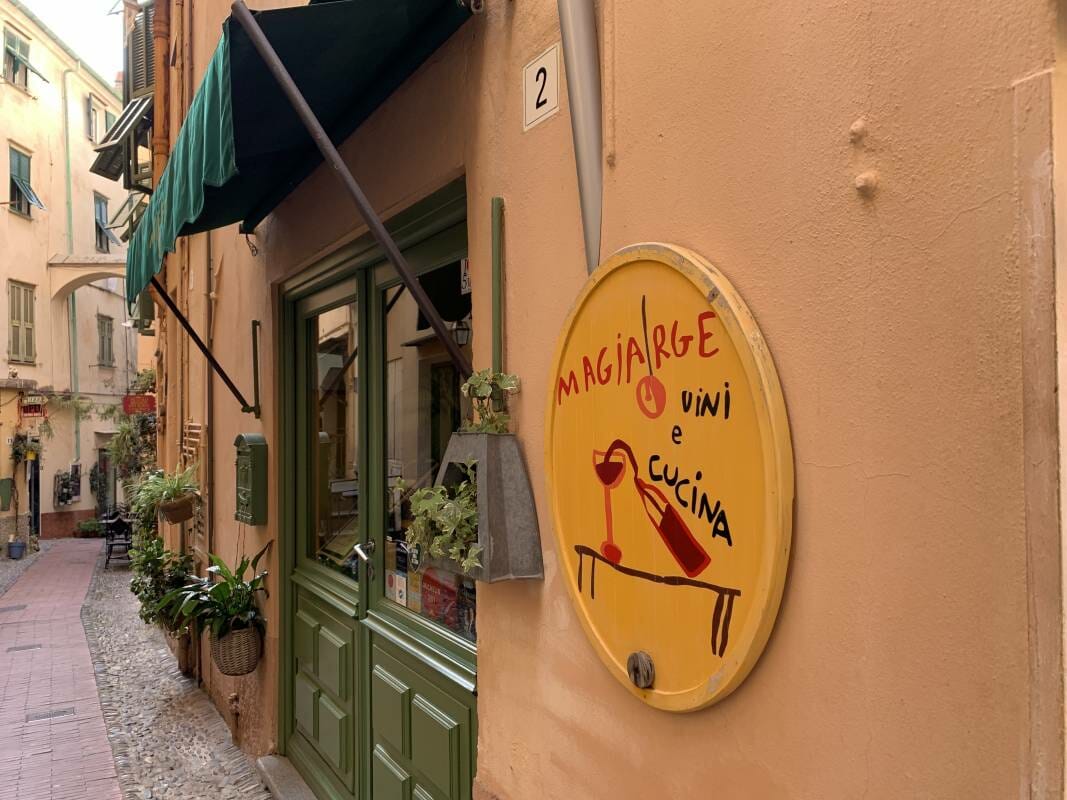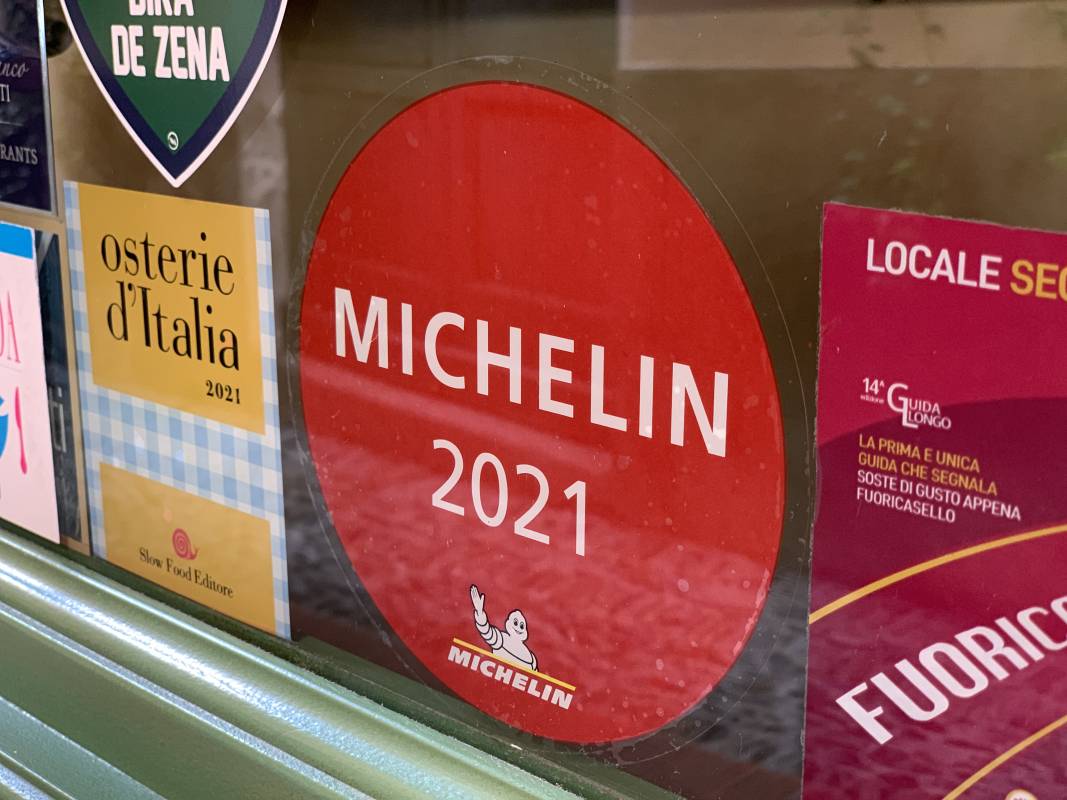 Enjoying Bordighera Alta
Last but by no means least for you to take in the best this gem of a town has to offer is Bordighera Alta. You would be forgiven sometimes on the coast for getting about ancient architecture and medieval villages. Take a car ride less than 5 minutes slow drive from the beach or the centre of town to the Bordighera of old — a rabbit warren of alleys and medieval arches and cupolas. Park your car in front of the imposing fortress-style arched entrance to this maze and wait for a treat. There are still residents there but the majority of the space is given over to piazzas and restaurants.
Many of the restaurants serve pizza and pasta and simple Ligurian fare. There is seriously good dining to be had also. One of the best is the Michelin guide's restaurant Osteria Magiargé. The food is excellent as are the prices for the quality. And the wine — wow — you have the choice of the local red Rossesse, or for a local white a crisp Vermentino, or a subtle fruity Pigato. And remember how close you are to Piemonte as you can go to heaven with a Barolo or Barbaresco.
Try also Antica Trattoria Garribaldi or fresh sushi at Novantiqua. And if you are on Corso Italia in the centre try the lively Chez Louis and not far away in the centre is the delightful Café Monet.
For contrast go to the beach for delicious seafood at Amarea or Paloma 11 with its beautiful wine cellar.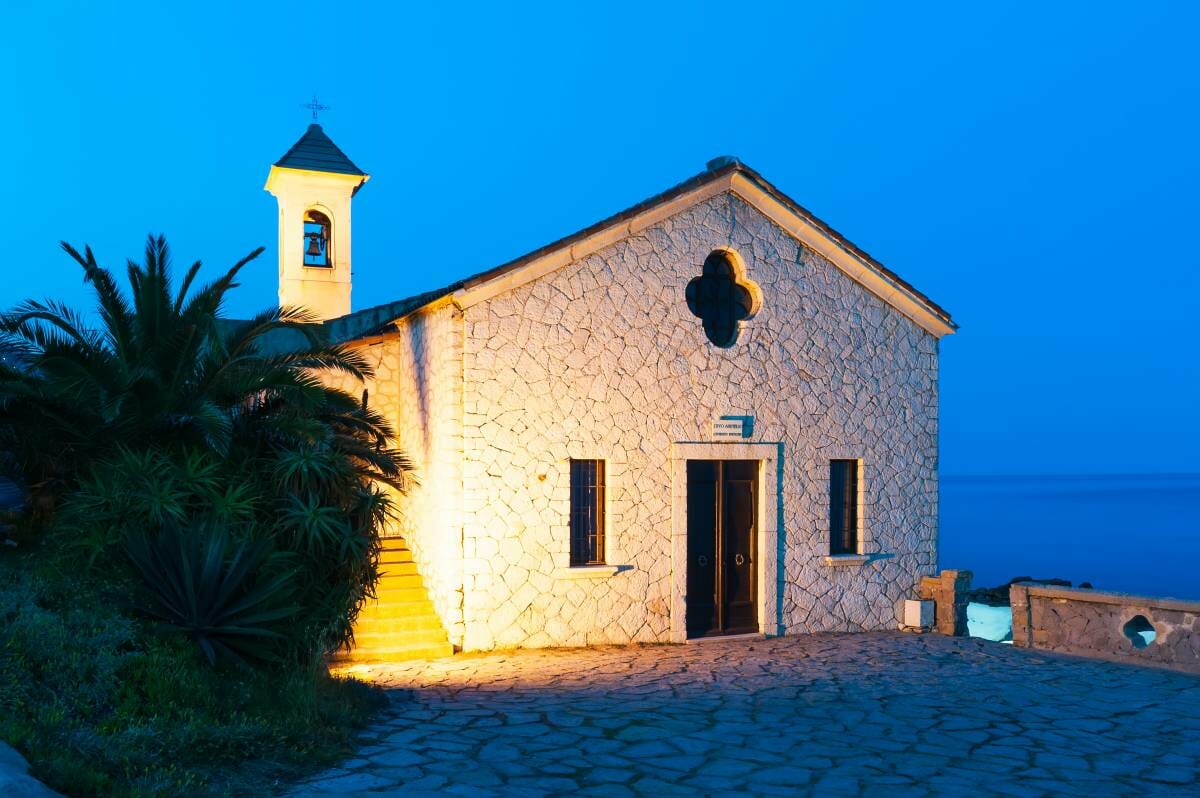 Bordighera's Great Luminaries 
It's not just a remarkable coincidence that brought three great luminaries and visionaries to Bordighera.
It was destiny that drew Charles Garnier, creator and architect of the Monte-Carlo and Paris Operas to the region. Paris, including the building site of the Opera, had been blocked due to the war with Prussia so he sought refuge at the hometown of his wife's family (Louise Bary) in Menton in the south of France, a hop, skip and a jump from Monaco. From there it didn't take him long to find a taste of Italian paradise in Bordighera which then became his home for many years. 
For Monet it was the incredible light combined with the unique landscapes, be it incomparable Mediterranean plants and trees or seascapes or the architecture of the epoch and its historical legacy. 
And Bordighera was a natural magnet for botanists with its micro-climate, both Mediterranean and temperate — an allure that Ludwig Winter couldn't resist.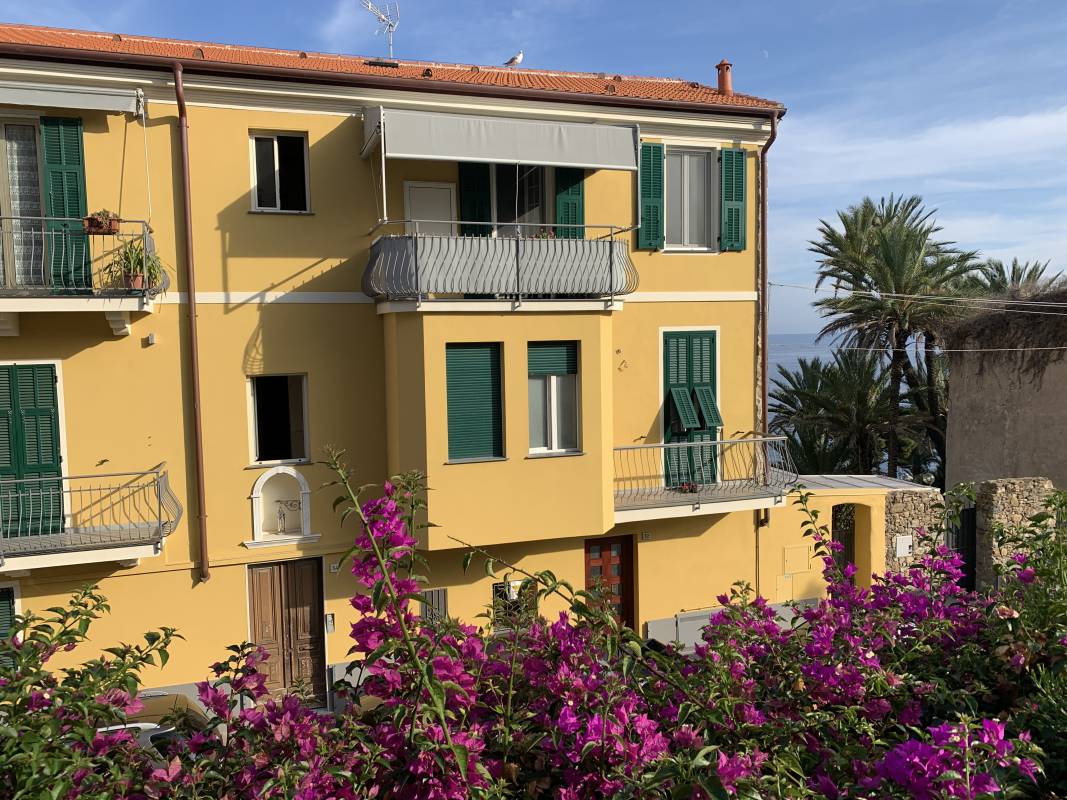 Having added the treasured Opera and Salle Garnier as Belle Epoque marvels twinning with the Casino in Monte-Carlo, Garnier was the ideal master to transform Bordighera. Difficult to believe that he could have the energy in one lifetime to add jewels to Monte-Carlo, Paris and Bordighera where his legacy extended to public, religious and residential buildings, including: 
Villa Garnier his home built in 1872–1873 and his own Villa Studio built in 1884; near the Villa Garnier;
Town hall of Bordighera built in 1872–1878;
Church of the Immaculate Conception or Terrasanta built between 1879/83–1898.
Garnier liked to say about Bordighera: "… Is there something more distinctive, more Eastern, more 'One Thousand and One Nights'?"
It is probably because of this conviction that he decided to design a church typical of the mendicant orders of Palestine. The son of Charles Garnier, Christian, decided, when his father died, to finance personally and with the help of his mother, the end of the works.
Villa Bischoffsheim built between 1876–1879/80; now Villa Etelinda
The villa was built in Bordighera on the Via Romana by Raphaël Bischoffsheim, a banker of German origin who lived in Paris and who had met the architect Charles Garnier likely at concerts at the Paris Opera, In 1873 Bischoffsheim commissioned Garnier to build him a villa in Bordighera. Bischoffsheim stayed there for some time and received numerous prestigious guests including the future Queen Margaret of Savoy with her mother Elisabeth of Saxony Duchess of Genoa and also notably Louis Pasteur.
The villa was bought by Lord Claude Bowes-Lyon, 14th Earl of Strathmore and Kinghorne, who changed its name to Villa Etelinda to honour the success obtained by his sister Mildred Marion Bowes-Lyon with her opera "Etelinda". 
As of 1910, the Earl's daughter, the future Queen Mother of England Elizabeth Bowes-Lyon will come regularly each winter in Bordighera, with her family. Later she returned with her daughter, the future Elizabeth II, to spend the colder months in the area — something that knowledgeable Europeans continue to do to this day and you can too; it is within easy visiting range also of Monte-Carlo. In 1914 the villa and the huge garden were sold to Queen Margaret of Savoy.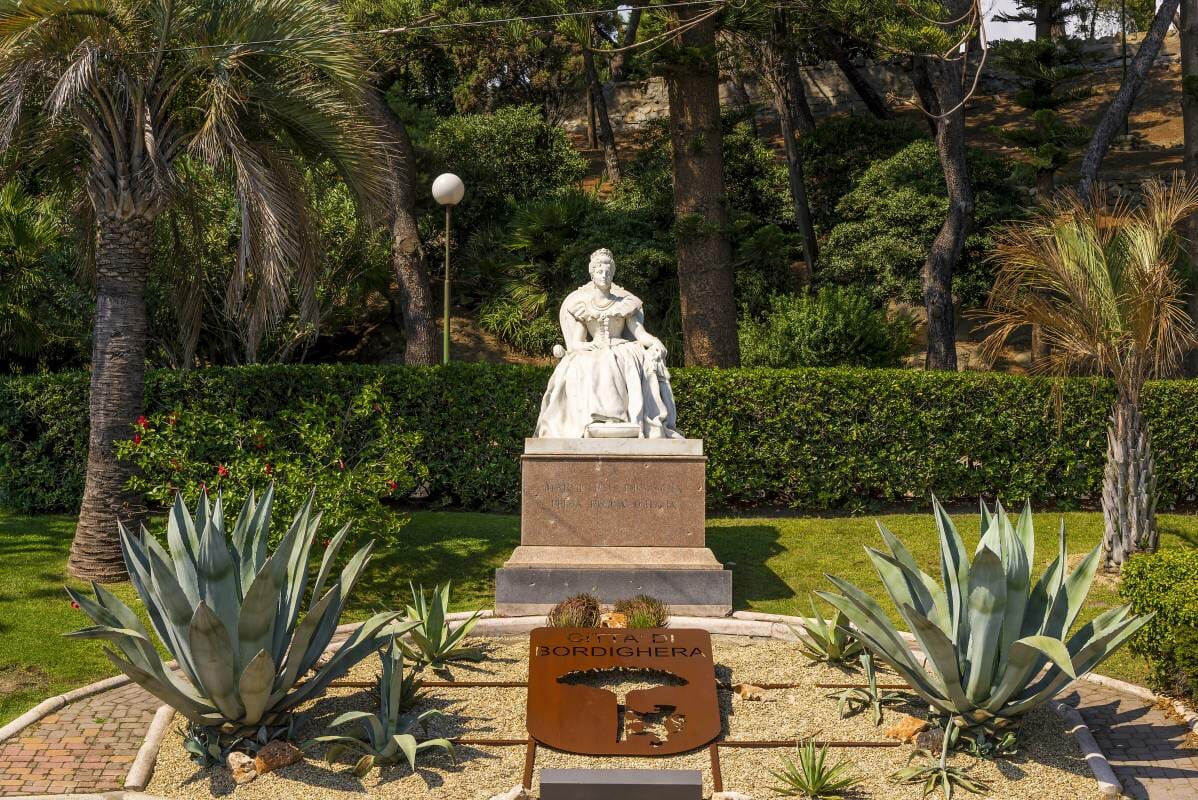 Where there are renowned architects building Villas fit for Royalty there also go great Botanists and Gardeners (Architectural gardeners). Not that Bordighera's incredible microclimate needed regal villas to attract them. 
One such famous botanist was Ludwig Winter, a German nurseryman and landscape designer. Creator of gardens such as the Hanbury Gardens, he was admired for introducing tall palms and other foreign species to the Ligurian riviera and particularly for his masterpiece gardens in Bordighera including: 
Villa Bischoffsheim later called Villa Etelinda, 

Winter Gardens
On 17 May 2015, after being long abandoned, the Winter Gardens were reopened to the public.
His additional personal botanical gardens are now part of a private property located close to the Pallanca exotic gardens (via Madonna of the Ruota 28). From the road you can still see the famous pergola which is portrayed in various photos and postcards — images that contributed to the spread of Bordighera's exotic fame throughout Europe — for Ludwig Winter it was his house, his dream garden, the nursery of his most beautiful palms. 
They included the famous twelve palms of Madonna della Ruota, celebrated by Scheffel in his poem of 1856, entitled "Near Death" and also painted by Hermann Nestel and Friederich von Kleudgen.
Winter also designed the gardens of Villa Garnier and of Villa Margherita.
Garden enthusiasts should plan a trip around Bordighera, and also visit the Pallanca Gardens there which is the botanical garden with the largest variety of succulents in Italy — then enhance their trip with a visit to Monaco's Japanese garden and Jardin Exotique and as a bonus take in the fabulous Villa and gardens of Ephrussy de Rothschild in Cap Ferrat built by Baroness Béatrice Ephrussi de Rothschild.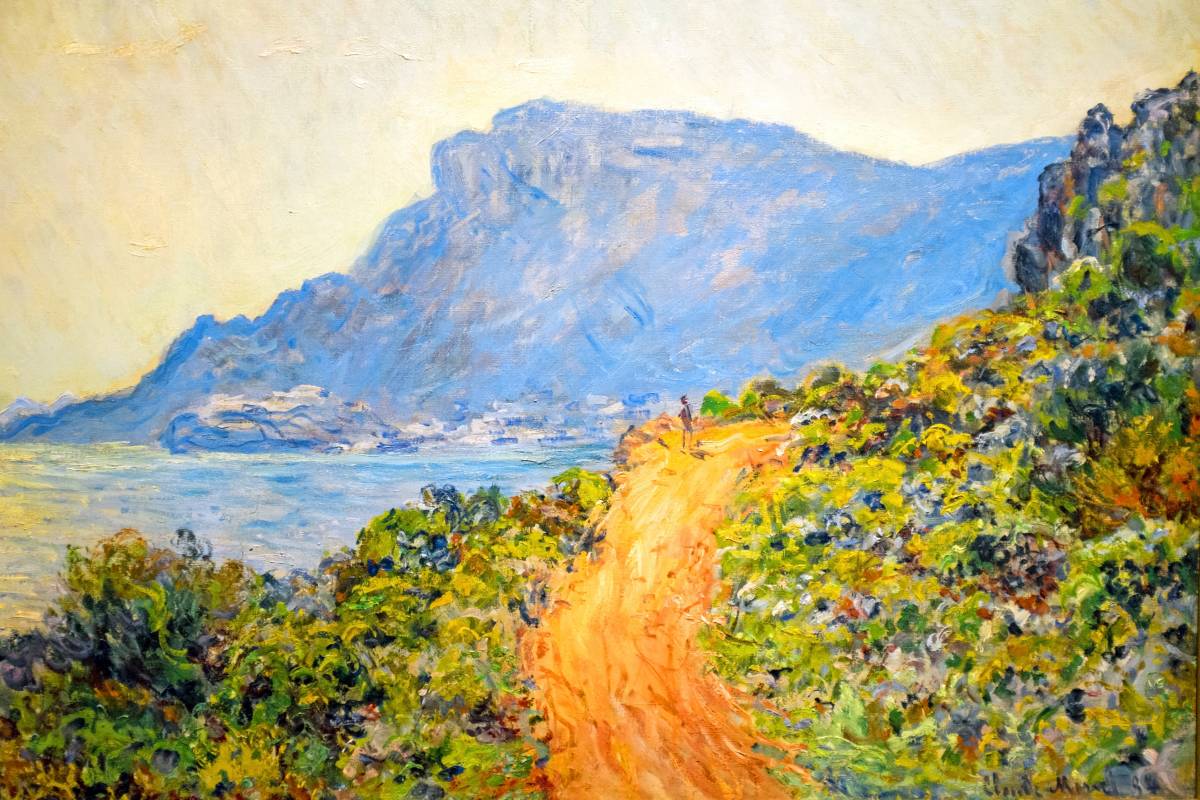 Famously painting the Corniche de Monaco, Monet could also not resist the Siren Call of Bordighera. Monet and Auguste Renoir in 1883 were searching Bordighera for new, paintable landscapes. Monet returned alone the following year, and painted more than forty views of the area, the town and its gardens. His energy was ferocious; at first, it is reported, he worked on four canvases each day, and between 24 January and 2 February 1884 he reportedly completed fourteen. The shimmering golden pinks and blues seemed almost incredible.
Monet also searches for the southern light, the harsh whites and bright light blues which unify the tamed elements of garden and town with the indomitable merging colours of sky and mountains. And Monet may also be the first painter, ahead of his time, to bring his famous talent to the business of promoting the snug exoticism of the Mediterranean for the sensory pleasures of our modern times. 
***
You can organize customized guided tours themed on Charles Garnier, Claude Monet or Ludwig Winter if you are a group of 6 or more.
Call the Bordighera tourist office well in advance at: +39 0184 262882