On the beach
Summer Vacation: Best Beaches of Monaco and Côte d'Azur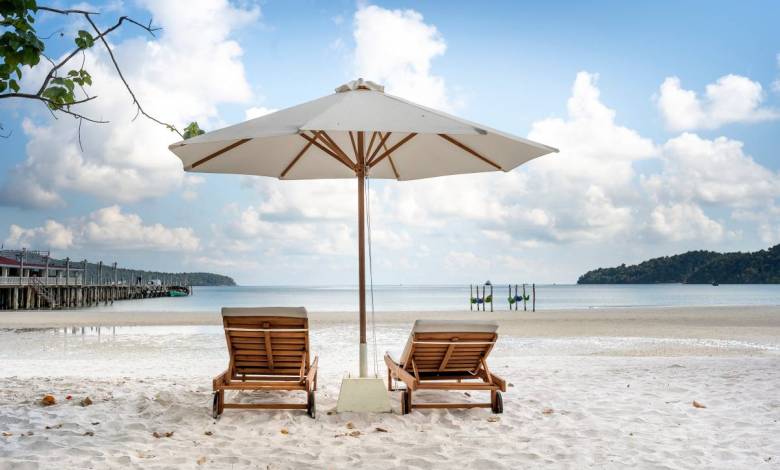 Situated between Italy and France on the Côte d'Azur, the Principality of Monaco enjoys more than 300 sunny days a year. Great climate, a variety of flora and fauna, and friendly smiling people are among its major attractions. From the deep blue of the Mediterranean to the beautiful white canyons, Monaco never fails to amaze. The Côte d'Azur is famous for its blue waters and sunny beautiful beaches. And this is not just limited to Nice and Cannes. So let's have a tour of the sunny spots in France and in Monaco where you can enjoy your summer.
Monaco — Larvotto Beach
This is one of the most famous beaches of Monaco. It is rare that a local won't know the way to Larvotto Beach. Popular among locals and tourists, this is one of the most beautiful beaches.
On July 3, HSH the Sovereign Prince officially inaugurated the new Larvotto seaside complex. Under the leadership of Jean-Luc Nguyen, Director of Public Works, the Sovereign was able to learn about the new facilities and all about the complex itself. The visit was punctuated by meetings and discussions while visiting the various shops and restaurants. Also present, to name a few, were Pierre Frolla in the premises of the Blue School and members of the Town Hall.
Larvotto Beach is an artificial beach carefully designed by professionals who know all about relaxing in the sun. Even the most demanding holidaymaker won't find anything to complain about on Larvotto. Soft sand, stunning summer sunshine, and beautiful sea views are a real pleasure to your senses. The clientele here is typically Monegasque — calm and noble. The beach allows topless sunbathing. It is divided into several zones with the most peaceful and remote area designed for young moms with kids taking their first tentative steps on the soft sand.
Moreover, people with disabilities, reduced mobility and also seniors can again enjoy a swim at the Larvotto beach, seven days a week from 10 a.m. to 5 p.m. A team of Handiplage attendants will be present to provide support and assistance, and three Tiralos are available free of charge. Vehicle users can benefit from three hours of free parking in the Larvotto public car park. Access to the site from the Avenue Princesse Grace is via a ramp, and access will soon be available via the Larvotto lifts complex.
A nice touch, not typical of Côte d'Azur beaches, is a jellyfish mesh spread all across Larvotto, protecting the bathers. The beach is also equipped with a variety of restaurants offering a choice of dishes to suit all tastes.
The complete renovation of the site will be completed in early 2022, signed by the architect Renzo Piano as an extension of the contemporary and refined aestheticism of the extension to the sea. Its ambition is to make the beach and its surroundings more pleasant to live in, a focus also on housing quality, and accessible and friendly public spaces.
La Note Bleue
La Note Bleue is at Larvotto Beach as it occupies a part of it, but it stands out. This beach and restaurant are popular among tourists and locals alike. A most diverse clientele comes here not just to sunbathe or take a nap on pristine white pebbles, but also to enjoy amazing jazz music, a speciality of this beach. La Note Bleue owes its name to a famous saxophone player, Barney Wilen from Nice. It rhymes with relaxation and insouciance. In contrast, Miami Plage, located close by, is more suitable for families with children. This second beach of the Larvotto area is more remote and it is one of the oldest beaches in Monaco. It was opened in 1980. It is very difficult to find a bad review about this beach; it is really worth a visit. In addition, people who have been there, really appreciate the Mediterranean food that is served in the restaurant located at Miami Beach. So, don't forget to add this spot to the list to visit while you are in Monaco.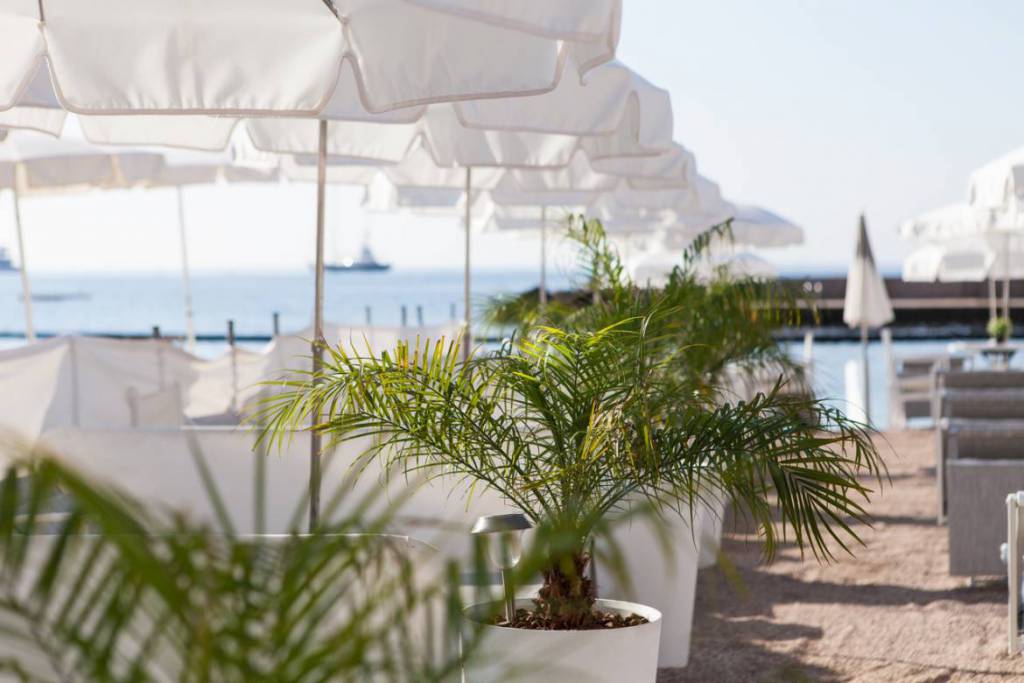 Check their website for more information.
Monaco — Monte-Carlo Bay Hotel
Spend an amazing day by the turquoise, sand bottom lagoon or enjoy new seaside swimming area! In addition to the light sand bottom lagoon, the Monte-Carlo Bay now offers direct access to the great blue sea. The guarded swimming area is in the preserved setting of the Larvotto Marine Reserve.
In season, discover new offers for Cocoon Bay by the lagoon or Sea Bay opposite the sea and choose the all-inclusive formula that inspires you most («Pintxos Nomade» concept by Chef Marcel Ravin with a wide variety of meze, hot and cold tapas for a tasting lunch, followed in the afternoon by summer treats: red berry tartlets, fresh fruit and ice tea).
You also have access to the Hippocampe Bar (smoothies, juice, snacks, etc.).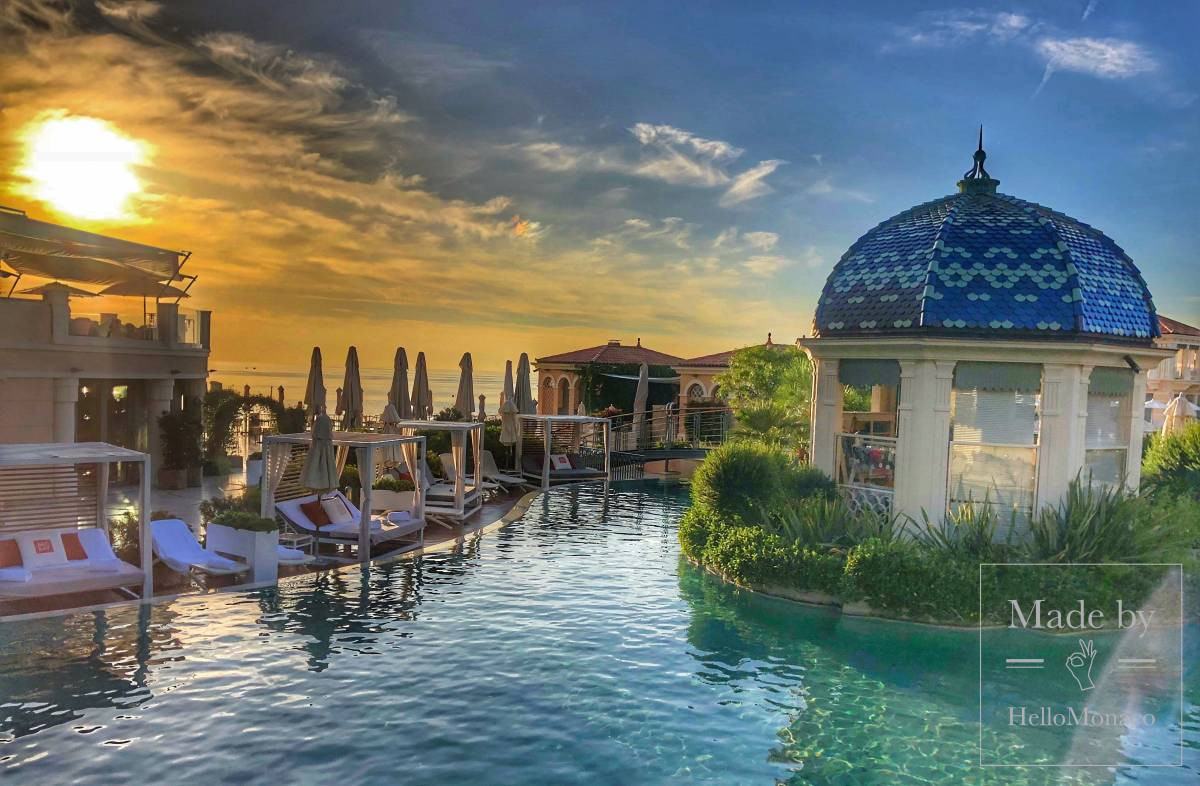 More details are available online.
Monaco — Monte-Carlo Beach Hotel
This private beach is located next to a 5* hotel with the same name. This ideal setting with its private beach and chic striped canvas beach cabins is an absolute delight for those who enjoy relaxing and swimming in the big blue sea. No need to look elsewhere: the Monte-Carlo Beach Club will take care of everything, ensuring maximum relaxation. This is the most expensive and sophisticated beach in terms of service level.
Enjoy the sun, relaxation and refreshing, refined cuisine served right to your tent. Les Cabanas restaurant offers simple yet varied cuisine, including wellness dishes using organic products and gourmet wood-oven pizzas. Treat yourself!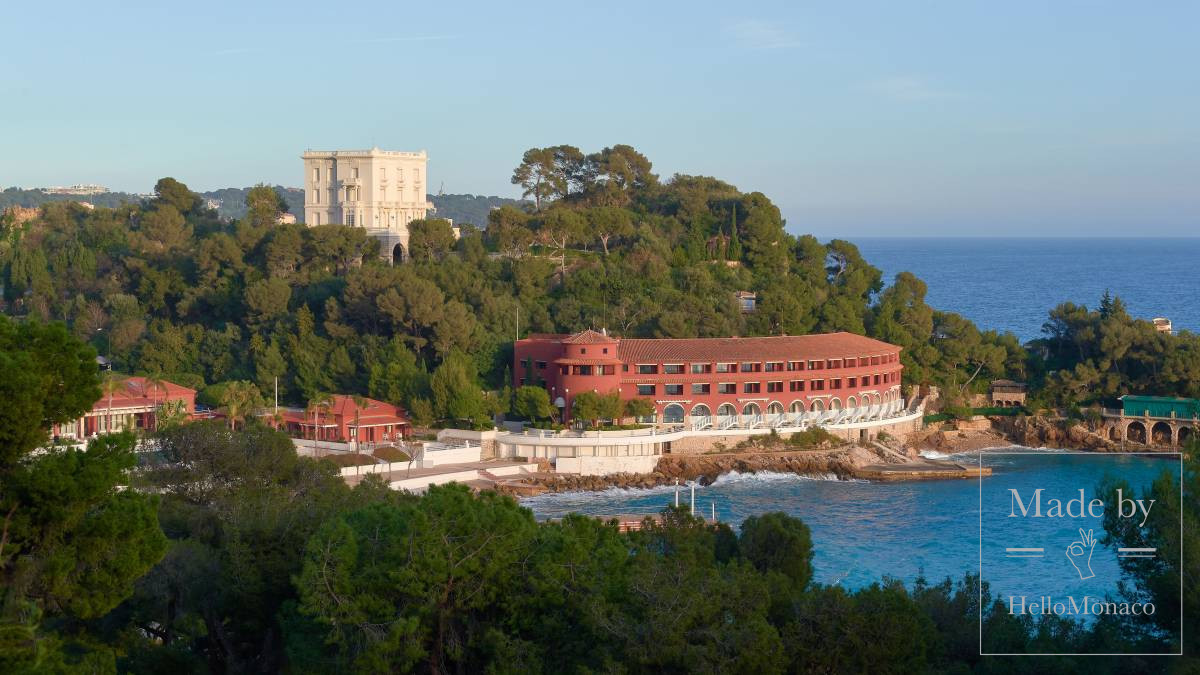 For more details visit the Monte-Carlo Beach Hotel website.
Cap-d'Ail – Plage Marquet – Restaurants Naos and Uvita
This delightful beach is located at the border of Fontvieille, Monaco, and Cap-d'Ail, just behind the Marriott hotel. The water is tranquil and safe. The beach meanders gently down into the Med, perfect for playing with kiddies or just for a more regal entry into the waves than the usual sliding and balancing over hard stones. A perfect area for more prudent swimmers and water sports amateurs; there are also lifeguards during the summer. It features two restaurants, Naos and Uvita.
Both establishments have recently opened their doors and welcome guests. Naos is a Greek bar restaurant offering a pleasant beach relax. The restaurant invites you throughout the summer to treat yourself with Mediterranean cuisine with Greek notes, relax under the bright sun of the French Riviera and enjoy life on the beautiful beach near Monte-Carlo!
The second beach restaurant – Uvita, has been happy to welcome its guests since July. Also located on Marquet Beach in Cap-d'Ail, the restaurant and lounge bar Uvita positions itself as a true Mediterranean island for the relaxation. Here you can enjoy not only the pleasant noise of the murmur of the waves, but also evening concerts, live music.
Here you can relax on a comfortable sunbed, under a parasol. You can also get snacks and light meals at the tennis centre close by, or if you go for a peek around the port you'll find several good cafés. Marquet was originally a pebble beach, but sand is specially brought here for the season. Rent a kayak or a canoe, a surfboard or a paddle board. This beach is very popular among the Monaco and Cap d'Ail locals.
Cap d'Ail — Plage Mala (La Reserve and Eden Plage)
The small town of Cap d'Ail («Garlic Cape» in French) is located exactly between Menton, Nice, and Monaco. With its calm and also sophisticated spirit, the beach is famous for its crystal clear waters, picturesque sea, and mountain views.
Two restaurants, La Reserve and Eden Plage Mala, are here to cater to your tastes. The «Garlic Cape» has been a favourite place for the Russian nobility ever since the 19th century. That is why local residents treat Russians very well. Mala is a very fashionable and stylish beach. You may have a problem though parking during the high season. If the day is not too hot and you enjoy walking, follow the coastal path from Plage Marquet towards Nice and you will reach Mala Beach in about 40 minutes.
The path goes along the sea, offering you picturesque views and silence broken only by the sound of the waves. Both restaurants offer services such as sunbed rental, massage, boat-taxi (to bring you ashore if you arrive via boat), boutique, etc. Regular live music concerts add a festive spirit.
Eze (8 km from Monaco) — Anjuna Beach
This is an exotic Eden in France. The tiny village of Eze is stunning in its beauty and so is the exotic beach of Anjuna, where a restless traveller can chill in the shade and listen to the water splashing at their feet. The beach is open every year from April to September and is incredibly popular thanks to its original concept developed by Patrick Degioanni and his wife Erica in 2000.
It is located just at the foot of a cliff. Every Sunday the beach arranges parties and celebrations, breaking the usual silence. This is when you can treat yourself to gourmet Mediterranean cuisine and fine wines. Both a party place and a secluded, quiet spot, Anjuna beach, definitely has it all — at a price you would expect for living the high-life.
Cap Ferrat / Beaulieu-sur-Mer / Villefranche
Forget the boundaries, whether it be called Cap Ferrat, Beaulieu-sur-Mer or Villefranche. Nature, the Cape and the Bays have no boundaries, just magnificent seascapes, coastal walks and beautiful beaches. Here are three wonderful niches within this glowing paradise.
Cap Ferrat — Paloma Beach
Relax in style on one of the Riviera's most beautiful beaches. Paloma Plage on St-Jean-Cap-Ferrat is a place to go for complete relaxation, a bite to eat and a glass of wine. There is a special «something» to Cap Ferrat that you can't really put into words. Even the murmuring waves lap discreetly on this cove which exudes class. The time moves slowly here; everybody is busy enjoying life. Teak style sun beds, wooden platforms, and yachts that drop their regal visitors off for dinner in the restaurant. Waiters and beach hostesses serve you with towels and champagne. Try the Fritto Misto, artichoke salad, battered zucchini flowers that are all-time favourites with constantly returning fans. The vista east of the towering cliffs rising above the bay of Beaulieu-sur-Mer is stunning. The pine-covered hills shelter the beach and take the wind out of the sails of any strong breezes. Only 150 m in length, the beach is composed of sand, gravel and small pebbles that are relatively easy on the soles of your feet.
More information you can find on their website.
Villefranche — Marinières Beach
Away from the crowds, tourists, and noises of the city, you will fully enjoy the peace and beauty of the first private beach in Villefranche, which only opened in summer 2016. The staff do their very best to make this place highly relaxing. Be a pioneer and discover this little paradise. The Niçois looking for a sandy beach within reach of Nice are already flocking to it. Don't stress about it being overcrowded as this «paradise» has a total surface of 763 m2. The confectionery Déli Bo provides catering for the beach. Great desserts and cocktails to look forward to. And you can enjoy water sports, entertainment, and wonderful views of the sea and yachts.
More details are available online.
Nice Beaches
Nice is a vibrant major city with a Mediterranean climate and with an outstanding promenade, Promenade des Anglais, stretching for kilometers. If this «rocks your boat» for a holiday experience and you do not yearn for a sandy beach, then there are many fine public and private Beach Clubs like Beau Rivage above the pebbled shoreline. They are hubs of sun, sea and beach sports. For seekers of sand and smaller towns, head instead in the direction of Monaco, Villefranche closeby and Cap Ferrat also beckon. Or head in the opposite direction for HelloMonaco's choices of beaches in Antibes, Cannes and Saint Tropez.
Cap d'Antibes — Baie des Milliardaires Beach
Until June 2011, the Billionaires Bay at Cap d'Antibes was only accessible by boat. These days a little coastal path will take you there. The bay overlooks the Gulf of Billionaires — the Gulf's first public bay. A most sophisticated lover of harmony and tranquillity will enjoy this fairy-tale, naturally secluded pebble beach. Please use flip flops for swimming as the pebbles are quite large and the path to the bay is narrow. You can now access the beach through Avenue Mlle Beaumont. This amazing bit of nature will amaze you with its emerald green sea and exotic flora.
Antibes — Juan-les-Pins
This large sandy beach spreads across the famous French resort of Juan-les-Pins. Its white sand is of a rare natural beauty will make your summer vacation unforgettable. The beach has often been quoted as one of the top 10 most beautiful beaches. So if you are a great nature admirer, this place is right for you. Just to let you know, there is a roadway next to the beach. It is not a busy one though, so it won't disturb your peace.
Cannes Beaches
For sandy beaches combined with that special Cannes Film Festival ambience, look no further than La Croisette in Cannes for a luxurious experience. All of the major hotels along La Croisette have their own private beaches. Treat yourself and head for Carlton Beach, as one example of clean sand, perfect water and first-class service while you lounge contentedly. If you are not a resident at the Carlton Intercontinental you will have to pay to enter, but the luxury and cachet for many will be well worth the price. This is the location where Princess Grace, as the actress Grace Kelly filmed «To Catch a Thief» in 1954. Film directors, like aristocrats, know the best places!
For a public beach in Cannes, if that is more to your taste, you might try the popular Plage du Midi on the western side of Cannes.
Saint-Tropez Beaches
Pampelonne Plage
Pampelonne Beach, about 5 km from the centre of Saint-Tropez, rocketed to fame by the stars — or some might say one star, Brigitte Bardot. The most iconic beach of Saint-Tropez composed of nearly five kilometres of fine, white sand made famous by the film «And God Created Woman». It is the place to be seen and join one of world's most glamorous beach party scenes. Be seen and relax with celebrities of film and stage, oligarchs, royalty, heads of state and models. It attracts labels like mythic, chic and bejewelled, although perhaps, and even ironically, the Tropezienne coastline, including that of Ramatuelle, retains its natural beauty. It has changed little since the height of Bardot's bohemian frolicking.
There are public areas, but the private scene dominates with more than twenty beach-club restaurants with their attractive parasols where you can muse, contemplate the waves, dine, sip champagne, preen yourself or take a siesta from a sumptuous lounge chair and/or mattress. For celebrity spotting try Club 55, very hip and chic. Also try Bagatelle and drink to your heart's content and dance on the table tops! The cabanas are sumptuous and the beach service excellent. Luxurious and «party central» is the famous club Nikki Beach with its own pool, creating its own special ambiance. For something a little more informal and slightly cheaper try the southern end of the beach. Come sunset the whole glowing crescent becomes a gigantic gyrating dance party under the stars.
Bagatelle — Pampelonne Plage
If you don't know it already from St. Barth's, Brazil or the U.S. you must try it once in your life. Bagatelle exists to cater not only to pleasure seekers arriving in the finest yachts but also you — and particularly if you like to party and shower yourself with champagne. The vibe and beautiful atmosphere heat up a notch after 5 pm when the incredible food to be had at lunch then moves into full party mode. Great music — party to your heart's content and dance on the table tops. Amazing view, stylish people, energetic atmosphere, scallops, truffles, lobsters. Exclusivity assured, bathe in rosé and champagne and let your hair down surrounded by celebs. The cabanas are sumptuous and the beach service excellent.
Nikki Beach — Pampelonne Plage
Temple of the party scene. A hot destination. Don't be surprised by the billionaires arriving by plane, helicopter and private yachts. If you have the party spirit and are looking for the best in DJ and live entertainment surrounded by models and celebs you will not be disappointed. Gorgeous, friendly beautiful, the entertainment never ends. It's in an oasis by itself just a little away from the Beach which adds to its exclusivity. Try the fresh lobster and sushi.
This flagship location of Nikki Beach is great for a lunch around 2 pm. Then move over to a day bed for bottle service. Playful waiters and waitresses and divine crazy partying after 4 pm, champagne and confetti bombs included. Magnums of rosé are also the norm — party well into the night. Luxurious and «party central» with its own pool, creating its own special ambiance.
For more information go to Nikki Beach website.
Les Palmiers — Pampelonne Plage
Prime location on Pampelonne Beach with great bright decor and stunning views. Bling, super cool look with white table cloths and umbrellas, Les Palmiers radiates class. Heavenly, with a young vibe and amazing people watching. Known for its excellent food and extensive menu. Lovely ambiance, great music, beautiful people of course, and elegance. The best in food and service, with an amazing wine list and with prices that you would expect for the pinnacle of the Saint-Tropez experience.
More information is available on the website.
For something a little more informal and slightly cheaper than Pampelonne Plage try the southern end of the beach. Come sunset the whole glowing crescent becomes a gigantic gyrating dance party under the stars.
La Bouillabaisse
This is another sandy beach of an exceptional beauty in Saint-Tropez. If you love privacy, this is the perfect place. This beach is a bit less frequented than Pampelonne because of its more remote location. Here you can bask in the summer sunshine while admiring stunning views of the Maures Mountains. Follow the direction of Saint-Tropez port to find this beach. Those who have been to this quiet corner of the famous resort claim that no photo does justice to its atmosphere and picturesque landscapes.
Please note that access to private beaches is determined by the management company and may vary from 20 to 100 euros depending on their category and location. Loungers may cost from 15 to 80 euros per day. Advanced booking of sunbeds is required in high season.