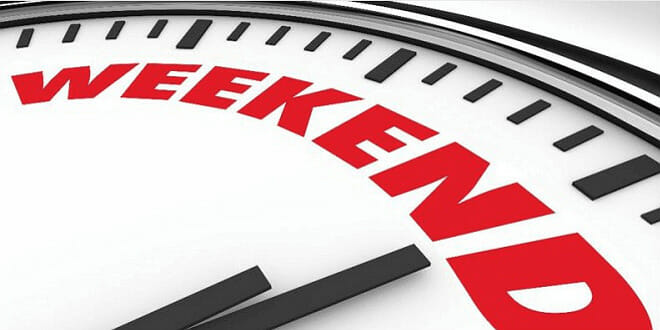 It's finally Friday, time to relax and have fun. If you still don't have any plans HelloMonaco is ready to offer its suggestions on the most interesting events.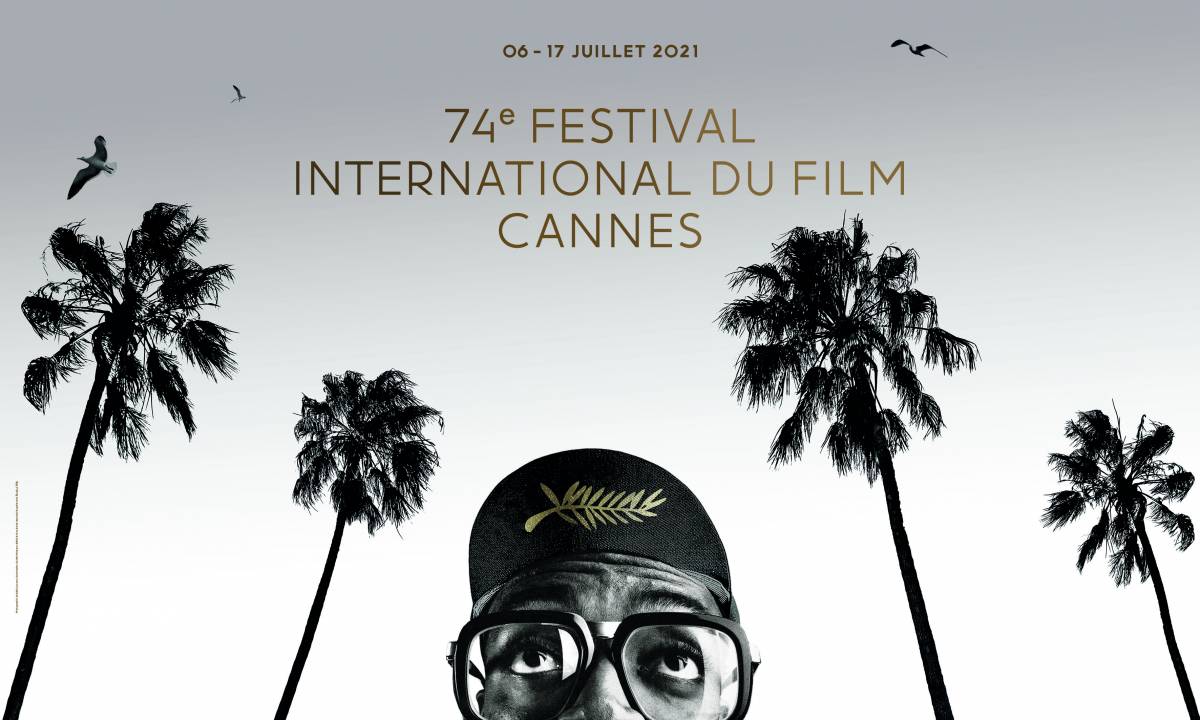 This weekend we will learn the winners of the 74th Cannes Film Festival that is taking place from Tuesday 6 to Saturday 17 July 2021.
The Cannes Film Festival is an annual film festival held in Cannes, France, which previews new films of all genres, including documentaries, from all around the world. Founded in 1946, the invitation-only festival is held annually (usually in May) at the Palais des Festivals et des Congrès. The festival will be celebrating its 74th year.
If you interested in art, you can't miss Monaco Art Week: exhibitions, art talks and meetings and a round table hosted by a dozen galleries and auction houses from Tuesday 13 to Sunday 18 July 2021, in the Principality of Monaco.
MONACO ART WEEK (MAW) was born from the desire to federate Monegasque cultural institutions by organizing events to highlight the artistic scene of the Principality. The association was born in spring 2018, with an MAW artistic journey through galleries and auction houses, spread over different districts of the Principality (Condamine, Monte-Carlo, Larvotto). This format facilitates access to exhibitions, by encouraging everyone to explore the Monegasque cultural landscape, while supplementing a particularly dense cultural offer during this period.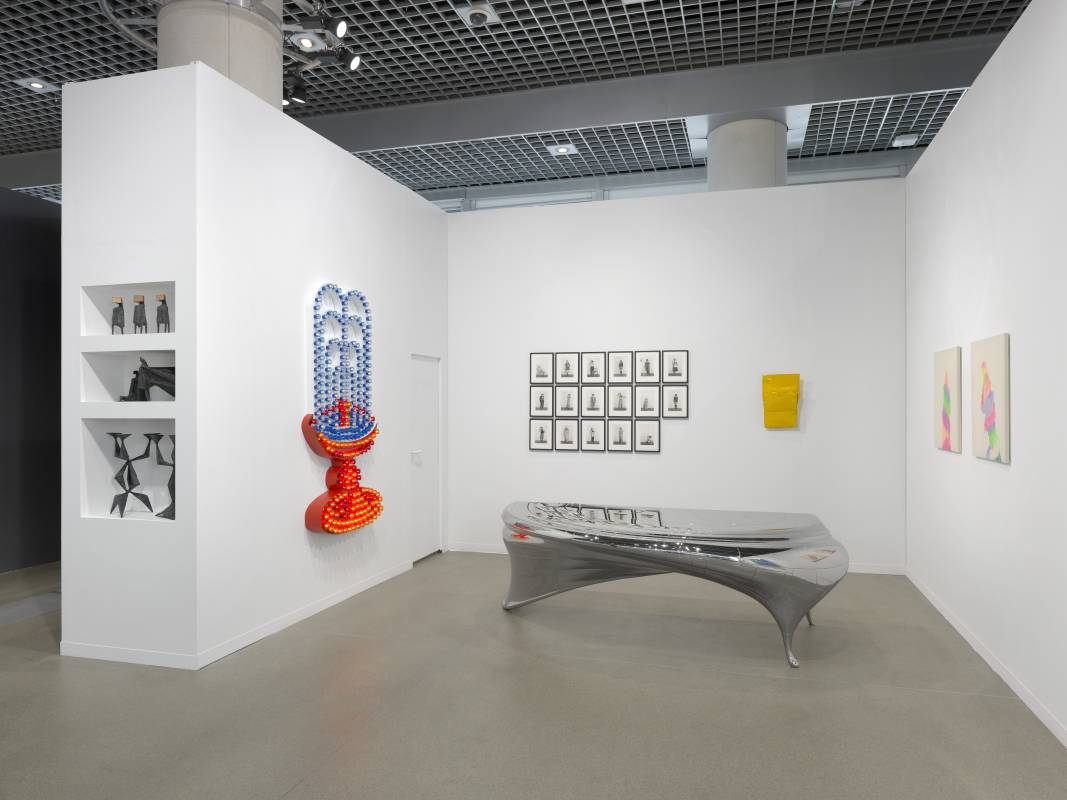 Started in 2016 under the High Patronage of HSH Prince Albert II de Monaco and following the success of artgenève, the Monacan art show has established a leading artistic platform for modern and contemporary art on the Côte d'Azur. Every year, artmonte-carlo presents a prestigious selection of international galleries, such as White Cube, kamel mennour, Victoria Miro, and Tornabuoni Art, enriched by institutional exhibitions and a professional forum, designed to evolve to become a key element of the art show. For its fifth year, artmonte-carlo will have the honor of hosting the famous Museum Boijmans Van Beuningen, an exhibition of the Prix Pictet for photography, and an extensive installation of the Royal Academy of Arts in London. artmonte-carlo will honor careers in the arts on a proposal from the Michelangelo Foundation for creativity and craftsmanship. In the same vein, Art and Jewels of the World will present a selection of prestigious international jewelers.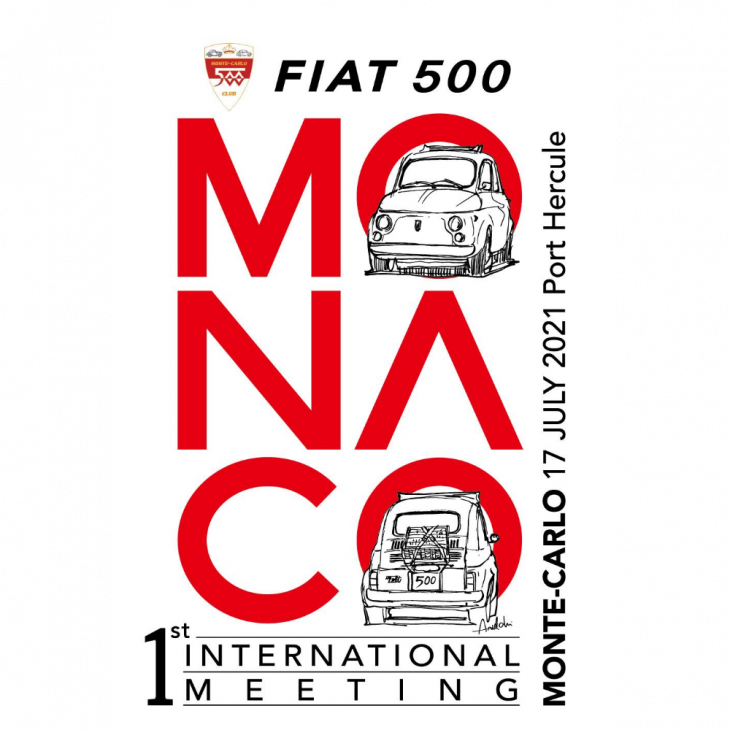 The 1st Monaco International Meeting Historicals Fiat 500 will take place on 17 July 2021. The 1st MIM will be, in the summer season, starring the historic FIAT 5oo models from 1936 to 1975.
Auction sale of 90 automobile racing helmets customised by renowned artists, in aid of the Neonatal and Haematology Department of Archet II Hospital in Nice, organised by the Monaco Liver Disorder Association will take place on Saturday 17 July 2021, at 5 pm at the Collection de Voitures de S.A.S. le Prince de Monaco.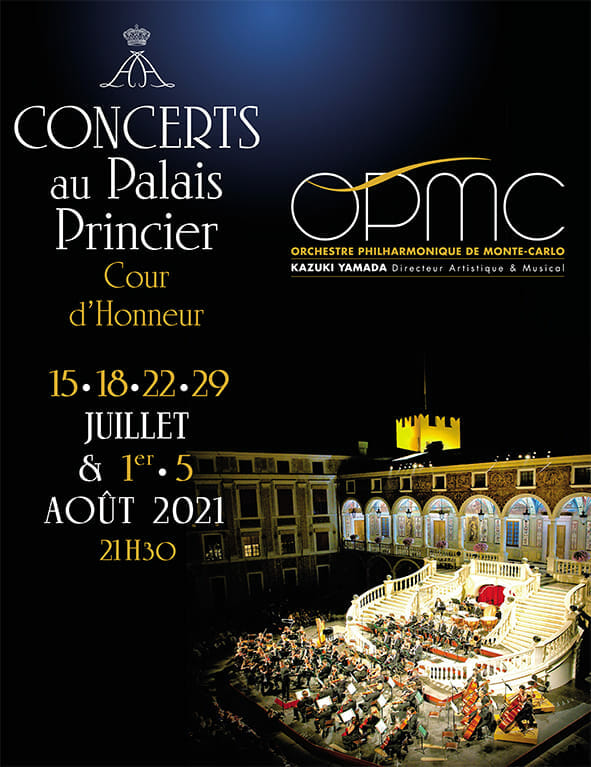 The Monte-Carlo Philharmonic Orchestra continue its summer programme with a Symphonic concert conducted by Gianluigi Gelmetti, with the Coro del Teatro Regio di Parma, Chen Reiss, soprano, Marianna Pizzolato, mezzo-soprano, Paolo Fanale, tenor and Nahuel di Pierro, bass on Sunday 18 July 2021, at 9.30 pm at Palais Princier – Cour d'Honneur. On the programme: Wolfgang Amadeus Mozart.
For this 2021 edition of "L'Été Danse!" Les Ballets de Monte-Carlo are offering two series of shows which will bring home to us the extent to which dance is a living art. To begin with, from 15 to 17 July, the company will perform two creations imagined by Mimoza Koike and Julien Guérin, both from Les Ballets de Monte-Carlo. After a period when choreographic art has been thwarted, support for creation has taken on an even greater importance. For more than thirty years, Jean-Christophe Maillot has pursued a policy aiming to help talent emerge, and here he has given carte blanche to these young choreographers whose sensitive world cannot but question our relationship to the current world.
Through these two highlights, a summer breeze from Les Ballets de Monte-Carlo will celebrate the grand return of live shows.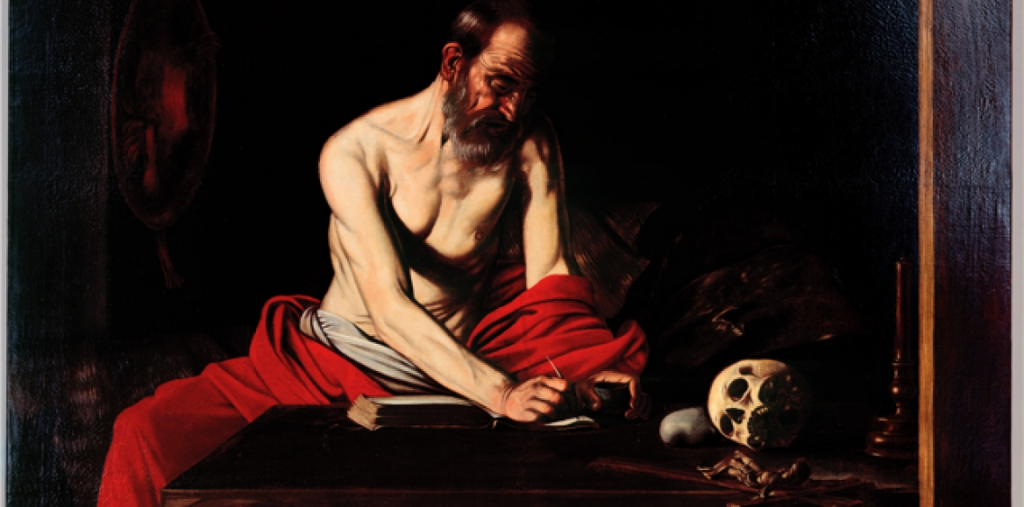 Several interesting exhibitions opened up recently in Monaco. To begin with there is Exhibition of several masterpieces of Caravaggio and "his disciples".
The light that comes into contact with the bodies, and unleashes their inner torment. An asceticism from the abyss of shadows and evil to the light of God and truth, the one who wanted to dare where others did not even dream. A creative parable of the painter, but before that of man. His torments, his demons, his inwardness. Some of his masterpieces from museums and private collections will be on display, accompanied by works by so-called "followers". Those who dedicated their lives and their artistic work to the lesson of the Lombard master, without ever, and for no reason, being able to abandon it. The exhibition will be supported by an international scientific committee of absolute importance, chaired by Mina Gregori, who, above all others dedicated her life to the studies of Caravaggio, continuing for over half a century the work and rediscovery of the incomparable Roberto Longhi.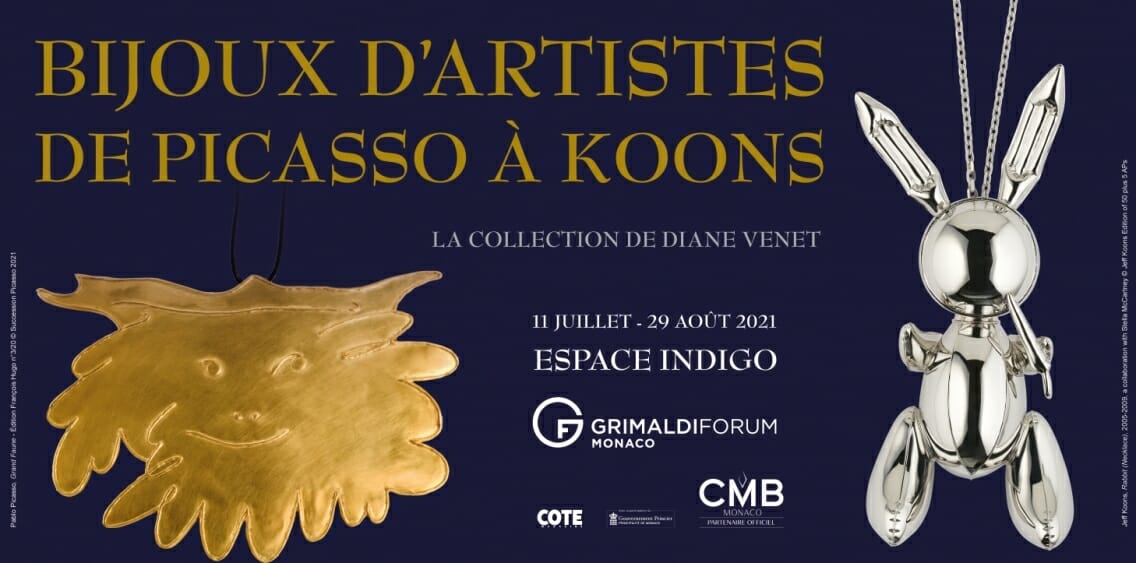 Passionate about art, Diane VENET acquired her first artist's jewel, a brooch by the painter Roy Lichtenstein, in New York in 1967. But it was her meeting with the sculptor Bernar VENET in 1985 that decided to create, through encounters, favourites or commissions from artists, a collection dedicated to the jewel of an artist.
Diane VENET brings together, over 30 years, a rich collection of more than 230 pieces of jewellery by artists. 180 of them will be unveiled for a month at the Grimaldi Forum Monaco. From Picasso to Jeff Koons, including Roy Lichtenstein, Frank Stella, Niki de Saint-Phalle, Keith Haring or Louis Bourgeois, Orlan, Miguel Chevalier… modern and contemporary, international and French artists will be represented.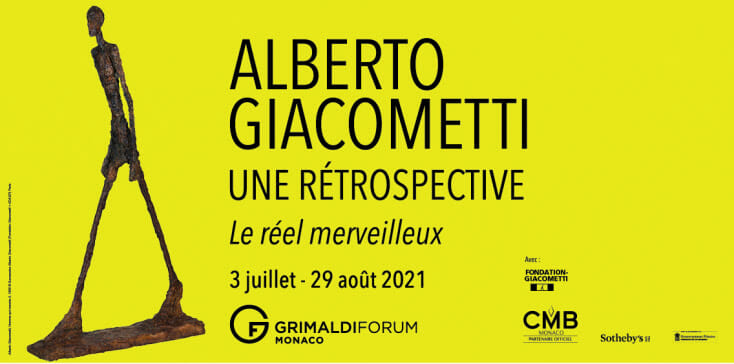 In summer 2021, the Grimaldi Forum will present for the first time in Monaco a major retrospective of the work of sculptor and painter Alberto Giacometti, the most important of recent years.
Organized in association with the Giacometti Foundation this exhibition will focus on all the periods of the artist and all the media which he has used.
It will offer a comprehensive view of Alberto Giacometti's creations, from early works to the surrealist period, from the return to figuration to the invention of post-war icons.
Bringing together over 230 works, including masterpieces and accompanied by photographs and films, this retrospective will offer visitors wonderful discoveries as part of a journey orchestrated by curator Émilie Bouvard, scientific director and collections of the Foundation Giacometti.
Of course there are other interesting events taking place in Monaco. If you want to learn more about exhibitions that are taking place in Monaco these days visit our Calendar.
So have fun and enjoy your weekend!