Luxury
Oceanco delivers 90m superyacht DreAMBoat and other yacht news
We selected for you top 5 yacht stories of the last week at Yacht Harbour.
Oceanco delivers 90m superyacht DreAMBoat
Dutch builder Oceanco has announced delivery of its seventh largest vessel, the 90-metre DreAMBoat. According to social media, the owner of the yacht launched earlier in March, is none other but US billionaire and owner of the Atlanta Falcons NFL team, Arthur Blank.
According to the yard, the owners stepped into the project once steel hull and aluminium superstructure had been already completed. Thus, they were able to influence further engineering within exteriors by Espen Oeino and interiors by Terence Disdale.
DreAMBoat is trademarked with generous overhangs from the superstructure and cutouts in the bulwarks lending a traditional yet strong appearance. DreAMBoat boasts a full carbon canopy mast house and mast, which forms an integral part of the overall design.
The yacht's impressive interior volume of 2,950 GT allows accommodation for 23 guests on-board, along with up to 33 crew members. The design emphasises large windows flooding the interiors with daylight. Terence Disdale has created interiors that incorporate bespoke surfaces, natural wood, limestone floors, semi-precious stone vanities, parchment, leather and mother-of-pearl.
Outside spaces feature a large swimming pool on the main aft deck; an enormous partially enclosed sundeck; an area where the Owner and his family will most spend their time with Jacuzzi and copious options for seating/ entertaining with an outdoor open cinema. There is also a private Jacuzzi on the Owner's deck, a spa on the bridge deck aft with a custom-built hydro/massage bath and a large selection of tenders and water toys including a custom-built dive board. 
Valued at $4.7 billion by Forbes, Arthur Blank is most famous for co-founding Home Depot in the 1970s, which grew into one of the largest hardware store chains. In 2001 he bought the Atlanta Falcons for $545 million, which are now valued by Forbes at near $2.1 billion.
The yard says, the owner is looking forward to a summer season of cruising with family—his children and grandchildren— as well as with friends. DreAMBoat is set to become one of three gigayachts recently acquired by American Sports team  owners, with 109-metre Oceanco Bravo Eugenia delivered to Dallas Cowboys' Jerry Jones and 93-metre Feadship Lady S rumoured to belong to Washington Redskins' Dan Snyder. 
117m Project Acquaintance: technical launch of the largest Dutch superyacht
The largest yacht built in Holland so far, Oceanco's 117-metre Project Acquaintance has had its technical launch at Zwijnenburg construction facility. 
The project will be now moved to the yard's outfitting facility in Alblasserdam where the yacht will spend the next two years until the official launch due in 2021.
Also known as Project Y719, the superyacht is expected to measure over 115 metres in length, making her not only the largest yacht currently under construction in the Netherlands, but also the largest one ever constructed by a Dutch yard.
More information on the project is expected to be revealed later. It is already known that the vessel features a steel hull and aluminium superstructure, and spreads over five decks.
The yacht is reportedly designed to accommodate up to 24 guests across 10 cabins, including 2 VIPs and the owner's private suite above the bridge deck. 
The bridge deck will host a touch-and-go helipad forward, while the lower deck will come equipped with a beach club, cinema, gym and spa. Meanwhile, the most alluring feature of Project Acquaintance is her main-deck swimming pool with a glass floor and a translucent aft glass panel, allowing to view the pool from different angles, for instance through the skylight in the spa-deck ceiling below. 
67m Amels Aurora Borealis on sea trials
The first Amels 220 superyacht, 67.1-metre Aurora Borealis was set out for final sea trials ahead of the forthcoming delivery. First known as Project Waka, the yacht hit the water for the first time in March 2019 inside the yard's covered dry docks.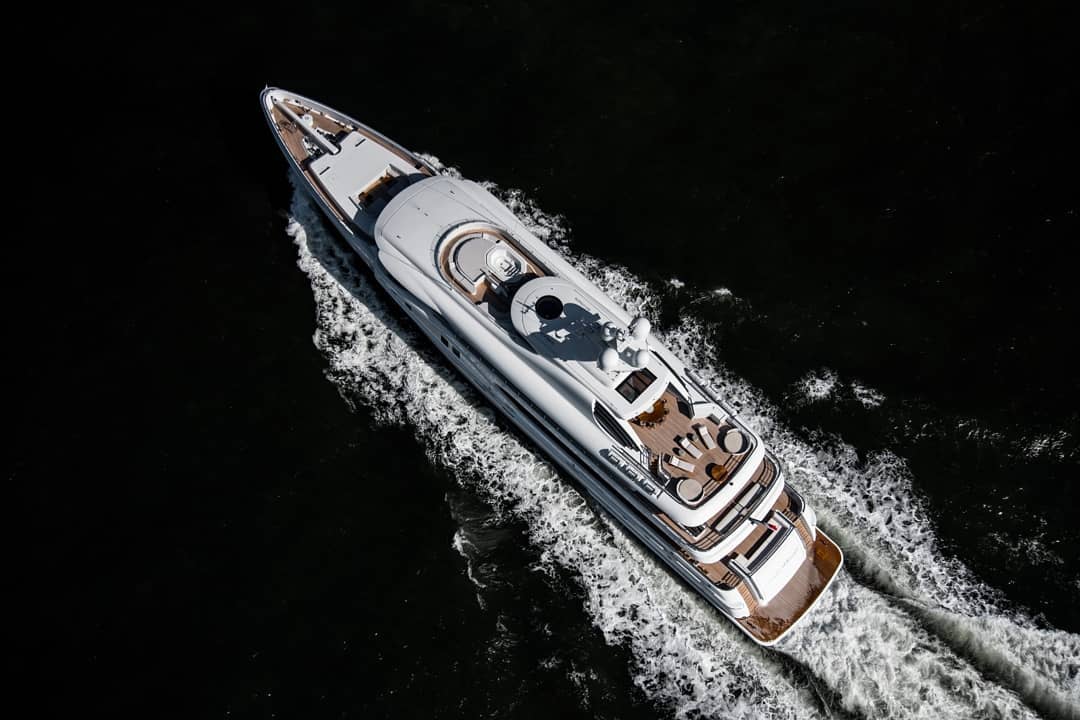 The project has been overseen by Antoine Larricq, sales broker from Fraser, acting as the owner's representative during the construction process. He expressed at the event: 
Everyone is really impressed with how seamless this project has been. This is the result of all those hours of work and meetings, cutting materials, selecting marbles, and now we are right on schedule.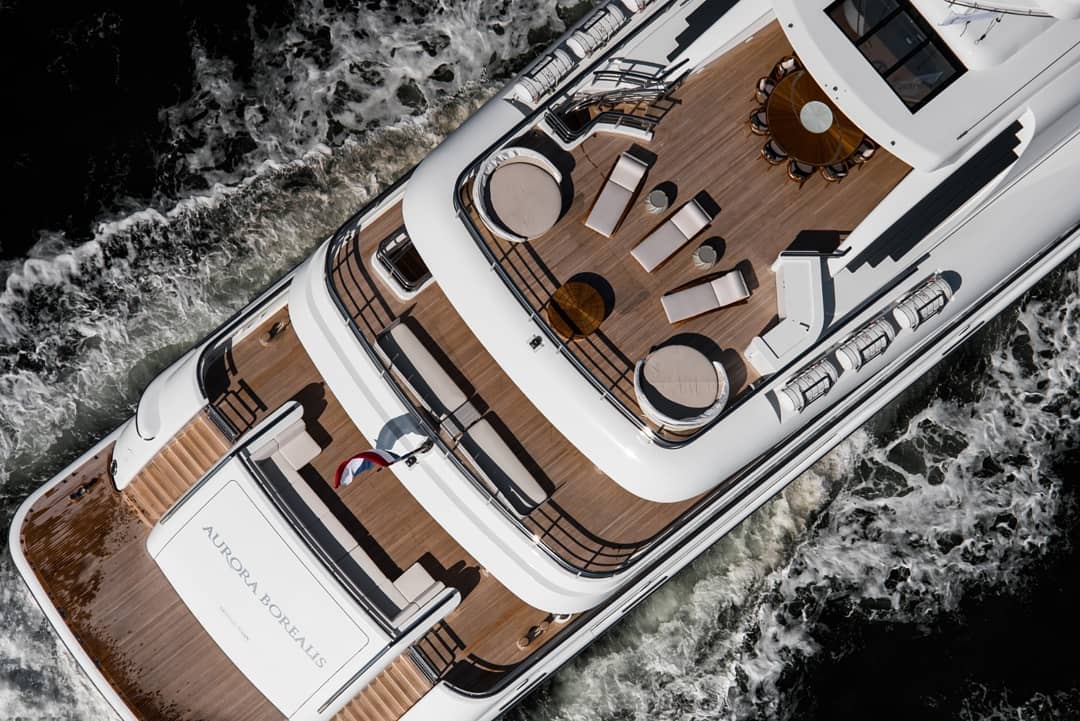 UK-based designer Tim Heywood, who has been responsible for the whole Limited Editions portfolio with Amels, has trademarked the vessel's exteriors with extended decks, a 65-square-metre swim platform and beach club area. 
Special features on-board include a guest elevator to all decks, a steam room, spa and a fully-equipped gym, as well as a tender garage spacious enough to house two eight-metre tenders.
Moonen Yachts set to boost production with new investor
Dutch builder Moonen Yachts has announced that the company is at an advanced stage of negotiating a new partnership. The yard reports, the investor is familiar with the industry and brings an international background of global business.
The vision of this new investor will focus on strengthening the market position and expanding the number of yachts built yearly, securing sustainable future growth. The new investor is highly interested in the profound reputation of North European yacht building. 
As to the work process, Dutch shipyard has recently introduced its latest yacht concept, 42,5-metre Moonen Marquis from Carribean line. In terms of recent launches, the latest one was the 36-metre Brigadoon launched in August 2018.
136m Flying Fox: inside the world's 16th largest superyacht
The impressive 136-metre Lürssen superyacht Flying Fox was delivered to her owner in March 2019, embarking on a maiden voyage from Bremen to Stavanger. It was later sensationally listed for charter with Imperial.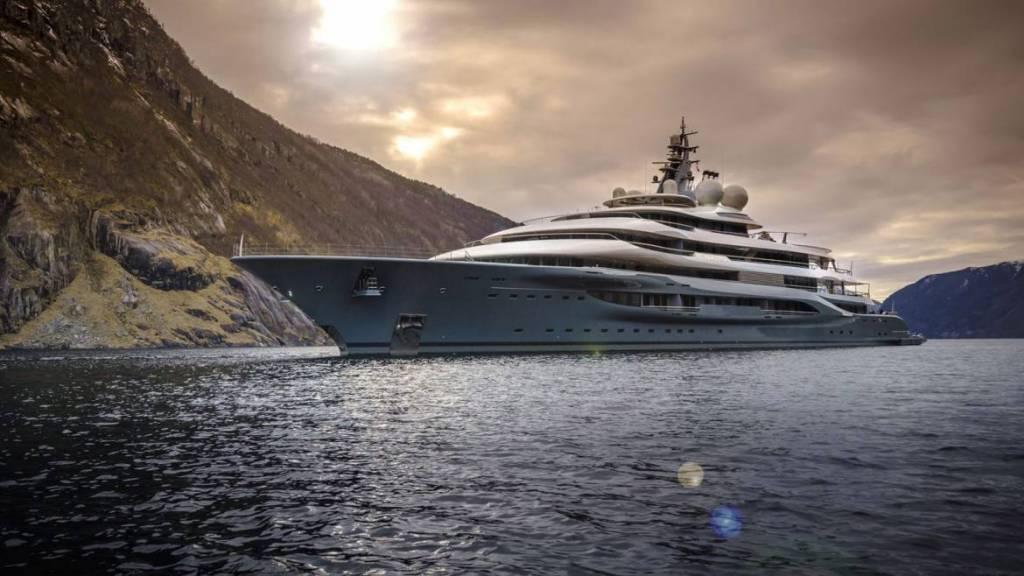 Flying Fox' dove grey sleek hull lines were developed by Espen Oeino, representing one of his iconic exterior solutions. Meanwhile, her interiors by UK designer Mark Berryman, reportedly focuse on neutral tones and a calm appearance.
The superyacht comes with a pair of helipads, laying on the sun deck and on the bridge deck. Their D-Values make 18 metres and 14 metres, meaning they are able to host the largest helicopters on the market.
With her wide beam of 20.5 metres, Flying Fox also boasts large sea terraces, wide swim platforms for watersports, a panoramic exterior saloon on the roof deck and a generous 12-metre transverse swimming pool crossways the main deck, the first one for a superyacht of that size.
To comfort her guests, Flying Fox also features a 400 square metre spa spread across two floors. The zone comes with a hammam, sauna, massage area, gym and cryo sauna. On the lower deck, spa is connected to the sea lounge which comes with a large Jacuzzi, and access to the sea through the dive centre and sea platforms.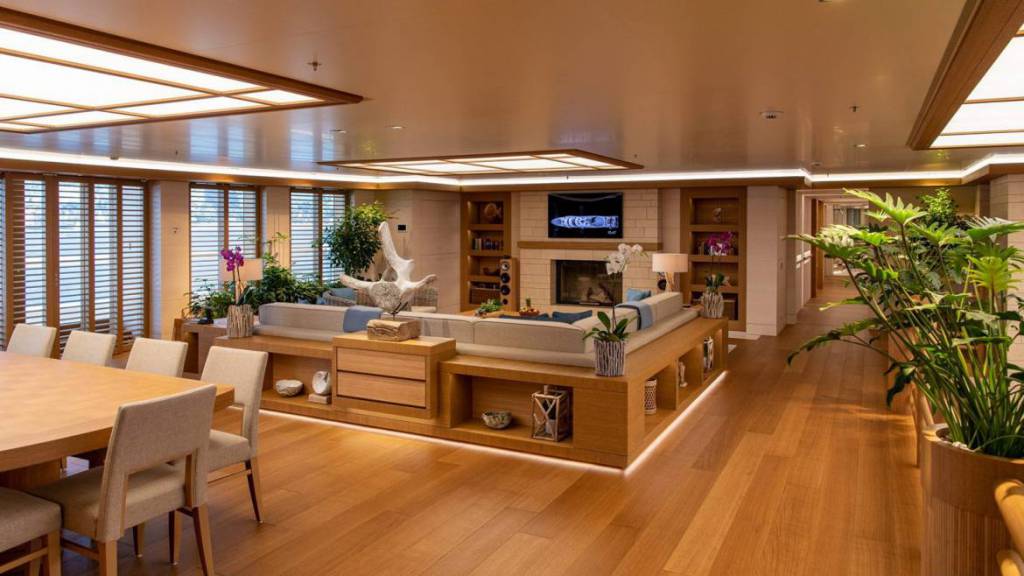 Thanks to cutaway bulwarks on the bridge deck and upper deck, plenty of natural light floods the interiors through floor-to-ceiling windows.
Furthermore, the interiors of Flying Fox are highlighted by neutral tones complemented by tactile surfaces and finishes.
The vessel's main interior area, a spacious two-floor saloon, lies on the bridge deck, fitted with wood fireplace, dining table for 22 people and a cinema.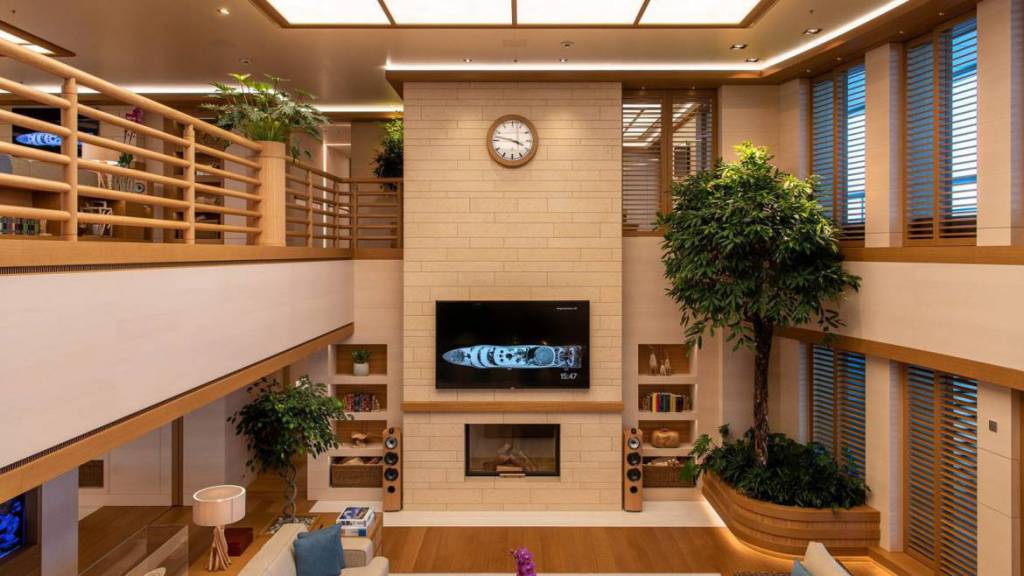 Flying Fox comes with a vast choice of tenders and toys. She stores nine tenders, including a custom 12.5-metre enclosed Limo, an 11-metre open Limo, a 9-metre beach landing craft and an 8.5-metre Super Air Nautique Coastal. The water toys range includes jet skis, sea bobs, and many more.