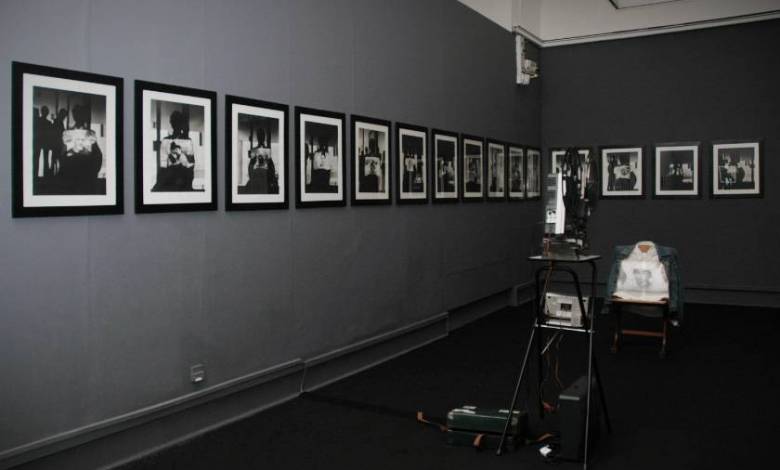 Christian Louboutin, The exhibition(ist) at the Grimaldi Forum in Monaco
Until August 28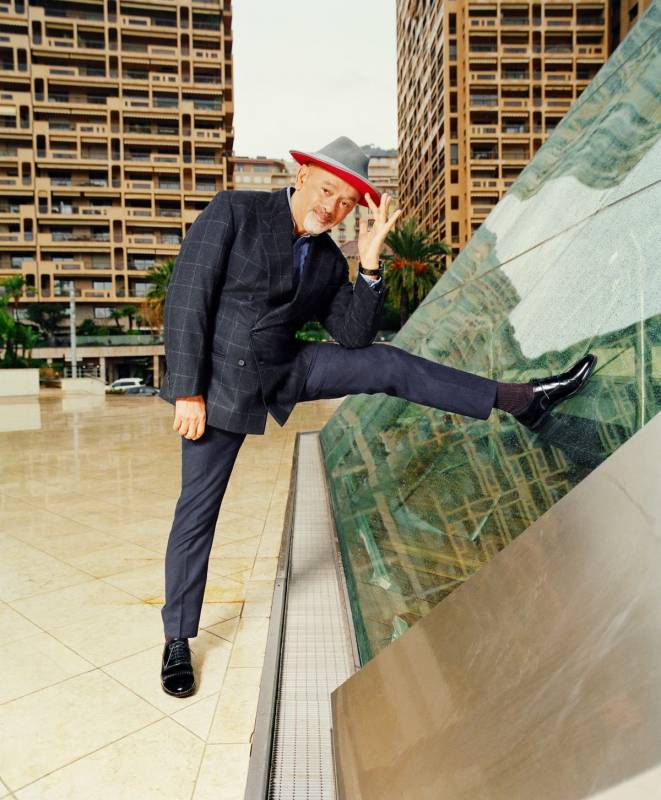 He turns the heads of all the shoe-lovers. He rocks the fashion world with his innovative ideas, audacity and talent. Christian Louboutin has taken over the Grimaldi Forum spaces this summer. Its spectacular scenography is taking us on a journey through this legendary shoe designer's imagination.
The exhibition reveals a number of unique items Christian Louboutin was inspired about by Monaco itself. Much more than a classic retrospective, it is conceived as a joyful odyssey through three decades of overflowing creativity, full of curiosity for cultures and arts. Dance, in particular, the Russian Ballets, Andy Warhol's Pop Art, Helmut Newton's photography imbued by the oceanographic universe… Many an artist from different backgrounds have enriched Christian Louboutin's research, influencing the richness of the NMNM (New National Museum of Monaco) collections.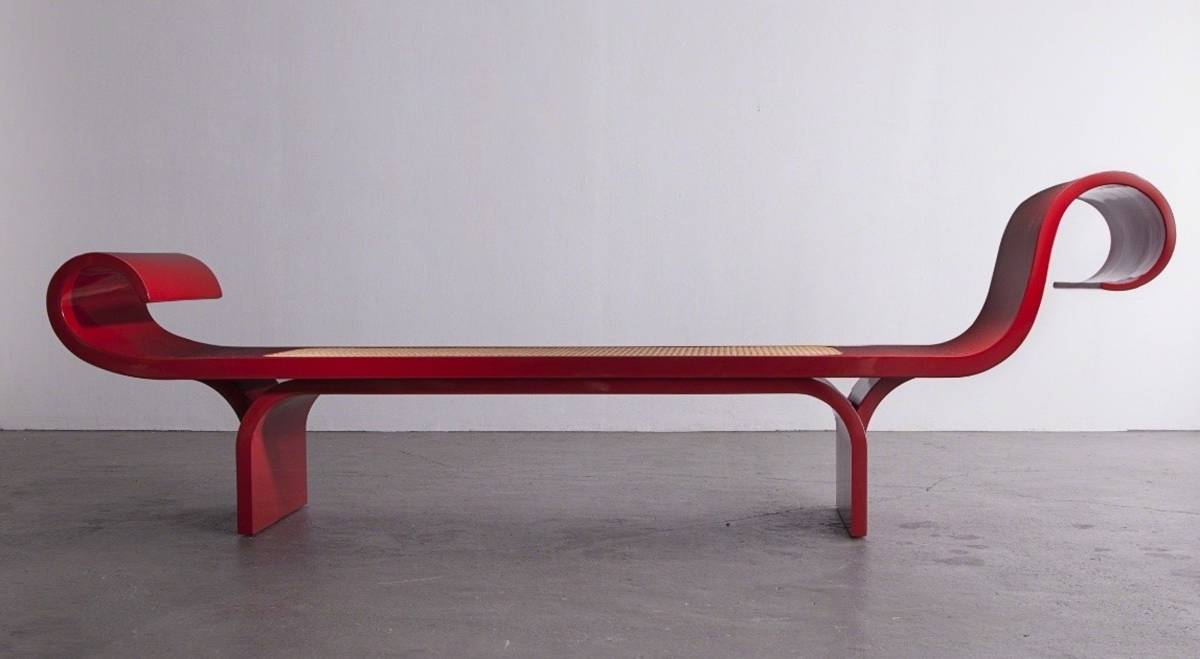 The Grimaldi Forum is featuring some exceptional pieces such as Joséphine Baker's headdress by André Levasseur, the "lobster and octopus" sculpture by Mathurin Méheut, the radiolar chandelier by Constant Roux and a sumptuous shoe series "Soulier d'Akhenaton" honouring Christian Louboutin's art and fantasy.
Poet Rimbaud would have called this red soles' creator, the "soles of the wind". He never stops going a step further, surprising us more and more. Passionate about freedom, the designer expressed his joy at exhibiting at the Grimaldi Forum flexible space.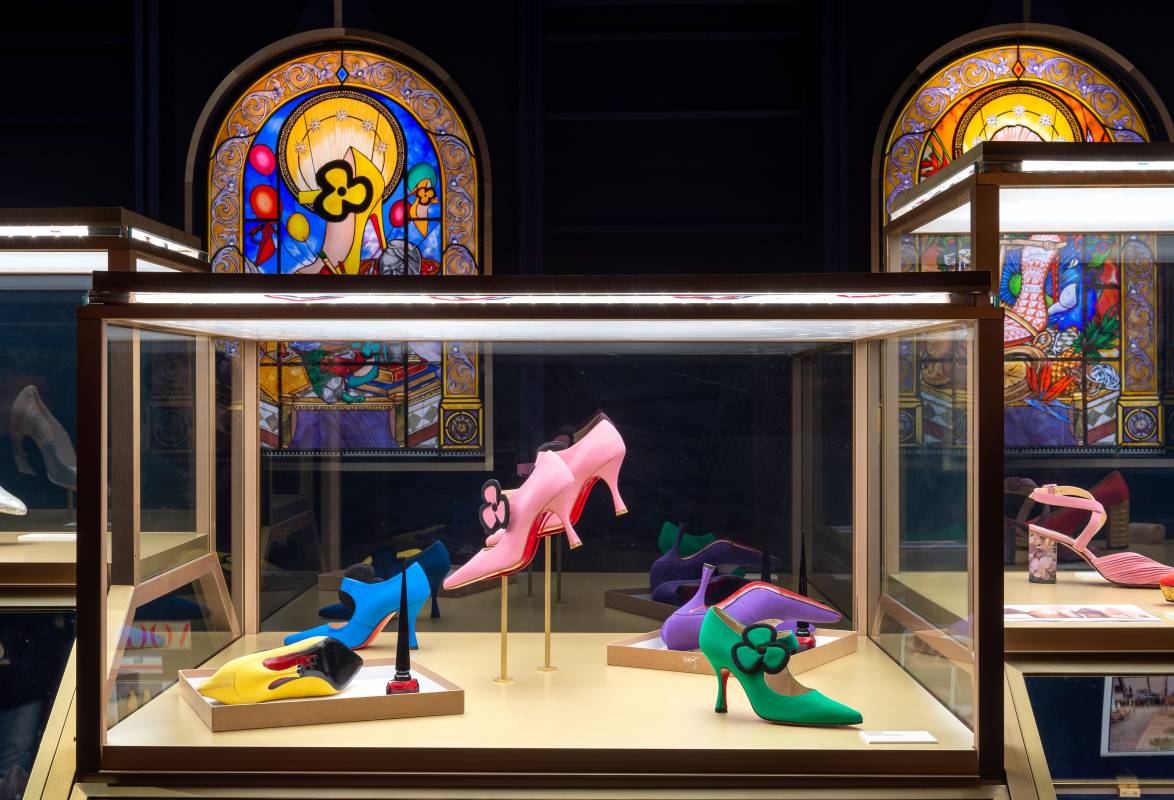 "Christian Louboutin, L'Exhibition[niste]"
Grimaldi Forum
10, Avenue Princess Grace, Monaco
Tel (+377) 9999 2000
Glass reflexions by Antoine Pierini at the Villa Kerylos in Beaulieu
Until September 18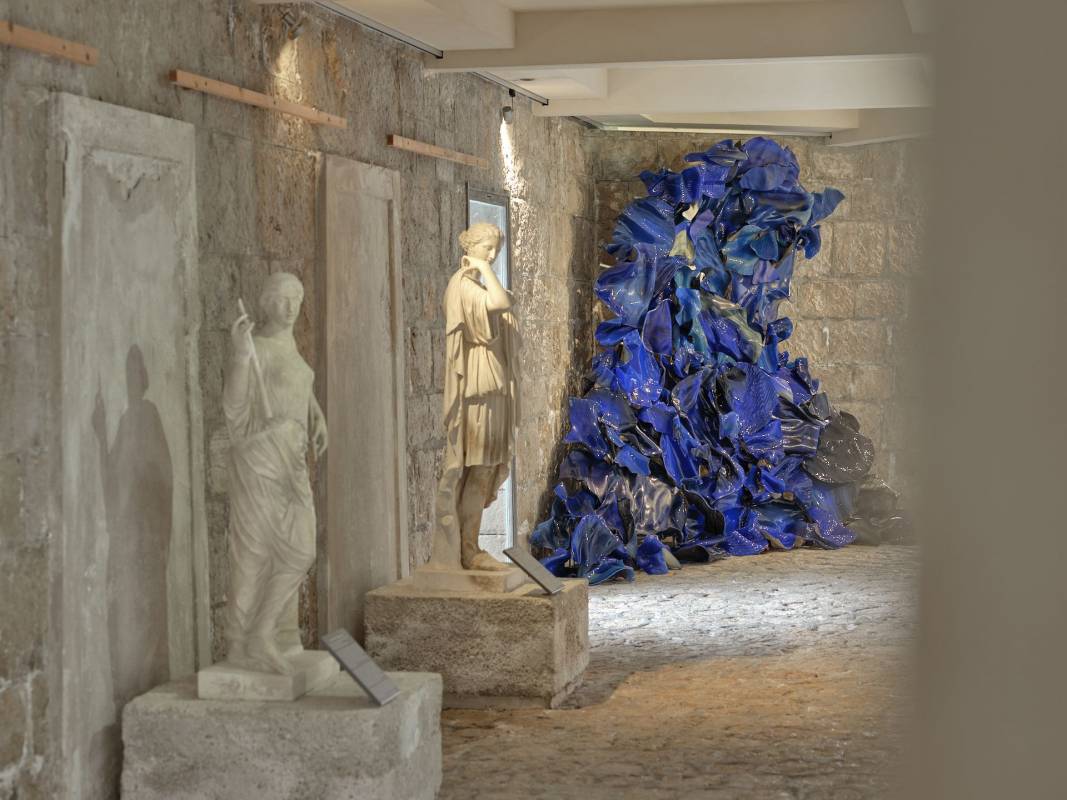 A master glassmaker, artist, designer Antoine Pierini has taken over the Villa Kerylos in Beaulieu with his "Dreaming the Mediterranean". The architectural masterpiece conceived by a mecenate archaeologist Theodore Reinach and designed by Emmanuel Pontremoli, is now enlivened with furniture, crockery, decorative elements in the spirit of ancient Greece. Dive into this fabulous cultural universe, the cradle of all civilization, this summer lit up by shards of glass. The creator does not deny this ancient heritage, but anchors himself in this exceptional monument, boldly soaring towards unknown shores.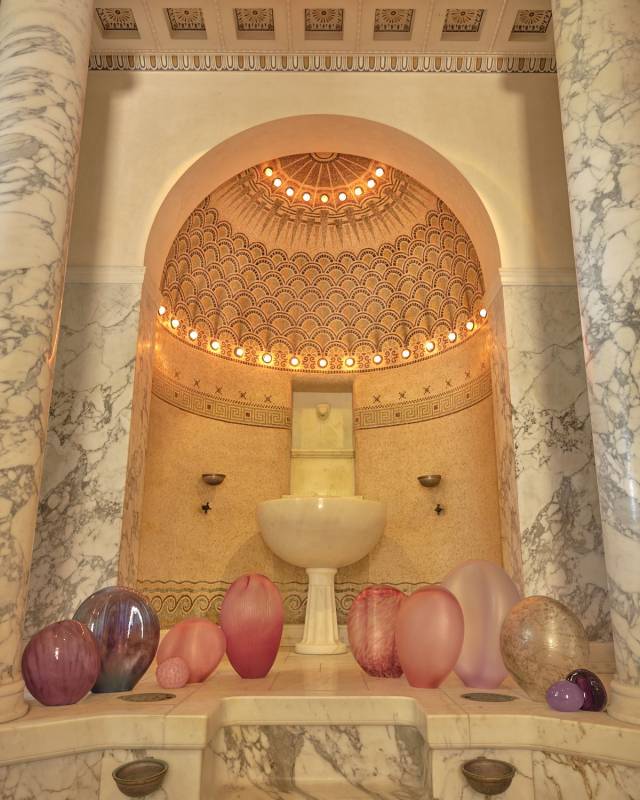 Antoine Pierini successfully dares different contrasts, playing on oppositions. His obviously modern works blend perfectly with the neo-antique residence decor. The Naïads hall is thus featuring a series of his abstract bubbles. "The Hills" may be equally evoking desert dunes or drops of water, growing giant under the power of breath.
The inner courtyard with its "Reed Columns" symbolizes a quest towards the sky — a link between the matrix earth and the world of ideas, so dear to Greek philosophers. These glass sculptures require expert craftsmanship.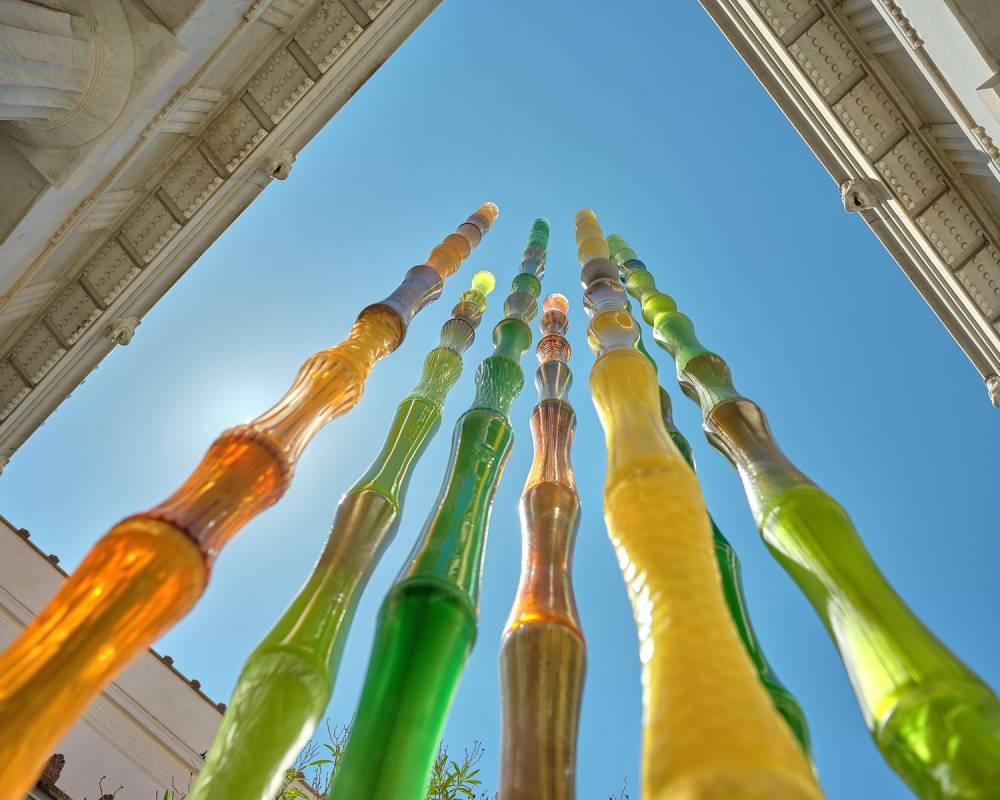 The amphoras are truly part of the local decor. Next to the antique quarters, in the dining room, Antoine Pierini captures the light, sending out shades of orange with his "After the Battle". A superb accumulation indeed.
Among the most striking pieces is an incredible installation in the Antique Gallery. Dozens of glass plates, revealing all shades of blue. This is an "Inner Sea" of emotions shaking our soul. A real storm under a skull. Absolutely magical.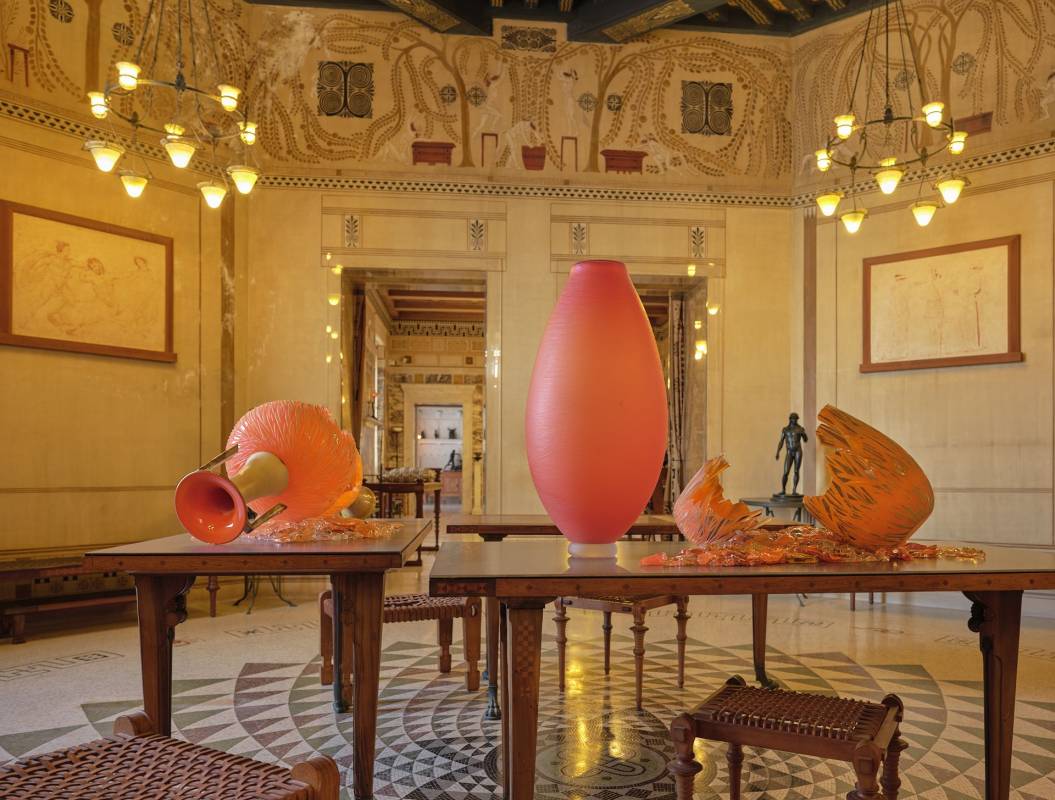 "Dreaming the Mediterranean". Antoine Pierini
Villa Kérylos, Impasse Gustave Eiffel, Beaulieu-sur-Mer
Phone (+33)4 9301 0144 
A dive into the Hartung-Bergman Foundation's archives in Antibes
Until September 30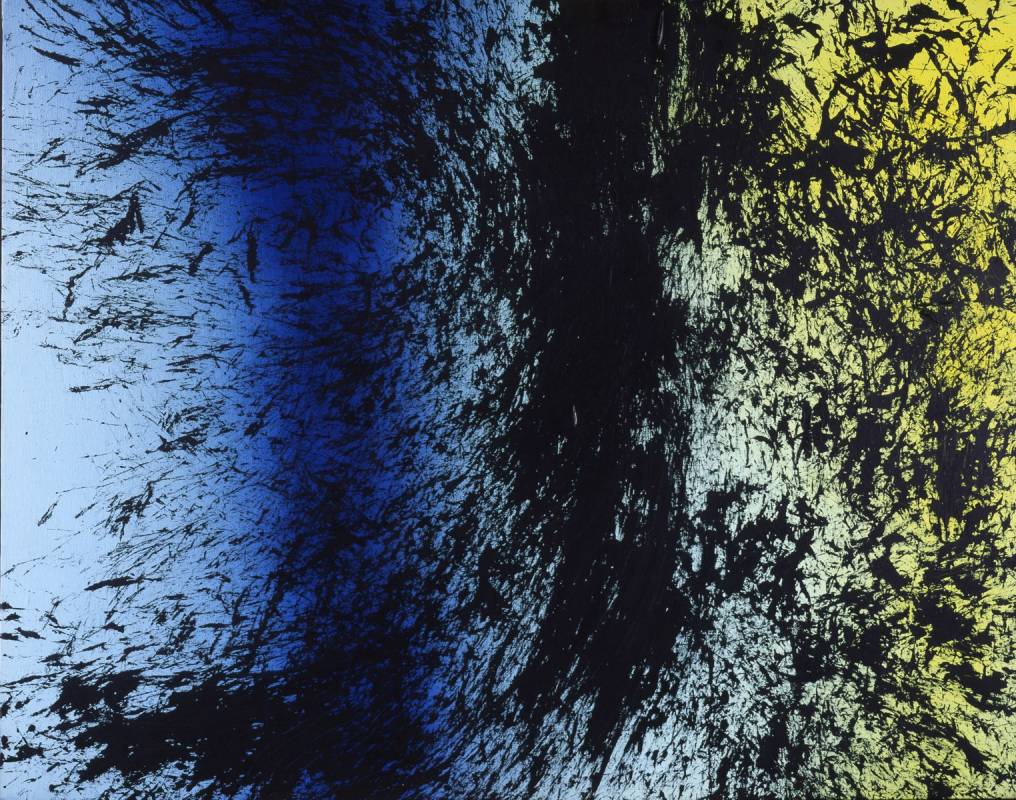 This sun-lit villa opens onto the olive groves, each window is like a frame revealing a painting. Its whiteness is highlighted by the greenery of the plants and the blue of the swimming pool. The former villa-workshop of Hans Hartung and Anna-Eva Bergman, key figures of modern art, is keeping the secrets of these two creators. After an extensive renovation, the Hartung-Bergman Foundation in Antibes has reopened to the public, enriched with new spaces and buildings. Its inaugural exhibition is entitled "The archives of creation". This is a dive into the secrets of these two artists' creative work, alternating freedom of gestures and a mathematical meticulousness. Archiving — whether sketches, letters, photographs or press — was at the heart of Bergman and Hartung's life and work. Follow the twists and turns of their artistic journey in this very place where a number of creations were produced, including Hans Hartung's "Ultimate Work".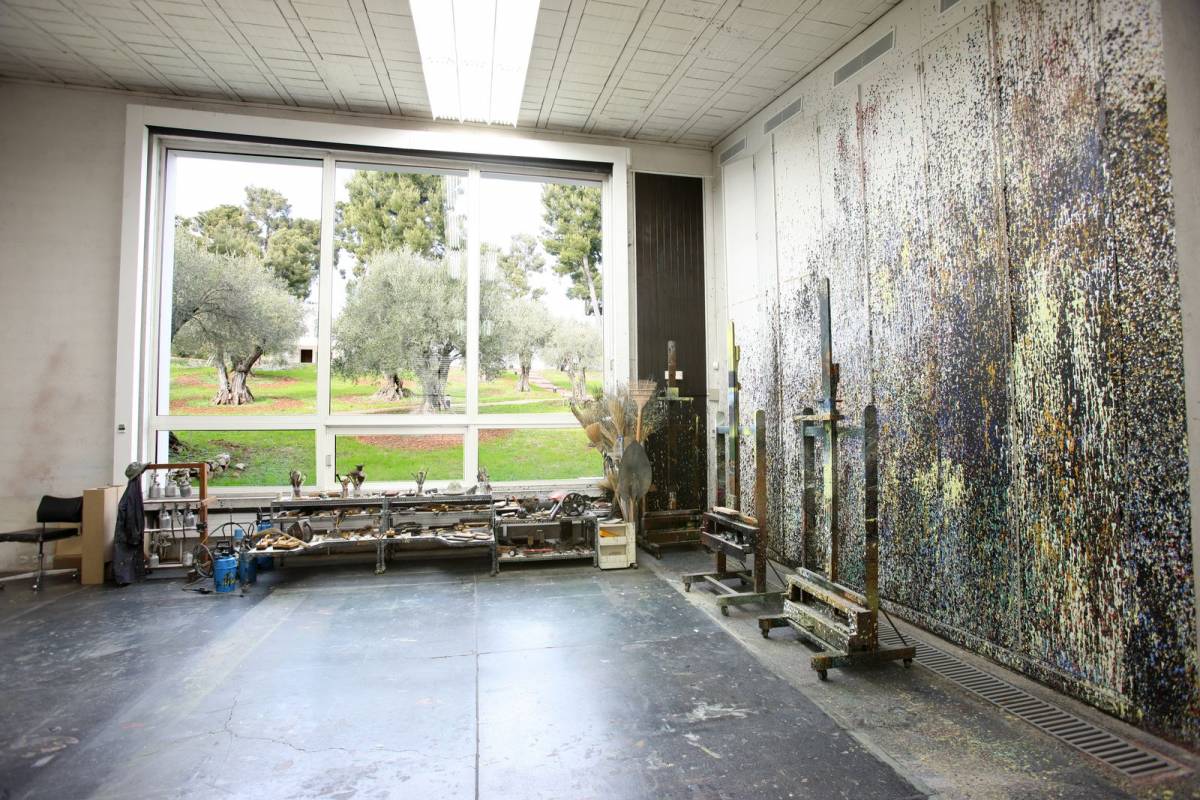 Suffering from a stroke at the dusk of his life, the painter moved around solely in a wheelchair. He then decided to tackle large formats, using new tools, to pursue his painting despite his handicap. He then produced new works, spraying on the canvas colours that contrasted with his usual ways. More frank and paradoxically more cheerful hues, unexpected and magnificent paintings came about. They convey a peculiar youth, one might say. Visiting his workshop marked with countless stains and traces of paint, it is particularly moving to imagine this creative frenzy.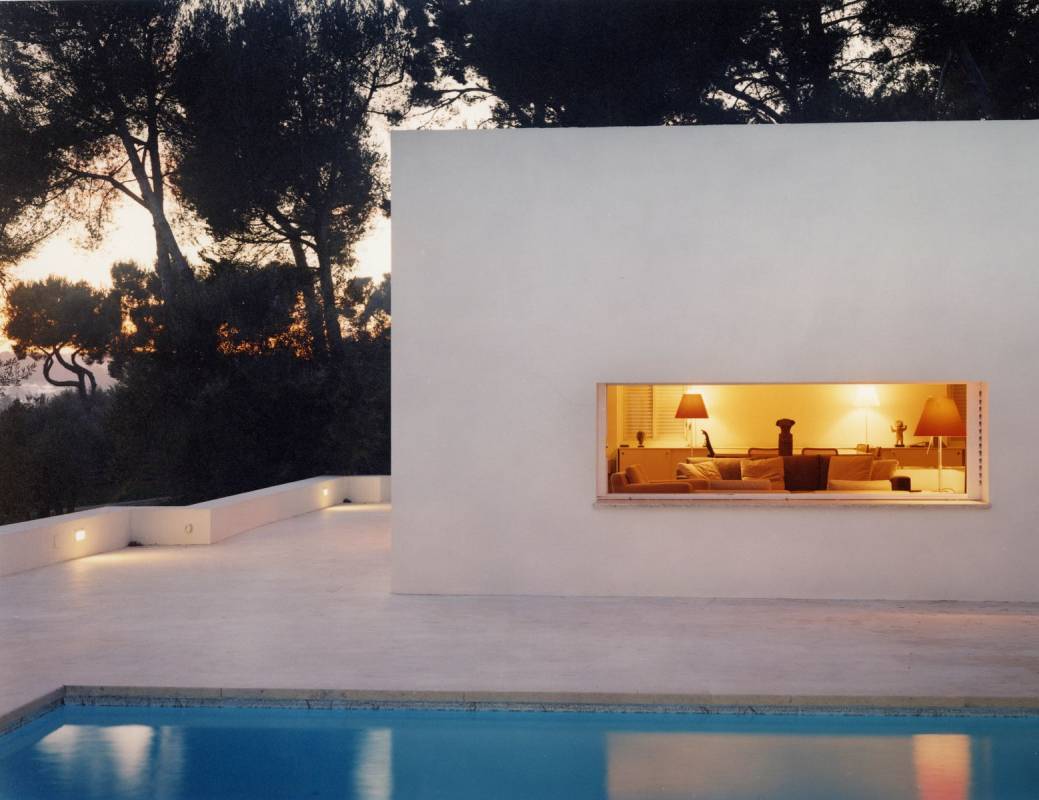 Visiting this villa, later becoming their foundation according to the artists' will, is akin to a ritual. Discovering this universe where the inventor of modern abstraction pursued his research at the cost of much suffering until his very last breath is a very emotional experience for any art lover.
"Les archives de la creation"
Hartung-Bergman Foundation
173, Chemin du Valbosquet, Antibes
Tel (+33)4 9333 4592
A thousand and one facets of Italian art at the MAMAC in Nice
Until October 2
An otherness so close, so rich, so fascinating. The 1960-1975ies in Italy are mostly known as "Arte Povera", proclaiming the importance of a creative gesture, favouring poor, perishable materials and installations, opposition to anything ostentatious or tinsel. The summer exhibition at the MAMAC (Museum of Modern and Contemporary Art) in Nice is introducing us to "Vita Nuova", highlighting the art challenges in Italy during that period. This vast panorama bringing together some sixty artists and 130 works admittedly features some big names of the Arte Povera. Its ambition is to explore this intensely creative period. From Milan to Genoa, from Turin to Rome via Florence, a number of visual artists got to express themselves, leaving an indelible mark in art history. Some are exhibiting in France for the first time, particularly female artists.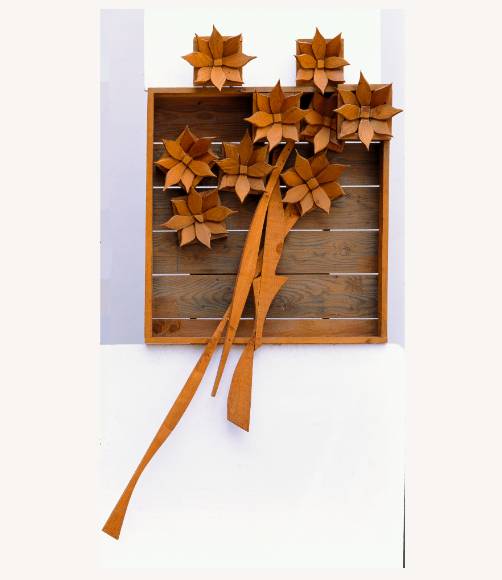 "Vita Nuova" is witnessing a diversity of Italian art over these fifteen key years. Its vitality makes it truly exceptional in the European and international artistic landscape. The curator, Valérie Da Costa, organizes its scenography around three major themes: "A society of the image", "Reconstructing nature" and "Memories of the bodies".
Moving around the exhibition is like a puzzle revealing a major role that visual creation, design and cinema played in the emergence of this new and rich artistic scene.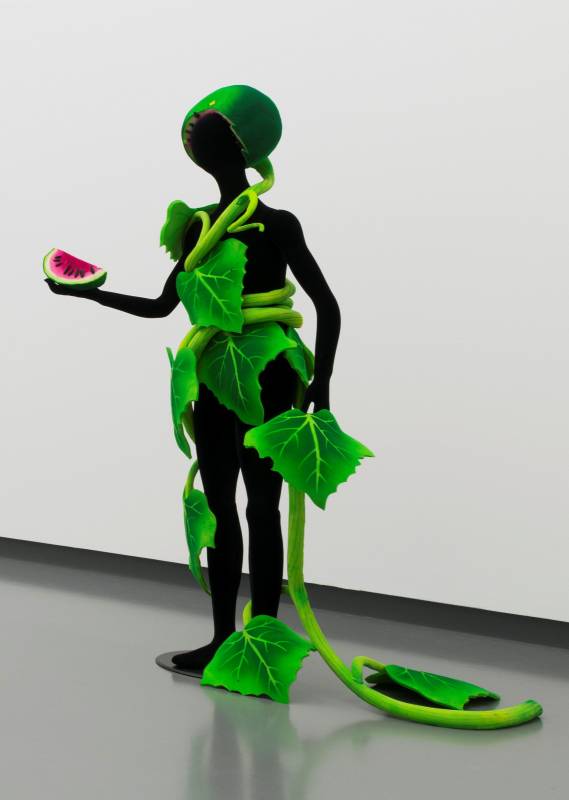 The last room is dedicated to Pier Paolo Pasolini, recalling a projection on his own body of his "Gospel according to Saint Matthew" on May 31, 1975 in Bologna. Six months later, the Italian film director tragically passed away.
"VITA NUOVA. New Art Challenges in Italy of the 1960-1975ies"
MAMAC
Place Yves Klein, Nice
Tel (+33)4 9713 4201