Latest news
Artmonte-carlo 2021: Art in its many wondrous facets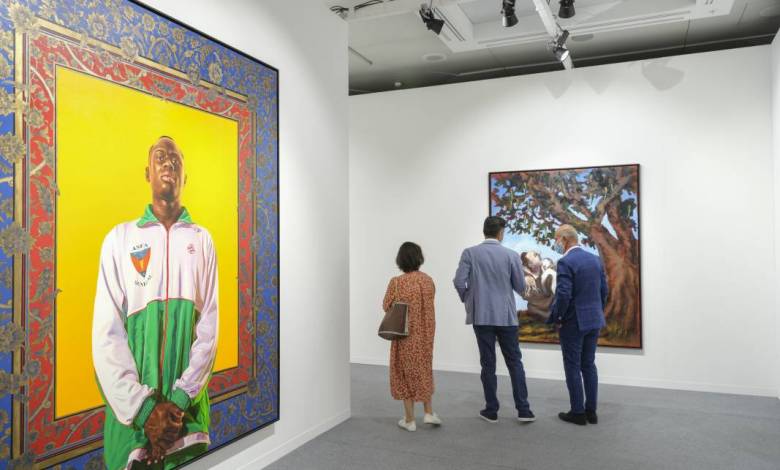 Last week, Art hit the ground running in Monaco. Every corner of the Principality breathed artistic creativity starting from the most popular cultural hub, the Grimaldi Forum. The most glamorous Salon d'Art of the season artmonte-carlo was back from the 15th until the 17th July 2021 at the Grimaldi Forum, with a very international edition. "It is our pleasure to welcome you to the fifth edition of this exhibition of Contemporary and Modern Art and Design organised by Palexpo SA under the High Patronage of H.S.H. Prince Albert II of Monaco", stated Thomas Hug and Laura Meillet, directors of artgenève and artmonte-carlo.
Since its foundation, this exclusive art fair with its exhibition stands, has pursued the aim of building an artistic first-class reference point in the core of French Riviera to meet the expectations of collectors and amateurs.
The international character of the Monegasque territory offers the ideal place for showing the most interesting work of art and the most innovative artistic trends of the moment from leading galleries around the world. In 2021 edition, the presence of new exhibitors operating in emerging areas shows the growing interest in Monaco's environment, already considered an essential stage by faithful actors supporting the initiative. Therefore, artmonte-carlo constitutes only a piece of a larger mosaic made of the iconic Alberto Giacometti's retrospective at the Grimaldi Forum alongside the exhibits at Museum of Modern and Contemporary Art of Nice – MAMAC, the Matisse Museum and the Marc Chagall National Museum, not to mention the new CAB Saint-Paul-de-Vence Foundation.
The opening time developed good vibes to worthily celebrate the return of an art salon open to the public, in the best safety and health protection measures. In the well-established tradition, a prize was awarded to a relevant art gallery. The Prix Solo artmonte-carlo – F.P. Journe, devoted to the best art installation, went to Galérie Nathalie Obadia (Paris, Brussels). The French artist Guillaume Leblon, exposing at the Gallery, was awarded the prestigious acknowledgment assigned by a technical jury presided over by Björn Dahlström, Director of the Nouveau Musée National de Monaco.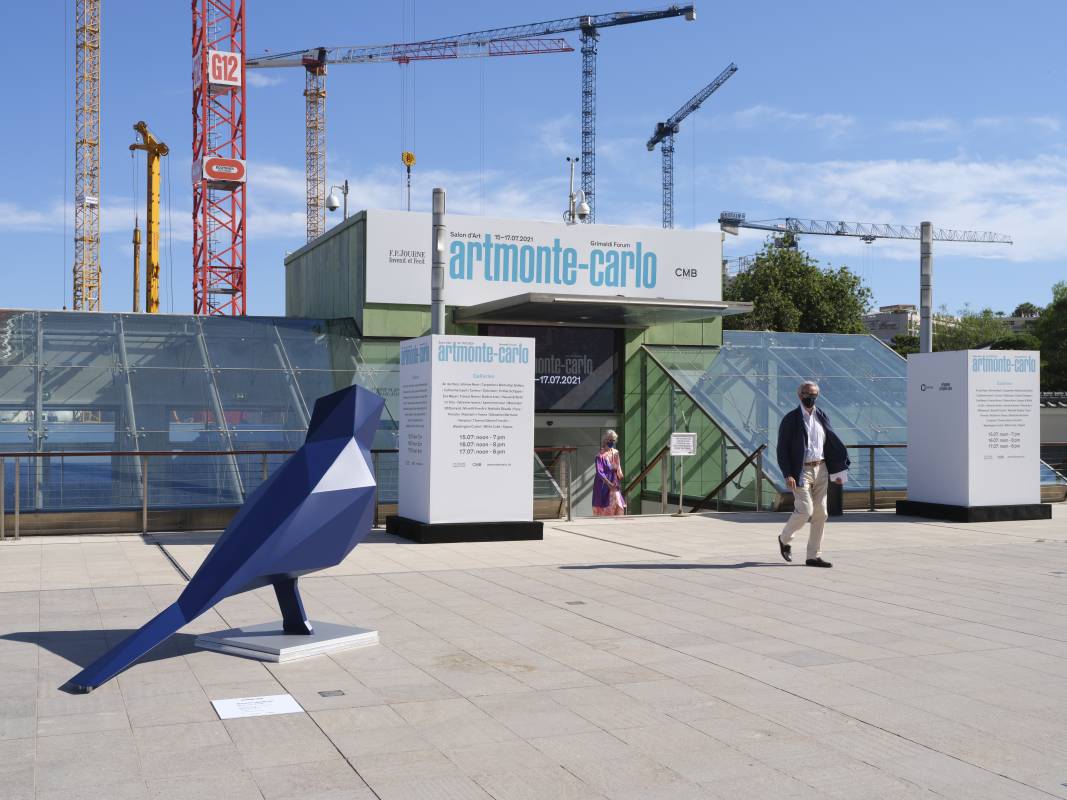 "We are really pleased to attend artmonte-carlo for the first time and to receive such recognition", highlighted Pauline Chice, Director, Curatorial & Sales at Nathalie Obadia Gallery – "we have been attending artgenève for a long time since it was cancelled for the health crisis, so, we are happy to meet already-known Monaco's collectors at their home and new entries besides loyal followers from Geneva Fair" – "we are also delighted to present, in our diversified international artistic offer, Mr. Leblon who has recently started a collaboration with us", she added.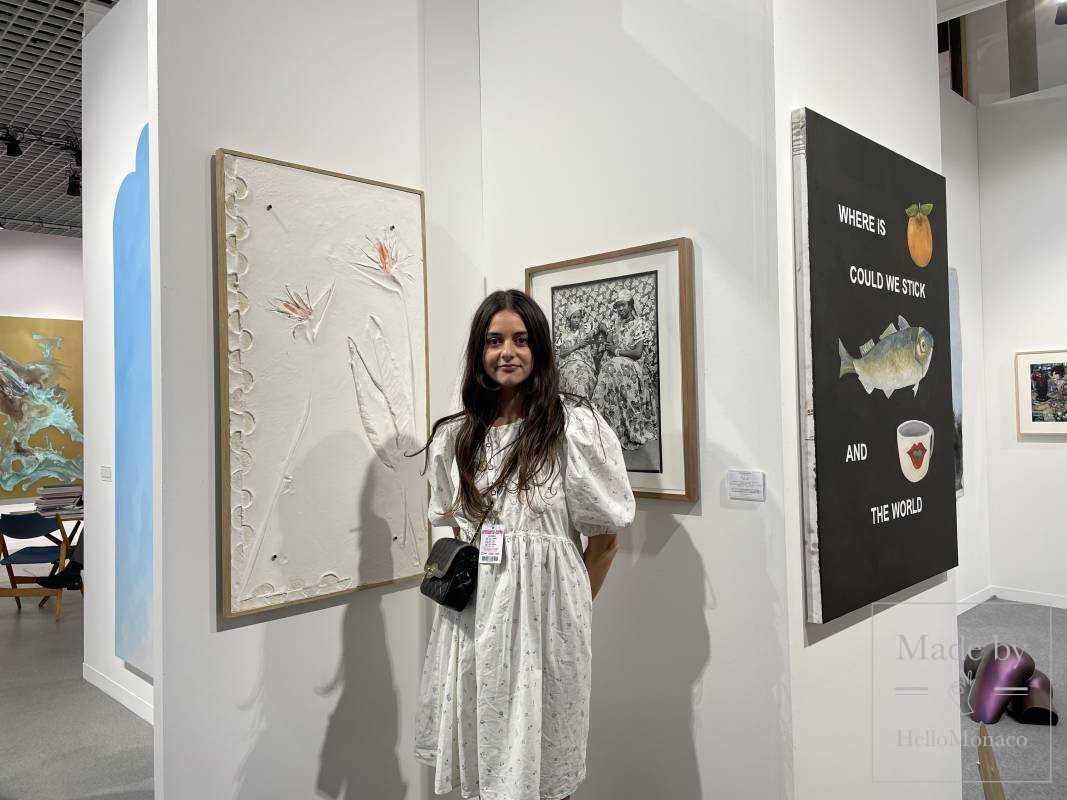 Fond of Alberto Giacometti's art, Leblon's installations and sculptures are full of enigmatic and seductive force. Particularly impressive also Laure Prouvost with her storytelling art balanced between sense of humour and symbolism, exposed at the same art space.
But artmonte-carlo provided further interesting inputs and HelloMonaco collected some inspiring feedbacks among different exhibition stands. Carpenters Workshop Gallery (Paris, London and New York) amazed the viewers' attention with a selection of unique pieces of masterful design able to raise wonder and interest.
"Being here is for us to return to almost normal life, being the first one live after Maastricht European Fine Art Fair in March 2020", outlined Mathilde Prieur, Sales Director – "We decided to propose a sculptural artistic path showing something unique where to find the reuse of materials, innovation and original shapes", she added.
The "Bullheaded Tin Bubble Lamp" (2020) by Nacho Carbonell, the street-lamp-like bronze chandelier CL Arctic II (2017) by Frederik Molenschot and the "Close Parity Cabinet with Light" (2016) by Maarten Baas were of particular visual impact.
Dickinson Gallery (London and New York), for the first time in Monaco, presented a classy stand in line with the natural elegance of Monaco.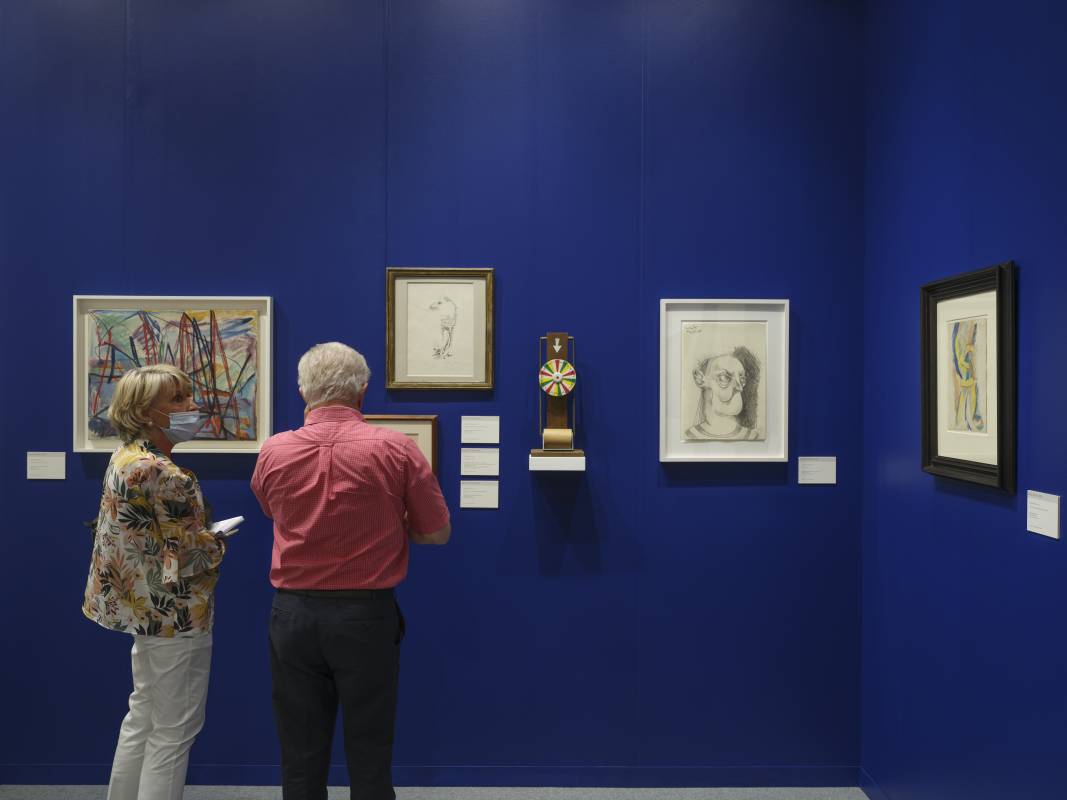 "We gathered a selection of highlights which suit the international clientele living in the Principality with a special regard to the Twentieth Century production", stressed Max Weaver, Gallery Manager – "as for Monaco, we take into consideration the bright-eye catching design and the golden age of each artist", he added.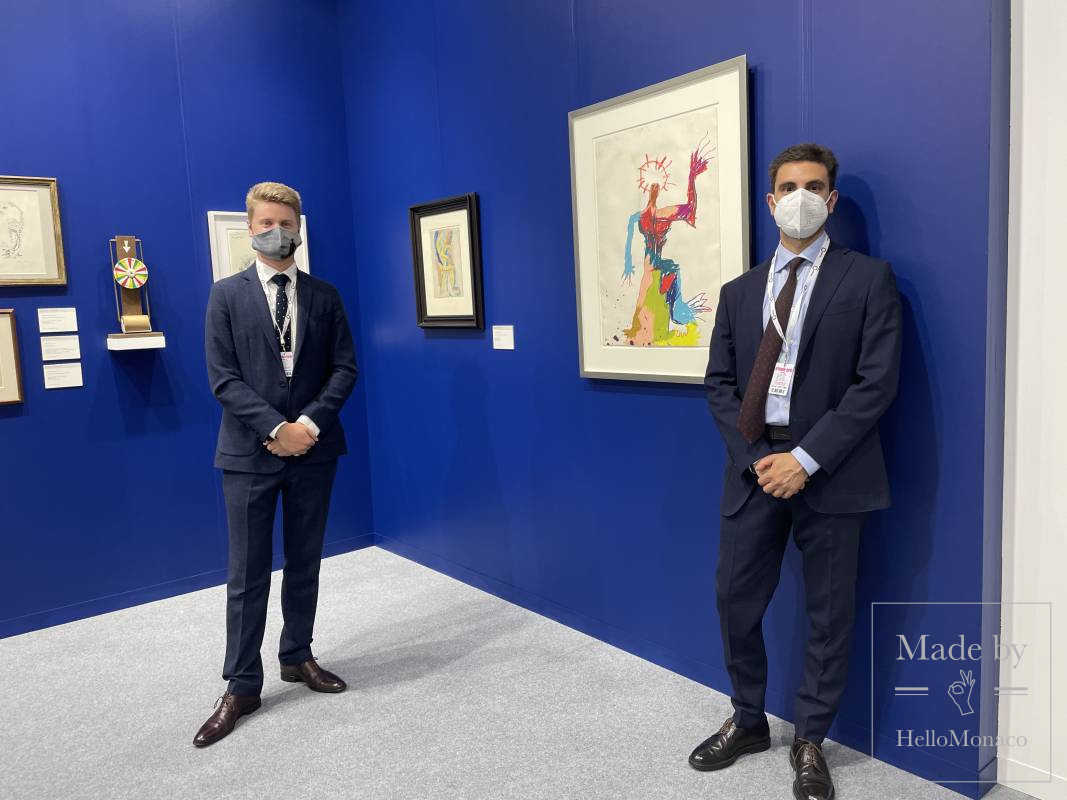 Besides the paramount Lucio Fontana, Henri Matisse and Pablo Picasso with its 'Nu Agenouillé, étude pour Trois Femmes' (1908), a stylish coloured pencil on paper called "Untitled" (2005) drawn by British artist Graham Little gave a touch of Romanticism blended with post-modernism, sketching two elegant ladies posing as if they were at a photo call. Another 'Untitled' (1982) stood out for its chromatic choice by Jean-Michel Basquiat, American writer and painter, former leader of the American Graffiti Movement.
Cortesi Gallery (Milan, Lugano) presented a series of masterpieces from major artists from the 60's of the last century onwards.
"Our choice for the Principality covers a selection of Italian and international talents operating in the post-war period such as Arnaldo Pomodoro, Piero Dorazio, Lucio Fontana, Enrico Castellani, and a few contemporaries like Georg Baselitz and Francesco Carrozza", underlined Camilla Romeo, Gallery Coordinator – "Coming back to this high-profile exhibition always fills us with pride", she added.
The photographic masterpiece by Gregory Crewdson, named 'Starkfield Lane' (2018-2019) shown at Templon Gallery (Paris, Brussels) was particularly intriguing.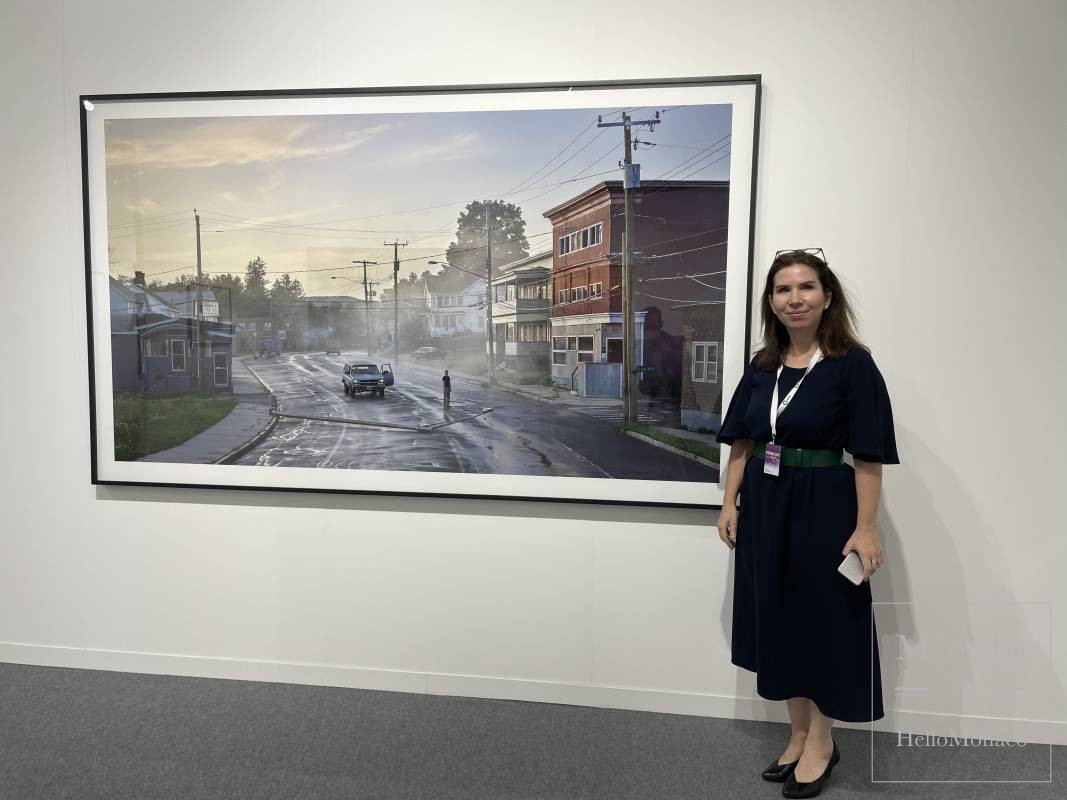 "Any detail of the picture was reconstructed by the American artist who played as a film maker with a true production staff in order to tell a whole story in one shot; The name itself of the work of art intrigues by its strangeness", explained Anne-Claudie Coric, Executive Director at the gallery – "It is our first time at artmonte-carlo despite being well established so we would like to display more 'historic' artists like Valerio Adami and Jim Dine besides impactful emerging talents as Omar Ba from Senegal or Chiharu Shiota from Japan" – she added.
White Cube Gallery (London, Hong Kong and Paris) offered a world art palette of refined beauty through the reinterpretation of forms and materials from Mother Nature as in the mosaic-shape work by Damien Hirst named 'Transgression' (2019) made of butterfly wings and household gloss on canvas.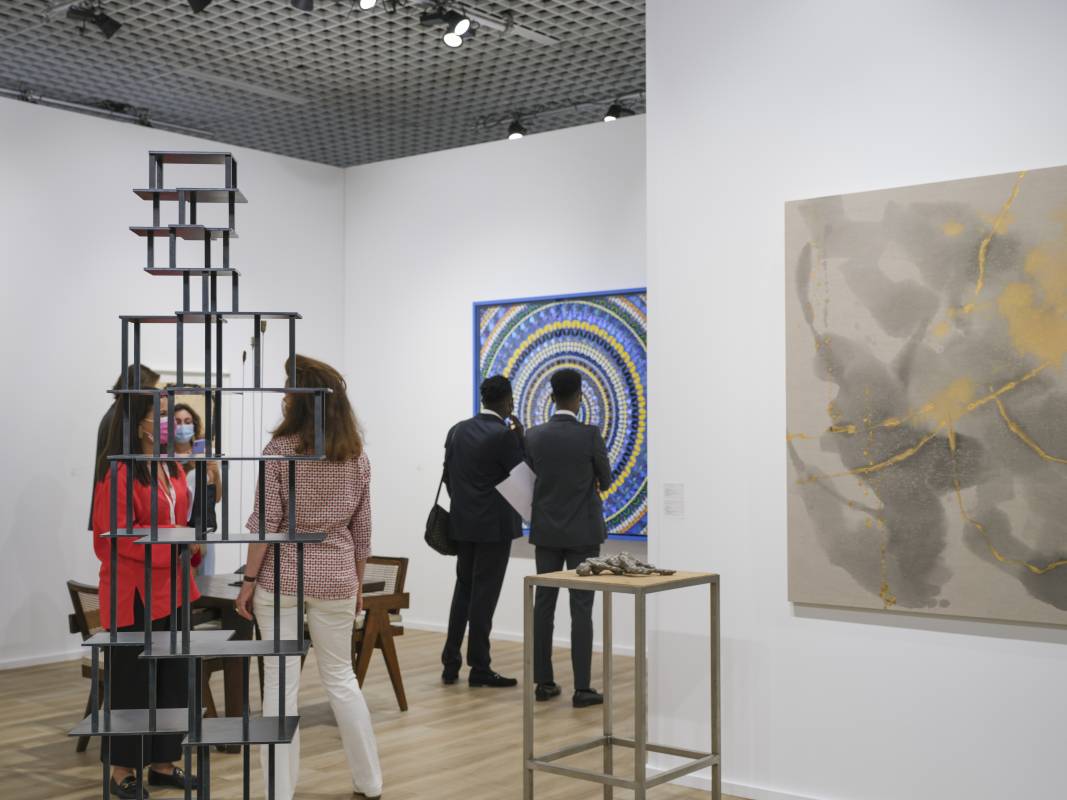 "One of the main mission of our gallery is to allow any artist to build a career; thus, we are being involving them together in all international exhibits as this one", underlined Julia Baumhoff Zaouk, Director of the Gallery.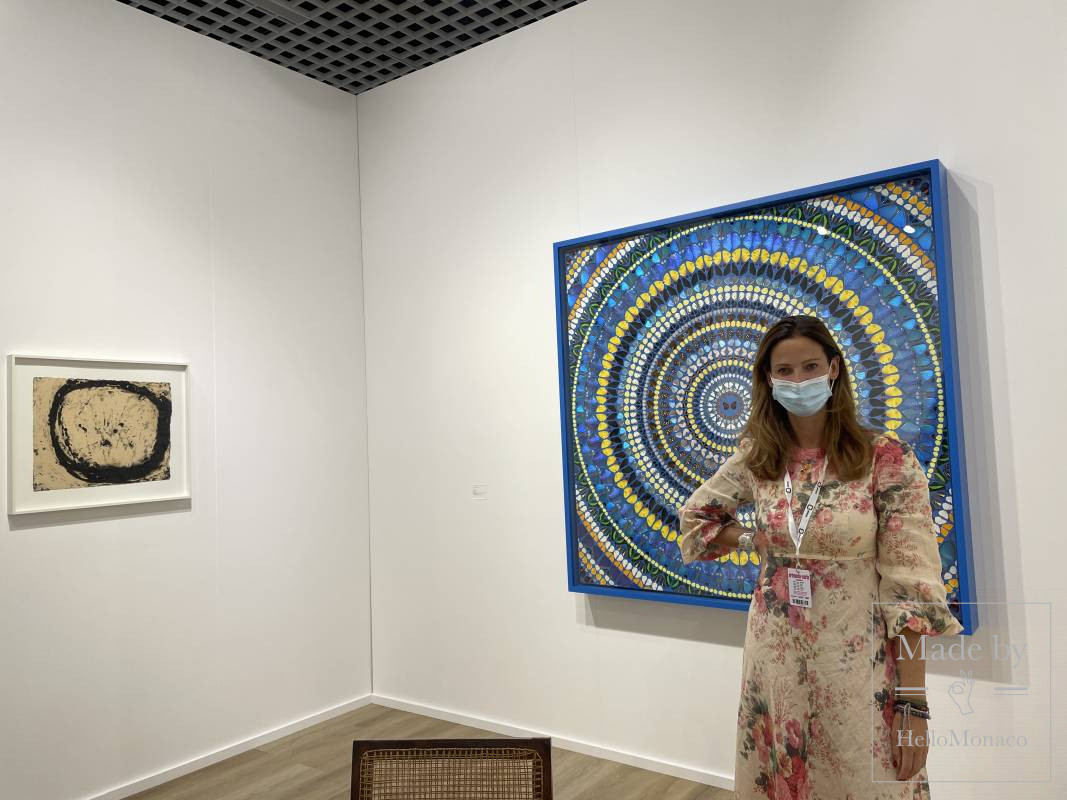 The 2021 edition of Art Expo artmonte-carlo left a significant mark showing the most impressive existing art collections in their best shine to wish a cultural renaissance.