Latest news
Ethereal – The World's First Hybrid Superyacht and other yacht news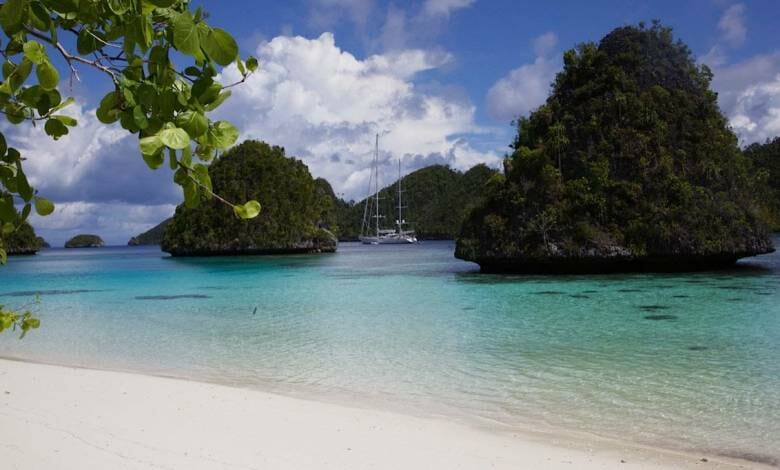 Huisfit – No Better Time Than Now To Get Your Yacht Ready!
The formerly "classic" Feadship motor yacht BROADWATER has been successfully converted and lengthened by Huisfit during a major 2019 – 2020 refit at Royal Huisman Amsterdam. The Owner's brief was to convert her into a "modern and livable home away from home". The new exterior and interior styling has been created by the talented yacht designer Adam Voorhees, who was inspired by the Owner's input to define an abundance of desirable modifications. Following the recent re-delivery by Huisfit BROADWATER is available for charter: her interior boasts six spacious staterooms and can accommodate up to 12 guests along with 12 crew members. Noteworthy features include a jacuzzi, 38ft Wajer chase boat, and 19ft Castoldi jet tender, an abundance of water toys and much more.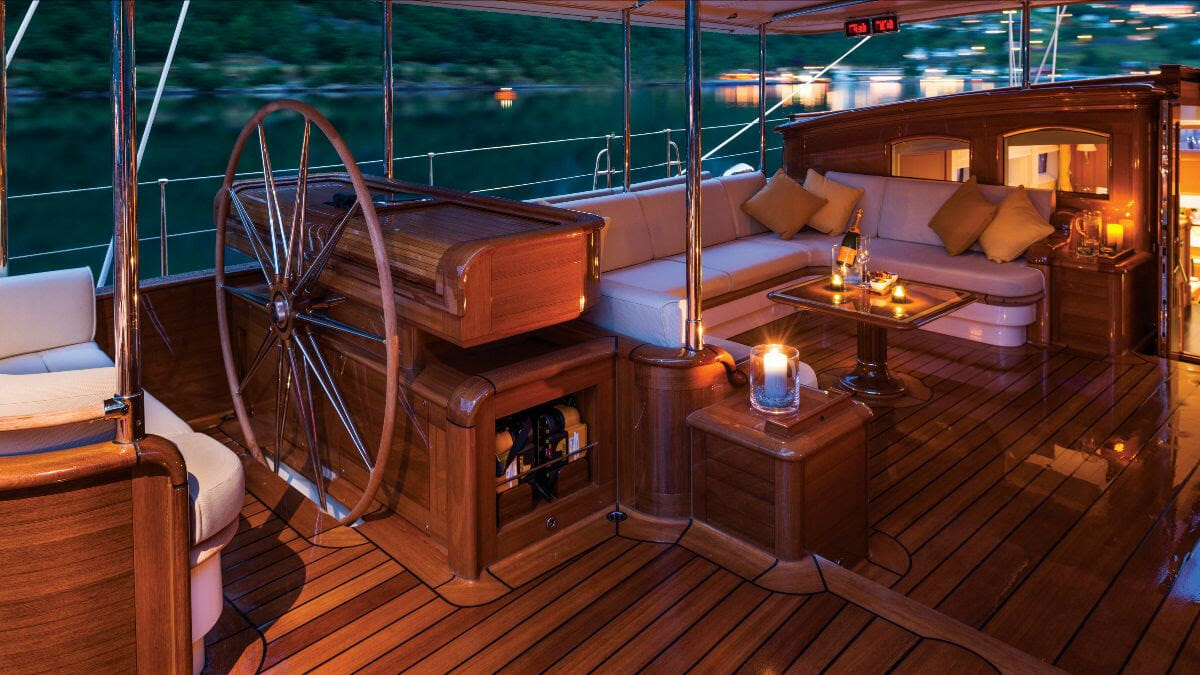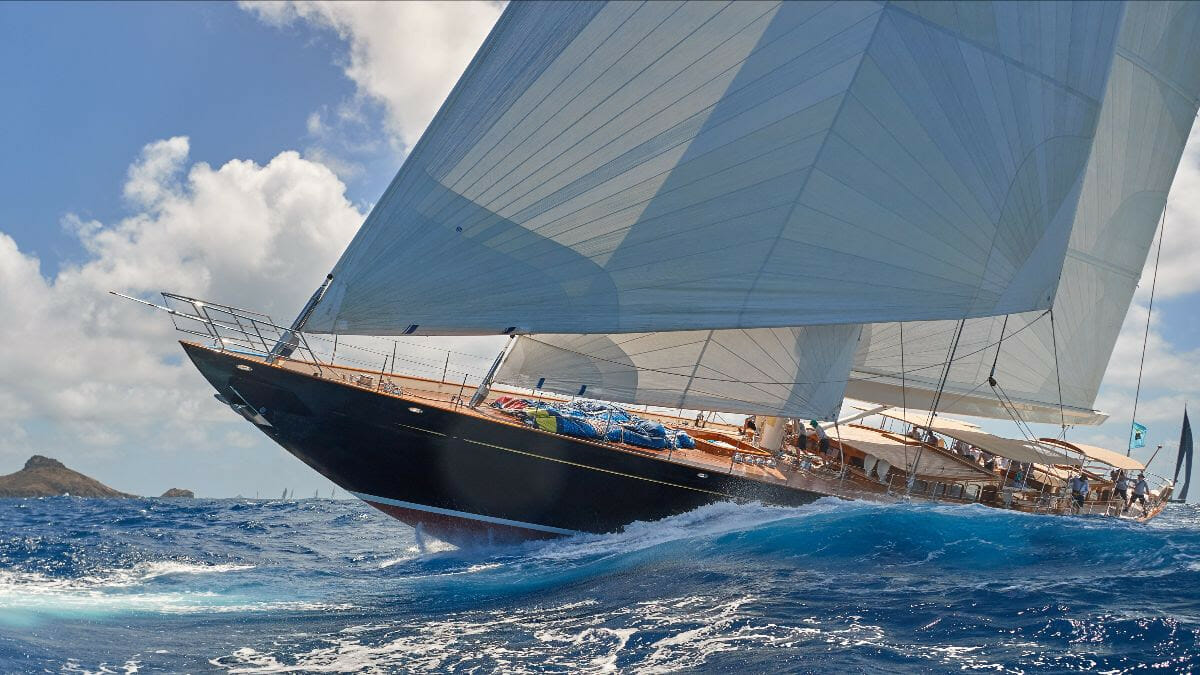 Ethereal – The World's First Hybrid Superyacht 
Ethereal recently returned for Huisfit at Royal Huisman Amsterdam. Her owner, Bill Joy, comments: "We are happy to have Ethereal back at the yard for some long-term work. It is so great to be back with the RH Huisfit team, who has such great skills and detailed knowledge of Ethereal and has done such great work helping keep her in tiptop shape since her launch". In 2020, many Royal Huisman yachts travelled to the facilities to receive assistance. The deep water Amsterdam location and the headquarters in Vollenhove were pleased to welcome Juliet, Hanuman, Meteor, Yonder, SEA EAGLE II, Aquarius, Belle Fontaine, Wisp, Ngoni, Ethereal and two more undisclosed pedigree superyachts. In addition, several "non-Royal Huisman" yachts found a safe haven at Royal Huisman's facilities and, as always, the team was delighted to assist them. Ethereal: exterior & interior design by Pieter Beeldsnijder, naval architecture by Ron Holland and delivered by Royal Huisman in 2009.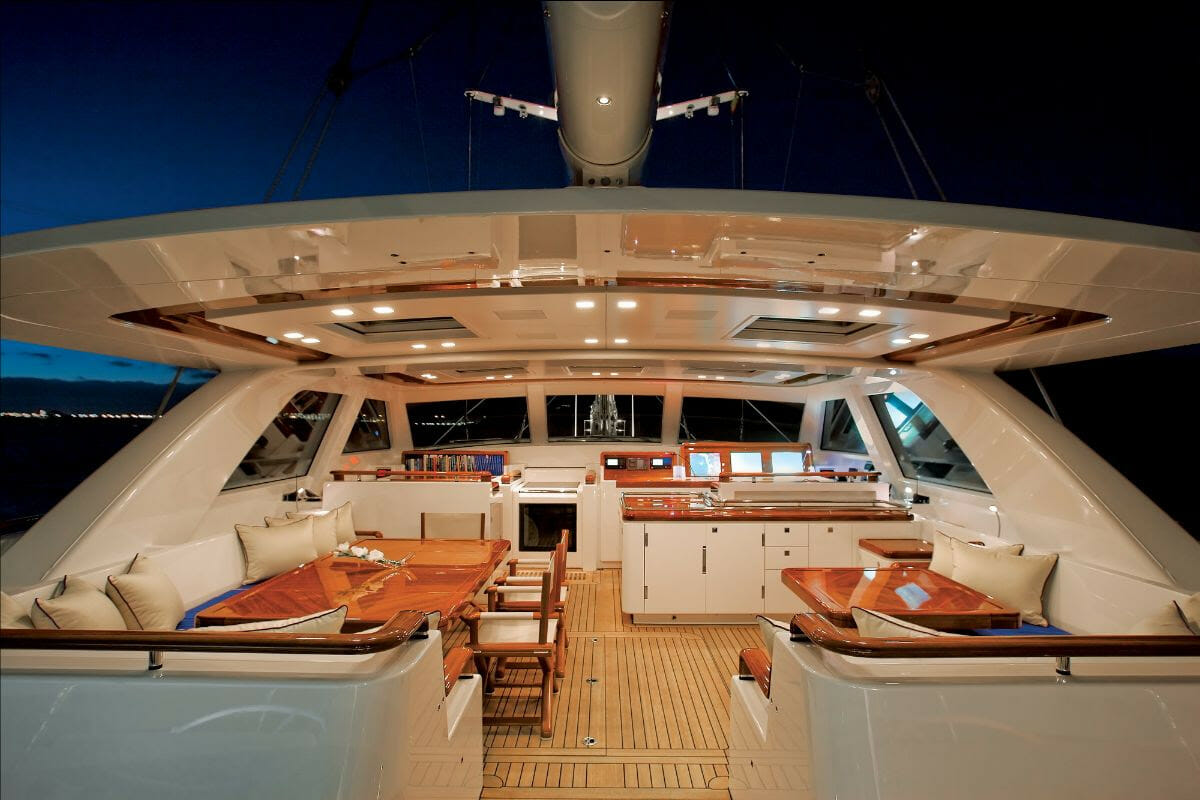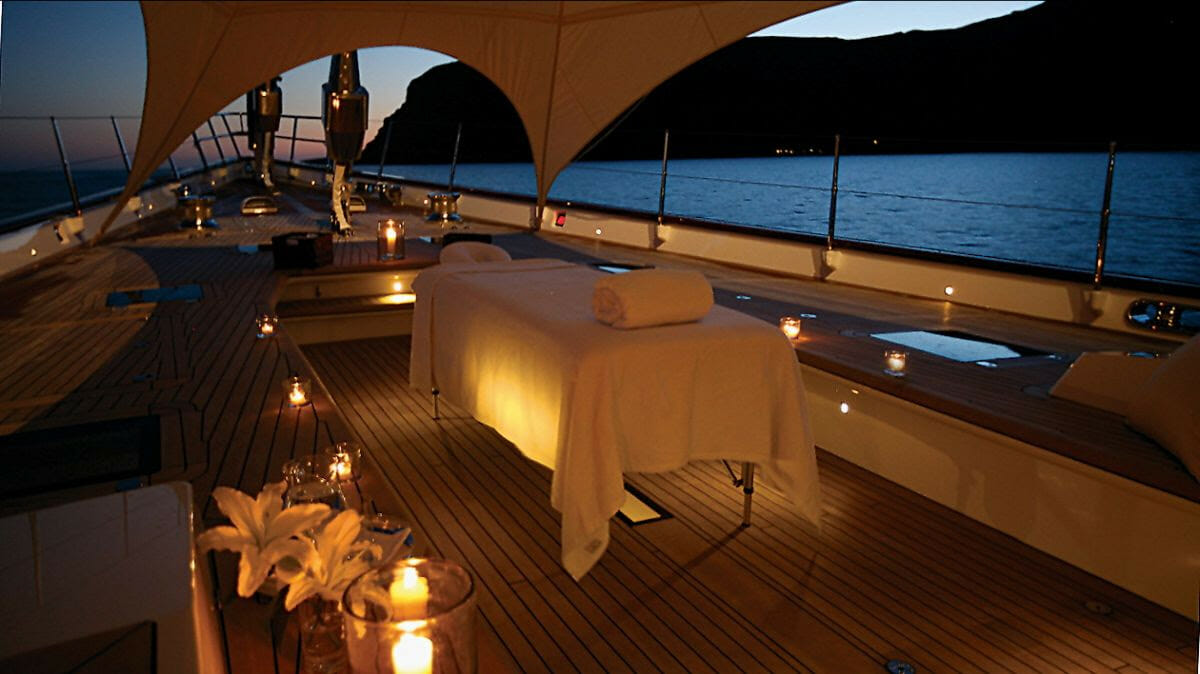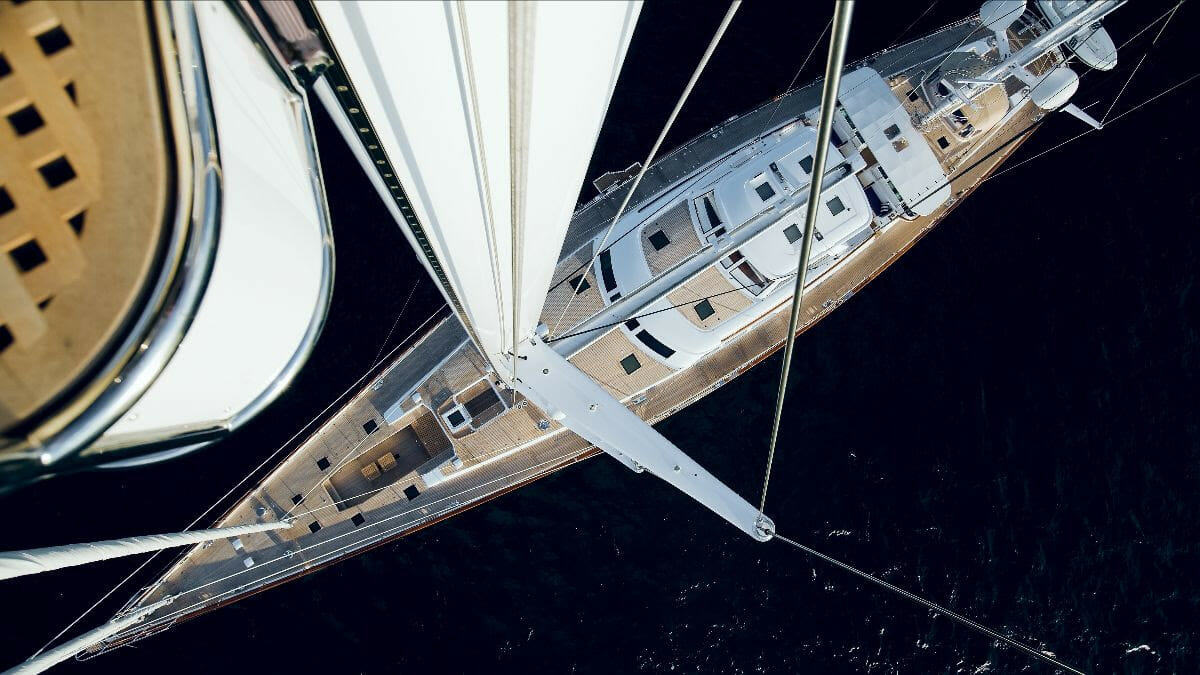 Dive into the world of jaw-dropping superyacht swimming pools with Oceanco
Oceanco is revered for its one-of-a-kind, iconic superyachts and one of the places that it has really made waves over the years is through the evolution of its jaw-dropping swimming pools. Working with the world's leading yacht designers for visionary owners has resulted in some masterpieces that have initiated trends.
ALFA NERO 82m / 2007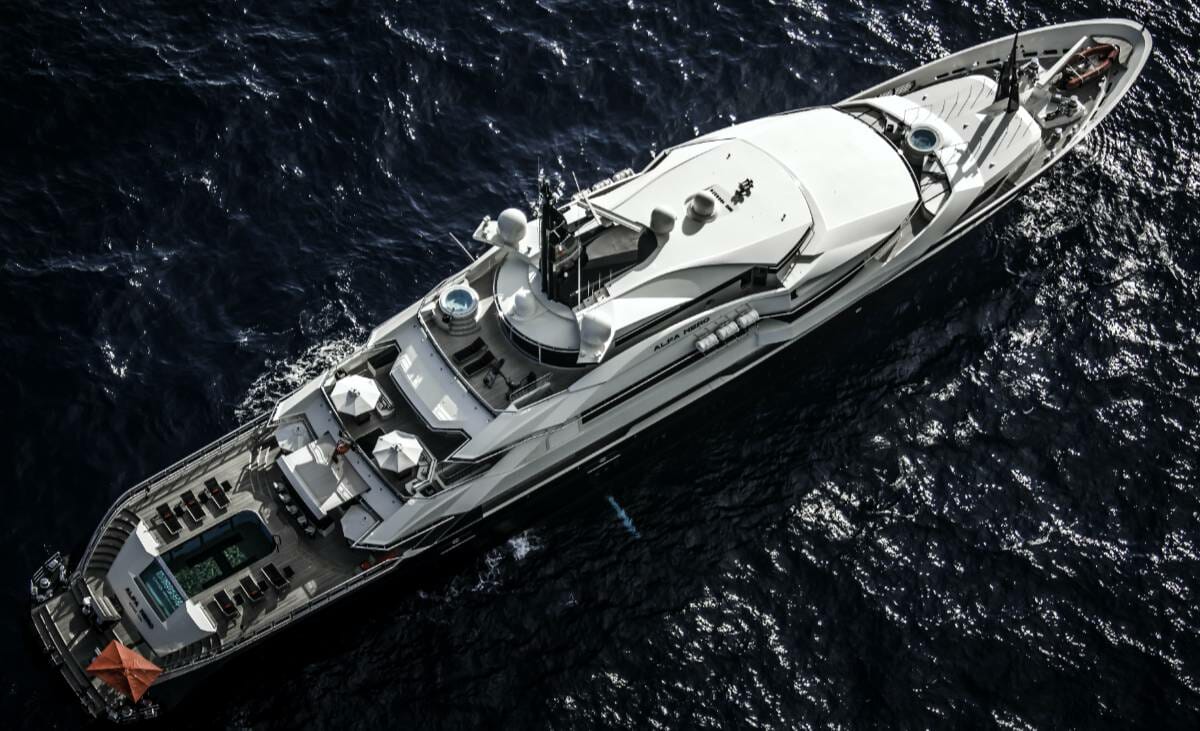 The aft deck infinity pool on Alfa Nero is iconic, having been the first yacht to pioneer this new type of 'statement' feature on a yacht. Previously swimming pools were usually located on the top decks of yachts, but this novel concept from Oceanco designed by Nuvolari Lenard allowed Alfa Nero's owners and their guests to reignite their feeling of proximity to the water, even though they were on a very large motor yacht. The uncluttered deck and open sides accentuate the feeling of space for those enjoying the pool and nearby lounging area. Sweeping staircases lead down to a vast tiered swim platform at the stern, while a convenient bar provides continuous service to the pool from the crew. The floor of the swimming pool can be hydraulically raised at the push of a button, allowing the expansive aft deck to become a touch-and-go helipad or a perfect place for large social gatherings.
SUNRAYS 85.5m / 2010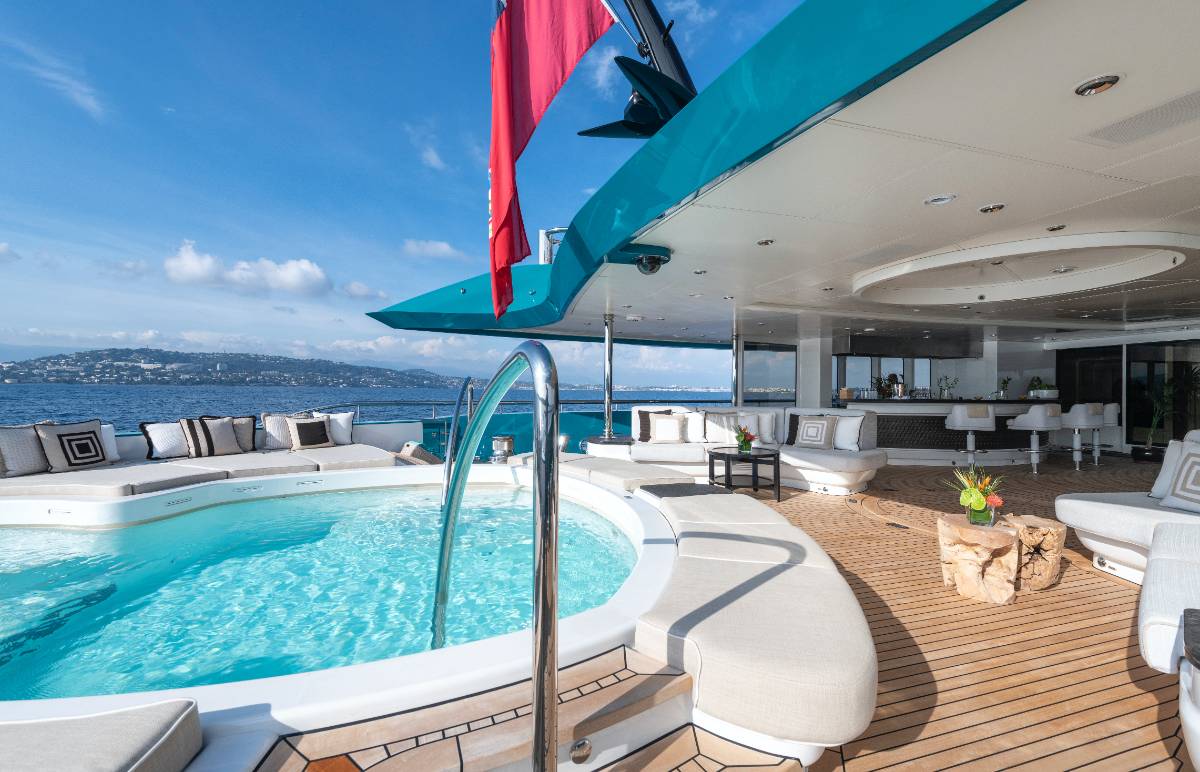 Sunrays is the ultimate yacht for those who love fun and water in equal measure. There are four bathing options on board, including three jacuzzis on the upper decks and a large swimming pool/jacuzzi on the main deck aft. Alluringly positioned near to the swim platform as well as the main deck's outdoor lounging space, this pool is always a hive of activity for guests both day and night. It has a deeper part for full submersion as well as a semicircular seating area that is a perfect spot from which to sip a cocktail and take in the surroundings. Alternatively, soak up the scenery from the bridge deck aft's jacuzzi, retreat to the owner's deck forward jacuzzi for a little privacy, or grab some friends and head up to the sun deck, where the glass-bottomed jacuzzi presides over the elevator beneath.
NIRVANA 88.5m (290ft) / 2012
If you demand a swimming pool that does more than just cool you off on a hot afternoon, then the multitalented version on board Nirvana could be just the ticket. Measuring an impressive 7.5m long, it will help you brush up on your front crawl when you activate the powerful counter-flow system. And when the sun has set and you are ready for some entertainment, the height-adjustable floor of the pool lifts up to become a dancefloor or stage for performers. 
TRANQUILITY 91.5m (300ft) / 2014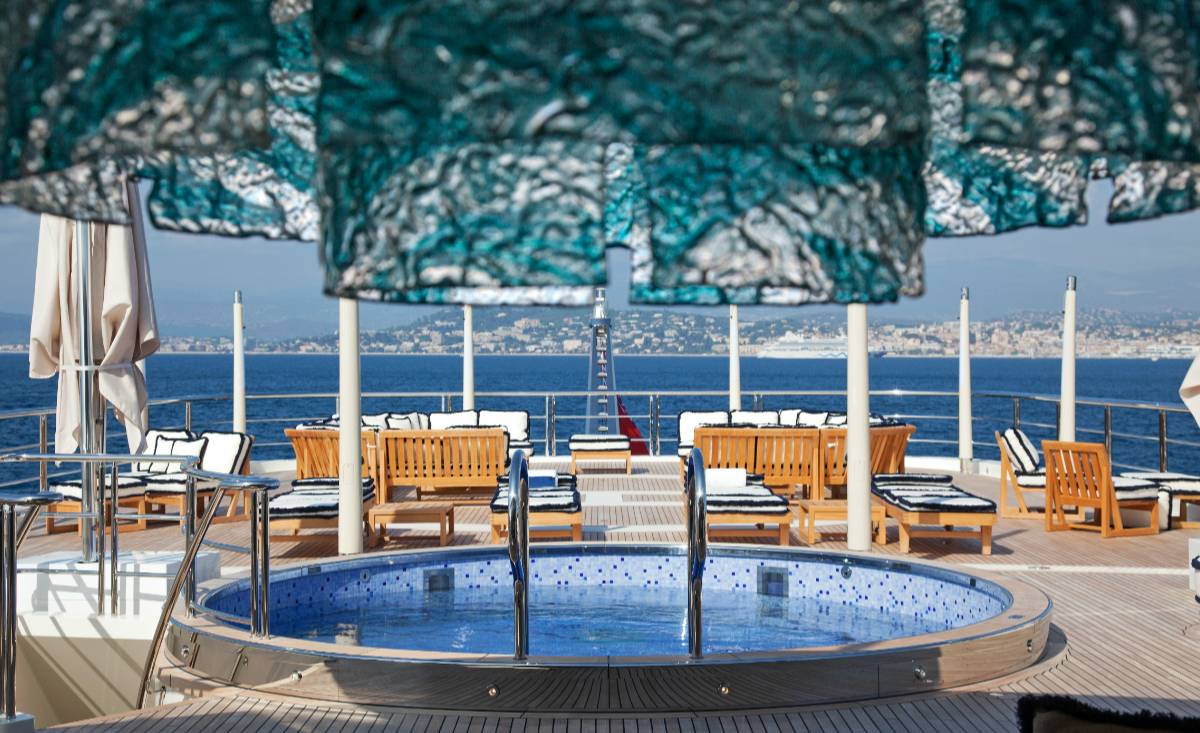 The cobalt blue swimming pool on Tranquility is a haven of relaxation and peace. Complementing the yacht's impressive wellness area – which features a sauna, hammam, experiential shower, plunge pool, beauty salon and fully equipped gym – this 20sqm swimming pool with jets is centrally positioned on the upper deck aft to afford privacy from sea level as well as commanding views of the surroundings. With a nearby bar offering a steady supply of refreshments and a selection of sun pads and sofas on which to lounge, the swimming pool area is a haven of calm and relaxation that lives up to the yacht's name.