Latest news
New Electric Motorcycle World Speed Records for Monaco's Voxan by Venturi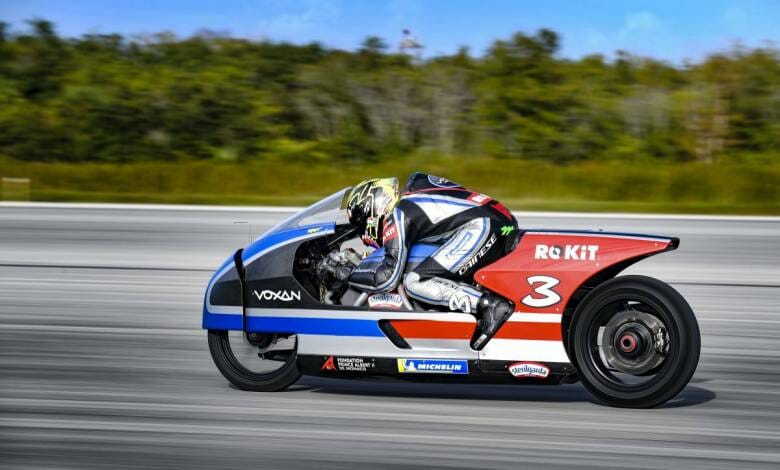 Max Biaggi and the electric motorcycle brand Voxan have set 21 world speed records on the Space Florida track at the Kennedy Space Center (United States). These performances took place between November 18th and 23rd, 2021.
It was on Monday 22nd November that the most coveted world records on the program were broken. With 455.737 km / h (283.182 mph), Max Biaggi and the Voxan Wattman have improved on their records, notably that of the prestigious world speed record in the semi-faired electric motorcycle category of less than 300 kilos.
Semi-faired (Streamlined) Motorcycle Record 
In accordance with the regulations of the FIM (Fédération Internationale Motocycliste), the speed of the Voxan Wattman was measured, after a rolling start, for 1 km going outward, then 1 km coming back – both directions having to be completed within a total time of less than 2 hours. And according to the rules of the Federation, the average of the 2 speeds was used.
The Wattman's GPS computer cranked up to 470.257 km / h (292.204 mph) instantaneous speed. The appearance of the gray Voxan, designed by Sacha Lakic, in this incredible record breaking run even stretched the capacity of the timing apparatus.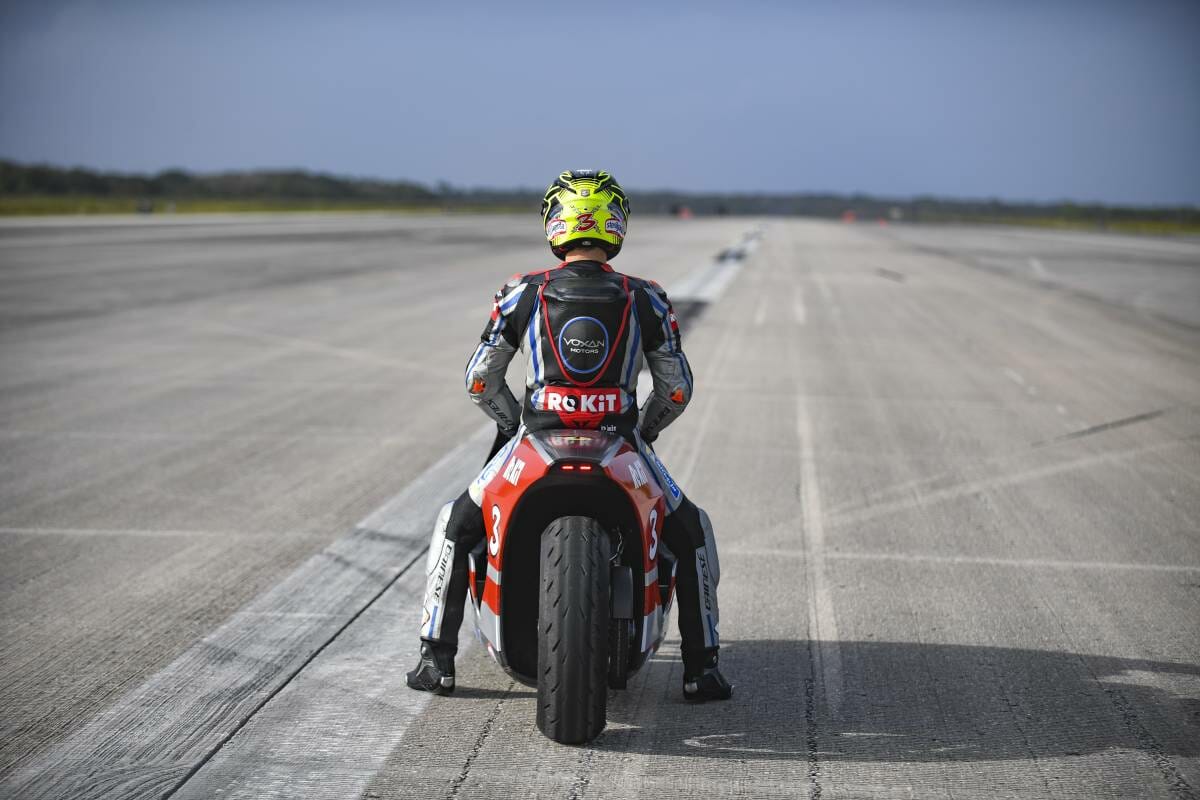 Non-Streamlined Motorcycle Record (Under 300 kgs)
On Sunday November 21st, the Voxan Wattman also set off in a non-streamlined version, also over a distance of 1 km, rolling start. Identical principle: 1 km one way, then 1 km return in a time of less than 2 hours. Here too, the average of the 2 speeds was used. The new world record for the under 300 kilogram non-faired electric motorcycle category is now 369.626 km / h (229.675 mph).
Gildo Pastor, Chairman of the Venturi Group
"In less than a year, we have managed to lower the weight of the bike, increase its power and improve its stability. After our November 2020 records in the "over 300 kilos" category, these 21 new records are once again a magnificent reward for the Venturi Group, for Max Biaggi, but also for our dear partners, Saft, Michelin and Mercedes. I am happy that the experience gained on this project contributes to the improvement of ecomobility. I share these records with my country, Monaco, which works particularly in favour of sustainable development."
Annie Sennet, Executive Vice President, Saft Space & Defense division
"Saft is proud to have contributed to these records alongside Voxan. The Wattman's state-of-the-art battery features our Lithium-Ion technology."
Jonathan Kendrick, President and co-founder of ROKiT
"At ROKiT, we are absolutely delighted to see the Voxan Wattman achieve these new world speed records for electric motorcycles, as history teaches us that speed records are rapidly advancing new technologies."
Other world records were in the sights of Gildo Pastor's teams. At the end of these 6 days of attempts, the results are as follows.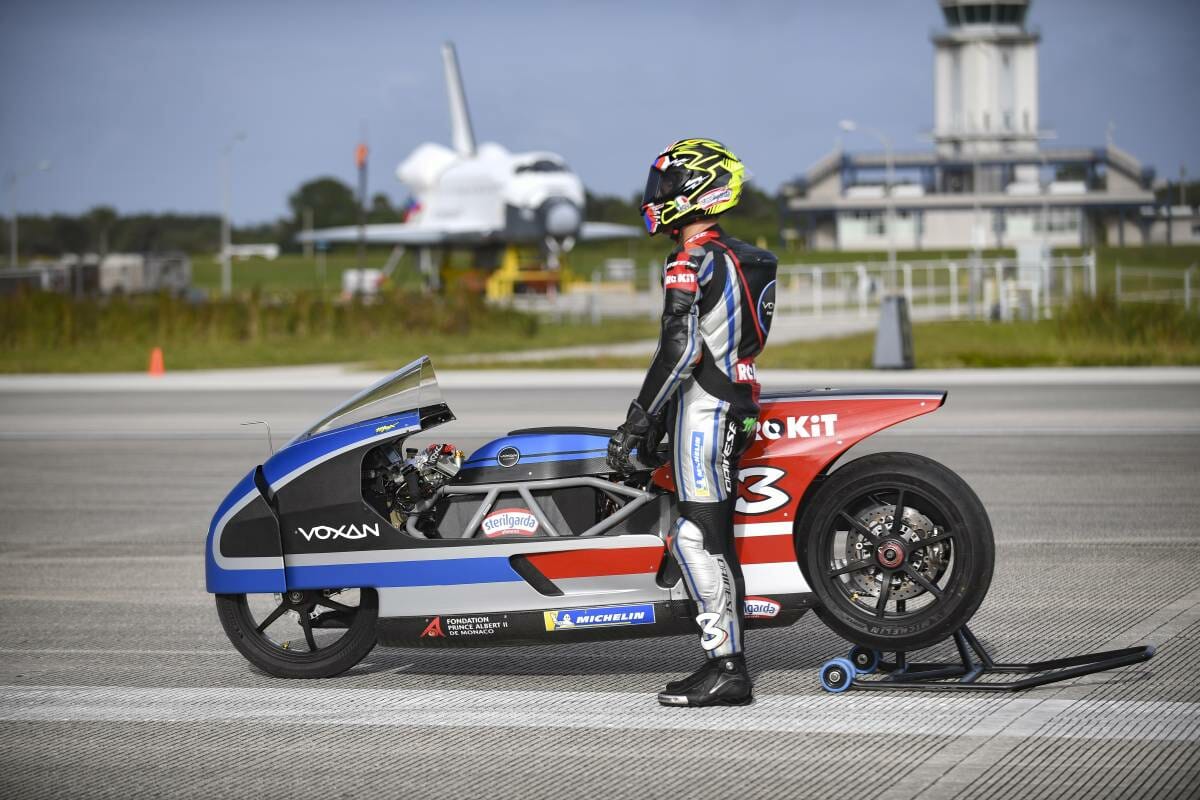 All the Results 
Category less than 300 kilos
– 1 mile, rolling start, semi-faired: 454 km / h (282 mph)
– 1 mile, rolling start, unfaired: 368 km / h (228 mph)
– ¼ mile, rolling start, semi-faired: 293 km / h (182 mph)
– ¼ mile, rolling start, unfaired: 285 km / h (177 mph)
– 1 mile, standing start, semi-faired: 273 km / h (169 mph)
– 1 mile, standing start, non-faired: 260 km / h (161 mph)
– 1 km, standing start, semi-faired: 223 km / h (138 mph)
– 1 km, standing start, unfaired: 219 km / h (136 mph)
– ¼ mile, standing start, unfaired: 156 km / h (96 mph)
– ¼ mile, standing start, semi-faired: 149 km / h (92 mph)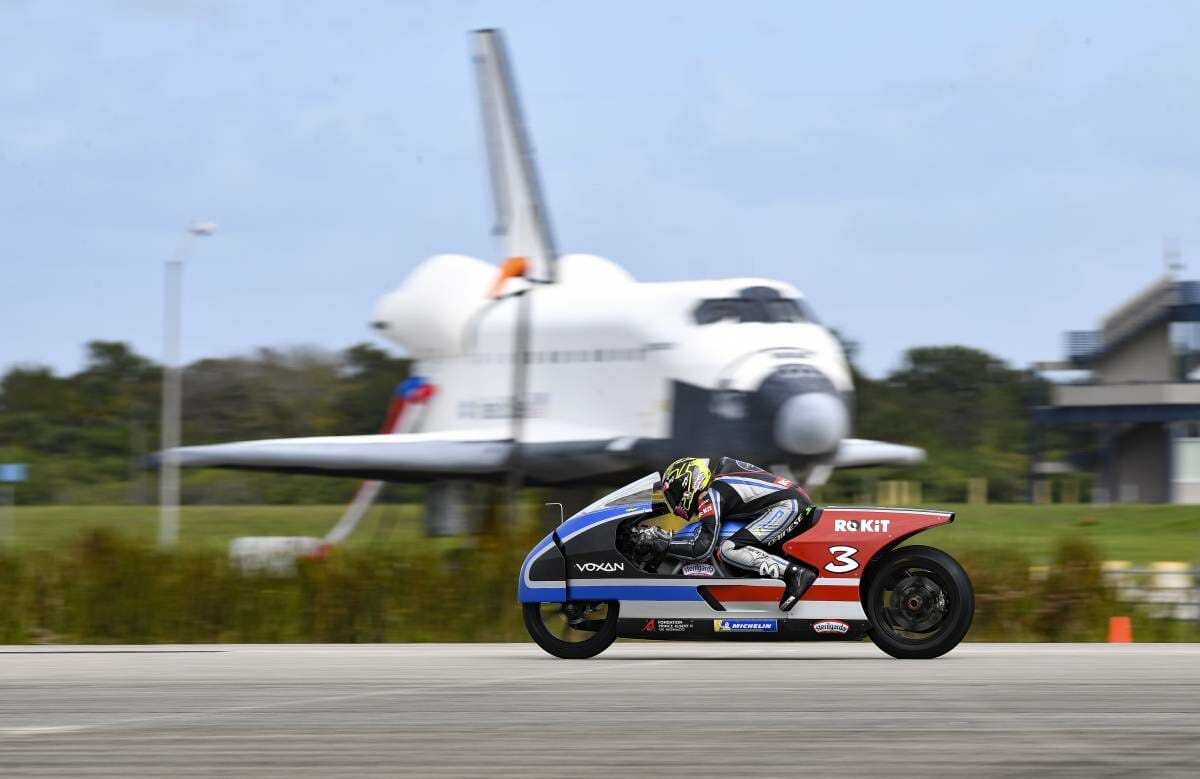 Category over 300 kilos
– 1 km, rolling start, semi-faired: 408 km / h (253 mph)
– 1 mile, rolling start, semi-faired: 404 km / h (251 mph)
– 1 mile, rolling start, unfaired: 367 km / h (228 mph)
– 1 km, rolling start, non-faired: 364 km / h (226 mph)
– 1 mile, standing start, semi-faired: 255 km / h (158 mph)
– 1 km, standing start, semi-faired: 216 km / h (134 mph)
– 1 mile, standing start, unfaired: 216 km / h (134 mph)
– ¼ mile, standing start, unfaired: 153 km / h (95 mph)
– ¼ mile, standing start, semi-faired: 142 km / h (88 mph)