Latest news
On Board: the most exciting current yachting projects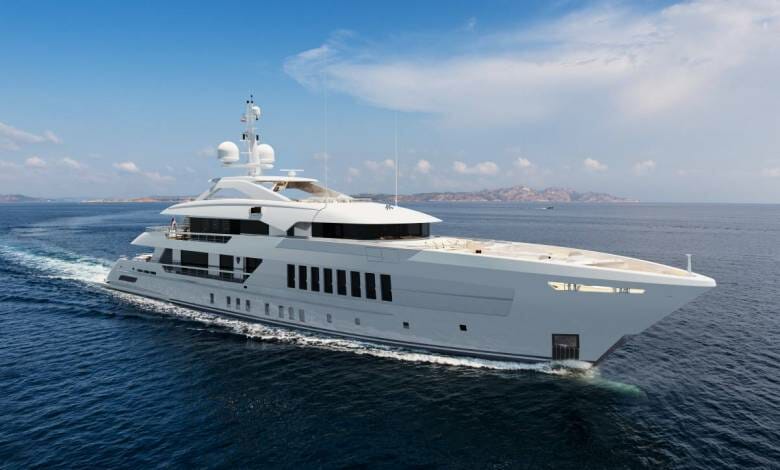 Covid-19 has had a profound effect on the world and noticeably on nearly every country's economy in 2020. The yacht industry has been no exception. With the start of the pandemic, most shipyards have been forced to suspend their activity. Since April, however, shipbuilding companies have gradually re-launched their projects. Ultimately, a number of global brands were able to restart and complete the construction of their mega boats to be trialed at sea and chartered in 2021. HelloMonaco is introducing you to some of the most exciting of these yachting projects.
Project Pollux has attracted an owner already
Project Pollux that was launched at the facility in Oss just recently, in August 2020, has already been sold. This is the second in the newly restyled 55-metre Steel class that features a new layout to emphasize her vast interior volume of approximately 760GT.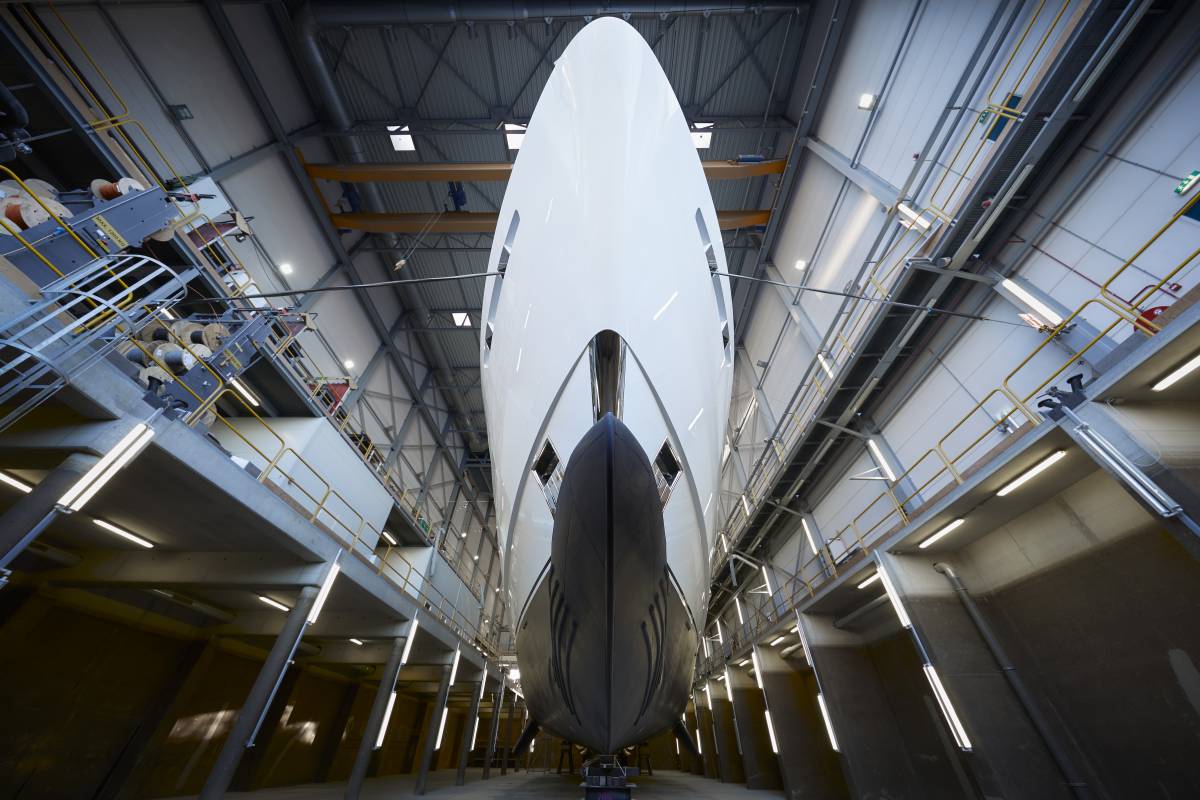 12 guests can be accommodated in six staterooms, with the 82 sq.m owner's apartment on the main forward deck and the VIP apartment on the bridge deck. The four spacious and luxurious guest suites are located on the lower deck. 
Pollux is the tenth project of Heesen in collaboration with the British studio Bannenberg & Rowell that created the interiors. As this yacht was not made to order the designers had carte blanche. The eventual result is a sophisticated and harmonious design.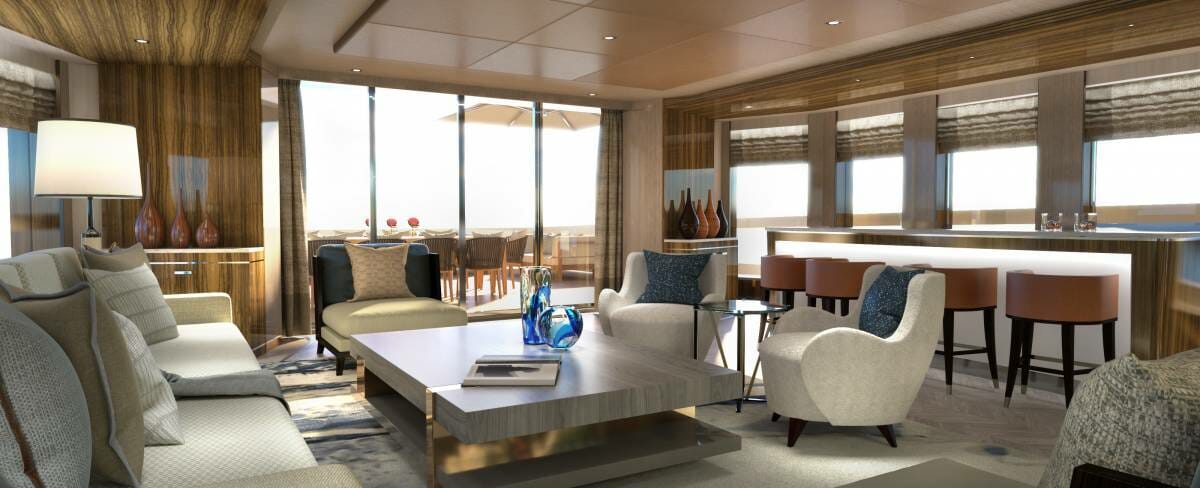 For Project Pollux, the British studio worked to the shipyard's brief, which called for style that combines bold solutions with a casual appeal. Dark eucalyptus and pale sycamore joinery, with chevron parquet flooring in the main saloon, create the perfect background for the eye-catching bar installation, incorporated into the joinery on the starboard side, as well as the softly radiused panelling. Geometric shapes, natural tones, and tactile finishes used throughout the interiors make Project Pollux a yacht with strong character and wide appeal.
The layout of Project Pollux has been carefully considered. Thanks to the tenders and toys conveniently stored on the foredeck for easy operation and access, the space in the transom has been dedicated to the beach club. Large outdoor areas will allow guests to make the best out of their time onboard. The vast sundeck, of no less than 100 square metres, is equipped with full dining facilities, a generous bar, and a supersize hot tub.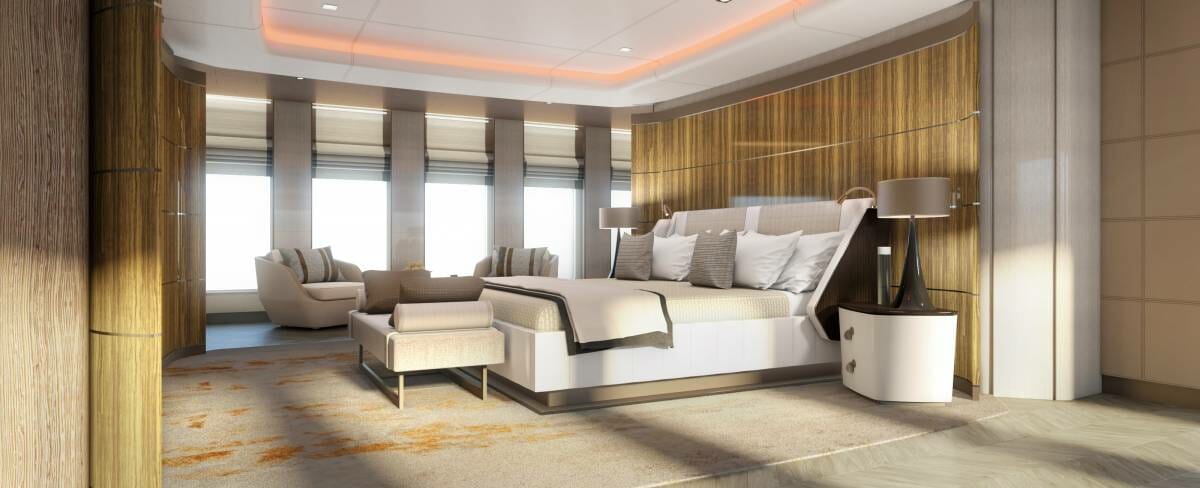 Powered by two MTU Tier III compliant diesel engines and, thanks to her slippery Fast Displacement hull, she will have a top speed of 15.5 knots and a remarkable range of 4,500 nautical miles at the cruising speed of 13 knots.
Main specifications of Heesen YN 19255 Project Pollux
Length: 180'6″ / 55.00M
Beam: 31'6″ / 9.60M
Speed (Cruising): 13 Knots / 14MPH
Speed (Max): 16 Knots / 18MPH
Draft: 9'5″ / 2.85M
Year: 2020
Staterooms: 6
Sleeps: 12
Taking Shape: Project 404
Having been in the making for the past few months, a majestic structure is ready to progress into the next phase of its construction and into the limelight, as this very secretive 59.7m / 196ft no-compromise performance sloop reveals her striking architecture.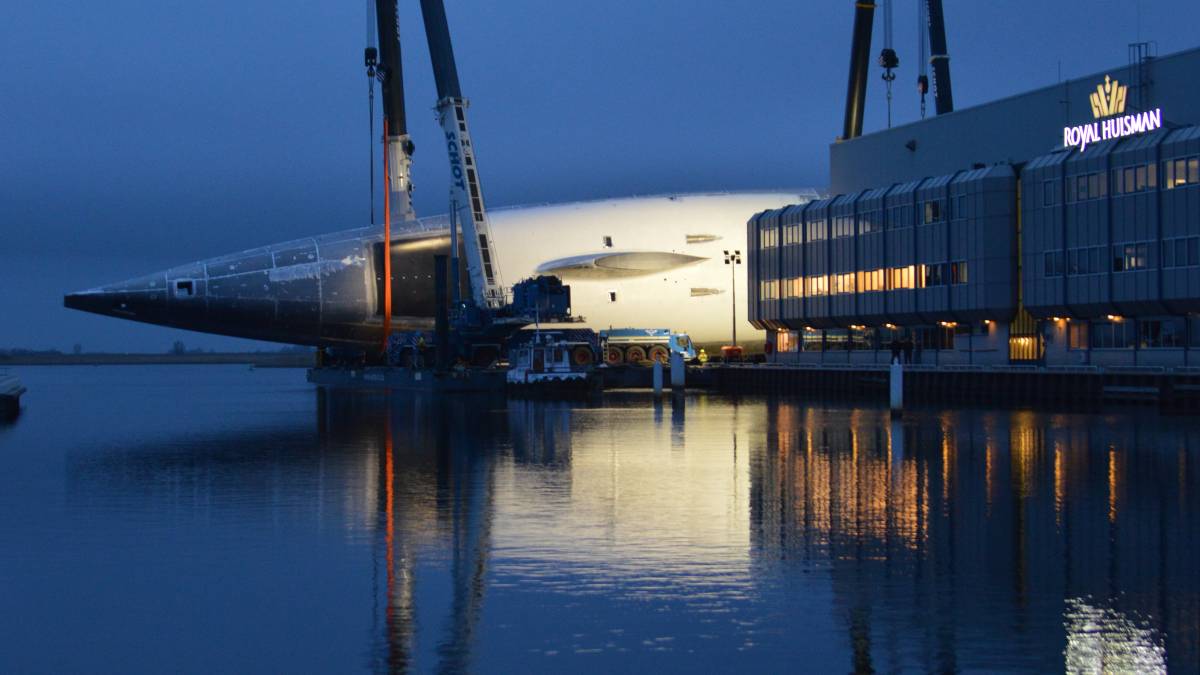 Today, Royal Huisman's Project 404 took a major step forward with the turning of her impressive hull; a spectacle proudly watched by her Owners and their design and build team at the shipyard headquarters in Vollenhove. Project 404, aka MM597, was designed by Malcolm McKeon Yacht Design and built by Royal Huisman's craftsmen. In an inspiring new affiliation, Studio Liaigre — the French interior designers — excelled to create her interior, which is currently under construction at the shipyard's joinery hall. Once completed, the yacht will comprise a wealth of innovative systems and onboard amenities; developments which since the start of the project have been overseen by the Owners' Representative Gregory Monks.
Out in the open, the eye is immediately drawn to Project 404's iconic reversed bow and her sleek, powerful hull lines. At the request of her Owners, Royal Huisman tantalizingly kept her design a closely guarded secret, but this first airing of her Alustar aluminium hull unavoidably reveals a treasure of distinguishing features — disclosed by the cutouts which have been prepared.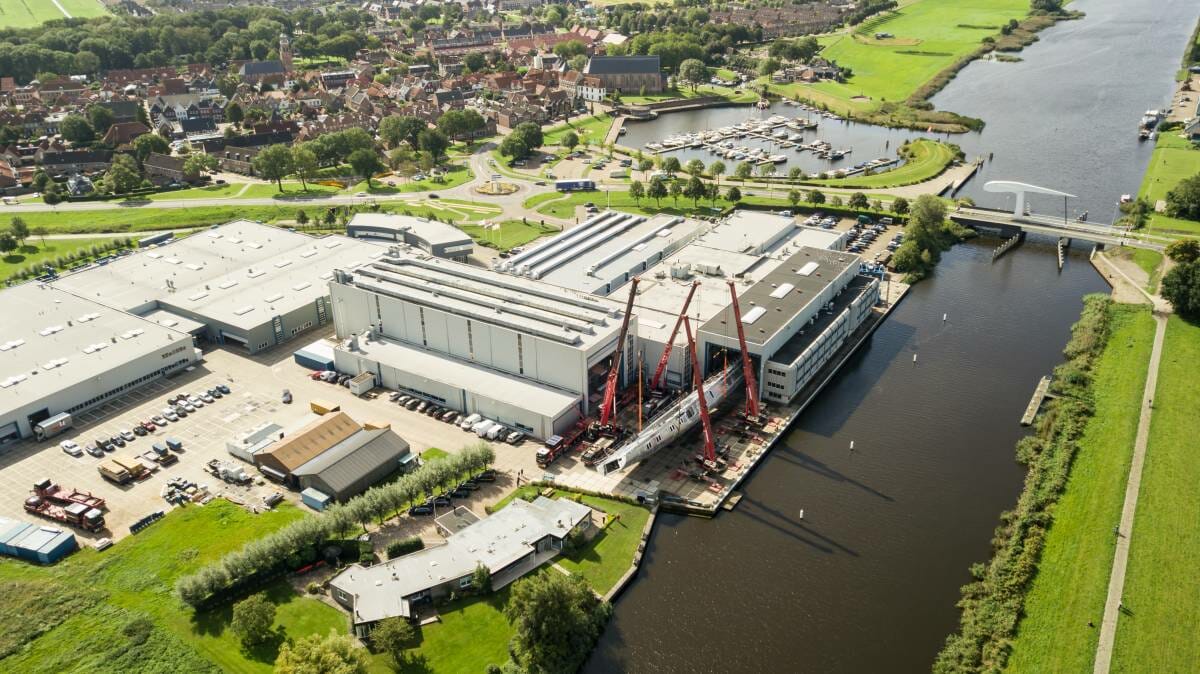 There is a huge transom opening which, in time, will give access to an expansive, lavish beach club. It is already possible to imagine the floods of daylight which will enter the interior through the array of large and extra-large portholes.
The smart midship lazarette is guaranteed to catch the eye of all onlookers. With its boarding platforms giving access from both sides of the yacht, and storage for watersports equipment, Project 404 can rightfully be described as a unique and truly inspiring yacht.
Note, also, the contours of the carbon composite deckhouse, cockpit coamings and main sheet arch, all currently under construction 'next door', at the shipyard's sister company Rondal.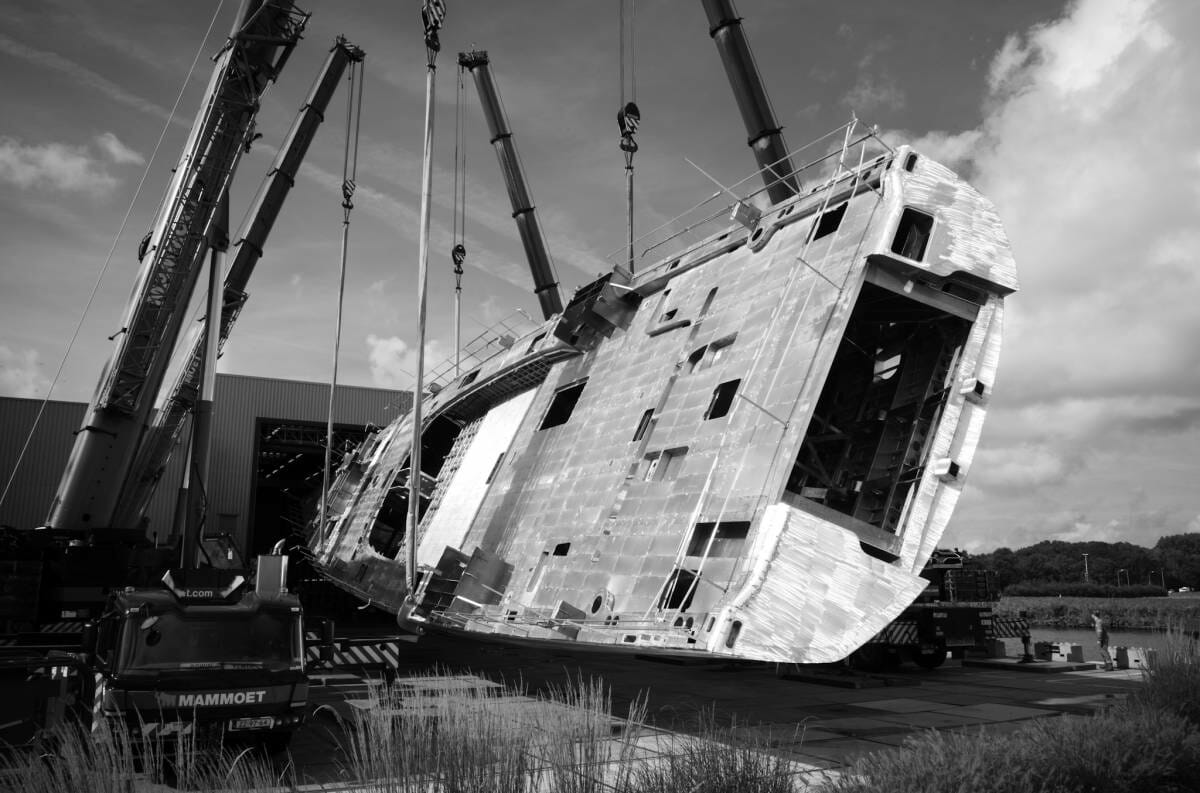 Under the waterline are further innovations. To facilitate the yacht's high-performance characteristics, Project 404 will have a lift keel, retractable propulsion, and twin carbon rudders. These will both make her a regatta winner, and take her to breathtaking long-range exploration destinations, worldwide.
The assortment of cutouts in Project 404's deck will soon be a fully flush surface; its deck hatches appearing almost invisible at first glance. Practically unnoticed but all the more ingenious will be the large main tender hatch; an opening for sail storage on the underdeck reels, lockers for Rondal's carbon electric winches, and space for state of a the art deck equipment.
Malcolm McKeon comments: "The hull turning at Royal Huisman signifies a pivotal stage in her build and that this construction has remained on schedule, despite the worldwide pandemic, is testament to the yard's strategic, meticulous approach and the incredible dedication of the entire team". 
Main specifications of Royal Huisman Project 404 / MM597
Type: High-performance sloop with retractable propulsion
Length overall: 59.7m / 196 ft
Accommodation: 12 guests and 10 crew
Owners' representative: Gregory Monks
Naval architecture: Malcolm McKeon Yacht Design
Interior design: Studio Liaigre
Builder: Royal Huisman
Hull material: Alustar aluminium
Superstructure: Carbon composite
Classification: Lloyd's Register — MCA
Year of delivery: 2022
STARDUST is a true work of art
The 62.5m Amels 206 motor yacht STARDUST was built by Amels in the Netherlands at their Vlissingen shipyard. She was delivered to her owner in 2020. The yacht's interior has been designed by Laura Sessa Romboli.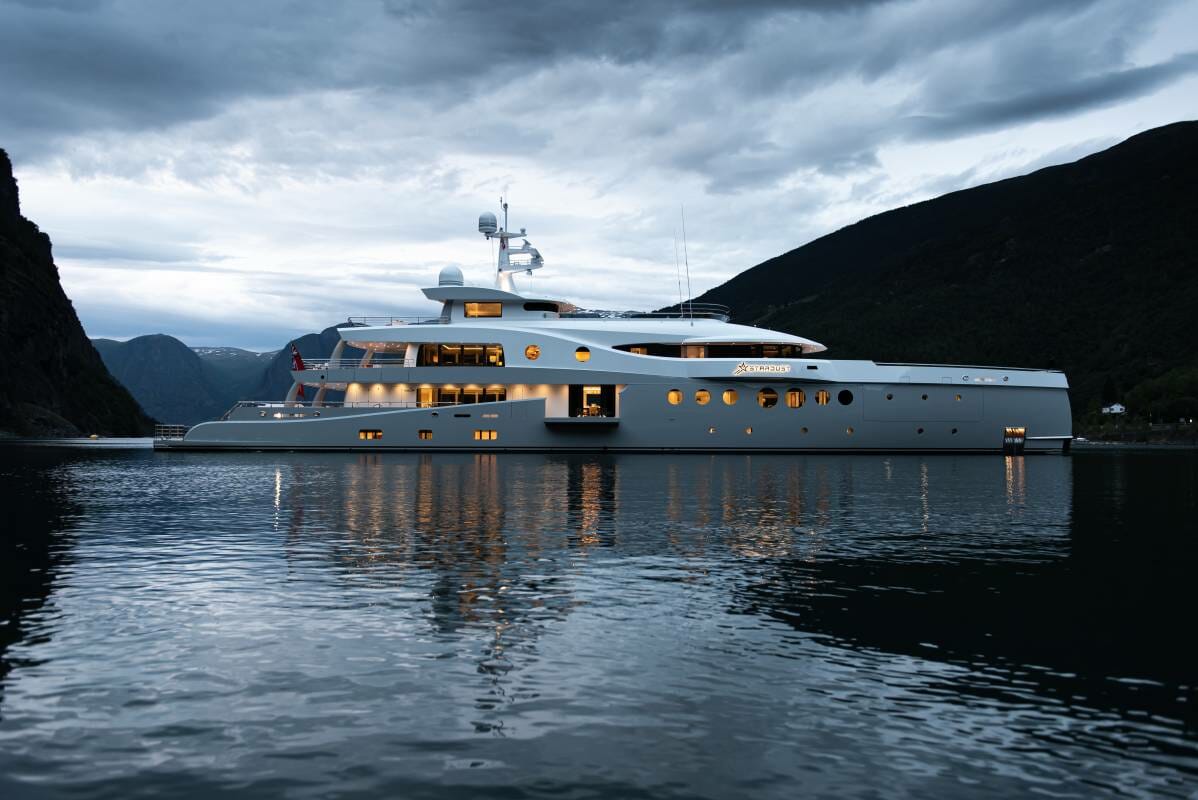 The owner has specified an elegant colour scheme in collaboration with exterior designer Tim Heywood and the design team, with a light grey hull and white superstructure highlighting the long lines from Tim Heywood's signature-designed Scimitar bow to the Swim Platform.
STARDUST's interior configuration has been fashioned to comfortably accommodate up to 12 guests overnight in 6 cabins, comprising a master suite and 2 VIP staterooms. She is also capable of carrying up to 13 crew onboard to ensure a relaxed luxury yacht experience.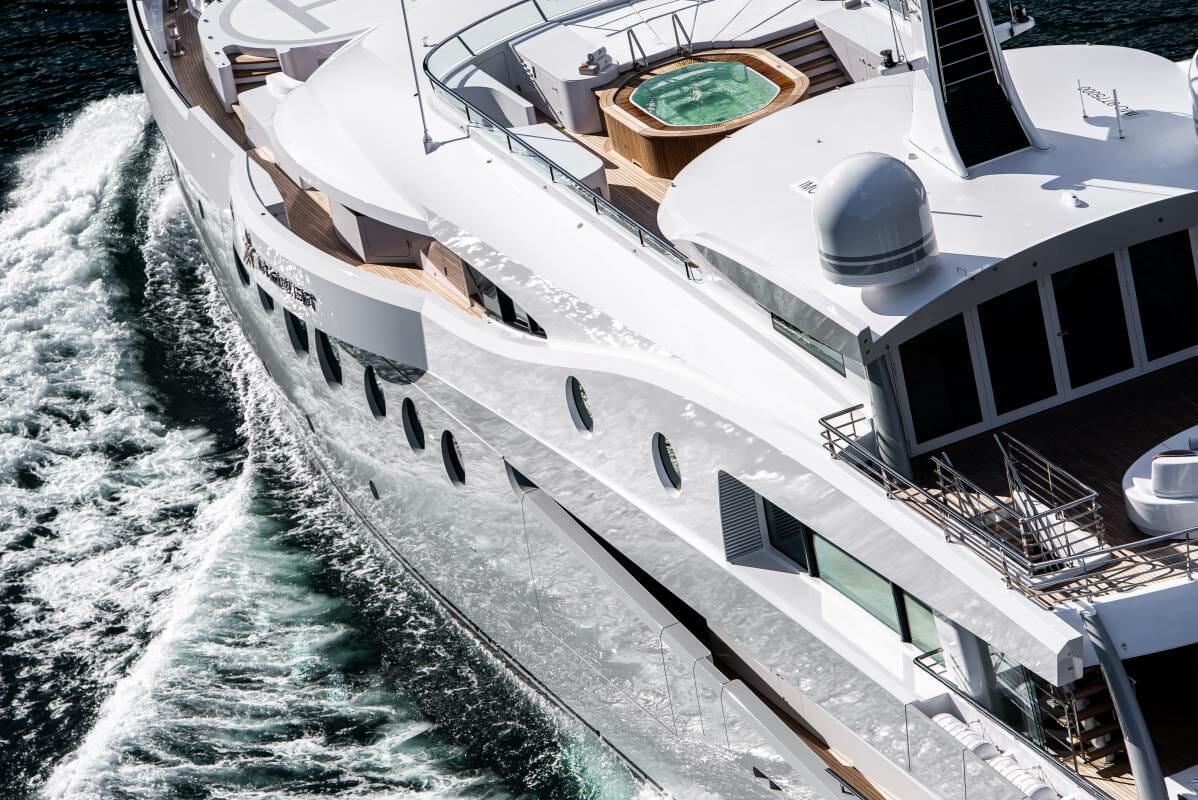 STARDUST, like all Amels 206 designs, features the signature round windows in its Owners Suite providing plenty of natural light and fabulous vantage points to enjoy the outside views. This Amels 206 also features VIP suites on the Bridge Deck, a forward enclosed store for two tenders up to 8 metres and three jetskis and a large entertainment area with jacuzzi and a Teppanyaki grill on the Sun Deck. The yacht has a volume of 1,161 Gross Tonnes providing a wonderful spacious feel in all the guest and crew areas.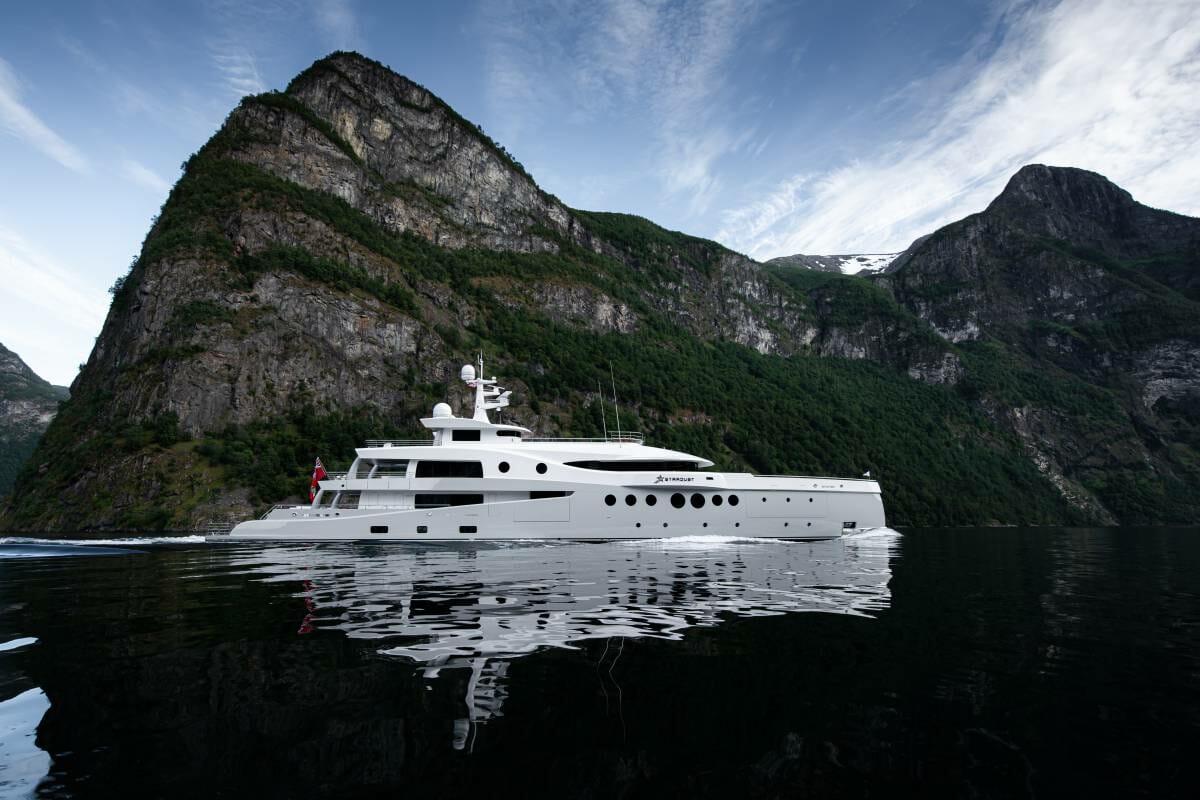 Main specifications of
STARDUST:
Length overall: 62.50 metres (206 ft)
Draught (full load): 3.55 metres
Maximum speed: 16.5 knots
Range @ 13.0 knots: 5,000 nautical miles
Guests: 12
Crew: 13 + Captain
Apex 850 will become the world's largest aluminum sailing yacht
Royal Huisman's latest sailing superyacht concept is nothing short of monumental. The epic 279-footer has a mast taller than the Statue of Liberty and will be the world's largest sloop if it comes to fruition.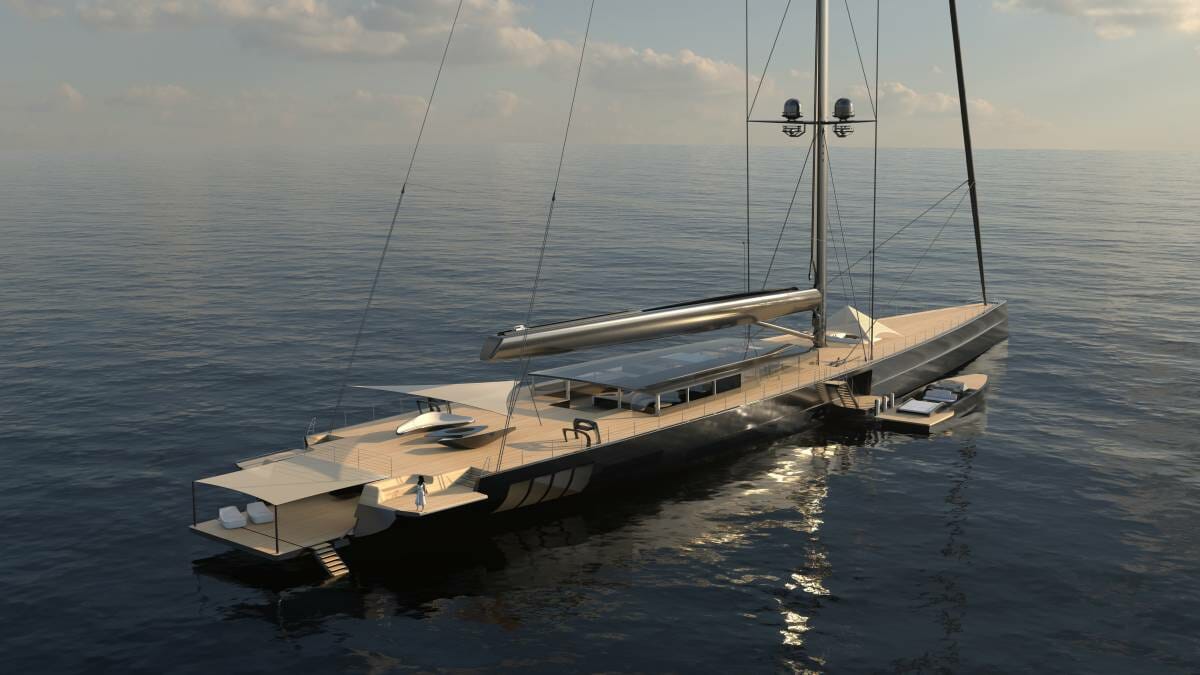 The design, which is fittingly dubbed Apex 850, was penned in partnership with renowned designer Malcolm McKeon, who has more than 30 years of experience in the game and some 200 vessels to his name.
With an air draft of 351 feet, the vessel has a good 46 feet on Lady Liberty and a similarly statuesque presence. Of course, she would seldom stay stationary. The yard has dubbed Apex an "extraordinary ocean greyhound" that would be capable of eclipsing wind speed in most conditions and exceeding 20 knots. On top of that, she's designed to handle like a much smaller boat.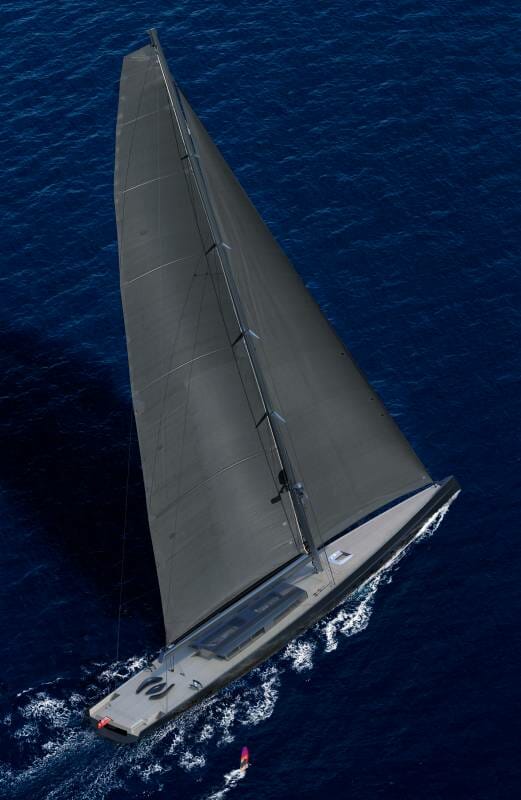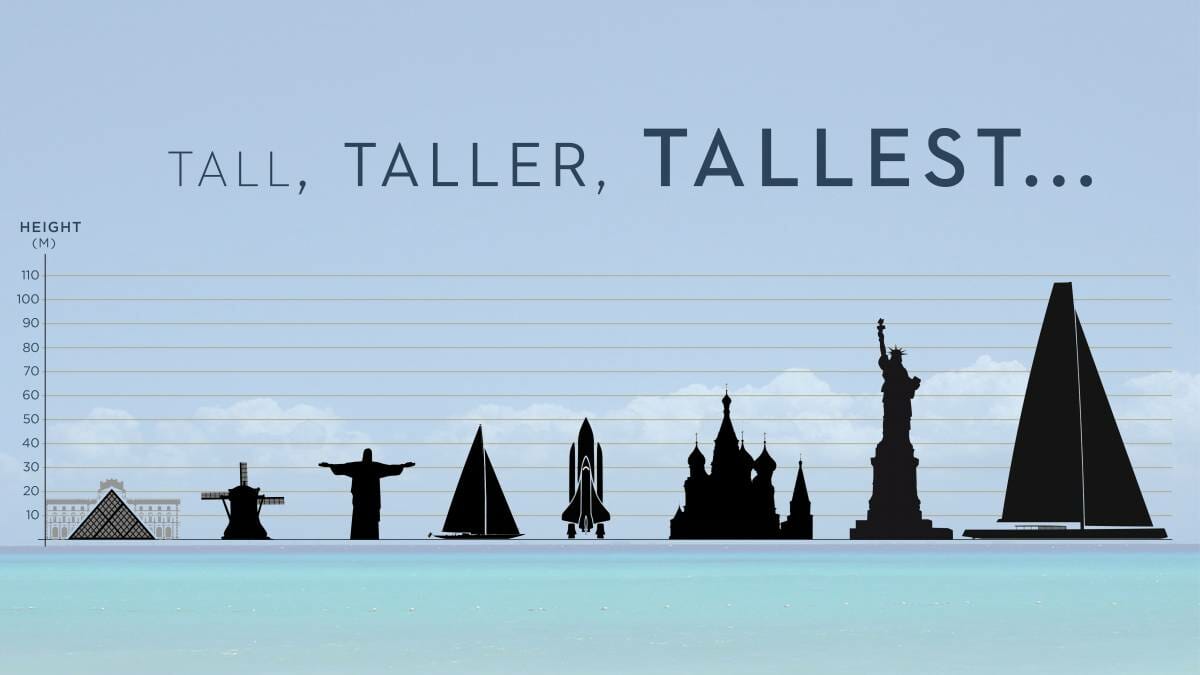 "Her retractable keel, optimized weight distribution and limited heel angle will provide stability, comfort and safety for all on board," McKeon said in a press release. "Her twin high aspect rudders will provide a rapid response to her fly by wire helm."
Propulsion, meanwhile, is via twin propellers, capable of generating energy under sail as well as drawing upon it via motor. By mating diesel and electric, Silent Mode can be activated overnight to reduce noise and exhaust fumes.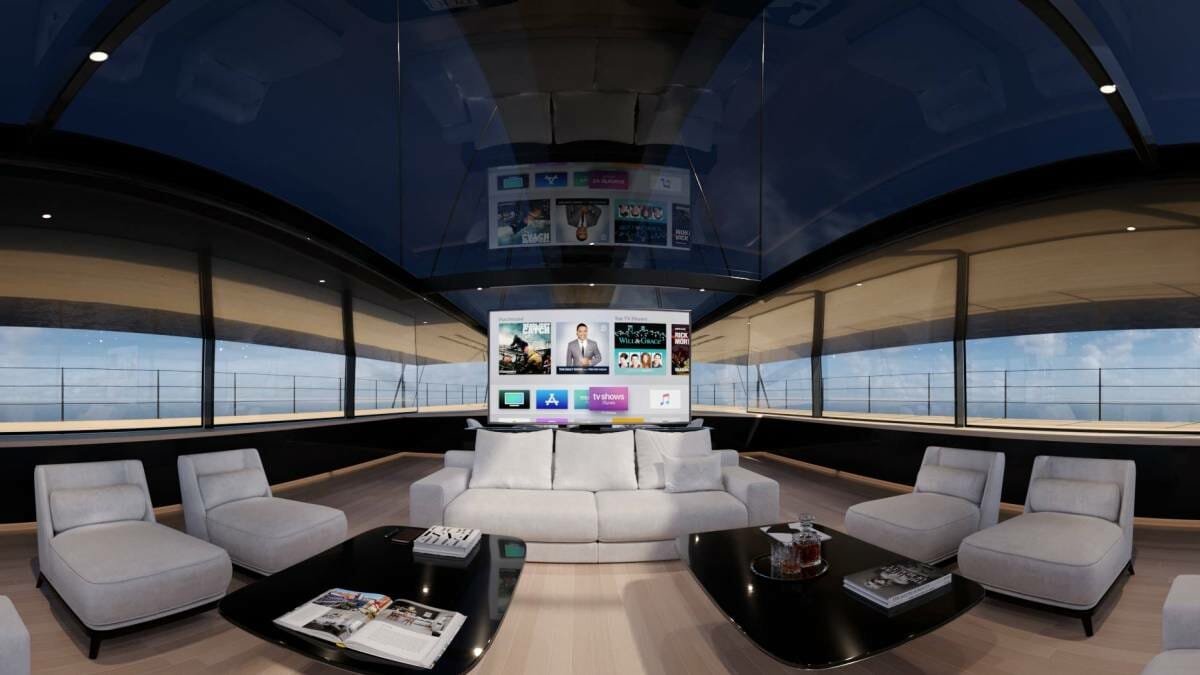 Onboard, Apex features an all-glass superstructure that is at one with the surroundings. It offers 2,150 square feet of guest cockpit and a generous saloon that connects with the outside world via sprawling views. She can sleep up to 10 to 12 guests across five suites, as well as 14 crew in 10 cabins.
The 2,690-square-foot owner's area is located at the aft of the vessel and boasts a full-beam bedroom, private lounge, a giant TV, a sauna, a walk-in wardrobe and a bathroom. This space opens onto a beach club and private cinema. Further aft, there's also a 540-square-foot swim platform, gym and social area.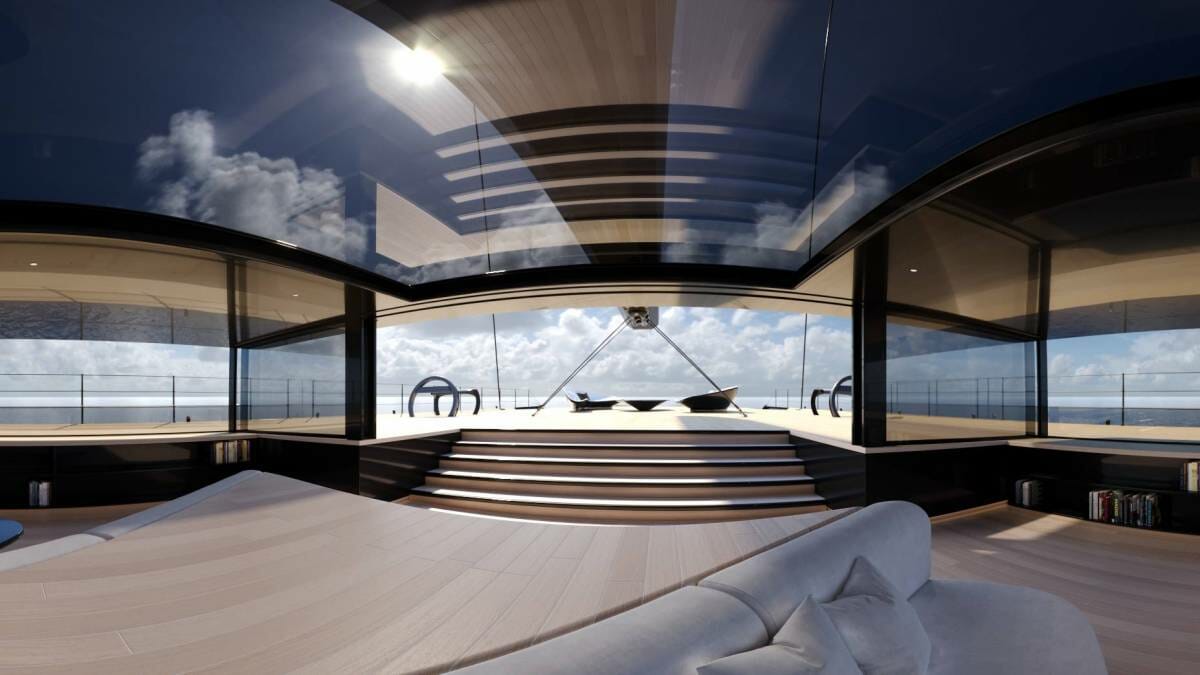 La Datcha departure marks the start of a unique charter adventure 
Set out on the journey of a lifetime to places others can't reach — exclusive adventures to share with friends and family in total comfort, style and safety.
The 77-metre SeaXplorer La Datcha has departed the Damen Yachting yard in the Netherlands, ready to take on a charter itinerary like no other. This luxury expedition yacht, part of the La Datcha Tinkoff Collection, is set to offer unrivalled global charter opportunities from heli-skiing in Kamchatka to dive adventures off Papua New Guinea and is the first purpose-built Expedition yacht with a fixed itinerary and commercial goal.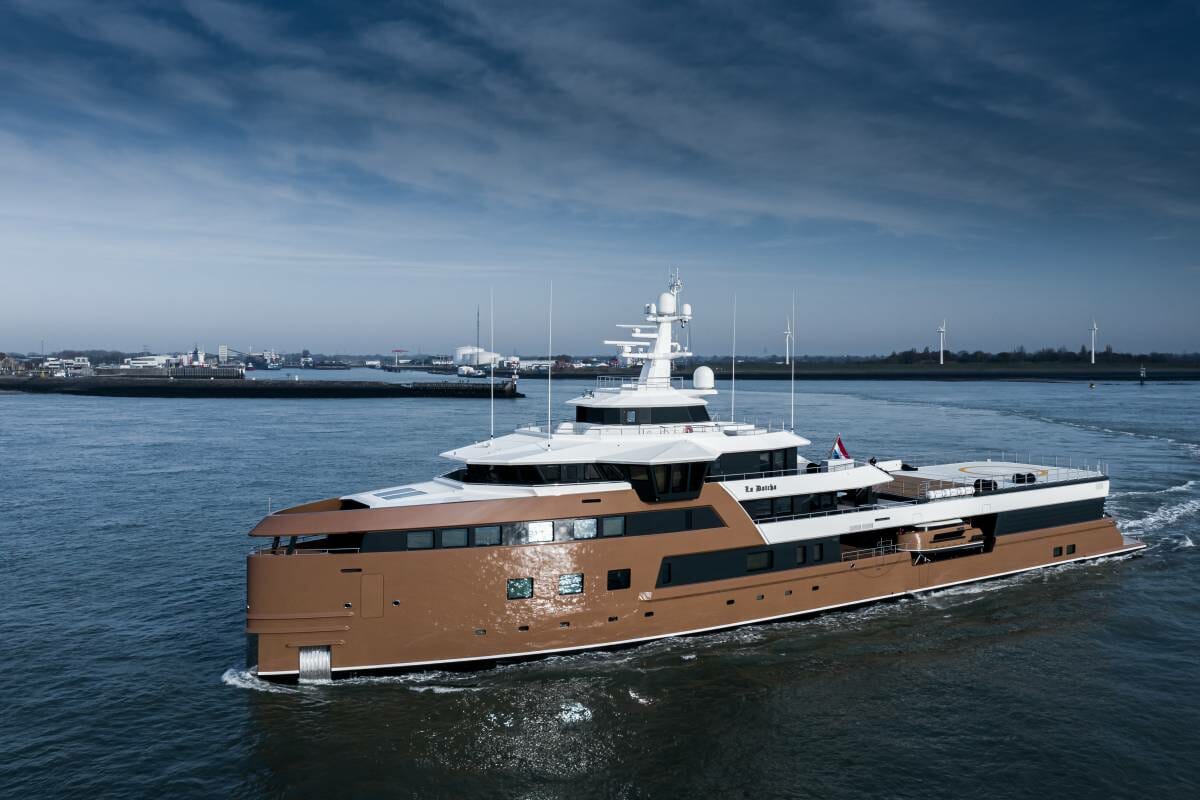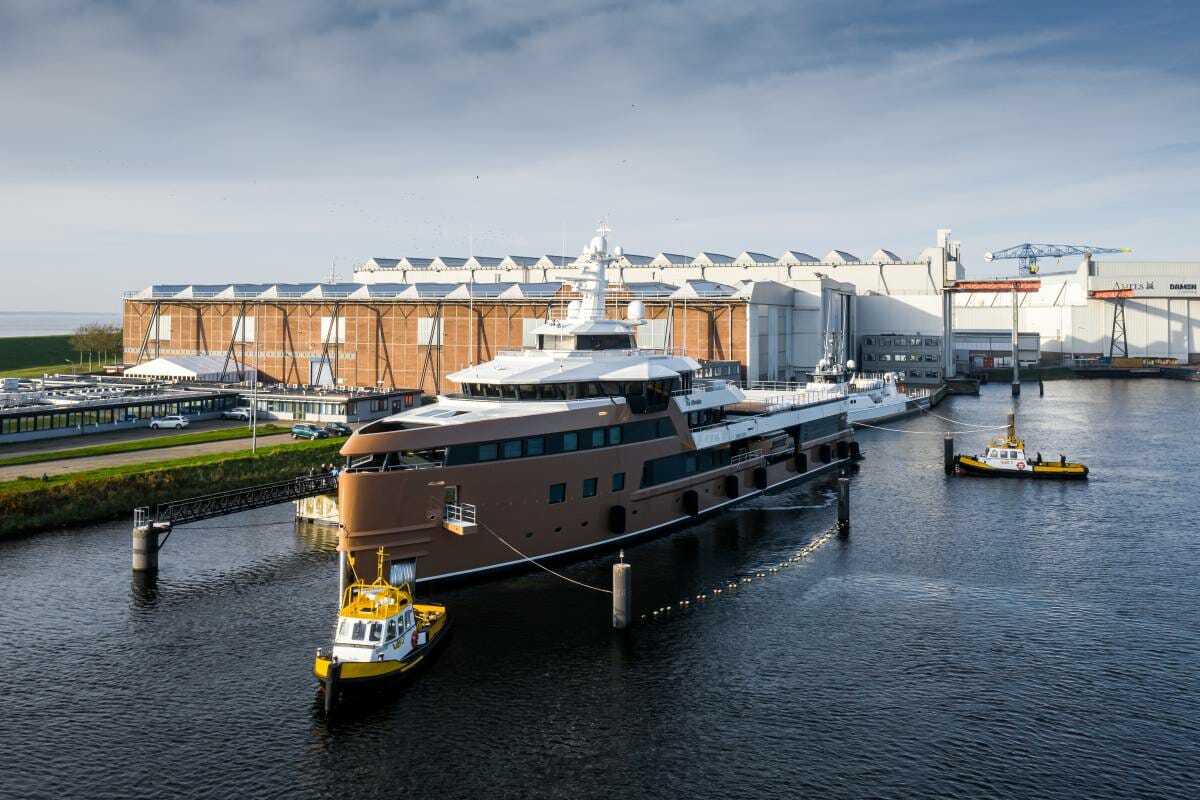 Guests can safely enjoy the most spectacular Arctic and Antarctic landscapes thanks to Ice Class and IMO Polar Code engineering. 25 crew members are there to assist guests in any way they can. 
The yacht features helicopter hangars, a dive centre and decompression chamber, and carries a submersible, two waverunners and two snowscooters. With its enhanced fuel tanks and improved garbage management system, La Datcha Expedition Yacht 77 can maintain autonomy at sea for up to 40 days! 
The Mediterranean and the Caribbean Seas and all their islands are undoubtedly beautiful, but altogether they amount to only 5% of all the world's coastlines. 
The yacht stands out with true purpose-built expedition capability and its unique La Datcha Expedition Yacht 77 design pedigree by top luxury yacht builder Amels and Damen.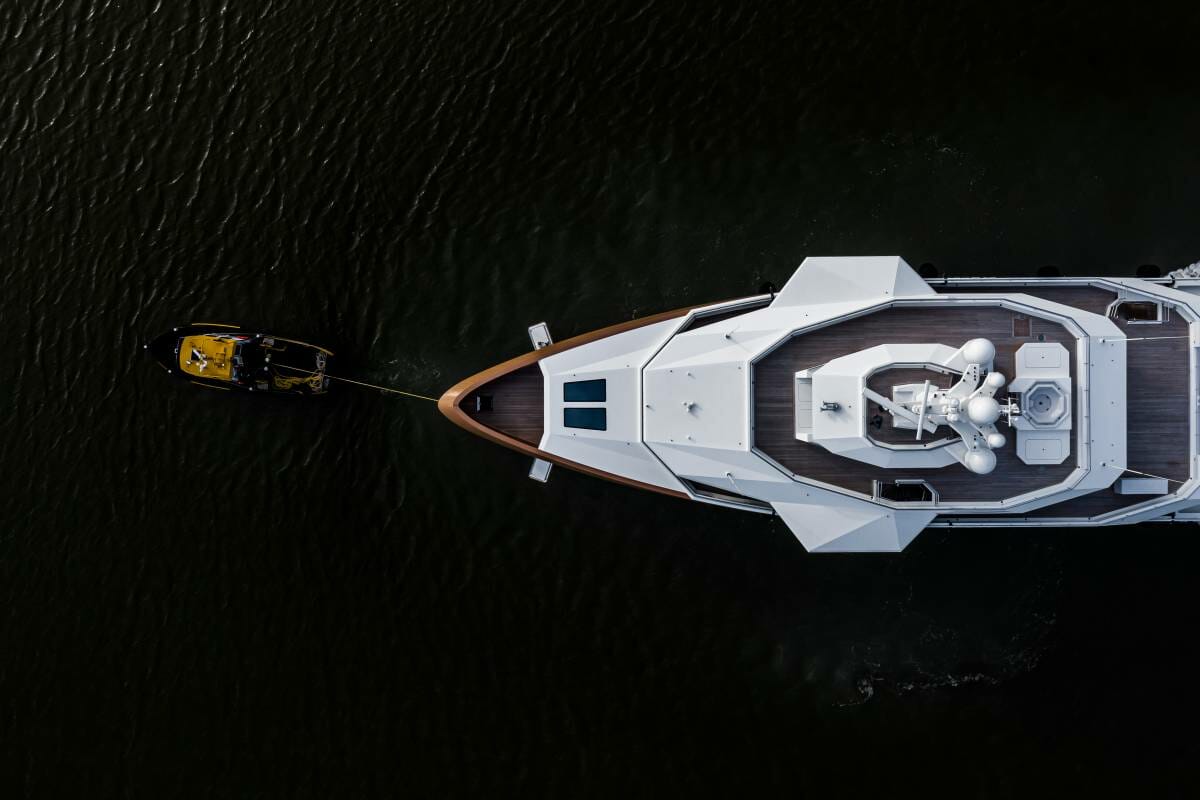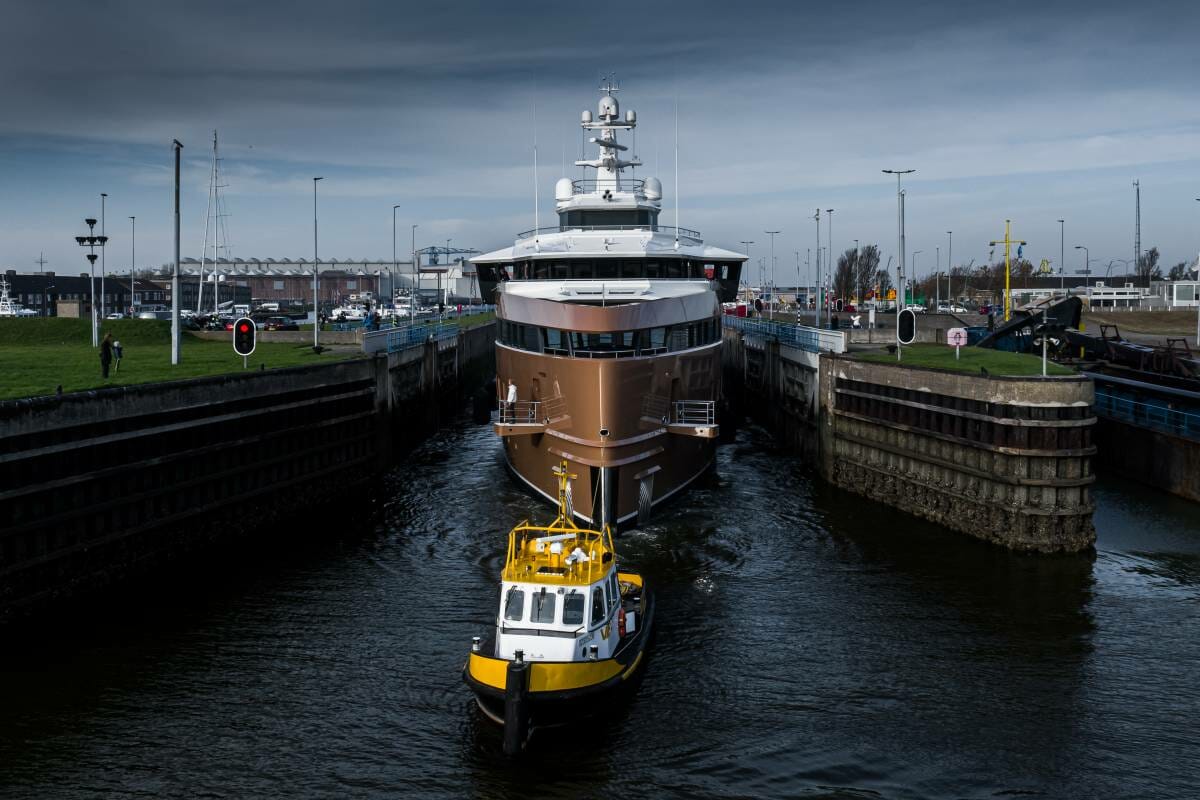 Main specifications of
LA DATCHA: 
SeaXplorer 77 (77 metres / 252 ft)
2560 GT
Built by Damen Yachting
Naval Architecture by Damen Yachting
Exterior design by Azure Yacht Design
Interior Design by Vasiliy Shprits
Guests: 12
Crew: 24 + Captain
Ice Class and IMO Polar Code compliant hull
Autonomy set for up to 40 days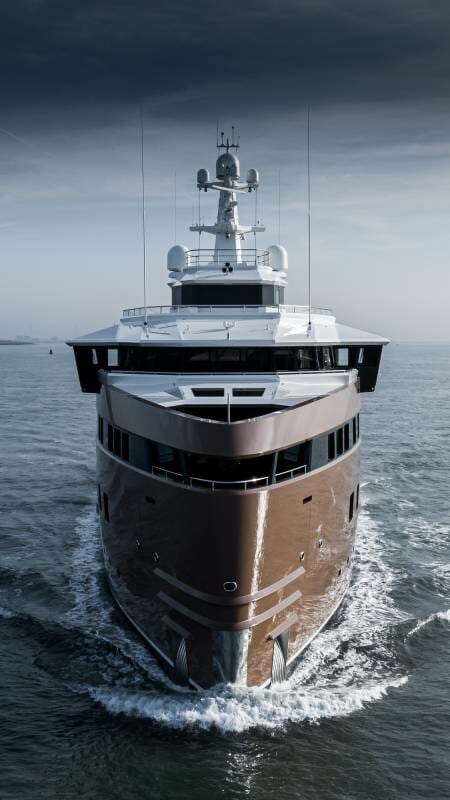 Ultra2: Explore the seven seas in style while respecting nature
Elegant, having a powerful profile and a sustainable and green essence. Beautiful and opulent, yet efficient enough to reach the most remote places.
The name is the embodiment of these two key features.
The concept aims to achieve Ultra quality in both style and eco-friendliness.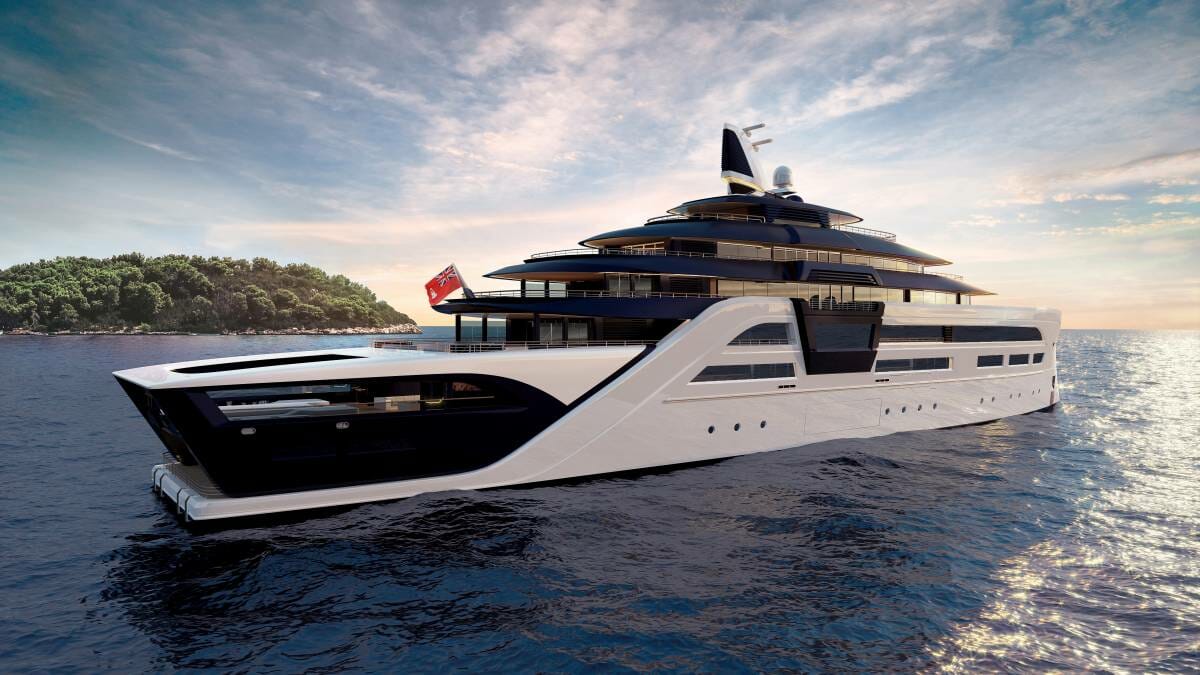 The interiors are inviting and luxurious. Cabins and public spaces are trimmed in T. Fotiadis' recognizable signature use of the highest quality interior materials, fabrics and furniture. Interiors that tell a story, with soul and character, where oversized window panels create breathtaking views, seamlessly merging with the elements.
Clean expressive lines that highlight the hull's silhouette and chamfers, characterize the exterior, and give the feeling of a robust masculine design together with ensuring a quiet stable ride in any waters.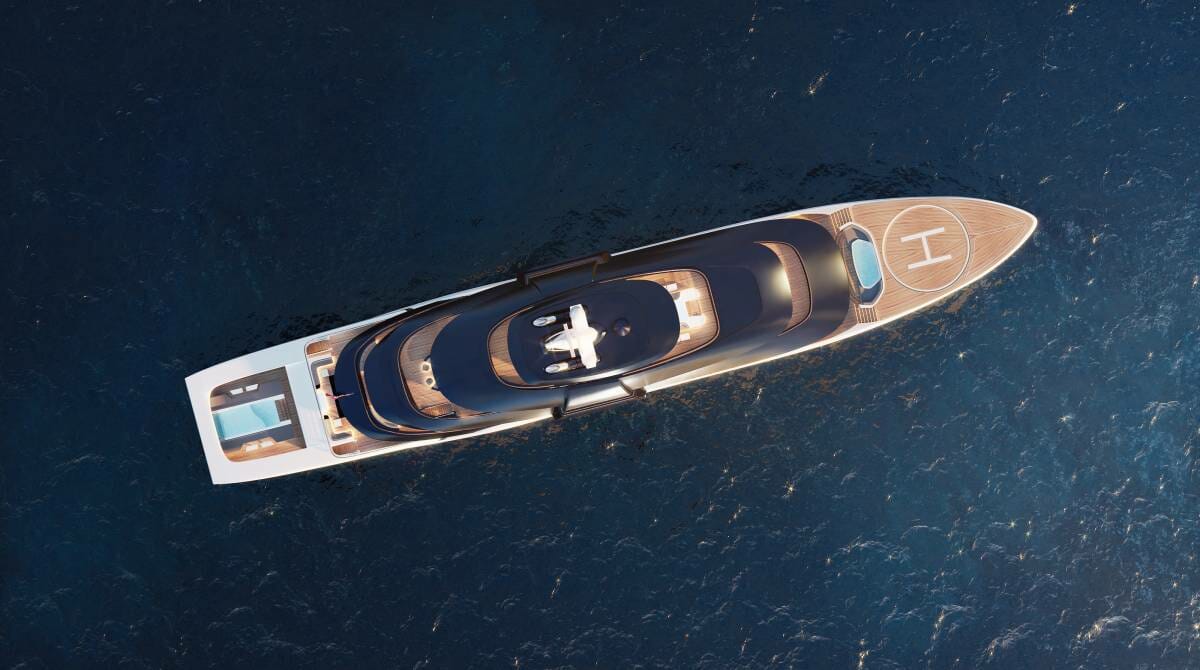 The ship is driven by the all-electric Azipod propulsion system and is powered by hybrid diesel-electric motors. Methanol fuel cells operate continuously and provide high performance to keep the puffer batteries charged and ready for action. During port operations, during breaks or when cruising at low speeds, the methanol fuel cells charge the puffer batteries. This means that there is always enough energy for both the electric motors and all ships systems.
This remotely monitored, environmentally friendly power solution reduces significantly the ship's thermal and acoustic impact, and minimizes the need for service and maintenance.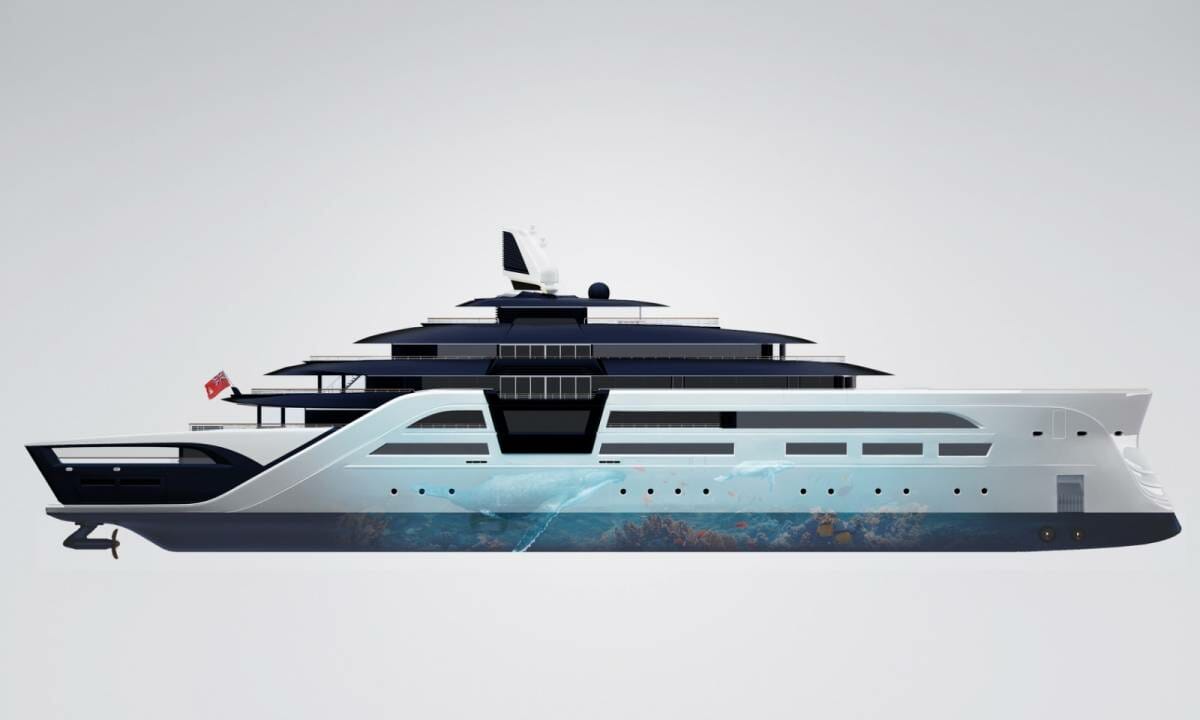 Ultra2, by the Berlin-based T. Fotiadis design house welcomes you to explore the seven seas and coexist harmoniously with them.
The Ultra2 runs smoothly, comfortably and efficiently while remaining committed to reducing its environmental footprint. It is a modern classic with an eye for a cleaner future.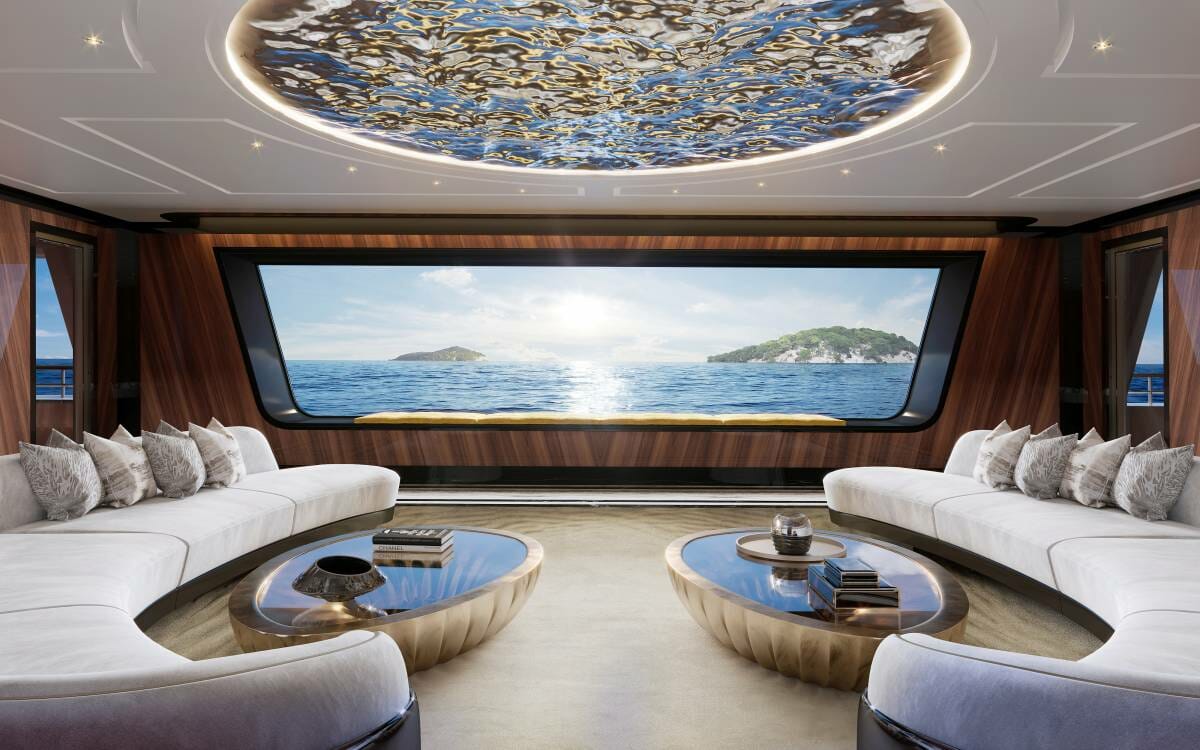 As the next generation of Superyacht designers, T. Fotiadis design house ensures that the Oceans and all aquatic life animals are treated in the best way possible and Ultra2 is the answer.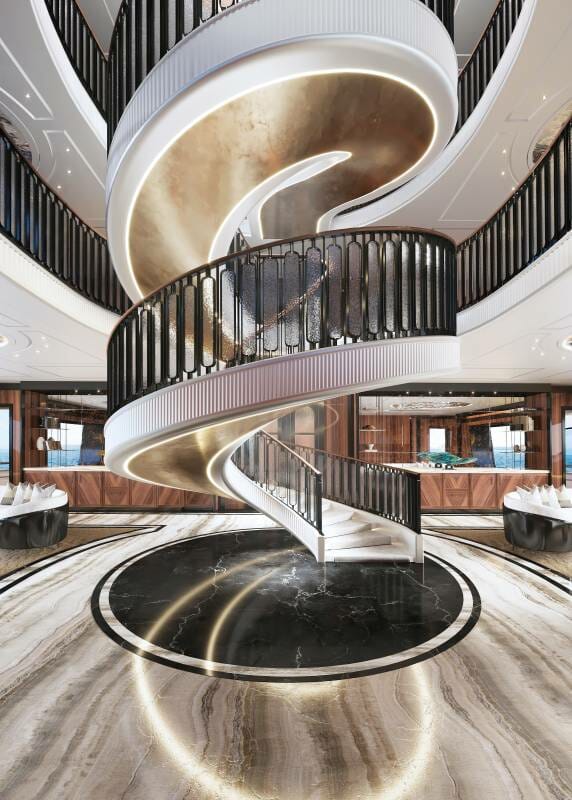 Main specifications of ULTRA2
LOA: 95 m
Width: 14.20 m
Draft: 5.20 m
GRT: 4450
Passengers: 14
Crew: 26