Latest news
Prince Albert I simultaneous checkmated Game of Chess in Monte-Carlo Casino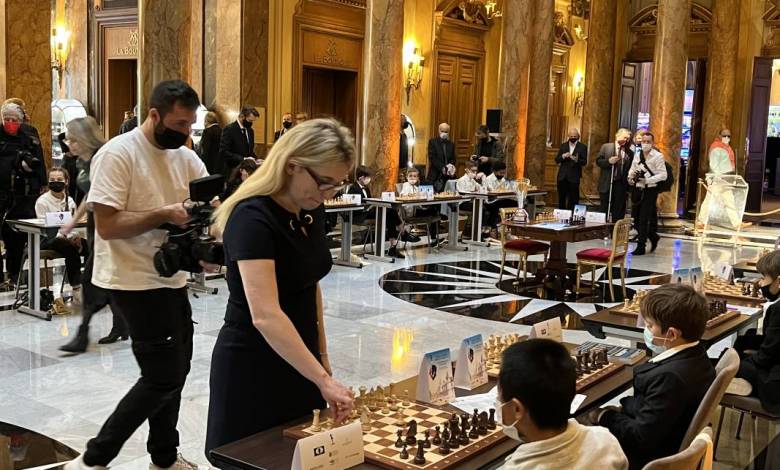 An exceptional event took place this weekend in Monaco and the Game of Chess was the absolute protagonist. An age-old practice flowing from India to Asia, the Arab World and Southern Europe to conquer the whole planet through different stages of evolution over several centuries. The 'Simultanée Prince Albert 1er', under the guidance of Fédération Monégasque des Echecs (Monegasque Federation of Chess), hosted two real stars of this strategy game on the international scene.
On the 26th February 2022, Pia Cramling, Swedish World Chess Federation Grandmaster, and Almira Skripchenko, Moldovan-French reigning International Master and captain of the Monte-Carlo Club women team since 2007, confronted simultaneously to sixteen each emerging opponents in the evocative setting of the Monte-Carlo Casino main hall. A unique opportunity for the young talents from the Cercle d'Échecs de Monte-Carlo (Monte-Carlo Chess Club) and the Under 8 and Under 16 women's teams from the Maritime Alps Region.
An unforgettable moment of the European Women's Chess Gala tournament which was held at the Hermitage Hotel on Sunday the 27th involving top chess players like Elizabeth Pähtz and Monika Soćko.
This unprecedented challenge was also conceived to be strongly tied up to Monaco's history, showing the long-standing interest of the Princely Family in this game, with special regard to Prince Albert I.  At the dawn of the twentieth century, in fact, Prince Andrey Dadian of Mingrelia and Jules Arnous de Rivière, noblemen and chess lovers, conceived a master chess tournament that was held in Monte-Carlo in early 1901. The initiative was much appreciated and increased Monaco's fame fostering winter-time tourism. Further tournaments followed until 1904 and, later on, from 1967 until 1969. The attendance of H.S.H. Prince Albert II of Monaco to kick off the opening of the chess tournament strengthened the link between past and present through His active participation giving the first symbolic move to each of the thirty-two young participants.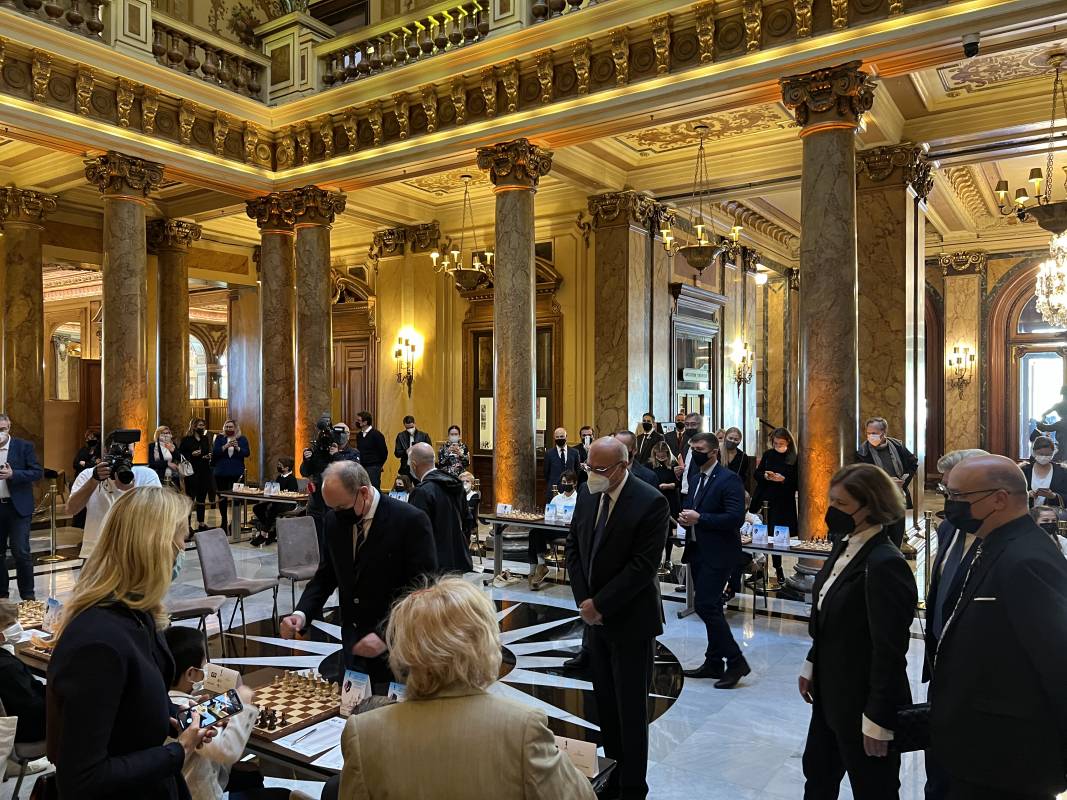 Jean Michel Rapaire (J.M.R.), President of the Monegasque Chess Federation and the Monte-Carlo Chess Club, reaffirmed to HelloMonaco the strengths of this unique challenge.
HelloMonaco: What does this tournament represent for you?
J.M.R.: Hosting this evocative tournament in this amazing environment is really a dream come true. I have always thought this noble game and the Monte-Carlo Casino could be a magic combination. And this event, treated in detail, confirms my hunches. Chessboards and chess pieces are wooden made and each player is identified by a personalized name tag with the tournament logo to make their experience memorable. All attendees have been selected among the most promising chess performers in the game of chess and this morning the Sovereign Prince greeted them individually, enriching their presence to the 'Simultanée'. Moreover, to best celebrate the Year of Women in Chess declared by the International Chess Federation for 2022, we are pleased to have two Lady Masters performing. The Monegasque Federation, in fact, has been promoting women and juniors for more than fifteen years pushing the best players to major international contests, notably the European and the World Championship.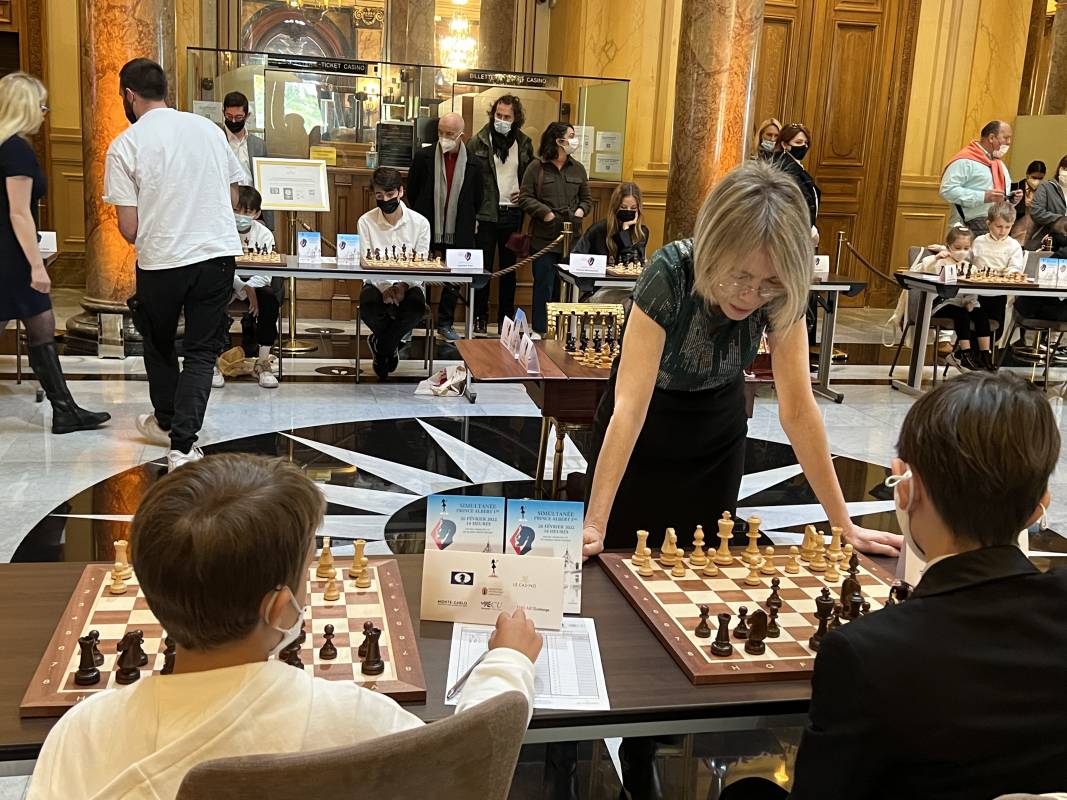 HelloMonaco: What values does chess convey to the player?
J.M.R.: Chess needs calm, logical thinking and mental focus. Intergenerational and intergender games are frequent and they make this practice so amazing. Therefore, chess can be considered the 'game of peace'.
"The fact that this challenge is placed under the high patronage of the Sovereign Prince is really meaningful and it makes Monaco the international chess hub for a weekend", stated Stéphane Escafre, President of the PACA Chess League – "Training with top players is crucial for junior gamers since they can take them as a good model, showing also that women can be as strong as men", he added.
Starting from 1903, an artistic prize, the Prince Albert I Cup, was designed to award the best player of the Season. And this year the tradition was respected, reinforcing celebrations for the 100th anniversary from Prince Albert I's death. Pia Cramling was given the 2022 prestigious prize for her chess achievements, including eight European Women's Club Cups with the Monte-Carlo Chess Club. HelloMonaco was there to collect her first comments.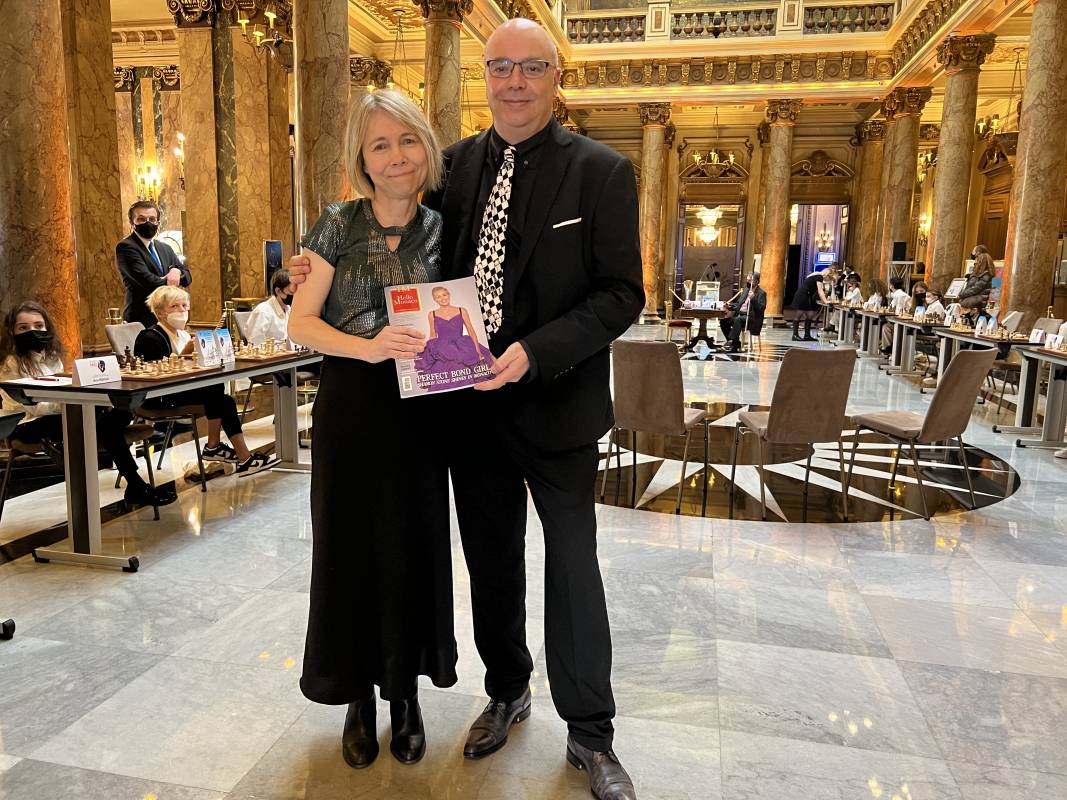 "I am really honoured to receive this acknowledgment from the hands of the Prince who witnessed the link  of the Principality to this game" – she pointed out by adding: "Chess is a game that encourages to be  gentlemen and gentlewomen fostering mutual respect towards the opponents; we need than to make it even more accessible to everyone including women currently representing 10% of total players" – "Chess is all my life, through this game I found love and friends with whom I feel a single community, being united by this wonderful 'common language' which must be increasingly inclusive".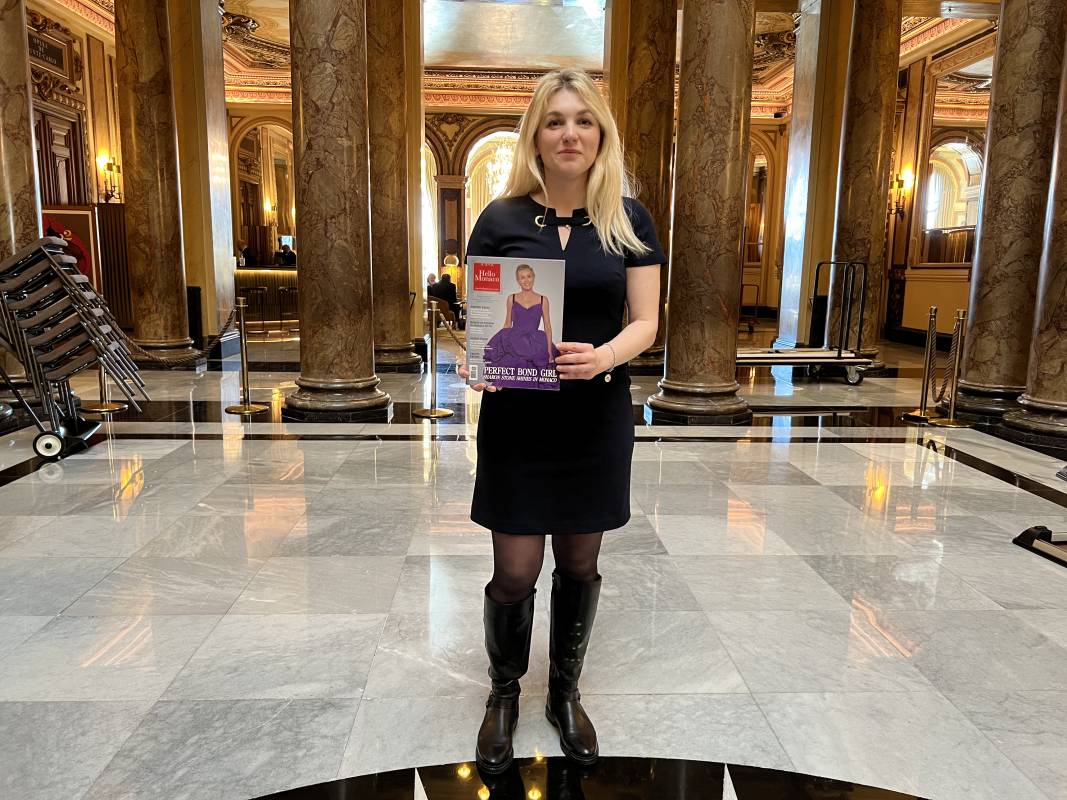 The 'Simultanée Prince Albert 1er' was then a great experience as confirmed by Almira Skripchenko: "I remember myself when I was a kid and I was so happy to meet a grand master for the first time. I was born in the former Soviet Union where chess was a must. So, I think that  was a time of great joy for today's young participants" – "Now, I really enjoyed the exchange with the kids that gave me a lot,  being sensitive to the educational side as the author of a targeted book for chess beginners (title: "Bien débuter aux échecs" – Let's start playing chess at the best)" – "Chess is not an easy task and it is important to start playing when you are young although you are not a professional, it stimulates many useful skills and you need to study up to eight hours per day at the beginning". And…we can say it is worth having regard with the results of this Tournament.