Latest news
The Grimaldi Forum Monaco is getting bigger!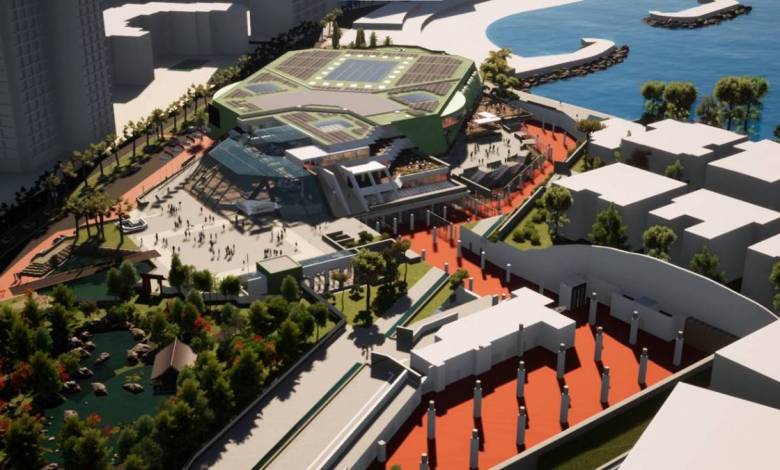 As it celebrates its quarter-century of existence in 2024, the Grimaldi Forum will have an exceptional gift to offer its clients as early as 2025, namely a vast extension of its building within an eco-district boasting with green spaces and the Mediterranean.
In just two and a half years, the Principality's congress and cultural centre will increase its exhibition capacity by 50%, with 6,000 square metres of additional space.
Connected to the rest of the building by a direct link to the Diaghilev exhibition hall, access to this extension will also be via an independent external entrance located on the seaward side.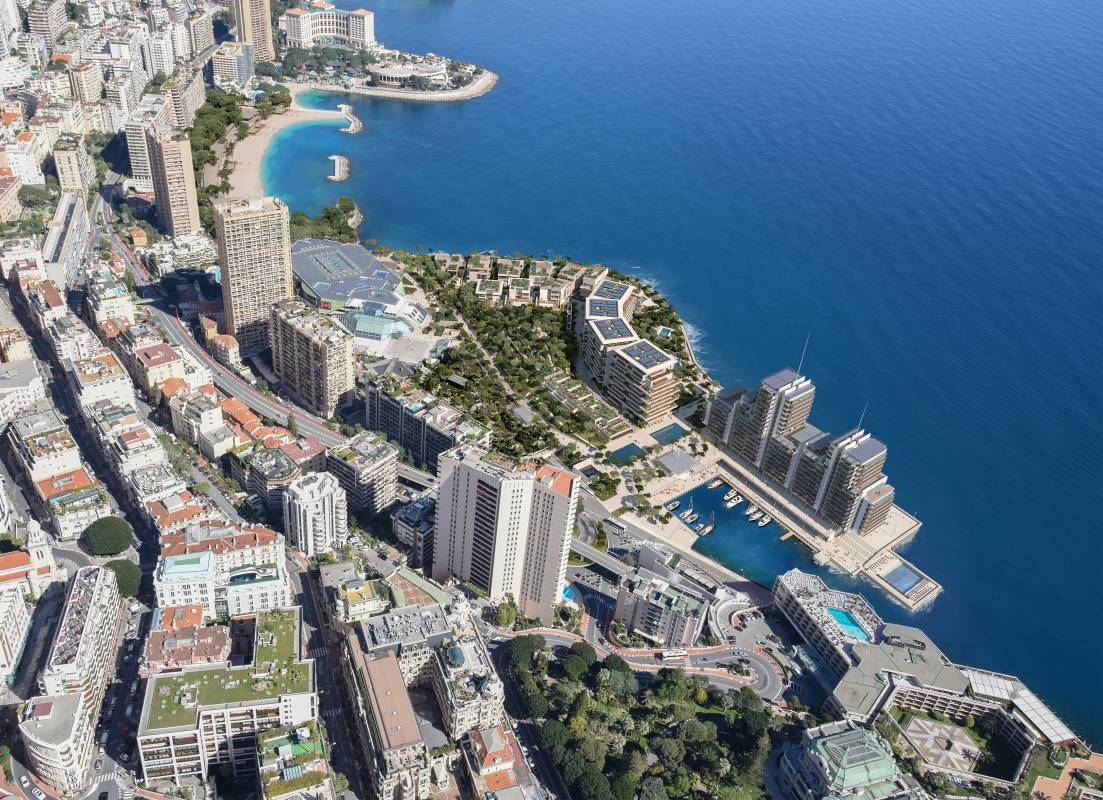 Versatile and modular, these new spaces will be divided into three zones:
Starting from the existing hall, the new Diaghilev Gallery and its 1,031 m

2

will be able to accommodate nearly 370 m

2

of net space for stands;

Alongside the current building, on the seaward side, the Carré and the Patio Rooms will enjoy plenty of natural daylight. Over a total surface area of 1,453 m

2

, they will be able to accommodate nearly 670 m

2

of net space for stands or be divided into up to 8 meeting rooms of 376 PAX in theatre style;

The Pinède Hall of 3,180 square meters completes this new offer, with a capacity of up to 1,320 m

2

of net space for stands in an exhibition configuration, up to 10 modular meeting rooms each accommodating 80 people in a theater style, or a sit-down dinner for up to 1,650 people in for catering.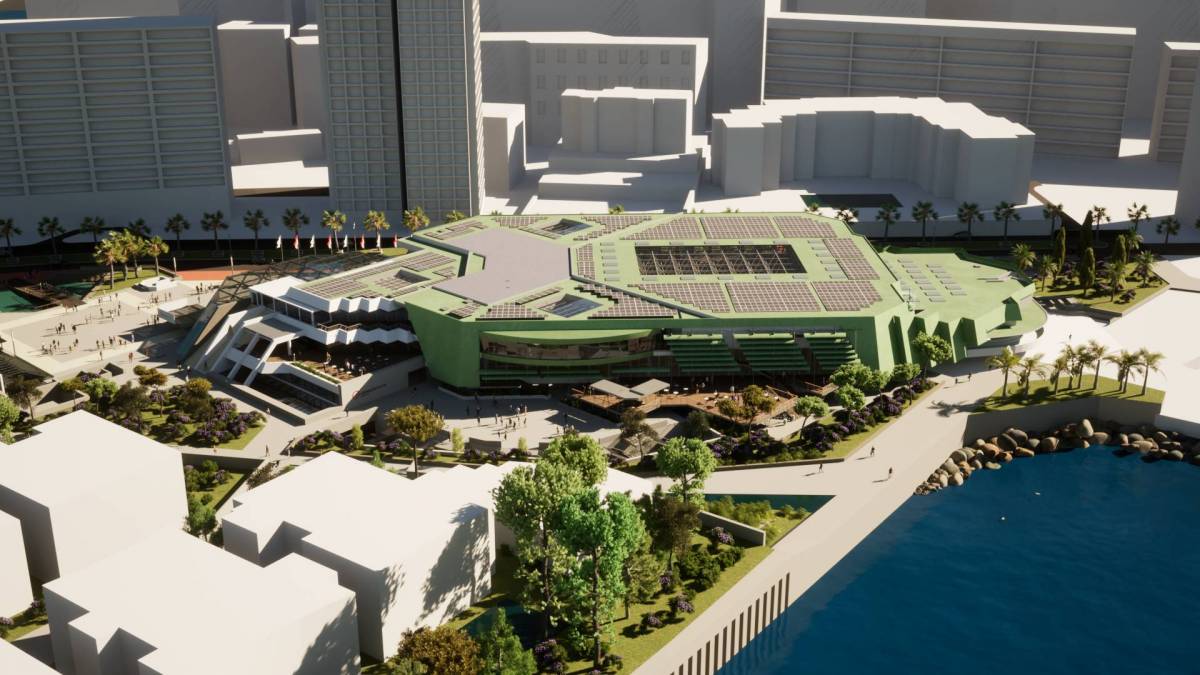 In order to take full advantage of the Principality's exceptional location and its 300 days of sunshine per year, 2,000 m2 of outdoor space will also be created:
The new Indigo terrace: 100 square meters;

The Emeraude Forecourt (where the extension's independent entrance will be located): 610 m

2

;

The Patio: 335 m

2

;

The Ravel terrace, with a view of the open sea: 585 m

2

;

The covered Patio: 375 m

2

.
With Mareterra, the eco-district project currently under construction, which has been decided by the Monegasque government and in which this extension is being built, the entire environment of the Grimaldi Forum Monaco will offer a new dimension.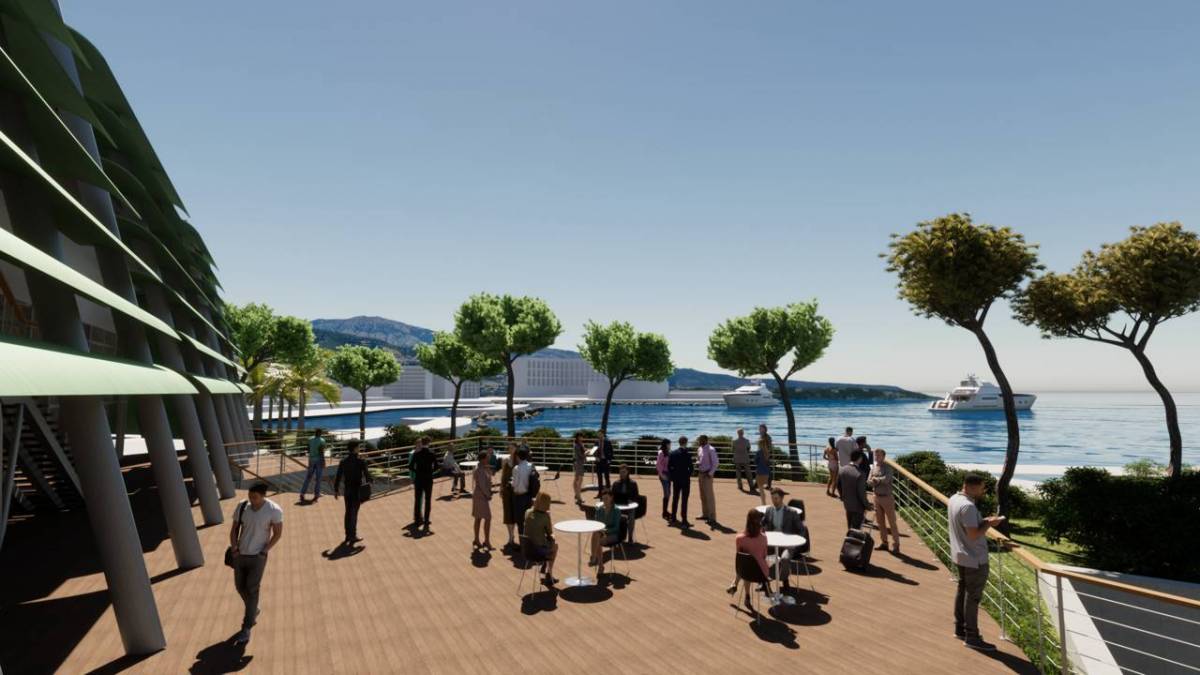 This eco-district project will offer housing, a car park, shops, restaurants, a pine tree forest and a marina. Answering to very strict environmental requirements, it is part of the Principality's objective to achieve carbon neutrality by 2050. Also note that a part of the electricity powered by 1,500 photovoltaic modules installed on its roof since 2019, allows the Grimaldi Forum to supply energy to the surrounding buildings and this new district. It is thus quite natural that the congress and cultural centre of the Principality -certified ISO 14001 since 2008-, is part of this ambitious project. Moreover, enriched with new shops and restaurants, the recent renovation of the nearby Larvotto beach area is an additional asset that will enable congress participants to enjoy all the services close to their congress centre.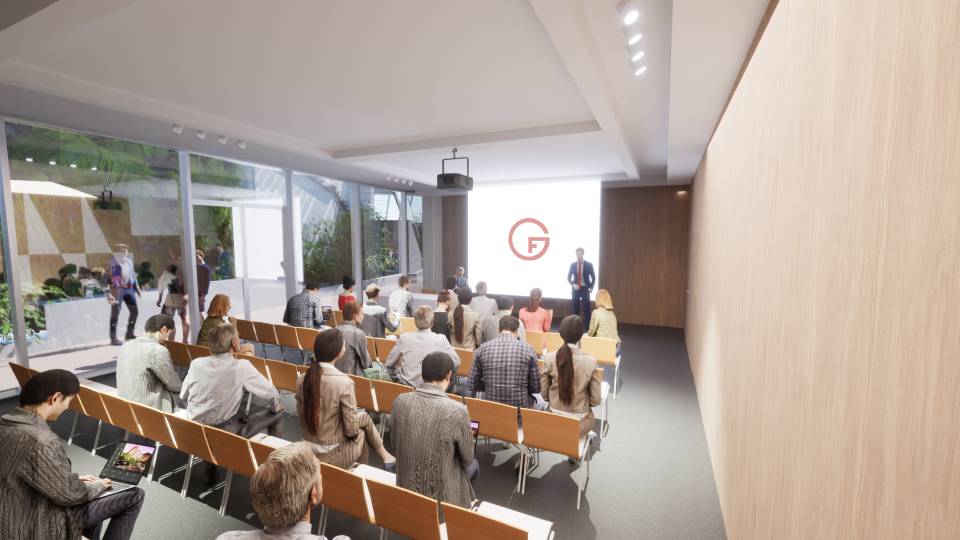 Expanding from a total usable surface area of 35,000 m2 to 41,000 m2, the cultural and congress centre, which already hosts an average of 100 events and 250,000 visitors per year, will be more attractive than ever, hosting larger events and combining more events simultaneously. Thanks to an ever-increasing number of flexible offers, the Grimaldi Forum proposes more original event formats. A significant asset to boost the attractiveness of Monaco as a destination. The future is on the move!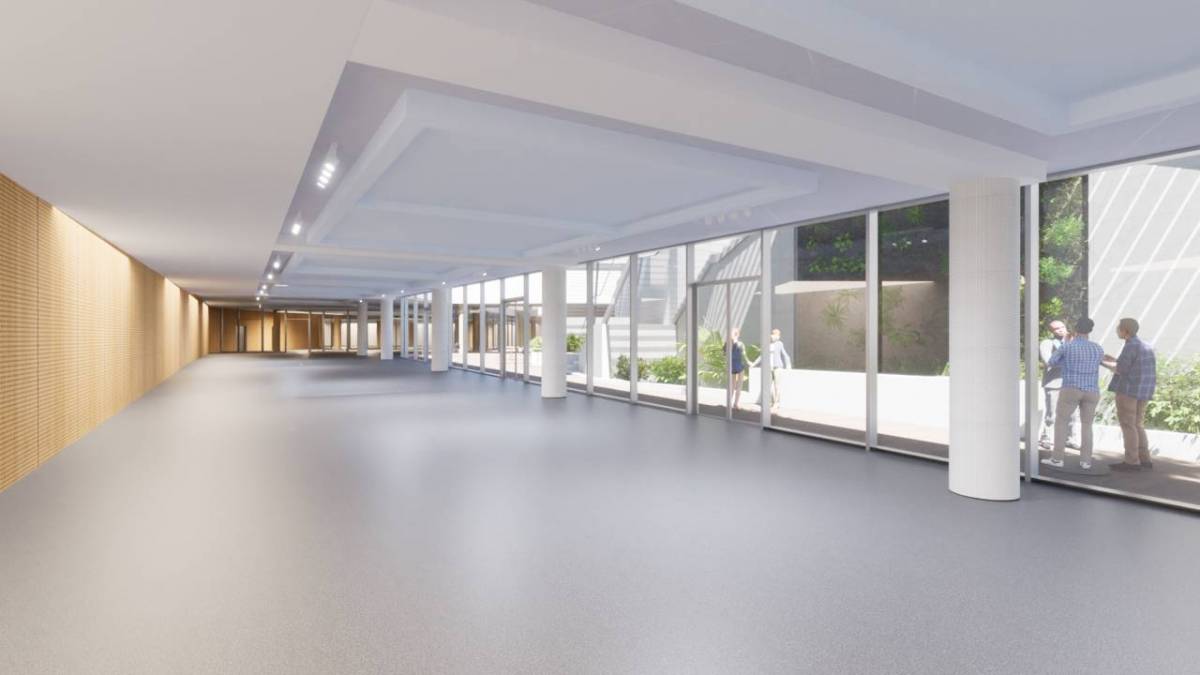 LANDMARKS: FACTS & FIGURES ON THE GRIMALDI FORUM MONACO/ MAIN DEVELOPMENTS
Date of creation: 2000/ Extension of the building operational in early 2025
Types of events: conferences, congresses, trade shows, exhibitions, concerts and shows
Current total area: 70,000 m2 / Total area in 2025: 80,000 m2
Current modular area: 35,000 m2 / Modular area in 2025: 41,000 m2
3 auditoriums with 1,800, 800 and 400 seats
7 exhibition-catering spaces currently (Ravel 4,205 m2, Diaghilev 3,571 m2, Le Génois et le Guelfe 590 m2 each, Indigo 795 m2, Upper Foyer 1,160 m2 and Lower foyer 615 m2)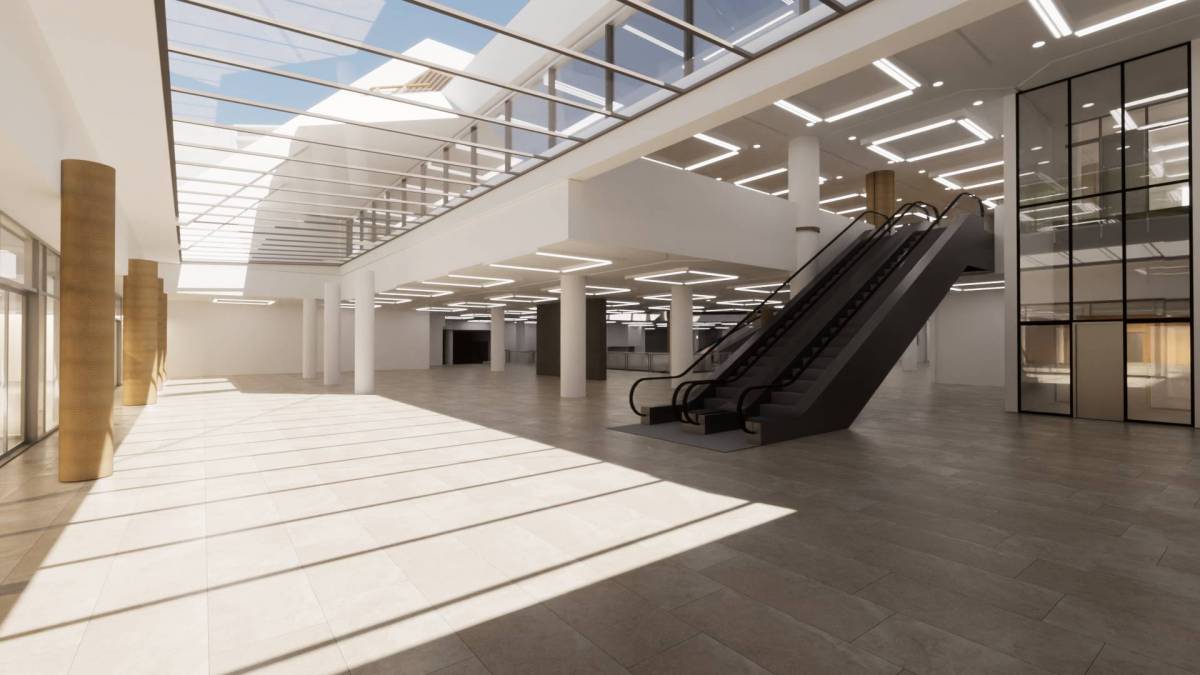 10 exhibition-catering spaces in 2025 (Ravel 4,205 m2, Diaghilev 3,571 m2, Le Génois and le Guelfe 590 m2 each, Indigo 795 m2, Upper Foyer 1,160m2 and Lower Foyer 615m2 / Pinède Hall 3,180m2, Carré and Patio Rooms     1 453 m2, and Diaghilev Gallery 1031 m2)
Up to 22 breakout rooms currently / Up to 40 breakout rooms in 2025
11,000 m2 of exhibition and catering halls currently / 18,000 m2 of exhibition and catering halls in 2025
100 events and 250,000 people welcomed each year
35% repeat customers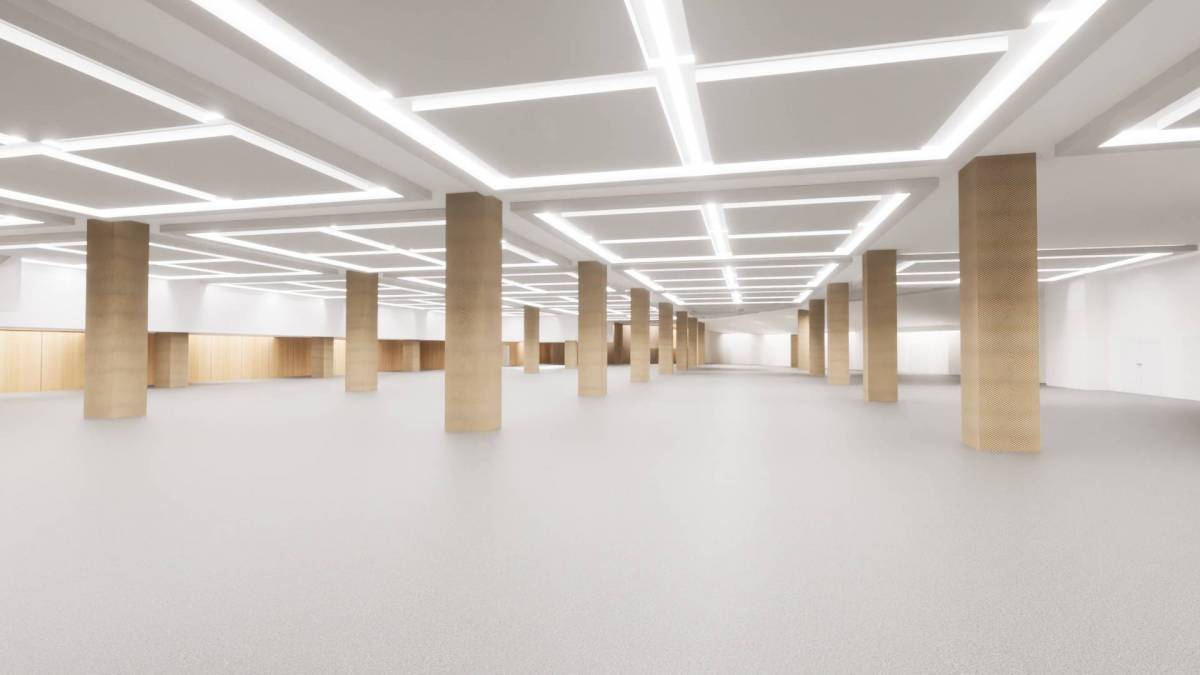 The Grimaldi Forum is one of the first European centres to have received – since 2008 – the precious ISO 14 001 certification. Since then, it has improved its energy efficiency by 35%, multiplied by 2.5 its sorting rate and divided by more than 2 its water consumption per visitor.