Princely news
Albert II visits Washington DC and other princely news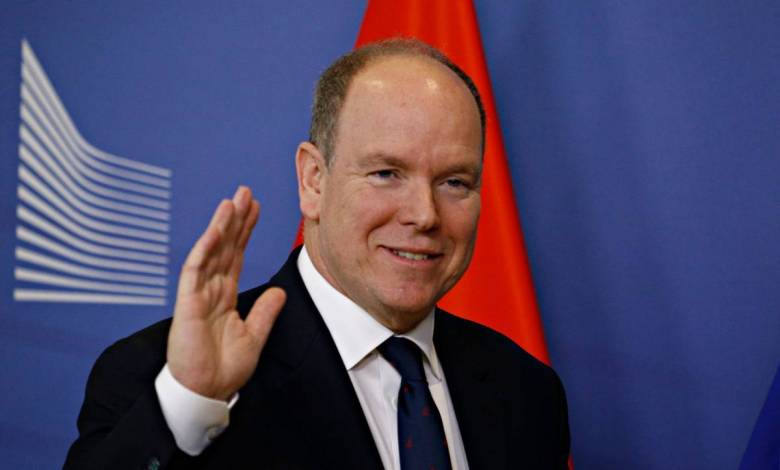 Prince Albert II began his cultural visit to the USA on Wednesday 2 November. His first stop was the John F. Kennedy Centre for the Performing Arts, where he saw a photographic exhibition, organized by the Prince Albert II of Monaco-USA Foundation entitled "Man – Wildlife: Crossed Destinies, Shared Territories". Kathleen Ricker, winner of the 2021 Environmental Photography Prize for her photo 'Gorilla by the Water' spoke with HSH Prince Albert II of Monaco at the exhibition. Performances by the Ballets de Monte-Carlo will take place in the Centre later this month.
The Prince continued his cultural day in the American capital by going to the Hillwood Museum to visit to the "Grace of Monaco, Princess in Dior" exhibition. The exhibition, which first saw the light of day in 2019 at the Christian Dior Museum in Granville, is presented for the first time to the North American public. The exhibition explores the friendship between Princess Grace and the artistic director of Christian Dior, Marc Bohan, through clothes, accessories and photos.
Princess Charlene wears Rare Pink Diamond to Princess Grace Awards in New York
Prince Albert II and Princess Charlene travelled to New York City for the Princess Grace Awards Annual Gala on 4 November, to celebrate this year's theatre, dance and film award winners.
In total, 24 artists received their prestigious awards from the hands of the princely couple. Eighteen scholarships of 10,000 dollars were given to the winners, as well as six honorary prizes of 1,000 dollars each. 
Princess Charlene wore one of the world's rarest pink diamonds for the occasion. The 1.79 carat "Grace Diamond" was set into a necklace called "La vie en rose" by Parisian jeweller Lorenz Bäumer. The pink diamond was mined Argyle, Australia, and had never been worn before. A sparkling and symbolic gesture to commemorate the fortieth anniversary of the death of Princess Grace.
Prince Jacques and Princess Gabriella dress up for Halloween
On Halloween, Princess Charlene shared a photo of Prince Jacques and Princess Gabriella, all dressed up. The 7 year-old twins were dressed up as Dracula and a pumpkin. Prince Jacques donned a cape, a cane and white face paint for his costume. Princess Gabriella wore an orange wig, a pumpkin dress and green tights. Both of them looked like they were having a lot of fun. Princess Charlene captioned the photo with, "Happy Halloween".
Monegasque Seniors to receive gifts by Prince Albert II for National Day
As tradition dictates, HSH Prince Albert II will offer gifts to Monegasque seniors on Monaco's National Day. In order to receive a present, Monegasque seniors aged 60 and over must register by telephone or on the Prince's Palace website. Gifts will be delivered by courier directly to the recipients' homes.
Suspension Bridge Collapse: Prince Albert II sends India's Prime Minister a Heartfelt Message
Prince Albert II sent an official dispatch to India's Prime Minister, Narendra Modi, on 31 October, to express his condolences following the collapse of a suspension bridge, which caused the deaths of 135 people.
"Mr Prime Minister,
It is with great emotion and sadness that I learned the tragic collapse of the suspension bridge in Morbi, during the celebrations of the Diwali festival, regretfully causing many deaths.
In these tragic circumstances allow me, along with my family and the people of Monaco, to convey my heartfelt condolences to the families of the victims and our support and compassion to the injured and to the survivors. May I also salute the massive rescue efforts underway by Police, military and disaster response teams deployed. Let me assure you, Mr Prime Minister, of our profound solidarity in this difficult ordeal.
Albert, Prince de Monaco."
Video Message: Prince Albert II invites Participants to No Finish Line Monaco
In a video message shared on 3 November, Prince Albert II personally invites viewers to participate in this year's No Finish Line event, taking place later this month.
"Dearest friends," the Prince says in the video, "the 23rd edition of No Finish Line will take place between the 12th and 20th of November 2022. I encourage you to participate, since this year, the event will return to its circuit and will be exclusively in person. You'll find the original format of the No Finish Line, with the option to walk or run together. Thanks to your registrations, donators and sponsors, for every kilometre travelled, 'Children and Future' stands to gain one euro to finance projects for sick and underprivileged children. I count on you and I thank you in advance for your participation. Good race!"