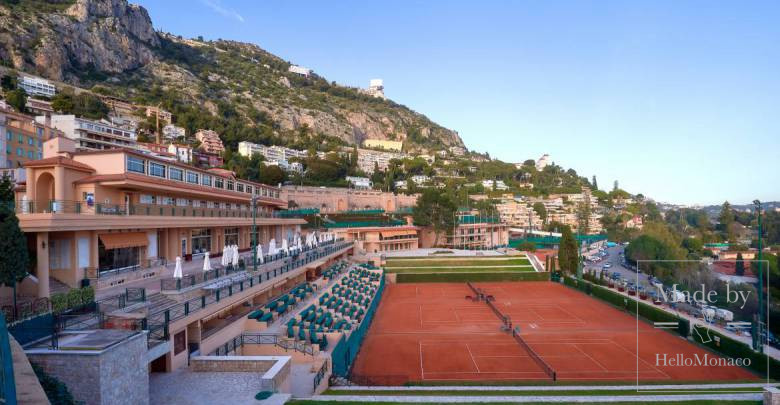 The modern Monte-Carlo Country Club was originally named "Lawn Tennis de Monte-Carlo"; it was located just behind the Hôtel de Paris and managed by the Société des Bains de Mer (SBM) being considered an international tennis "hub" since those times addressed both men's and women's tournaments (date of the foundation: 2nd

April 1893).

In 1905, Monte-Carlo tennis Club moved to a larger area set in La Condamine offering other sport practicing like archery and croquet – that allowed the enlarging of the

Hôtel de Paris.

On the 28

th

January 1921, a new 3-court tennis club was built on a garage roof, named "Festa Country Club". 

In 1925, the Prince Louis II had to cope with a decline in tourist attraction so he invested 100 million Francs to create a new leisure centre including worthy tennis courts to a country like Monaco – since there were no spaces available on the Monegasque territory, SBM purchased some hectares in the French area of St. Roman (Roquebrune-Cap-Martin) where the terracing was carried out

after a hard work involving more than 1500 workmen.

The Club was designed by the architect Letrosne in an entirely new Art Déco style and each terrace had two or three courts separated by flowers and cypress trees.
In 1972, H.S.H. Princess Antoinette was appointed as the President of the Club, by the will of her brother H.S.H. Prince Rainier III. Her daughter, the Baroness Elizabeth-Ann de Massy took the title of Vice-President, succeeding the Presidency in 2008. After her death, occurred in June 2020, her daughter Melanie-Antoinette de Massy became President with the unanimous approval of the Executive Committee.

The Roaring Twenties Bar is a true flagship of M.C.C. and it still welcomes all visitors in an amazing atmosphere thanks to a detailed renovation.

In order to join the Monte-Carlo Country Club you need the support of two already-registered members.

In early October 2019, a new M.C.C. fashionable Boutique was opened on a 155 sqm area located on the ground floor of Pavillon des Pins – it offers clients a wide range of unique shirts, blouses, cashmere sweaters, dresses, coats and other accessories, according to the Season.

The Monte-Carlo Country Club Tennis School / Academy is open to around 100 children from 4 to 14 years-old offering courses from September to June.
HelloMonaco:
Rolex Monte Carlo Masters and stylish tennis courts make the Riviera a dream destination
Rolex Monte Carlo Tennis Masters – Gladiators' Arena for the Greatest of All-Time