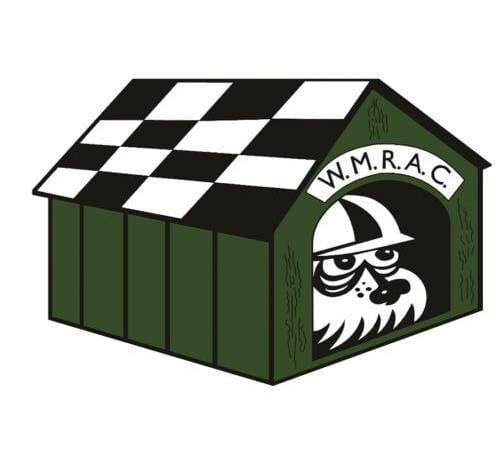 The good old days of motor racing were full of camaraderie and bravado, beautiful women of course, and larger than life personalities like Stirling Moss, Graham Hill, John Surtees and Jackie Stewart. But, all that glitters is not gold and believe it or not, life was not always the same paradise as it is for the Lewis Hamiltons and Charles Leclercs of today with their multi-million euro contracts. Certainly not moneywise anyway, especially in the UK.
You hear the same stories about the great tennis players of old too; legends playing for pennies paving the way for the sports multi-millionaires of today. These were pioneering times; life was sometimes really tough with many more accidents and hard-life stories on and off the track. Difficult to believe compared to today. But nearly 60 years ago in Britain, there were often no social facilities nor infrastructure near the racing tracks.
An Era of Terrifying Accidents and Fires
Nowadays every racer tends to have his own motorhome and massage therapists. They own planes, use advisers and staff services. Things were different back in the day, however. According to renowned racer Jackie Stewart: "I've attended more funerals and memorial services than anyone else I know. It was terrifying to see other drivers burn alive in their cars. Many accidents involved fuel fires when the racer died before anyone could even do anything. Roger Williamson, Lorenzo Bandini — they all lost their lives to car fires. The Nürburgring track had the worst reputation. There were no fences or barriers. We were racing at a speed of 300 km/h, in the midst of a forest, with only 50 metre visibility. One of the laps counted 178 turns. Even in good weather your car would fly up to 13 times. "Racing cars do have a nice take-off, but they never land well," says Jackie Stewart.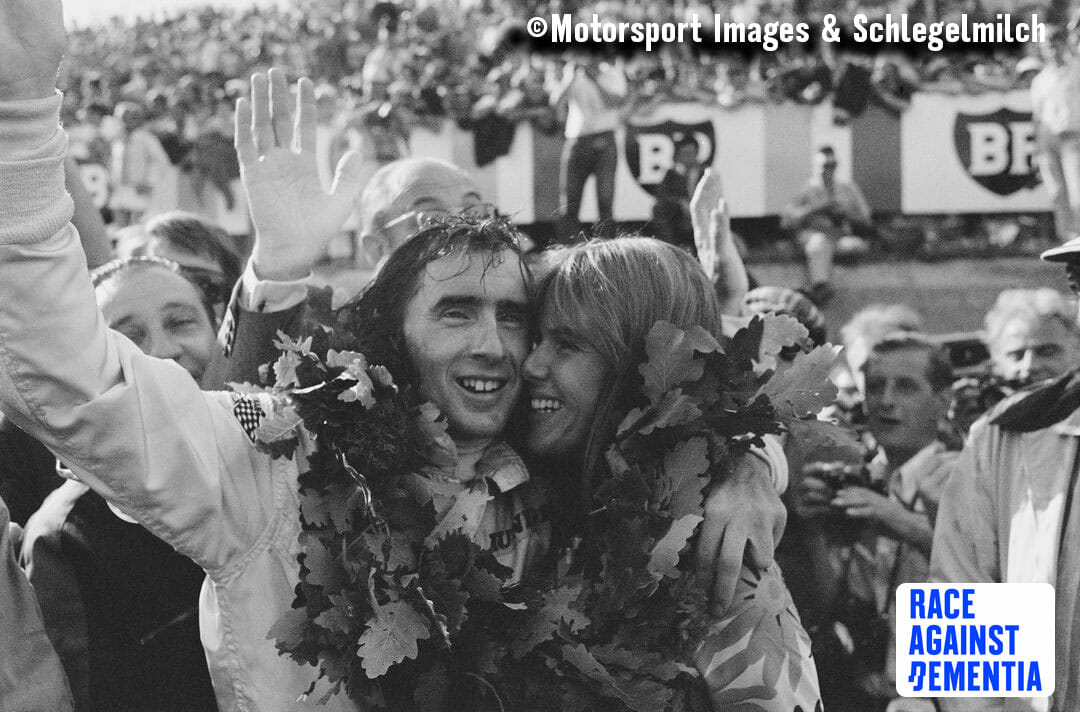 And so a historic institution "the Doghouse Owners' Club" was born, founded on 7 February 1962 (more formally known as the Women's Motor Racing Associates Club) — basically some heroic British wives decided to group around what was primarily a Charitable cause — taking care of those families in the racing community stricken by accident, misfortune and grief. Under the chairmanship of Sheila Van Damm, the founding committee comprised Mrs Colin Chapman, Mrs John Cooper, Mrs Gregor Grant, Mrs Graham Hill and Mrs John Webb.
And it became very personal for the most current President of the Club, Shirley Procter whose husband Peter was injured in 1966 and took great comfort in the support of her Doghouse Owners' Club fellow-women. 
The original "Benevolent Fund" for stricken racing families no longer exists after having helped many in those early days when it was needed. Six years passed since the last time a Formula-1 driver has lost his life. It was Jules Bianchi in 2015. In 1994, the legendary Ayrton Senna died in a crash. For comparison: 1968 was fatal to four racers: Jim Clark on April 7, Mike Spence on May 7, Ludovico Scarfiotti on June 8, Jo Schlesser on August 7.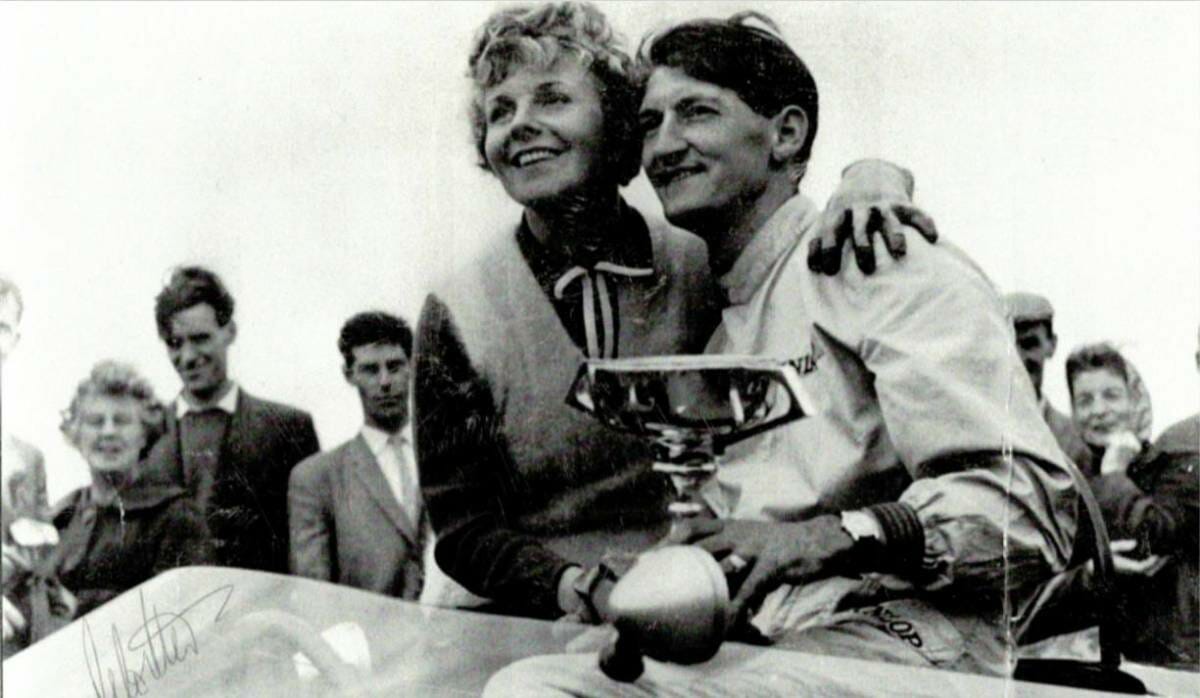 What remains, burning just as brightly, is the Charitable mission of "the Doghouse Owners' Club". They do just about anything to raise money for worthy charities, targeting Dementia in 2018 and 2019 — and will again support Race Against Dementia in 2021. Did you know that the great Jackie Stewart, after more than 55 years of love and companionship with his wife Helen, is helping her cope with dementia? It hits one in three families in old age!
Show-stopping Cabarets in Prestigious Places
These ladies put on the Cabaret of Cabarets, full of mischief and ribald and libellous stories about their famous husbands. It was a self-roasting that attracted a sell-out audience at prestigious places like the Savoy, Dorchester and Hilton. And they raised a bundle for Charity.
There is even a T-shirt which states, I survived the Doghouse Pantomime. "We did two, (says Loti Irwin) one at the Mermaid theatre and one at the Mayfair. Graham Hill as the genie… quite scary!" The cabarets were absolute show-stoppers.
"They were a great mix of professional dance routines, very funny sketches to very racy numbers with our respectable ladies, singing outrageous things about us drivers, often with news that was news to us!" laughs former Grand Prix driver Howden Ganley.
For the famous Doghouse Ball itself, they started it at the River Room at The Savoy Hotel and then it grew out of that into the Dorchester and finally into the large ballroom at the Hilton, Park Lane until 1999.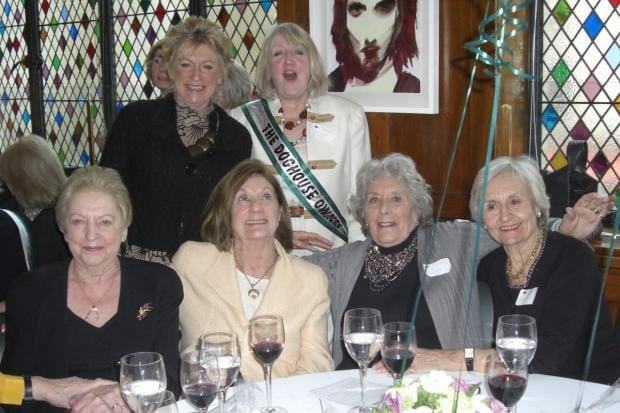 "Only mad dogs and Englishmen go out in midday sun"
(Rudyard Kipling)
The "doghouse"; that cold kennel in the garden where naughty dogs are sent for misbehaving — why this for a name. "In the doghouse". We doubt it is these beautiful ladies that have been sent to the doghouse. So we are left guessing if they get together to discuss appropriate punishment for husbands who misbehave!
Of course misbehaviour could just mean a glass of wine too many, a broken ornament or the ultimate sin forgetting an anniversary. Paying too much attention to rival beauties or infidelities — we won't go there!
It's an amusing twist on a name but don't forget that the reason for the Doghouse Owners' Club creation was the great danger of motor-racing during those years. We are already reminded of the devastating losses of 1968. Later years were not much better: in 1970 three racers lost their life (including Bruce McLaren, creator of the famous team), then one in 1971, two in 1973 and 1974… Who was there for the wives and girlfriends and families — to support each other through tragedy? It was the Doghouse Owners' Club.
Fortunately, the sport is far safer now owing a lot to the work of Sir Jackie Stewart, who pioneered safety improvements and with great determination continued to champion safety campaigns.

A Brilliant History Complete With Successful Business and Charitable Projects
People used to the luxurious Amber Lounge in Monte-Carlo and the cosseting of the celebrities around the drivers and all the associated glamour will grin at this description by the Doghouse Girls including Loti Irwin of how it was in those good old days: "When the Doghouse started, we had a caravan which some poor soul got talked into taking to Silverstone before we got the use of the old time-keeper's place up near the start/finish line."
The Doghouse Owners' Club has had a good run — more than most institutions. It had a 50-year celebration in 2012 where celebrated Grand Prix legend Stirling Moss famously admitted: "For the first time in my life, I can sincerely say that I regret not being in 'The Doghouse'!"
They spawned books of naughty song lyrics called "Doghouse Girls have lots of Balls" and one called "Racey Recipes". Professional advertising agencies could learn a trick or two from these heroic amateur ladies that would do just about anything for a Charitable cause. The Doghouse was a powerful force for good way back when. It is still doing important work collecting for Charities like Jackie Stewart's Race Against Dementia. Members liked to get together for a chat at Silverstone or organise a Spring Lunch — for example at Quaglino's. Maybe there's still a breath of life in the old dog — this Club which played an important role in motor racing history.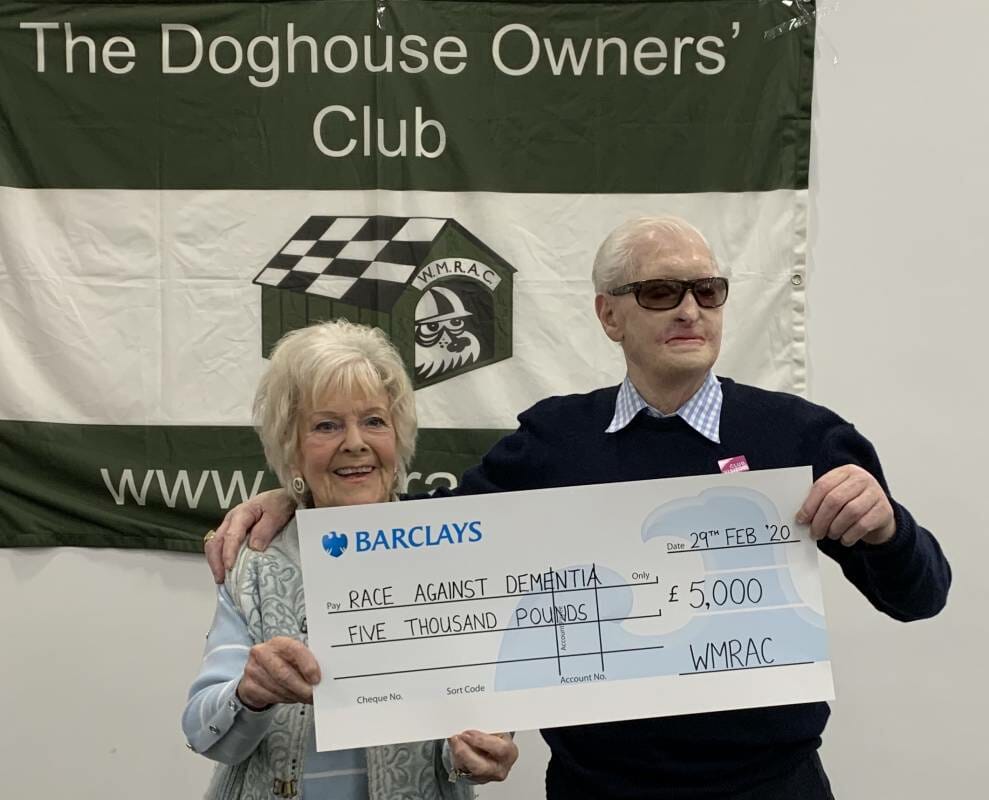 Today women are just as powerful a force making history in Motor Racing — but not just as wives and girlfriends but competing head on with the men. "Fast Ladies", women racing drivers are taking us into the future.
But if you thought there was fading interest in wives and girlfriends of racing drivers just watch Hollywood and Reality TV who are trying out shows like "Racing Wives".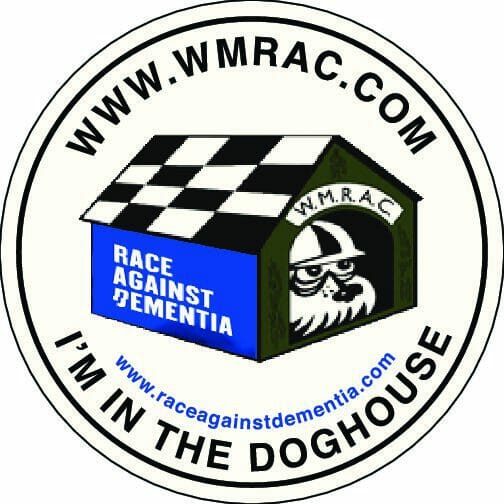 Hello Monaco magazine warmly thanks the Women's Motor Racing Associates Club (www.wmrac.com) for the illustrations.