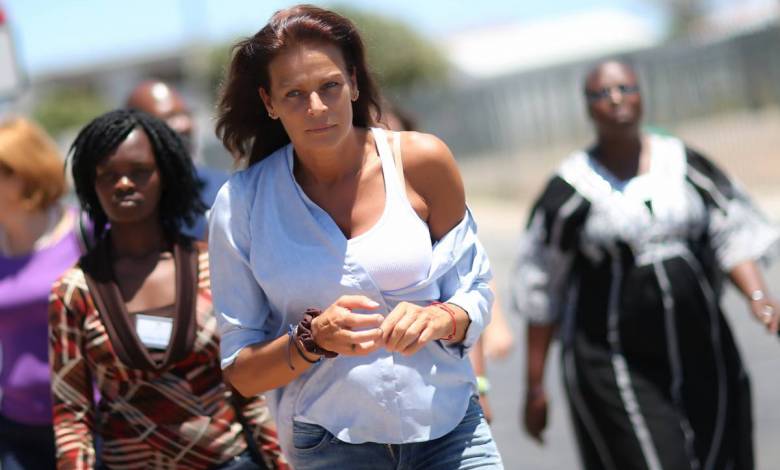 Princess Stephanie of Monaco (Countess of Polignac, Stéphanie Marie Elisabeth Grimaldi) was born on the 1st of February, 1965. She was born in 1960s, in Generation X. Her birth sign is Aquarius and her life path number is 6. Princess's birth flower is Violet and birthstone is Amethyst.

Singer, swimwear, designer and fashion model who is the youngest daughter of Grace Kelly and Prince Rainier III of Monaco.

Grace Kelly's daughter Princess Stéphanie went through many phases, including pop star and model, and her style went through many changes right.

In February 1986, Stéphanie self-produced and released her first single with the French label Carrere, under the production of Yves Roze. The song "Ouragan" and its English version "Irresistible" were both international hits, reportedly selling more than 2 million copies – The same year, Stéphanie moved to Los Angeles to record a new album. However, it took her five years to release it – Stéphanie then ended her music career after recording "In the Closet" with Michael Jackson for his album Dangerous – She made a brief return to singing in 2006, when she recorded "L'Or de nos vies", a charity single, along with her foundation Fight AIDS.

She is known for her philanthropy, working to combat HIV/AIDS for much of her adult life.

Stephanie dated several high-profile men, including racing driver Paul Belmondo, nightclub owner, Mario Jutard and actors Rob Lowe and Anthony Delon.

Princess Stephanie of Monaco started dating Merwan Rim in 2007. He is best known for being a Musician. Their relation had lasted for approximately 13 years, 8 months, and 25 days –

Merwan Rim is a

French actor and singer-songwriter

–

He was born in Sarcelles and is currently 43 years old and his birth sign is Cancer.

She has been briefly married to Daniel Ducruet from 1995-2006 and to Adans Lopez Peres from 2003-2004.
Daniel Ducruet used to work as Prince's Palace bodyguard and he is now entrepreneur plus a show business figure

.

Adans Lopez Peres, an

acrobatic Portuguese hand-to-hand artist and a fifth- generation performer (born in North of Italy – Crema – on 8

th

November 1975) – the wedding ceremony with Stéphanie took place secretly in Switzerland (

Vandœuvres

 – Geneva).

Princess Stephanie of Monaco's net worth vary – it is estimated net worth of $100,000 – $1M.

She became involved in an apprenticeship program at Christian Dior under the head designer, Marc Bohan.

Favouring menswear-inspired looks, tailored pant and skirt suits, and vibrant red shades, Stéphanie knows how to turn heads with her outfits.

Particularly fond of Circus and artistic director of the Monte-Carlo Circus Festival,

playing as a major circus animal defender for a long time, looking after two elephants, 

Baby

 and 

Népal

, welcomed at Fonbonne estate (Peille) – Roc Agel mansion – on the 12

th

July 2013. Originally, they were forced out Cirque Pinder suspected of suffering from tuberculosis but the following tests have shown their negativity.

Princess Stéphanie created in 2013 an Association under their names.

On the 17

th

July 2017, the two elephants celebrated their 4

th

Anniversary together at Fonbonne

to the delight of friends and supporters –

On the 29

th

April 2018, Népal died from kidney dysfunction.
HelloMonaco:
Princess Stephanie: Fighting For Zero Aids In Monaco And Saving The Traditional Circus For The 21st Century
Princess Stephanie of Monaco: «With COVID-19 we are all experiencing a common frustration, with no possibility to plan for the future»