Princely news
Prince Albert attended the 89th Rally Monte-Carlo Awards Ceremony and other princely news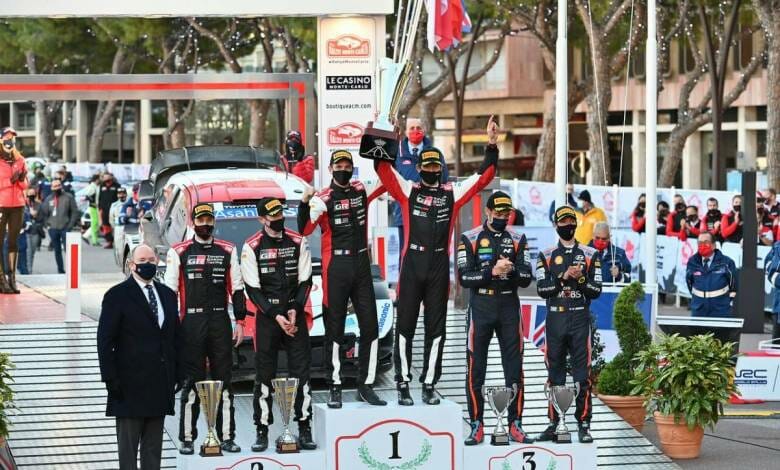 The 89th Rally Monte-Carlo Awards Ceremony
His Serene Highness The Prince of Monaco Albert II arrived for the awards ceremony of the 89th Rally Monte-Carlo to congratulate its winners Sébastien Ogier and Julien Ingrassia who achieved a victory in this competition for 8th time. Elfyn Evans and Scott Martin took the second place and Thierry Neuville and Martijn Wydaeghe went third this year.
Prince Albert attended Saint Sebastian Celebrations
On Monday morning, January 20th, HSH Prince Albert II attended the traditional solemn mass of the San Sebastian celebrations. San Sebastian is the Patron Saint of archers, infantrymen and policemen and has been the Patron Saint of the Prince's Carabineers since 1954. The traditional mass took place in the Cathedral of Monaco.
It was presided over by Bishop Dominique-Marie David of the Diocese of Monaco. The Prince's Carabinieri musical band performed at the Cathedral of Monaco to honor their saint patron.
Proud of its history and committed to its values, the Compagnie des Carabiniers du Prince now serves His Serene Highness The Sovereign Prince Albert II and his family with honor, loyalty and dedication, as its motto testifies.
Prince Albert II of Monaco made a speech at the ADSWSummit
The Virtual ADSWSummit took place on Tuesday, January 19, aiming at setting the agenda for Green Recovery in a post-pandemic world. His Serene Highness The Sovereign Prince Albert II of Monaco, along with leaders in politics, business and technology, delivered the keynote speech. His message, entitled "National Resilience During Covid-19," launched a virtual ADSWSummit.
"These meetings should enable us to put in place frameworks necessary for sustainable recovery", said HSH Prince Albert II on ADSWSummit.
The Prince's Palace released a new official photo of the Princely family of Monaco
The new official photo of the princely family of Monaco was presented by the Princely Palace on January 19th. On the picture around His Serene Highness the Ruling Sovereign and Her Serene Highness Princess Charlene are their children – the Hereditary Prince Jacques and Princess Gabriella, who have recently turned six. 
The photo, taken in the salons of the Prince's Palace by Eric Mathon, went on sale on January 20, 2021 at the Principality's souvenir shop near the Prince's Palace at the entrance to the Louis II tunnel next to the Yacht Club of Monte-Carlo. The profits from the sale of this photo will be donated to charities in the Principality. 
Photos are available in the Principality's gift shops: Place du Palais, Grimaldi Forum, The HSH Prince's Car Collection and Louis II tunnel.