Princely news
Princely Family attends Rainier III Memorial Mass and other news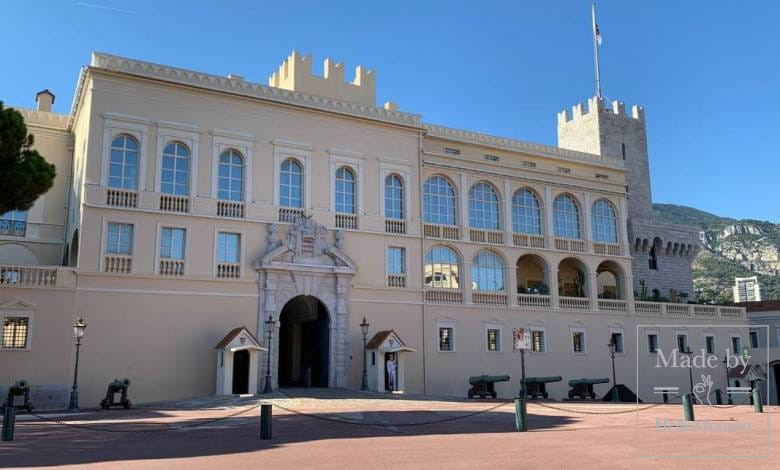 The Princely Family gathered at the Cathedral of Monaco for the Prince Rainier III memorial mass, 18 years after he died, on Wednesday 5 April.
Prince Albert II, Princess Charlene, the Princess of Hanover and her children Andréa, Charlotte and Pierre Casiraghi, Princess Stéphanie and her daughters Pauline Ducruet and Camille Gottlieb all gathered together for the solemn ceremony, given by Archbishop Dominique-Marie David.
Prince Rainier's granddaughters participated in the ceremony. Charlotte Casiraghi said the first reading and Camille Gottlieb said the universal prayer. At the end of the mass, the whole family gathered around the tomb of Prince Rainier III.
Prince Albert II releases #WhiteCard video for International Day of Sport for Development and Peace
"The unique values of sport, its intercultural status, its cross-cutting nature, and its unique ability to mobilize and create social bonds are all enshrined in the International Day of Sport for Development and Peace, celebrated each year by Peace & Sport," said Prince Albert II in a new video released on International Day of Sport for Development and Peace.
During the video, the Prince spoke about a particularly troubled, international geo-political context and the way sport has the power to strengthen communities, promote tolerance and foster values of solidarity and acceptance. The Prince held up a white card, the symbol used by Peace & Sport for the last 10 years.
"On this symbolic day, I invite political decision-makers, international organizations, sport governments, civil society representatives and athletes to join this global mobilization and celebrate the contribution of sport to local and international conflict prevention, resolution and reconciliation processes. #WhiteCard is the symbol to use….Peace and Sport and the Principality of Monaco will continue promoting sport as a tool for peace worldwide. Let's unite through the hashtag #WhiteCard," said Prince Albert II.
Prince Albert II picks up Litter in Monaco for 2nd Olympian Clean Up
HSH Prince Albert II took part in the 2nd edition of Olympian Clean Up on Monday 3 April. Students from Collège Charles III and Collège Bellevue de Beausoleil and the mayors of Beausoleil and La Turbie, Gérard Spinelli and Jean-Jacques Raffaele also participated in the event.
Equipped with gloves and large plastic bags, the team left the Place du Palais before walking down to the Condamine market and heading towards Grima park in Beausoleil. After a short break, the Prince left the procession at the park. The rest of the group continued their walk to the top of the Tête de Chien in La Turbie. In total, 15 kg of rubbish was collected, part of which will be incinerated in the Principality by the Société Monégasque d'Assainissement.
400 Students Participate in Princess Charlene Rally
On International Day of Sport for Development and Peace, 400 students took part in the Princess Charlene rally in Monaco.
Running down from Annonciade for a skill-testing series of races, including timed relays, rescue exercises and multiple choice questions on Larvotto beach, participants then raced back to Charles-III college.
After the rally, Princess Charlene Foundation ambassadors: Paula Radcliffe, Kevin Crovetto and Pierre Frolla, and Champions for Peace Marlène Harnois and Pernilla Wiberg, shared their experiences as athletes with the students.
Prince Albert II awards Top Superyacht Chef Winner
The Yacht Club de Monaco hosted the 4th Superyacht Chefs competition, featuring nine superb competitors who are accustomed to working at sea.
Prince Albert II awarded the first place trophy to Marco Trognon, who sails on 'Planet Nine' a 73 metre superyacht. He whipped up a blue lobster ceviche from Brittany, caviar and parmesan avocado mousse accompanied by vodka whipped cream and vanilla bean. For dessert, he made pineapple poached in champagne and vanilla accompanied by mascarpone cream.
Louis and Marie Ducruet welcome Baby Girl, named Victoire
Louis and Marie Ducruet welcomed their first child on 4 April 2023. The couple shared a photo of their newborn baby on Instagram three days after she was born. The photo shows the baby girl's leg, adorned with a tiny hospital bracelet showing her name, Victoire.
"Our little family has grown with the arrival of our little Victoire," wrote the couple on social media. Baby Victoire is Princess Stephanie's first grandchild. Prince Albert II announced the arrival of the new family member on 4 April at the Rainier III Auditorium, where he was presenting first aid diplomas to over 3,000 people during the Monegasque Red Cross First Aid Graduation ceremony.